Features
Mercury Arc vs LED Curing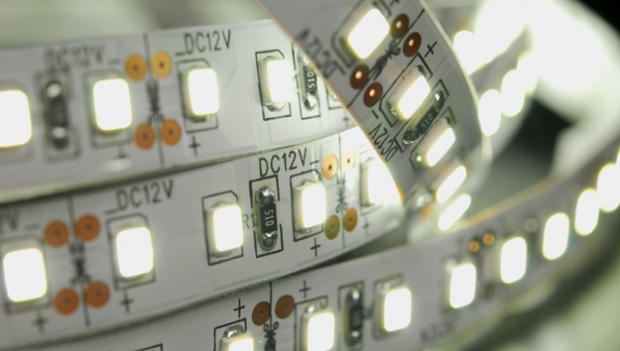 There are on the horizon tougher EU regulations regarding the use of mercury vapour curing lamps. What alternative curing technology should companies adopt?
Wide format digital printing machine owners will be well aware of the need to dry jetted inks once prints are output. They also know that they have two curing options: mercury arc lamps or LEDs.
Both respond to specific wavelengths of light, using spectral energy to initiate fragmentation and polymerisation of photoinitiators in inks to create dry, resilient, flexible and durable surfaces.
The amount of power a light source has determines its brightness and this in turn defines a curing technology's attributes, and so its performance characteristics.
This is why performance and application requirements are the most important considerations, when comparing machines using mercury arc and LED curing.
Performance characteristics include:
• speed and depth of cure
• colour and gloss control quality
• how long it takes for the curing system to be ready to use
• its energy consumption
• ink and substrate flexibility
• curing system's longevity and consistency over time.
Cost of ownership and regulation are also increasingly important differentiators. Consider all of these in the context of business and application needs, and your decision as to which option you should choose will be clear. Don't fret too much about regulatory compliance, because it's not such a worry as you might think.
Mercury slip sliding
Mercury arc lamps are the workhorses of the curing industry. They generate UV and IR light in the 240-270nm and 350- 380nm regions of the spectrum and have a lifespan of about 1,500 hours.
They use a lot of energy and generate heat. This speeds up crosslinking of the polymers, but it damages vulnerable substrates so this is a limitation for printing flimsy materials.
These lamps take time to warm up and cool down, so they have to be left on even when the printing machine is idle which adds to the energy bill.
However despite these drawbacks mercury arc curing dominates the market because it is so very productive. And although it's mature it still shows up in new presses such as Komori's H-UV with inline curing.
The technology will continue to dominate the wide format digital print sector until LEDs can match its performance, especially its speed and depth of cure. The tipping point won't be for a while, but could come sooner than expected.
Kill or cure?
Developers have lots of reasons to invest in LED curing technology, not least the European Union's Restriction on Hazardous Substances II (RoHS II) regulation, which bans the use of heavy metals including lead, mercury and cadmium.
RoHS II is sibling to the Waste Electrical and Electronic Equipment (WEEE) directive and is specific to electrical and electronic equipment.
Chemical controls are the realm of the Registration, Evaluation, Authorisation and Restriction of Chemicals (REACH) directive which focuses on health and safety.
RoHSII is designed to encourage energy reduction and ecodesign as well as reducing the use of hazardous substances.
For these reasons it's pretty loose with numerous exclusions and over 80 exemptions including the use of mercury in certain situations such as when no equivalent alternative technology is available.
Even when exemptions expire, mercury arc lamps can still be replaced and machines kept running without breaking the rules.
LED technology
LEDs have a lower radiance than mercury arc lamps because their applied voltage is low. LEDs emit light in the visible part of the spectrum from 400 nm to 700 nm or in the near infrared (700 nm and 2000 nm), so only part of the spectral energy they emit is UV light.
Because they use a fraction of the energy of mercury arc lamps, they don't need to warm up or cool down so they are immediately ready for use and don't use energy unless they are operating.
They are also cheap and have a very long lifespan. The amount of heat they generate is trivial so they can be used with very flimsy substrates, but their lack of power means that LEDs are currently slow to cure the ink.
Because ink pigments can absorb the light in the LED emission region they can sometimes compete with photoinitiators for the light.
They can also inadvertently cure in the can or on press. This plus their narrow band of response means that LED curable inks have to be specially formulated.
LED curing is still a relatively immature technology for graphics applications however rapid progress is being made in the development of short wave UV LEDs.
Continuing technological research is a given in the graphic arts, with developers constantly looking at new ways to solve old problems.
Their efforts may be for reasons of cost, environmental impact, energy efficiency, regulatory compliance, performance and even convenience, anything to give them an edge over the competition.
Developers have already come up with clever ways to get the best of both curing options. LEDs used in combination with mercury arc curing can provide a preliminary cure, called pinning.
This partial cure of individual inks controls dot gain and enhances colour quality and gloss levels. Mercury arc lamps complete the cure.
Should we worry about RoHSII?
No, at least not yet. A key principle in EU legislation is that the application of EU rules must not undermine growth and development, so we are confident that RoHSII legislation will not be applied willy nilly.
RoHSII exemptions are in place for low, medium and high pressure mercury arc lamps which are being phased out from April 2015 as suitable replacement technologies become available.
The regulation also exempts "large-scale fixed installations" which it defines as "a large-scale combination of several types of apparatus ...assembled and installed by professionals, intended to be used permanently in a predefined and dedicated location".
So even without the exemptions many printing companies, for instance those with large flatbeds, are not within scope for RoHSII and according to our European Union contact a printing machine "can have replacement mercury arc lamps into the future until it reaches end of life."
The advent of LED curing, providing an alternative to mercury arc technology, has expanded the range of machines available to print wide format projects.
They support a broad range of performance and cost requirements and diverse economic models for manufacturers, printers and their customers. Choice is a matter of matching performance and quality requirements to application investments.
Production expectations as much as the technology dictate the uptake of LED and the speed with which it replaces mercury arc curing.
But it's just a matter of time before LED technology can match mercury arc curing's performance. When we reach that point it will cease to be viable, but that point is still on a far horizon
Interested in joining our community?
Enquire today about joining your local FESPA Association or FESPA Direct