Features
Matching the right media for wide format printing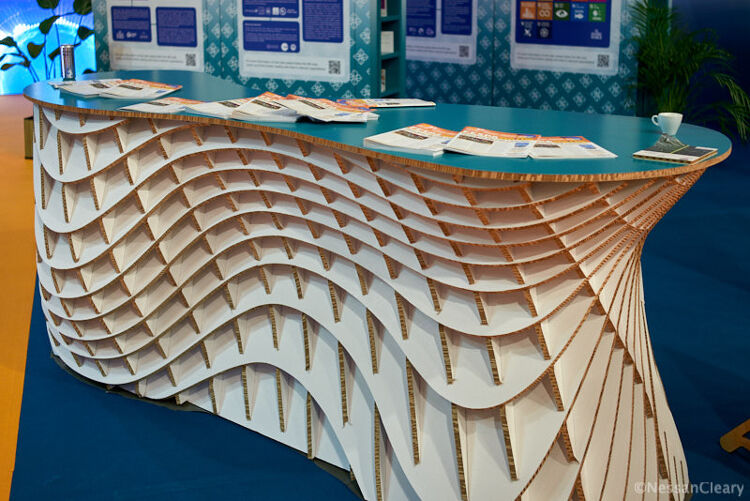 There's a very wide choice of substrates suitable for wide format printing but its important to match the media to the requirements of the particular job. Nessan Cleary details the requirements in this article.
At its simplest, inkjet printing is about placing drops of ink onto a substrate. In most cases, the printer manufacturer will determine the ink, and in most print sectors there's a relatively narrow choice of substrates. But large format printing is the exception, where it's commonplace to use materials designed for construction and other industries. And although it's true that UV-curable inks will work with a very wide range of substrates, it's still important to pick your materials carefully as this will affect both the print quality and the overall profitability of your business.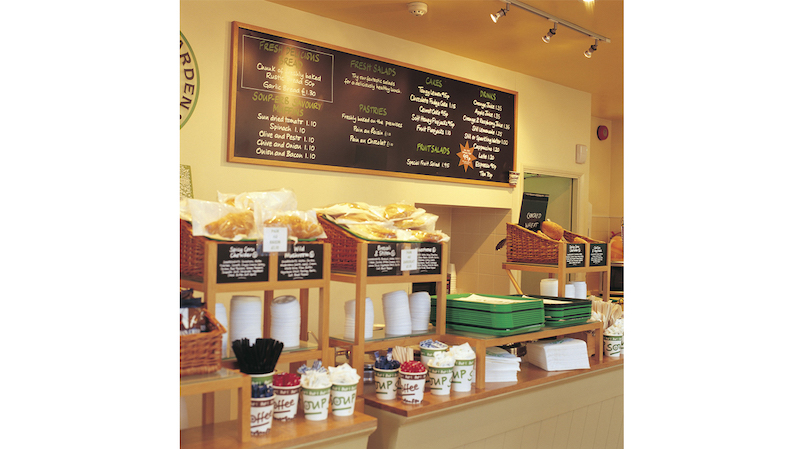 Caption: Foamalux Eco, as used here, is made with 80 percent recycled waste material.

The advantage of choosing a material that's certified for the particular printer and ink in use, is that it will have been tested to ensure that the ink adheres to the surface, and that it will continue to do so over a period of time despite the ambient conditions, such as outdoor weather or intense sunlight. Another important consideration is how easy it is to convert the substrate, to ensure that it will produce clean cuts without chipping, and that it can be drilled or glued if necessary.

Increasingly these days it's also important to think about the environmental impact of large format graphics. Some materials, such as paper and textiles are more sustainable than others, but may not suit the requirements of every application. Nonetheless, printers should consider how easy it is to recycle any given substrate.

Paper-based rigid boards have been growing in popularity for some years now, mainly because paper is a sustainable raw material and these boards are easily recycled, meeting clients' environmental concerns. They're quite light, making them easy to transport and install, and offer a good strength to weight ratio. The most common approach involves a honeycomb core sandwiched between a base and a printable top liner. A good example would be Dufaylite Ultraboard which is available with various surface finishes, including one with a Class 1 UK fire rating.

The Swedish company Re-Board has also developed paper-based boards but has taken a slightly different approach to the honeycomb structure. Instead Re-Board uses a high density core made of paper fibres tilted at 15 degrees for greater strength. The paper core is made from a mix of recovered Nordic paper fibres and renewable virgin fibres. It's said to produce very clean cuts and can be used with screws. It can be used for building exhibition stands, and indeed several of the stands at this year's Fespa Show in Berlin were build with Re-Board.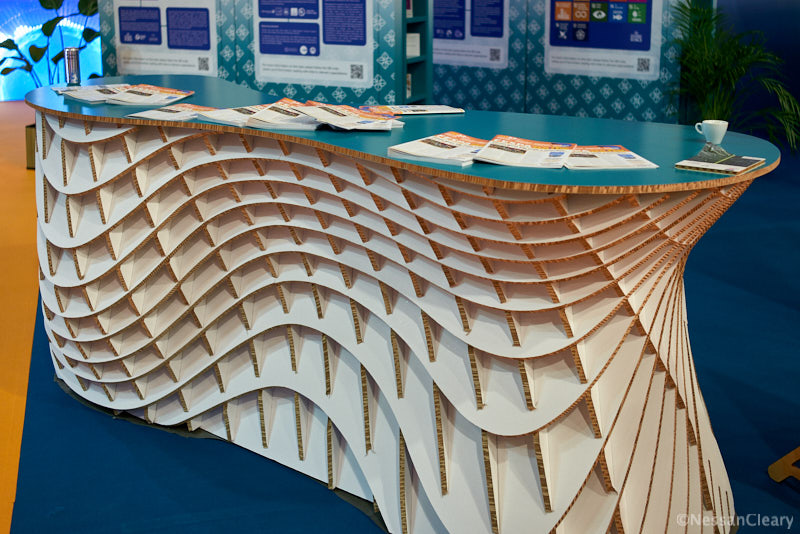 Caption This counter, as seen at this year's Fespa show in Berlin, was made with the paper-based Re-Board substrate. ©Nessan Cleary

Some designs just call out for a metal base and although most UV-curable flatbeds can print to metal - though you might need a primer to help the ink adhere of the surface is too smooth - an aluminium composite panel will often be a better fit. The advantage of aluminium composites is that they are quite rigid and strong enough to be used as structural elements whilst still being relatively light and easy to handle. They are suitable for both indoor and outdoor use.

There are several brands available though Dibond is by far the best known. It is essentially a polyethylene core sandwiched between two aluminium covers. It's available in a range of different colours and various functionality, including a mirrored effect, flame retardance, and even wood effects. There's a Digital version that's coated for direct digital printing with both solvent and UV inks and includes an LX version for latex and UV LED inks. Last year 3A Composites introduced a new series of Dibond metallic colours, featuring high gloss finishes in a choice of yellow, red, anthracite and white-silver.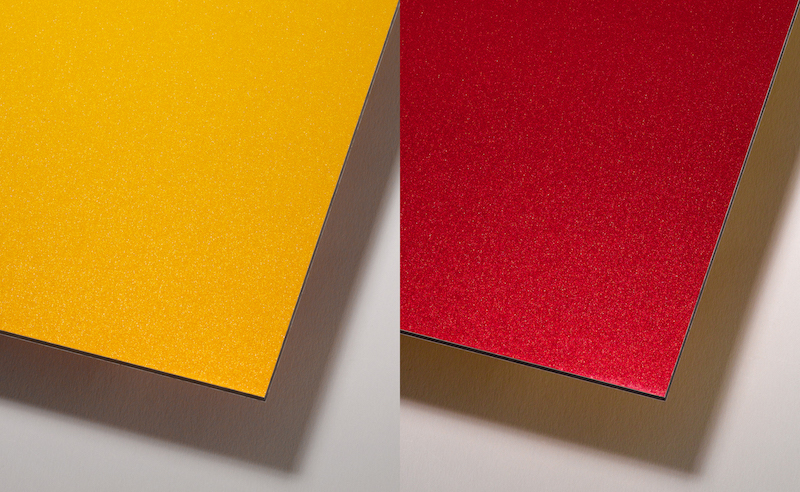 Caption: Dibond is available in a choice of colours and surface finishes including a new range of metallic colours.

In addition, 3A composites also makes Kapa, a lightweight foam board that has a polyurethane foam core with paper for the outer layers. It gives good dimensional stability and is perfectly flat, even when a thinner board is used. It can also be cut easily without the risk of the foamcore crumbling. There are various finishes available, such as Kapa Tex, which has a canvas-look and feel, and Kapa Plast, which has bright white coated covers that gives very good colour rendition.

Foam PVC boards are lightweight yet also very stiff and easy to cut or router or even to thermoform. They're widely used for shop fittings, general signage and POS displays. There are several types of foam PVC boards around, including Brett Martin's Foamalux. There are a number of variations, offering a bright white finish or different colours as well as Foamalux Calibre, which can be used in construction as an alternative to wood for both indoor and outdoor applications. There's a recycled version, Eco, which is made with up to 80 percent recycled post-production waste, while Foamalux Xtra is made with reclaimed foam PVC waste that would otherwise have gone to landfill. It has a reclaimed black core with a top surface made of virgin white PVC for printing and is completely recyclable itself.
Corplex, which was previously the plastics division of DS Smith, sells a number of different types of plastic sheeting that are suitable for large format printing, including Correx. This is a fluted twinwall polypropylene sheet that's lightweight and suitable for outdoor use. It can be die cut, welded and glued and when the display is no longer needed it can be fully recycled. It has a white surface and can be printed on both sides, using flexo and screen as well as digital.
Flexible materials
So far we've considered rigid materials where there is the most variety. When it comes to roll-fed substrates, most large format printers will work with some form of self adhesive PVC and the choice mostly comes down to price and personal preference. The exception is vehicle graphics where you will have to check that the material is certified for the required length of time, and ensure that you are using the matching laminate where necessary.

There are many other materials designed for specific applications, such as window graphics, floors and wall coverings that are worth experimenting with.

There are very clear benefits to using a textile as an alternative to PVC. Leaving aside that textiles are recyclable and better for the environment, the prints are also lighter and easier to transport, and can be washed and repaired if damaged. Most wide format inks can print directly onto textiles for soft signage use, with latex being particularly effective. You can get better results if you print direct with a dye sublimation to a polyester- based media and even deeper colours if you print to a transfer paper and sublimate the print to the textile. Dye sublimation has the further advantage that you can diversify into other areas including home decor, fashion and accessories.

In conclusion, the sheer quantity of media that most large format printers will get through in a year means that even a modest saving from using one media over another will likely have a significant impact on your bottom line.
Interested in joining our community?
Enquire today about joining your local FESPA Association or FESPA Direct