Features
Learning curve: An introduction to commercial printing inks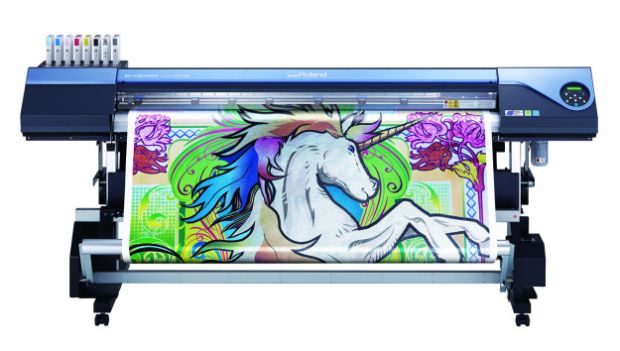 Have you got the right ink for the substrate and application? With so many options in the market it can be a tricky decision always needs research. 
Inkjet inks and what they do
Part 1: Aqueous, Dye Sublimation, Strong Solvent, Eco Solvent
Inkjet printing is an enormously versatile process that can be adapted to project (or "jet") a very wide range of fluids, and not just inks either. There are so many types of ink and fluid that it may take a while for newcomers to work out which does what and in particular which is best suited for a particular type of printing job.
To help with this, here's part one of our two part instant mini-introduction to the most common inks that are used for graphical and industrial printing. Here we look at aqueous and solvent inks, two of the most common types used in large format applications, plus dye sublimation, which is popular for textile and transfer printing.
We're excluding inks for "material deposition" types of printing such as electronic circuits and 3D "additive manufacturing for biomedical, engineering and similar applications.
In future Learning Curves we'll look at individual inks in more detail as well as providing introductions to other technical and usage issues across the range of printing processes used by FESPA members.
Note that most printers are built for a particular type of ink and you can't swap them around.
1. Aqueous
What is it: an ink in which the main carrier is water, with colorants made from either dyes or pigments. Dyes are bright and cheap but fade quickly, pigments cost more but resist fading if you look after the prints. Photographic quality pigment inks can resist fading for a century or more if you keep them away from direct sunlight and pollutants.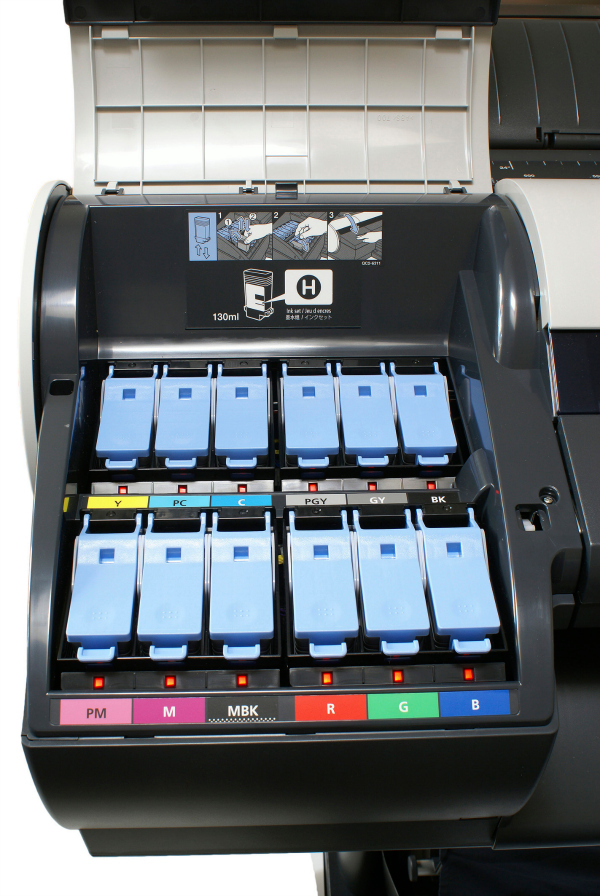 Aqueous ink printers used for fine art and photography can have many colours and shades - this Canon iPF6100 has 12
Aqueous inks are non toxic during and after printing. They don't smell, unlike some solvents. However for the best quality a special surface coating is needed on the media to absorb the ink and stop it spreading before the water evaporates. This increases the price compared to solvent and UV media.
Used for: mostly paper and card media. Posters, photography, fine art, POS, indoor banners and signage, liner papers, treated canvas, corrugated, items where non-toxicity matters, such as primary food packaging. Most office and home inkjet printers use aqueous inks.
Not used for: outdoor applications, non-absorbent media (though some films and plastics and even thin metals are available with special inkjet-receptive coatings).
Printer types: sheet or roll fed, with either thermal or piezo heads. There's no reason not to build a large flatbed aqueous printer, but we're not aware of any.
2. Dye sublimation
Inks that are intended for absorption into polyester textiles or coatings on solid objects. They are printed by piezo heads, often onto a temporary carrier transfer paper. After drying the paper is pressed against the polyester materials and heat is applied. The ink vaporises (sublimates) and is absorbed by the polyester, forming a strong permanent colour bond.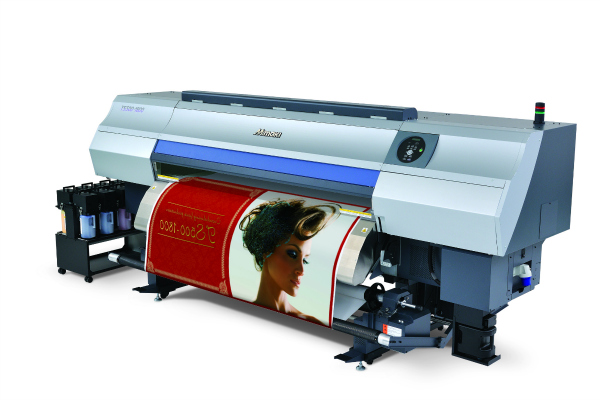 Large rolls of textiles can be pressed against the transfer paper in heated roller devices called calenders, while the carrier paper is peeled away. Smaller items tend to use heat presses with flat plates. Shaped heat presses can be used for cylindrical objects, especially drinking mugs.
Direct dye sublimation printing is also possible, normally onto polyester textiles. Here the material is fed into the inkjet printer and ink is jetted straight onto it. After printing the image is fixed in a heat press or rollers, so it sublimates into the fibres.
Used for: textiles (garments, furnishings, soft signage), plus any solid and reasonably flat or simply curved surface that can be polyester coated and placed into a heat press. Examples are mobile phone covers, tablet PC covers, plaques and signs made from plastic, wood, glass, metal, ceramic mugs and plates, etc.
Not used for: anything that can't be made from polyester or coated with it. Complex curved, convex or concave surfaces.
Printer types: Piezo print heads in roll fed printers.
3. Strong Solvent
Inks based on a volatile solvent to carry the colourants, widely used for outdoor signage applications. The results are very durable and work well with plastic media and billboard papers. The solvent dissolves into the top surface of plastics so that the dye or pigment colorants are locked into it after the solvent evaporates. Five year outdoor lifetimes are commonly quoted for plastics.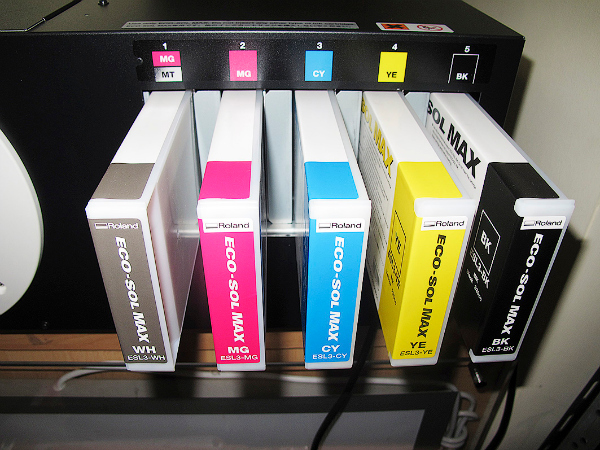 However the strong solvent contains VOCs (volatile organic compounds) which have a strong smell during drying and for a long time afterwards. This makes printed items unsuitable for indoors or confined spaces. Concentrated vapour during is hazardous to printer operators, so forced air ventilation and extraction is necessary. Protective clothing is needed around liquid ink.
Used for: outdoor signage and billboards, banners, mesh, vehicle wraps and curtain sides.
Not used for: indoor applications, packaging, non-absorbent media.
Printer types: piezo printhead models, often very large formats in the 2.0 to 5.0 metre width range.
4. Eco Solvent
Eco Solvents were developed in the early 2000s as an alternative to the strongly smelling and hazardous strong solvent inks. They contain fewer hazardous compounds and there is no significant smell during or after printing. Forced ventilation isn't needed and eco-solvent printers can be used in office environments. The outdoor lifetime on plastics is generally quoted as 18 months to three years, compared to five for strong solvents.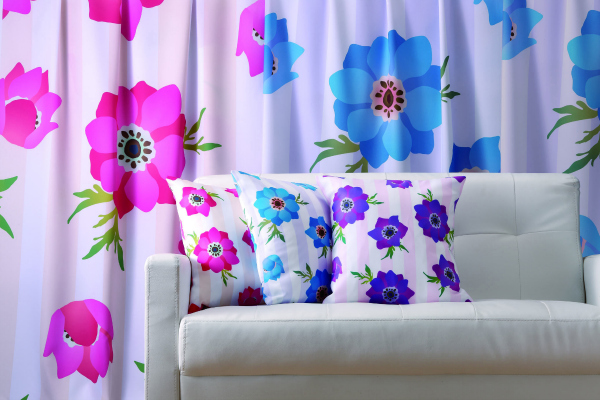 The colour brightness is reduced a little too, though successive generations of eco solvents have improved on all fronts. A few manufacturers have developed metallic and opaque white eco solvent inks.
Although the heaters dry the ink quickly so it is safe to handle, further evaporation takes place over up to 24 hours. This means you have to wait if you want to apply lamination films, otherwise you'll get bubbles.
The "eco" term is catchy but fairly meaningless, with no standardisation between manufacturers. The inks aren't notably "green," so some manufacturers claim it stands for "economical," which is debatable too. A few attempts to introduce "green" Bio Solvent inks derived from renewables (corn or soya crops) have not proved successful in the market, mainly for reasons of restricted brightness and longevity.
Although terminology is a bit inexact, there's a third class of solvent inks that are often called "mild solvents." These have characteristics between the strong and eco types, with better lifetimes than eco but with still some smell and a need for ventilation.
Used for: indoor and outdoor sign and display, billboard papers, point of sale, self-adhesive vinyls, polypropylene, mesh, vehicle wraps.
Not used for: non-absorbent media
Printer types: piezo printheads, in a very wide range of roll fed and hybrid configurations from 20 inches up to 5.0 metres. Dedicated eco solvent flatbeds are rare.
Part 2 of this beginners guide covers Solvent-UV hybrids and more.
Interested in joining our community?
Enquire today about joining your local FESPA Association or FESPA Direct