Features
Latest News in Automation: Integrating the Future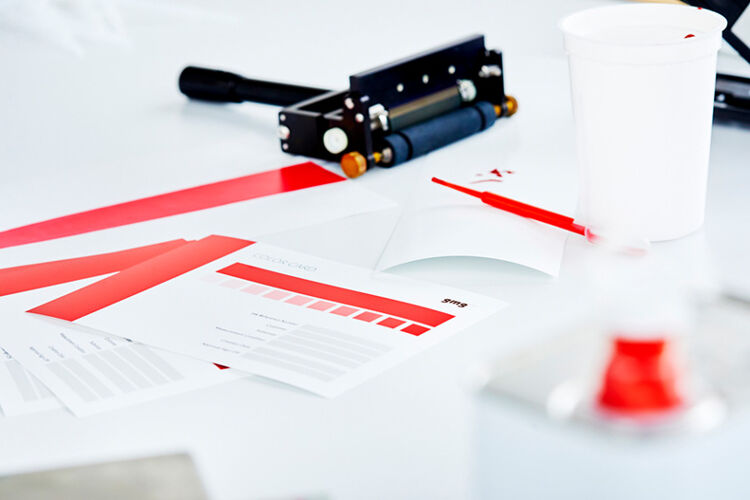 Automation is one of the key factors to contributing to making printing a sustainable business opportunity. Sonja Angerer discusses the latest innovations and the importance of building end-to-end solutions.
Digitalisation and Automation is trending across the Central European economy. The economy is trying to recover after COVID. A shortage of skilled staff/labour and the growing demand for remote working opportunities required many businesses to adapt. A growing number of printers are looking for automation solutions to help improve their businesses and make them be more resilient and productive.
This article will include the latest automation solutions:
personalised mass production consumer goods (industry 4.0)
colour swatch production
AI Production Planning
Automation for Personalised Consumer Goods
On a small scale, consumer goods can already be personalised such as picture books with a child's name, or a football t-shirt with a custom name and number. However, with its SmartDFE initiative, Global Graphics Software is integrating its Harlequin and Screen Pro Software with Meteor Inkjet hardware and Hybrid Software intelligent prepress and workflow products.

"The SmartDFE is a full software and hardware offering from a single supplier that adds print to the fully automated smart factory. Adding SmartDFE to your product now gives you a single solution that can deliver everything from mass production to mass customisation for the same cost as current print systems", says Eric Worall, Vice President of Products and Services Global Graphics Software, in his YouTube-Video where he introduces the initiative.
The goal is to enable smart factories that are designed to automatically run the entire production process including print systems. Industry 4.0 installations are designed to self-optimise, self-adapt and learn from new conditions in real time which allows them to keep running.
Automated Colour Swatch Production
Sun Chemical has recently partnered with GMG Color to provide customers with a new digital solution for colour swatch production. The GMG ColorCard solution is now made available as part of the SunDigiProof service.

Creating colour swatches can be a manual and time-consuming process. Sun Chemical's SunDigiProof application provides a solution to replace this manual procedure, creating a digitally printed version with increased reliability and colour consistency.

The software is highly intuitive. This partnership also allows customers to print accurate digital drawdowns at their own locations, giving them the power to create colour swatches on demand and removing time, effort, and shipping costs from the colour communication, matching and approval processes.

Commenting on the partnership, Marc Levine, Director of Business Development, GMG Color said: "For the packaging supply chain, punctual and precise colour communication is critical. We believe that GMG ColorCard is the next evolutionary step in communicating colour expectations quickly and accurately. Our partnership with Sun Chemical illustrates that digital drawdowns are the new best practice for colour communication. Through this partnership, Sun Chemical customers now have a faster, more accurate way to specify colour and drive colour success."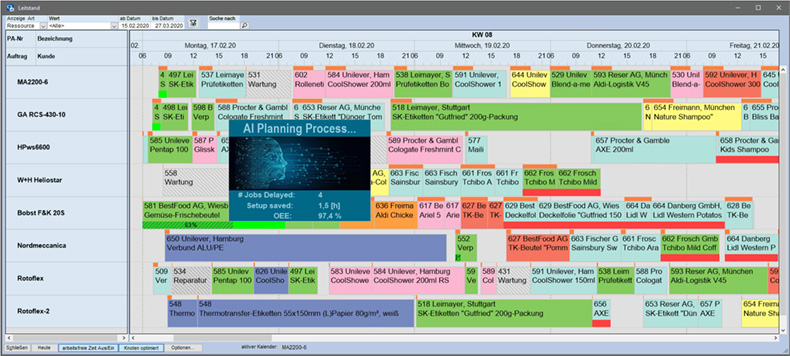 CAPTION: The Theurer C3module uses AI to optimise production planning. Photo: Theurer.com
Theuerer.com: Automated Production Optimisation with Artificial Intelligence
Smaller orders, shorter delivery times and greater material diversity: production planning is getting more complex and fast-paced. But experienced planners are in short demand. Theuer.com´s C3 module now integrates Artificial Intelligence to automate the entire production planning process.

C3 AI combines several theoretical methods to create various scenarios such as the minimisation of missed delivery deadlines or the maximisation of plant capacity. The results are automatically generated job sequences per machine. They are ideal in their consideration of delivery dates, material availability and replenishment times

New orders can be dynamically scheduled as flexible machine configurations allow all factors to be optimised. With flexible prioritizations managers decide themselves if they place more emphasis on the on-time delivery of orders from key accounts or minimising costs. The computing power needed for the Artificial Intelligence application is provided via cloud in high performance data centres.
Automation: How important is it for printers?
Many printers have mixed emotions about automation. Being on the forefront of digitalisation for years makes them feel they have already done enough. Also, automation often means certain trade-offs when it comes to flexibility and versatility, as it often works best with established processes that don't change drastically. This, of course, is detrimental to digital printings core promises.

With the significant pressure of shrinking margins and skilled labour shortage in many European countries, automation still seems the only viable way for printers to ensure their shops and factories will thrive in the long-term. With the organisational disruptions caused by COVID-19, now is the optimal time to start.
Interested in joining our community?
Enquire today about joining your local FESPA Association or FESPA Direct