Features
ITMA 2019 Waterless Digital Textile Printing takes centre stage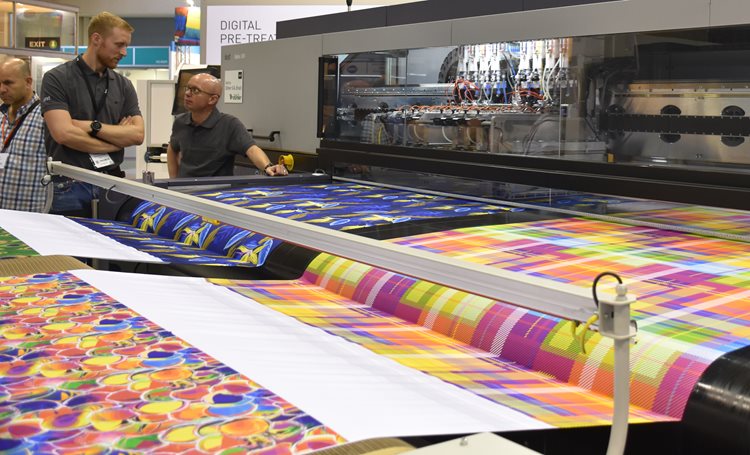 Debbie McKeegan discusses how the increasing awareness of Climate issues has driven Sustainability, Re-Cycling and Conservation to the top of the mission agendas for many textile manufacturers.
This has forced many to re-think their approach to the use of resources that once were plentiful but have now become both scarce and expensive.

As the world wakes up to the pollution caused by traditional textile production, the energy efficient, resource sensitive options provided by Digital Textile Printing are what some observers say is, the only way forward for the Textile Industry.

There are three main areas that this is evident:
Water Saving: Here, at any volume, the potential savings are enormous.
The largest positive contribution is from Dye-sub and Pigment based printing systems, where savings of 70-80 litres per metre printed are common. As an example, if these technologies were adopted worldwide, it would translate into a potential saving of over 2 trillion litres of water per annum, or, put another way, roughly double the annual consumption of water in the UK (Source DEFRA 2017).

However, water volumes are also much lower in the Digital printing of Disperse, Reactive and Acid ink systems, where water savings are smaller, but still of the order of 30-40 litres per metre printed.

Without doubt, as the cost of water increases and its availability decreases annually, this potential saving has proved very important to the Textile Industry, especially as it enhances the environmental component of any modern sustainable product strategy.
Energy Saving: Equally, the savings of energy are also considerable.
On average a digital printing machine will use approximately 0.14 kw per metre printed, whilst a conventional rotary screen printer will use on average 0.46 kw per metre printed.
This represents a potential power saving of over 63%, again if adopted worldwide, would reduce the power requirement of the Textile Industry by over 900 giga watts, equivalent to three times the power consumption of the UK (source DEFRA 2017)
Pollution Saving: Here, a truly environmental effect.
What is not said, in any analysis of the water consumption of the Textile Print Industry is the sheer volume of polluted water that it discharges to the local water tables.

Traditional Screen Printing is a liquid intense process. The Ink dispersions used are measured in Litres as opposed to the Millilitres used in Digital printing.

The discharge of waste, through unused colours, screen wash off's and waste washing-off water generate millions of litres of contaminated effluent that have to be dealt with each year.
Until recently, this waste was discharged to the local water table, but as regulation has stiffened, and technology advanced, water contamination plants have been installed, which as well as being expensive to install, also provide a serious on-cost for the enterprise.

Brands worldwide must now move to sustainable supply base, and increasingly they seek to reduce their environmental footprint. The suppliers with which they place print orders must adopt efficient technologies, and those that do not will loose their market share with many of the huge brands of the West that are buying print in the East.

An equal driver for change is speed of delivery and print diversity. As the west moves to a short, efficient buying cycle the print provider must be able to deliver at great speed. Only digital technologies can deliver this freedom of supply, and it is in the East that single pass technologies will continue to be adopted as traditionally this is where the high volume production resides.

At the recent ITMA 2019 exhibition, the vast majority (over 90%) of the printing systems being offered, were Waterless Digital Textile Print systems, demonstrating the resounding appeal of this technology, as sustainability and climate awareness become ever more important components of the 21st century print enterprise.

A new generation of high speed, combined process machines with a small footprint are now available. The MS and Kiian display which showed the MS Minilario, said to be the fastest Digital Scanning Printer available, using low volume sustainable ink-sets from Kiian as well as in-line pre treatment to create a one-step printing solution.

Also showing a one-step solution was Kornit Digital with their new Presto Roll to Roll Digital Print machine, where pre treatment was also provided in-line using the patented waterless Neo Pigment® Ink system Robusto® development which guarantees commercial fastnesses without any handle drawbacks.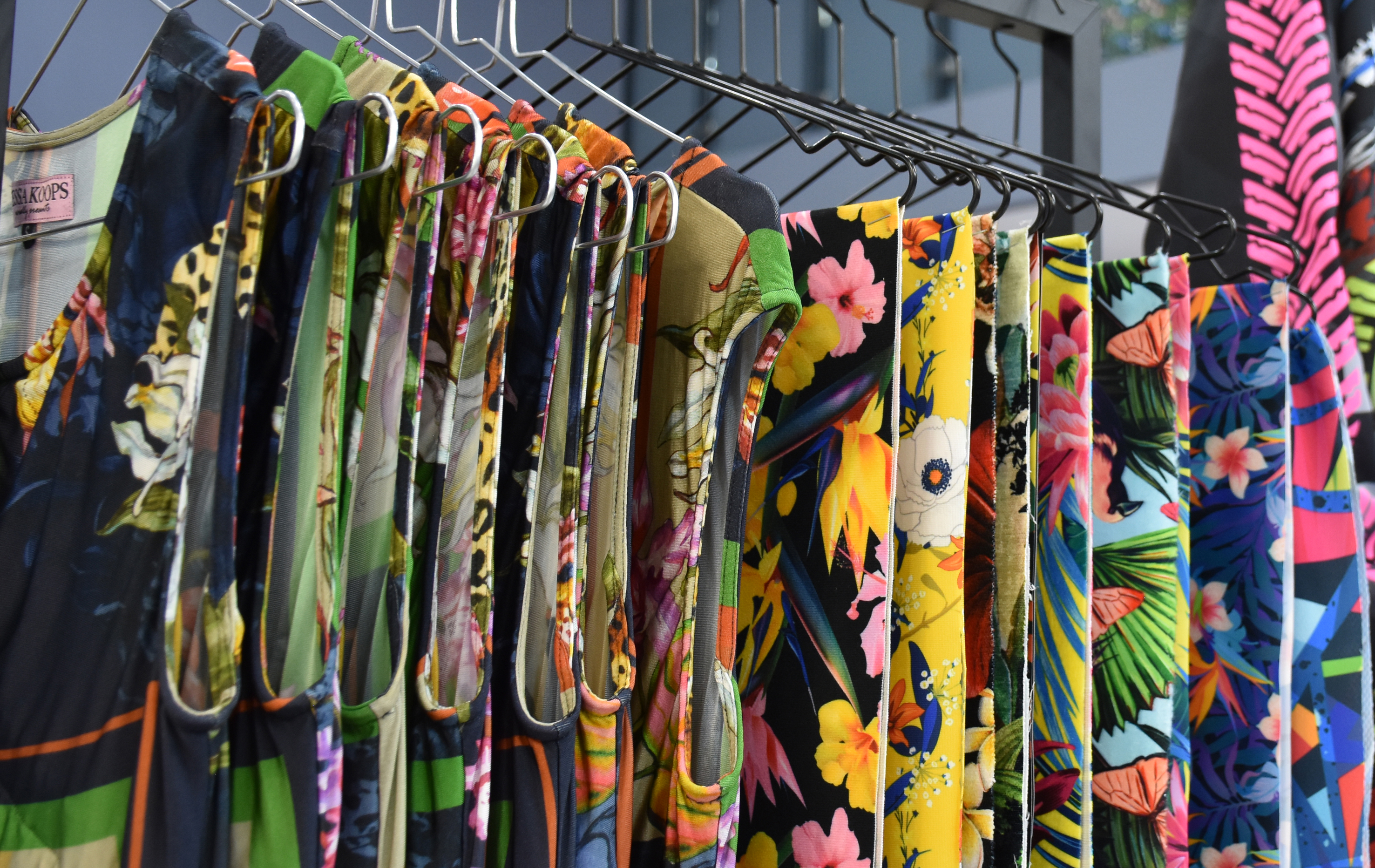 Caption: Mimaki TX300P digital textile printer with a hybrid set-up allowing direct to textile and transfer paper print all offering incredible diversity on one machine. Credit: FESPA.

These machines are all capable of elevated speeds aimed at full scale mass production units and there were other high speed offerings on show from Mimaki, with their Tiger 1800B, Zimmer with their Colaris printer and Magnoroll coating unit, and EFI with their Bolt single pass print machine, capable of printing at an astounding 90 metres per minute. Durst also showcased their Advanced Pigment Ink system (where the binder is in the Pigment Ink) which gives a one-step print process with exemplary wash and light fastness with no requirement for pre-coating.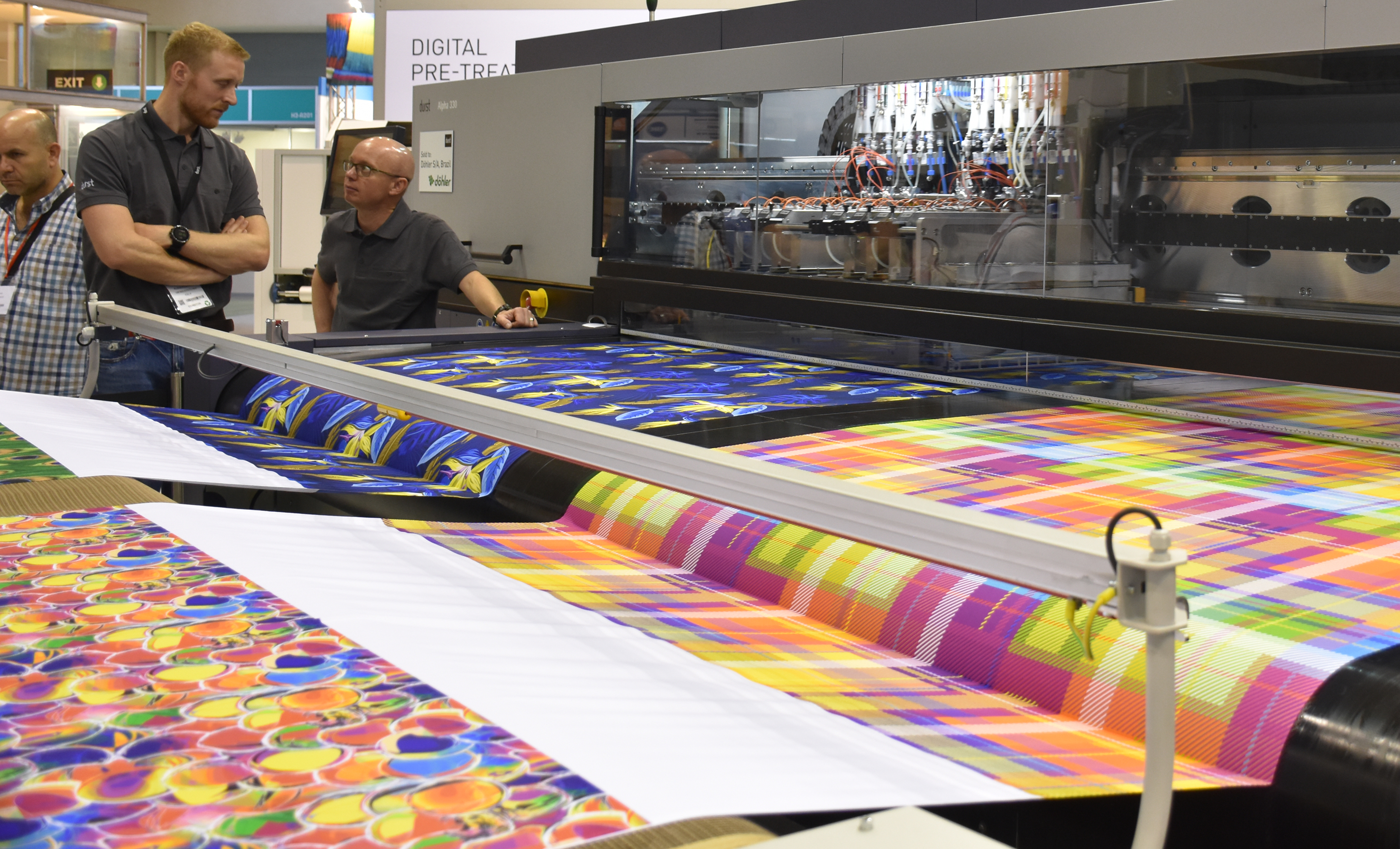 Caption: Durst also showcased their Advanced Pigment Ink system (where the binder is in the Pigment Ink) which gives a one-step print process with exemplary wash and light fastness with no requirement for pre-coating. Credit: FESPA.

Even at the mid-level of production speeds are on the increase with HP showing their Stitch® printer for Transfer Printing, and Mimaki showing their TX300P with a hybrid set-up allowing direct to textile and transfer paper print on the same machine.

Needless to say none of this would have been possible without gigantic leaps in Chemistry and Ink Formulations, and here there were ground breaking offerings from Archroma, Sensient and Huntsman Textile Effects whose Eriofast® Ink-set will enable printing on Polyester-Cotton fabrics.

All these new inks, designed to work at high volume discharge, underwrote the faster production speeds demanded of the Industry.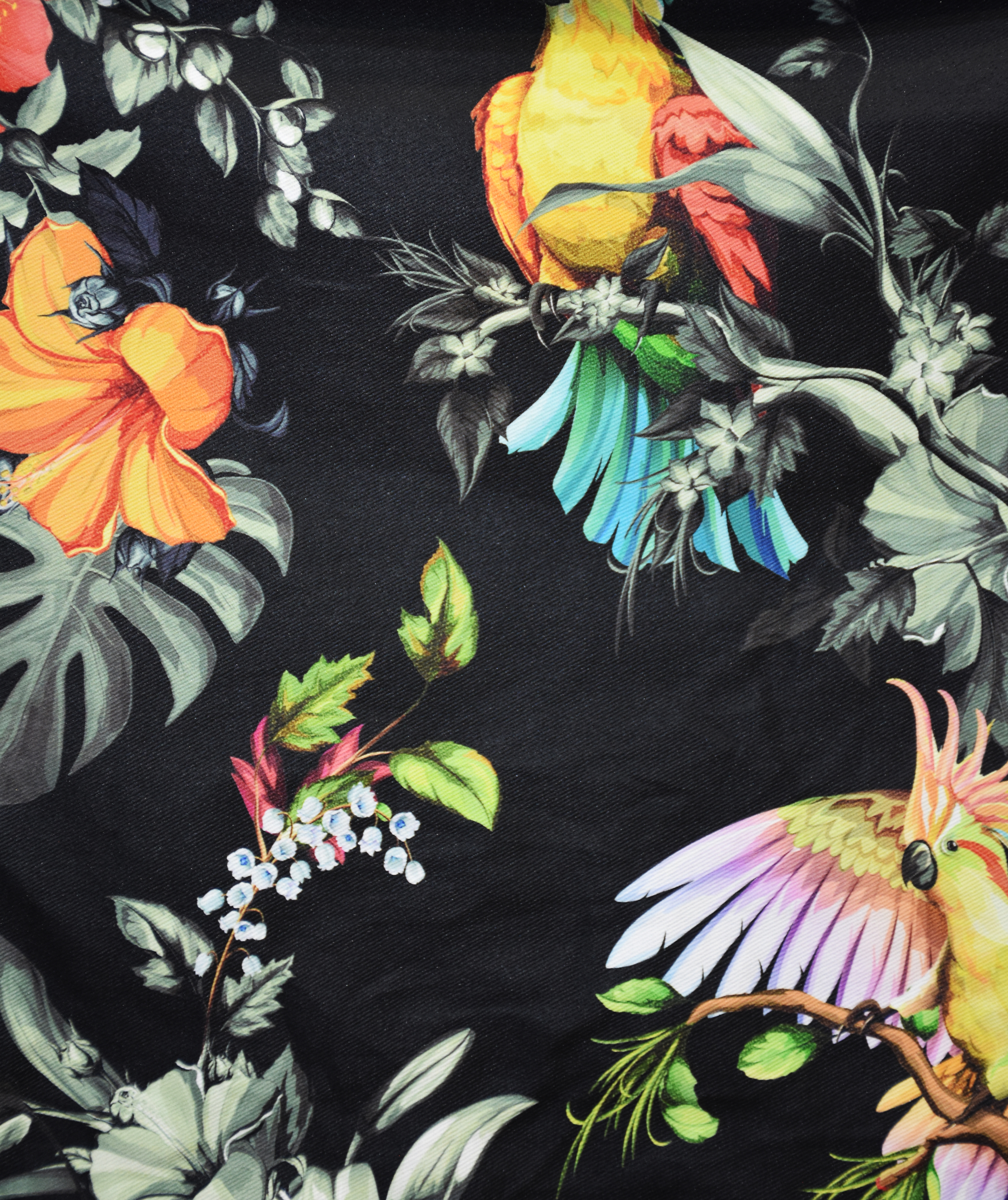 Caption: Neenah Coldenhove's trailblazing new Texcol product, a digital transfer paper, which transfers ink onto Natural fabrics using innovative new chemistry. Credit: FESPA.

And finally, innovation was everywhere, from Neenah Coldenhove's trailblazing new Texcol product, a digital pigment transfer paper, which prints on both Cotton and Linen Fabrics, to the Technijet's new Swift-Jet machine, which, using a novel spray-coating system, claims to save 50% of the water volume and energy used in pre-coating fabric for Digital Textile Printing.

ITMA 2019, offered the Textile Industry the technology that delivers the means to sustainable, renewable manufacturing.

No longer an option, clean production is critical, and as adoption continues worldwide, the Digital Textile Printing Industry will meet the consumers requirement for Zero Impact textiles.
Interested in joining our community?
Enquire today about joining your local FESPA Association or FESPA Direct