Features
Is there success to be found in 3D print?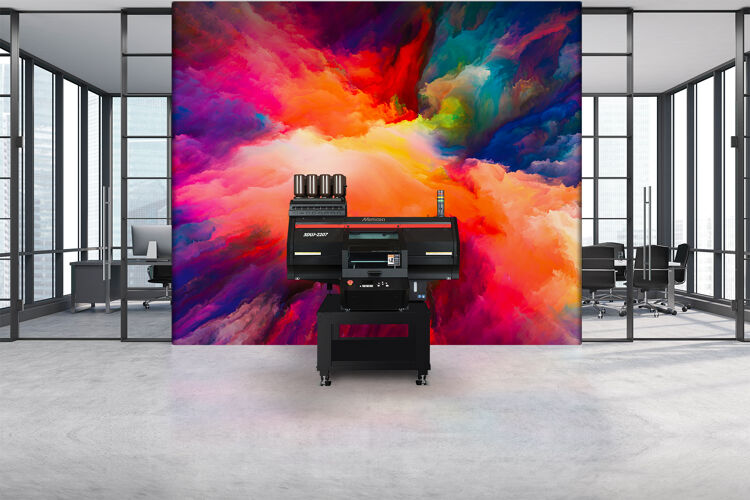 One of the most talked-about areas of the industry for a number of years now, Rob Fletcher takes a closer look at 3D print and finds out about the potential opportunities for the more traditional print business in this segment.
There has simply been no escaping the 3D print phenomenon in recent years. Though the technology has been around for some time now, it is only over the past few years that we have seen a much wider roll-out of 3D print, with this tech being used to produce all sorts of applications.

However, the core question for many print companies remains; am I able to capitalise on this work and integrate 3D printing as part of my service offering? After all, while the basic elements of 3D print are similar to traditional printing, it is entirely different in terms of how it works.

Here, FESPA.com speaks with some of the leading manufacturers of 3D print technology to find out if there are opportunities for printing companies in this market and, if so, how they can go about moving into this fast-moving segment.
New possibilities
First up, Mimaki has itself moved into 3D print, adding this technology to its wider line-up of print solutions. Jordi Drieman, 3D application specialist at Mimaki, said 3D is "certainly" a viable market for traditional print companies with plenty of opportunities to pursue.

"Opening up to new technologies always offers up new possibilities for printers, with a whole new array of applications at their disposal," Drieman said. "For example, when we first launched our small-format, direct-to-shape printers (UJF Series), it allowed print service providers to print full-colour custom designs directly onto phone covers, name badges and so on.
Caption: The Mimaki 3DUJ-2207 inkjet 3D printer offers a 10 million colour range

"Now, with more affordable 3D printers on the market, like the 3DUJ-2207, I can see a lot more traditional print companies begin to consider incorporating 3D printing applications into their portfolio. Those working for brands who require prototyping services, models or graphics that incorporate 3D features will have a ready-made opportunity to expand the work they're offering these customers and take the first step into 3D printing."

When looking for a professional yet entry-level 3D printer, Drieman said it is important that companies do their research and identify their business needs and requirements. This, he said, could vary from what kinds of applications they want to produce to what kind of materials they need.

"The next thing they need to look out for is machine uptime and the support provided from the printer manufacturer," Drieman said. "When entering a new market, for peace of mind, it's key that companies buy from a reputable provider who will support them as they integrate this new technology into their existing production lines."

Looking at the latest entry-level solutions from Mimaki, Drieman pointed to the 3DUJ-2207, an inkjet 3D printer that offers a 10 million colour range.

"Its unique full-colour capabilities and water-soluble support materials allow for super-fine details all in vibrant colour – ideal for applications like prototypes and medical models, which require this level of accuracy," Drieman said.

"One of our key objectives was to provide an advanced, end-to-end 3D printing solution at an affordable price, so that those entering the market don't feel like they have to compromise quality in favour of a lower cost. This is why the 3DUJ-2207 is available with 3D Print prep Pro software and the 3DCS-322 post-processing unit to streamline the entire full-colour 3D printing process.

"The Mimaki 3D Print prep Pro is a cloud-based software service, designed to simplify the 3D printing process. This cutting-edge subscription-based software autocorrects file errors and optimises 3D data used in 3D printer modelling, ensuring that the final 3D printed objects look exactly the same as the ones visualised on the screen."

For more advanced options, Mimaki also offers the 3DUJ-553, the industrial counterpart to the 3DUJ-2207.On release it was the world's first 3D printer to have over 10 million colours, with easy UV-curable finishing. While it shares a lot of similarities with the 3DUJ-2207, Drieman said it offers a greater build volume of 500 x 500 x 300 mm, all while still being a cost-effective solution in the wider industrial 3D printing market.

"Benefitting from Mimaki's years of experience in the 2D printing industry, all Mimaki 3D printers are equipped with the company's proprietary core technologies such as a nozzle checking unit, which ensures stability, helping to create a much more streamlined workflow," Drieman said.
Empowering users
Another leading name in 3D print technology is Massivit 3D, which has a wide range of 3D printing machines on offer to the market. The manufacturer expanded its portfolio in 2021 with the launch of a number of new solutions, including its large-scale model in the form of the Massivit 5000 industrial-grade machine.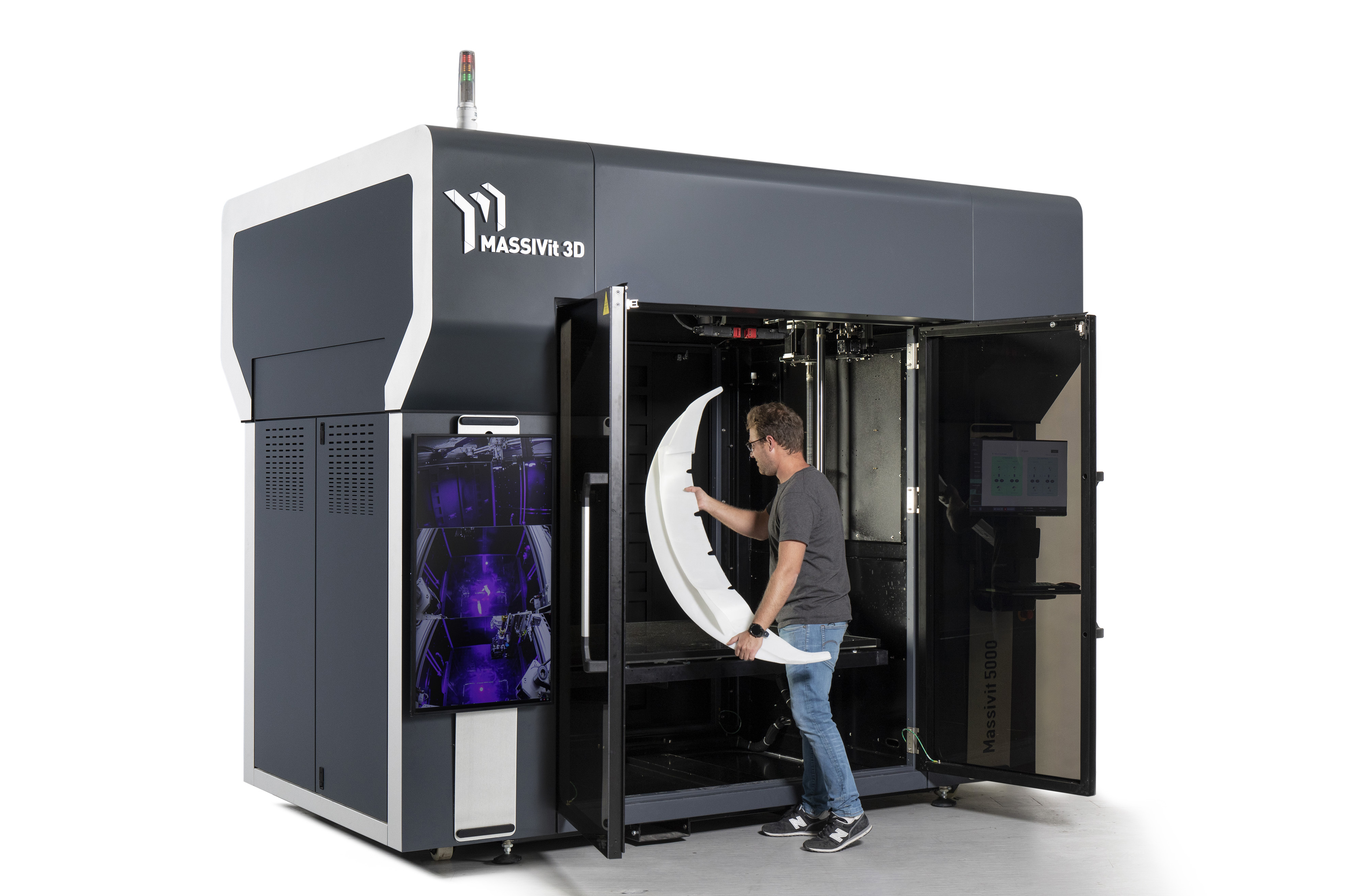 Caption: Massivit 3D last year introduced its new Massivit 5000 industrial-grade machine

Based on the company's Gel Dispensing Printing (GDP) technology, the manufacturer said the new Massivit 5000 introduces to the market new resolutions, materials, and automation capabilities that address industry 4.0 needs, in turn enabling production of large-scale parts within hours instead of weeks.

The launch was accompanied by the roll-out of a new printing material in DIMENGEL 110, which Massivit 3D said facilitates high- definition printing and greater fidelity to CAD designs.

Two new resolutions enable print optimisation according to layer thickness and speed requirements, while the Massivit 5000 also offers a Dual Material System that allows operators to print simultaneously with a different material on each head.

"We are thrilled to bring to market this new additive manufacturing system that will empower manufacturers to overcome existing limitations in production speed, size, and complexity," Massivit 3D chief executive Erez Zimerman said. "It is a significant milestone on our roadmap towards transforming manufacturing of large parts across multiple industries.

"We're committed to enabling manufacturers to overcome existing limitations in production speed and size, and to facilitating dramatic cuts in production costs."

Last year also saw Massivit launch its new Massivit 10000 composites tooling system, with the aim of helping users eliminate bottlenecks of mold production. The solution leverages thermoset polymer casting materials that provide a high HDT (Heat Deflection Temperature) and low CTE (Coefficient of Thermal Expansion).

This technology, Massivit 3D said, eradicates the need to produce an initial master and consolidates existing 19-step molding workflows into just four steps. In addition, the Cast-In-Motion technology offers greater geometry freedom for more complex designs.

"This market is hungry for innovation that will shift the paradigm for molding so that manufacturers can finally expedite their lead times from several weeks down to just a few days," Zimerman said.

"By automating the mold production process, we're able to offer manufacturers a way to dramatically cut their costs and reduce the associated material waste. The snowballing demand for this new digital molding solution is testament to the dire need for this technological milestone."
Future trends
Meanwhile, HP is another print manufacturer that has expanded into the 3D print sector, rolling out a number of solutions to the market. Emilio Juárez, vice president of EMEA for 3D printing, said there are three major trends that are set to positively impact this market.

"Businesses and consumers are increasingly demanding more sustainable products and packaging, which is having an influence on supply chain strategies," Juárez said. "When HP surveyed global digital manufacturing and 3D printing decision makers in late-2020, an overwhelming majority (89%) said they were changing their business models, and at least nine out of 10 were investigating new and more sustainable supply chain models.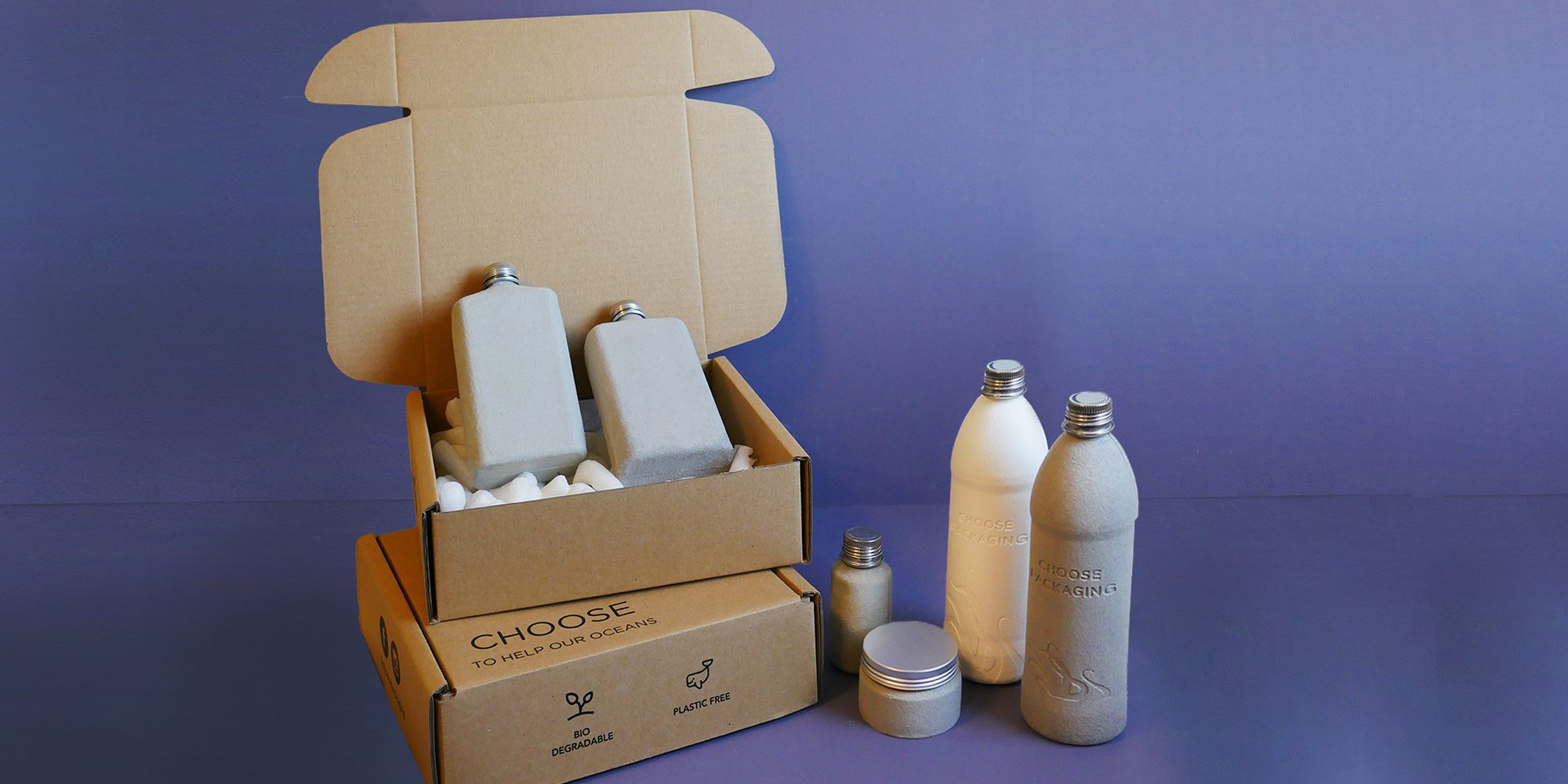 Caption: HP said 3D printing is providing more sustainable manufacturing methods

"3D printing is providing more sustainable manufacturing methods from sustainable design that removes excess weight and waste to local production that leads to a lower carbon footprint."

Juárez also picked up on how the pandemic has changed attitudes and approaches to work, explaining that companies are now starting to develop new supply chain strategies to guard against future disruption. Juárez said advanced 3D print solutions can help them accelerate this transformation.

"We expect industries will look at 3D printing to disrupt their traditional supply chains and make them more efficient and flexible. In addition to new applications, we believe entirely new ecosystems and alliances will emerge as companies look to deliver more value to end customers," Juárez said. "We're already seeing this trend take hold in industries including automotive, consumer, healthcare and industrial."

The third and final trend impacting development in 3D print, according to Juárez, is the highly personalised health and wellness sector. He said this area is where HP sees the most potential for huge growth.

"For example, orthotics and prosthetics, is a rapidly growing opportunity for additive manufacturing, particularly in relation to mass-personalisation," Juárez said.

"Secondly, we are particularly excited about the promise of additive for mass metal manufacturing too, given that it is the fastest growing segment of the traditional 3D printing market. HP's Metal Jet technology enables the production of truly unique high-value parts, replacing production from high volume runs.

"Auto manufacturers such as Volkswagen and sporting goods manufacturers such as Cobra Golf are increasingly using 3DP technologies such as metal binder jetting for structural components and personalised parts."

There is no doubt that 3D printing is one of the most innovative areas of the print industry, with those in this market producing all kinds of futuristic applications. Throw in that demand for 3D printed work is on the rise following the pandemic, and it is safe to say that a move into this sector could set your business up for huge growth of its own.
Interested in joining our community?
Enquire today about joining your local FESPA Association or FESPA Direct