Features
Investment Check: Digital Cutting or Laser Cutting?
When purchasing machines for trimming inkjet prints, technology is key. Sonja Angerer explores both digital cutting with mechanical knives and laser cutting and advises which technology is best suited for your business needs.
Applications for contour-cutting are widely used in the digital printing and sign-making industries. In this article, we discuss the benefits and disadvantages of cutting with mechanical knives and laser tables and offer suggestions for making the best technological decision for your company.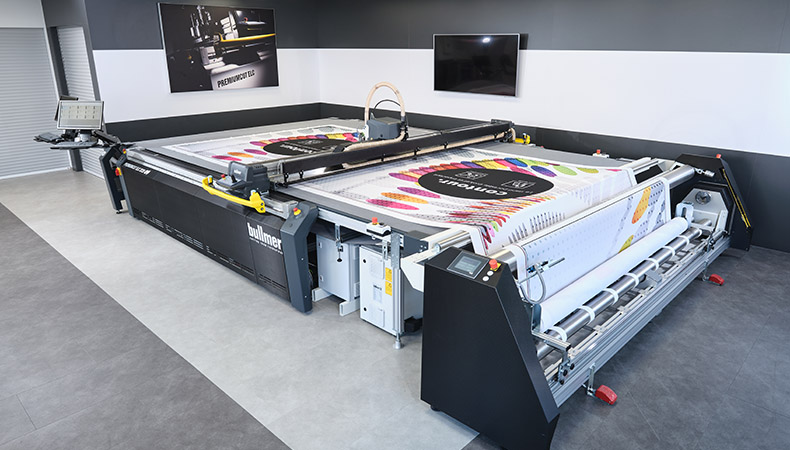 CAPTION: Bullmer is able to custom-build digital cutting tables exactly to the customer's specific requirements. Photo: Bullmer
Digital cutting: Standard for finishing
Digital cutting tables from Bullmer,
Kongsberg
or Zünd are popular for many customers as they are so versatile. Whether it be rigid, roll-to-roll or sheet, modern cutting tables can be used on almost any material.
They process leather, fabrics for soft signage or garments, and even packaging materials. In order to help printers identify suitable solutions that are tailored to their application needs, Zünd Swiss Cutting Systems have created an online
product finder
for the pre-selection process, where printers can find suitable solutions tailored to their application needs. Modern modular digital cutting tables allow for the assembly of the cutting head, feeding and handling units, and other components that meet the buyer's needs.
Some manufacturers offer customised one-off construction for very specific applications: "If the customer wants a ten-metre-long cutting table, we will make it for them. If they need a special unwind unit, for example for rolls up to 1,000 kg, that's no problem either," explains Rafael Mol, Product & Sales Manager at
Bullmer GmbH
.
Digital cutting tables usually have 4 basic modes, these are: creasing, kiss-cutting, perforating and cutting through. A set of dedicated tools are required depending on the material to be processed and the application.
Tools Required
Creasing tools
Rotary knife (textile, technical textiles)
Oscillating knives (cardboard, medium to thick substrates)
Kiss-Cut tool
Perforation tool
Milling head (boards)
V-Cut head (panel construction)
In addition to this, there are tools available for additional tasks such as engraving, marking, punching or for creating Braille markings. Zünd has a
laser tool
for cutting and sealing textiles with a thickness of up to 2mm for its G3 series models.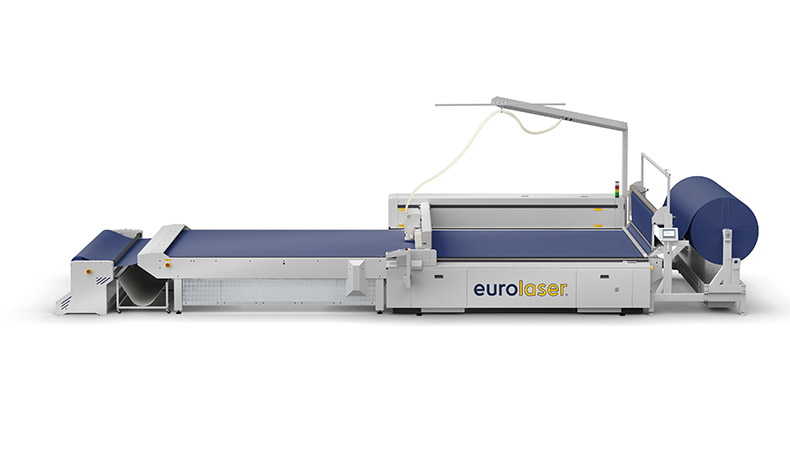 CAPTION: Eurolaser offers laser tables especially for cutting textiles. Photo: Eurolaser
Laser-cut for textiles and perspex
With a digital cutting table, the material is mechanically sliced using a knife or a cutter. For laser cutting, a CO2 laser with an output of between 60 and 650 watts is used in digital printing and sign-making applications. A very small portion of the substrate is vaporised by the focused laser beam, and the resulting smoke is extracted at the laser head.
"Typical applications for our laser tables are printed and unprinted textiles in soft signage, shop-fitting and trade fair construction, sound-insulating walls or technical textiles. Further fields of application in advertising technology can be found in the precise cutting of displays made of Perspex, MDF or other plastics. The whole range of applications in signage markets, but also printed foils for interior and exterior decoration, in automotive and mechanical engineering are processed with Eurolaser systems," explains Thorsten Brandt, CMO Eurolaser.
With a laser unit, the higher the wattage, the faster the materials can be cut. Power reserves are particularly useful when processing thick Perspex boards. For example, the Austrian manufacturer
Trotec Laser
, indicates 10 watts per millimetre as a rule for Perspex.
In theory, laser cutting can be used on any acceptable material without ever requiring a tool change. However, to enable extra mechanical processing, such as creasing or cutting, Eurolaser offers the option of installing up to 3 tools in tandem on its laser tables. Therefore, Zünd tools are compatible with the Eurolaser tool heads. A
checklist for selecting the right CO2 laser table
has been posted online by Eurolaser for any potential buyers.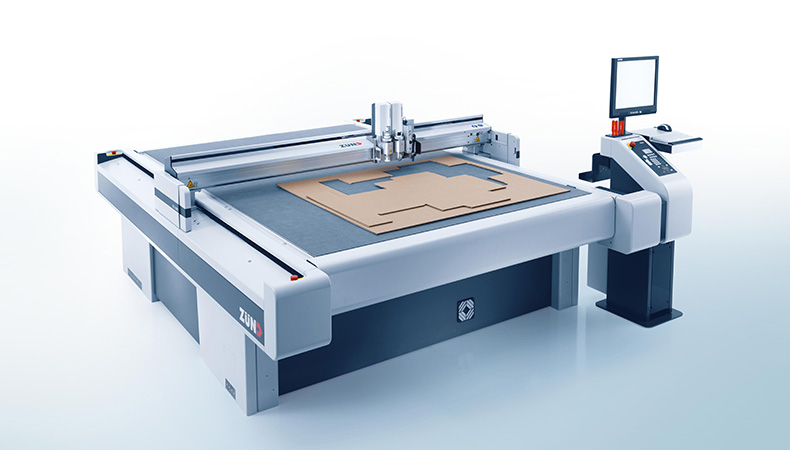 CAPTION: Digital cutting table from the modular Zünd G3-Series can cut, perforate and crease with several tools installed at the same time. They are therefore particularly suitable of packaging and corrugated display application. Photo: Zünd
Software for cutting and laser cutting
As well as the hardware, the software is also an important factor when investing. Both laser and mechanical cutting tables require software for:
cutting contour / nesting

control of the cutting or laser table

workflow control
The majority of the time, hardware manufacturers include simple software as part of their product offering and charge extra for more elaborate features. As with the Trotec Ruby, the programme can occasionally be used to modify straightforward designs as well. However, some skilled designers also work directly with Adobe InDesign or the Corel Daw Graphics Suite to produce cutting contours and even nested layouts.

To ensure you have an effective workflow, it is crucial that existing RIP installation and cutting table software work well together as well as including automated material handling solutions for stacking and de-stacking.
Mechanical cutting and laser cutting: The Advantages and Disadvantages
Whether it be a laser or mechanical knife cutting table, or even both, the most efficient choice for printers still depends on applications.

An advantage of using laser cutting systems that is explained by Brandt is that they offer consistent, high quality cut lines. The process is contact-free, therefore no tools are worn out or need replacing. Even difficult materials such as high-stretch textiles can also be cut much easier with lasers because the edges are smooth and sealed, laser cut textiles do not need additional hemming. Laser-cut Perspex has clear edges, so no polishing is required in the process. Laser cut enables very small and precise contours. Inline engraving is also an option on suitable materials.

Cutting tables are a frequently used option for contour cutting of heat-sensitive and paper-based substrates. This is because knives or cutters don't cause burn marks or smoke induced discolouration at the cutting edges. Digital cutting often requires the mechanical tools to be frequently changed in the process for different cutting and creasing techniques. A multi-tool head makes the process quick and painless.

However, while choosing finishing equipment, performance and workflow specifics should only be one part of the investment decision making. Printers have to pay particular attention to the total cost of the equipment throughout the course of its life (TCO). Today, the majority of European manufacturers provide alternatives for updating current installations, ensuring that cutting and laser tables remain current for a very long time.

With high throughput at different cutting options, considerable costs can occur for tools and knives with a digital cutting table. Depending on the wattage of the laser module, as well as the need for extraction and cooling options, a laser table tends to consume more electrical power than a cutting table that uses mechanical knifes.

However, the power consumption of both laser and cutting tables is very much determined by model and use case. Printers in search for finishing equipment should therefore consider speaking with manufacturers visit trade-shows such as FESPA Global Print Expo.

Aufmacherbild mit freundlicher Genehmigung von Eurolaser
Interested in joining our community?
Enquire today about joining your local FESPA Association or FESPA Direct