Features
Interior Décor trend talk: reshoring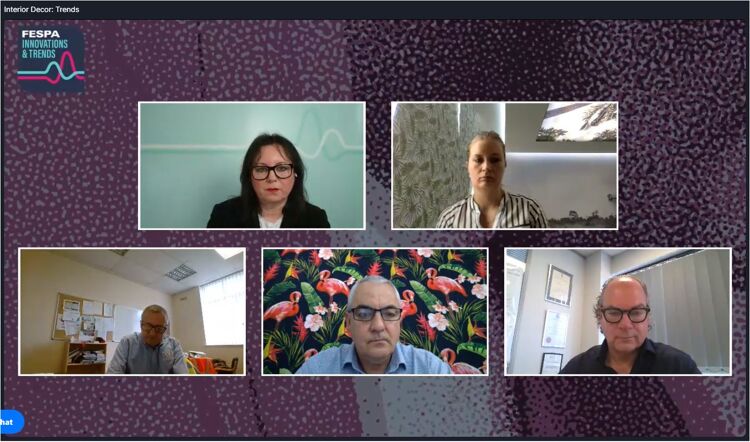 In our recent FESPA Innovations & Trends (FIT) virtual event we brought together four printers from across the world to discuss the latest trends in digital print for interior design applications.
The host: Debbie McKeegan, FESPA's Textile Ambassador and CEO of Texintel has spent her entire career in the textile industry working with both analogue and digital production.

The experts: Stephen Thomas, Managing Director at Standfast & Barracks, an interior décor printer based in the UK, who has moved from being a conventional rotary and flatbed printer to 60-70% of their business today being digital.

Tony Attard, CEO at Panaz a global designer and manufacturer of high-quality fabrics and wallcoverings. Tony has been involved in the textile industry for many years and started Panaz in 1987.

Denise Lang, Managing Director at Lang + Lang, an Austrian based manufacturer of high-quality prints for installation in architecture, interior design and POS (point of sale) with a focus on the hospitality sector.

Magnus Mighall, Managing Director at RA Smart, a UK company celebrating almost 50 years as a supplier of speciality textile printing equipment.
Is reshoring happening? Have you experienced an increase in local manufacturing over the last year?
Tony: I think there probably would have been a little bit more of it if the pandemic hadn't happened. I think it's restricted quite a lot of investment short term because of the uncertainty, but I think there will be more. We have a globally-based supply chain and we still feel that's a very important part of what we do, but there are political risks around the world at the moment that we have to take into consideration.

I guess the more that we can do at home, the more we reduce that risk, but of course, there could be an increase in cost. I'm pretty open-minded about it and I'd like to see more reshoring. There's been a lot of discussion about it over quite a few years now. I remember going to a meeting at the Institute of Dyers and Finishers in London quite a few years ago when there was a lot of discussion about reshoring then and it didn't really happen, but I think there's the possibility for it now, yes.

Magnus: Yes, so for our customer base, it tends to be smaller customers, shorter runs, etc., we're probably seeing a little bit of that and certainly an increase in the interest in UK manufacturing across our customer base. I think it is happening to a small degree at the lower level of productivity levels and I think that will continue to be the case. On the back of pigment technology which we introduced a few years ago, we have now ourselves become manufacturers in making certain products for some of our customers, because our customers wanted to produce products here in the UK but couldn't really find anywhere for them to go in terms of manufacturing that product. We actually decided to set up a small facility to allow that to happen, that is for the household textile sector rather than the home furnishing sector.

Stephen: There's a lot of interest in moving fashion back here, but the problem is they're still not looking at the lifecycle cost of a product, it's the price per meter they want to buy at so I think that's going to restrict it. The real driver on the interior decor side is the country of origin issue, where there is a real advantage if they want to export back to Europe or get it manufactured in the UK.

Have there been big changes? No, not really, because a lot of our customers are still recovering from the pandemic and have been quite cautious about new collections and getting their businesses back. Also, they've obviously lost quite a lot of cash in the process, so the recovery for new collections is slower than the market recovery. 2022 is going to be a big year for new products when people got their cash back in the business and their confidence. Really, it's the country of origin, which is Brexit-related rather than market-related.

Denise: I can only speak for ourselves, we've never really had an intention to set up production anywhere else, except for Austria. We really try to focus our manufacturing here in Austria since we feel we have a lot of benefits from a technical side of things here. For all the international companies that have different manufacturers in different parts of the world, I think the last year and a half, they really have been a nightmare.

I know from some of our business partners, since hardly any travel was possible, they've really struggled with getting on in their product development, or in general with everything. With deliveries, it got really stuck at some point. For us, reshoring is already happening because we never went anywhere else with our production, the only thing we have is sales offices in other regions of the world. We will still be an international company but focused on local manufacturing in Austria.

You can see the whole conversation here, and for more information on the FESPA Innovations and Trends Wide Format Graphics and Interior Décor event, visit here.

Discover the latest innovations in interior printing at the Global Print Expo 2021, Europe's leading exhibition for screen and digital wide format print, textile printing and signage. Discover the latest products, network with like-minded individuals and explore new business opportunites. Register now and use promo code FESH101 ​to receive a discount of 30 euros.
Interested in joining our community?
Enquire today about joining your local FESPA Association or FESPA Direct