Features
Inks for textile printing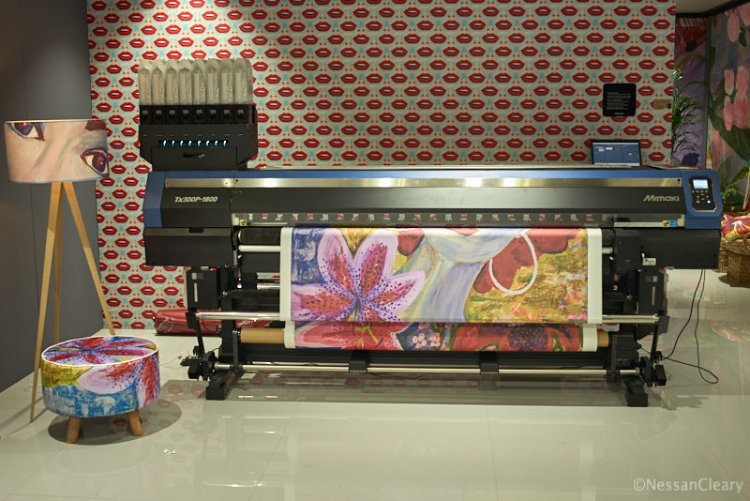 Nessan Cleary discusses the numerous types of textiles, from natural materials to synthetics, all of which require different types of inks and treatment.
It's generally understood that textile printing is one of the fastest growing areas in wide format and industrial printing. This is partly because textile printing is really an umbrella term that covers several different types of fabrics - from synthetic to natural materials - and various applications from soft signage through to sportswear, fashion clothing and home furnishings. Each class of material requires its own type of ink, and that ink in turn determines what level of pretreatment and post processing is required.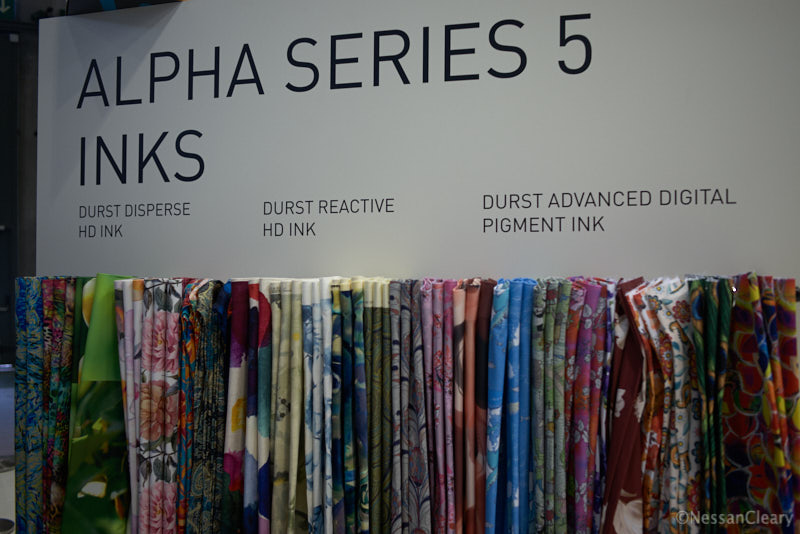 Caption: Durst has developed different types of inks for its Alpha textile printers. Image credit: Nessan Cleary.

However, most printer vendors would prefer to have inks that work across a range of textiles to increase their applications. The result is that many inks have been formulated to work across a wide range of materials. But just because a given ink can print to a material, does not mean that it is the best choice for that material so users should test all inks and printers with the actual materials they want to print to and be aware that the type of ink may affect the price they can charge for their prints.

Some vendors may claim that their inks will work on uncoated fabrics but in most cases pretreatment is needed to help an ink penetrate further into the fibres and to give a more uniform finish. This pretreatment can include a number of elements for specific effects. Thus, anti-migration additives can prevent migration of ink and prevent bleeding. Equally, Urea or glycols can increase the moisture content of the fabric, giving high, even fixation of the inks. In some cases acids or alkalis are added to support reactions of either acid or reactive inks. Other additives can include UV absorbers to improve the fabric's resistance to sunlight, fabric softeners or stiffeners, as well as antimicrobials to provide resistance to things such as mildew and bacteria – surprisingly popular in 2020!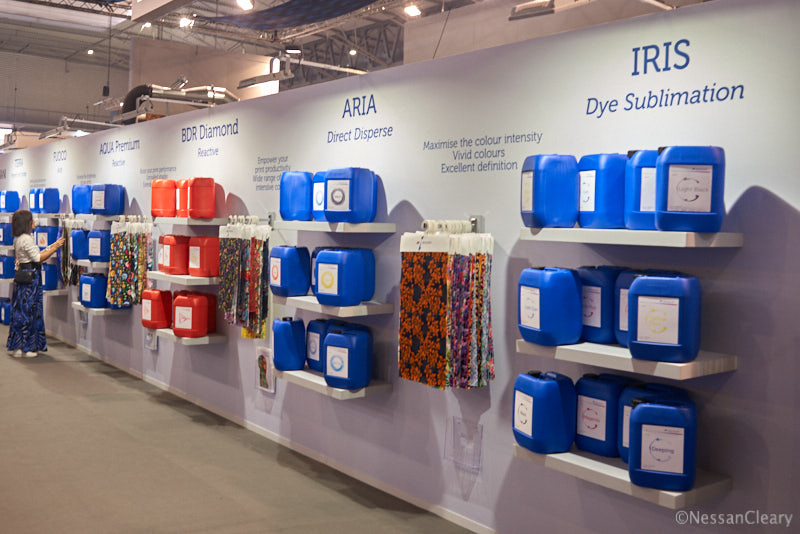 Caption: EFI sells several types of inks for use with its Reggiani textile printers. Image credit: Nessan Cleary

There are four main classes of inkjet textile inks. For most wide format printers the most common type of textile inks will be dye sublimation, which can be either printed directly to fabric or printed to a transfer paper and then applied to the fabric via heat. This type of ink uses water as a carrier solution. The sublimation process is activated by heat, which evaporates any remaining water and turns the dye into a gaseous state. The heat also forces the polymer fibres to open, driving the gas into the material so that when the fabric cools down, the fibres close with the colour embedded within. This helps the material retain its look and feel and can withstand many wash cycles.

This type of ink is suitable for printing to polyester and poly-lycra blends and is widely used for sportswear as well as some home décor applications. Virtually all soft signage uses dye sublimation inks, and the process is also suitable for transferring prints to hard surfaces to decorate products such as mugs.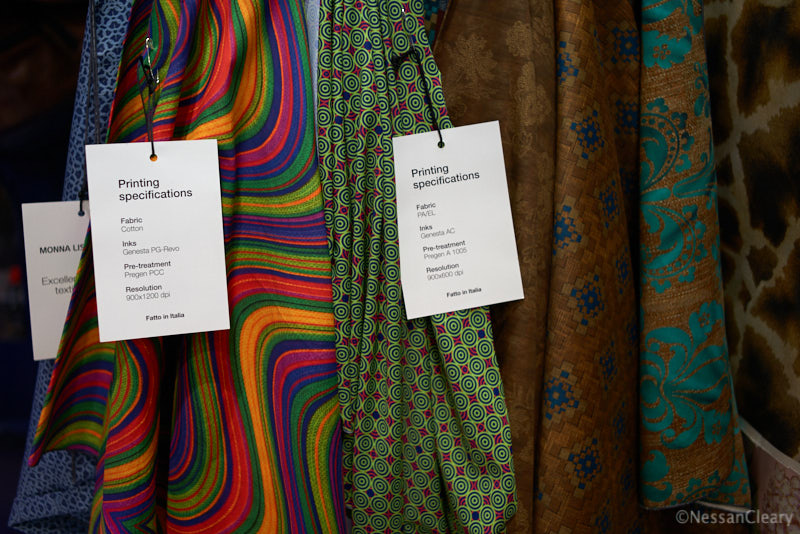 Caption: These samples from Epson were printed with a range of inks, including the Genesta PG revo pigment series launched last year and seen here on the left. Image credit: Nessan Cleary

However, dye sublimation is part of a wider class of disperse dye inks. Disperse inks are generally split into low, medium or high energy. Dye sublimation can be classed as a low energy disperse dye ink, while most disperse inks usually refer to a higher energy version. As with dye sublimation, this ink is fixed by heat and is best suited for polyester, poly-lycra and nylon but in some cases can also be used for acetate rayon and acrylics. Disperse ink is usually able to achieve good wash-fastness and light-fastness and is suitable for outdoor applications, including outdoor furniture and even automotive upholstery. For this reason many higher volume printers that are aimed at the garment and home furnishings market are moving to disperse dye inks.

The next type of ink to consider is acid and reactive inks, which we can class together as both are made from dyestuff and have similar properties.

Acid dyes are used to dye protein-based fibres like wool and silk, and can also be used on polyamides, cashmere and angora. It is possible to use other inks for silk and wool but as a general rule acid dye ink gives the best results with these materials, as the dyes in the ink create ionic or electrostatic bonds with these materials.

Reactive dye ink is typically used for cotton as well as linen, nylon and rayon where it can form a chemical bond with cellulose in the fabric. This ink offers strong vibrant colours with good wash-fastness and good rub resistance because the dyestuff molecules bond with the fibres and are said to be tolerant to perspiration.

Both acid and reactive dye inks work best with pre-treated materials. They need to be steamed after printing, which creates a reaction that forces the dye into the fibres. These prints must then be washed again after this process to get rid of any residues from the ink. They should be washed at least twice starting with a cold wash and then followed by a hotter wash to make sure that all the unfixed colour has been removed. In some cases it's best to apply heating through drying and ironing after washing to give a longer life to the print.



Caption: This Mimaki TX300P can be loaded with two sets of ink simultaneously and can print direct to either paper or fabric. ©Nessan Cleary

Finally, there are pigment inks, which are suitable for use with cotton and natural fibres including polycotton blends but can also be used with linen, rayon, silk, wool, nylon and polyester. Pigment inks use finely ground tiny colourant powder particles with binders that are activated by a heat process.

However, this ink is best suited to décor and furnishing applications, where there's less chance of the finished fabrics being subjected to wet washing, as the pigments sit on top of the fibres rather than being embedded into the fabric as with other ink types. As a rough guideline, pigment inks don't quite have the same degree of colour brightness, fabric stiffness and colour fastness as reactive dye inks though of course individual ink manufacturers may claim that their inks avoid these issues. In any case, pigment inks are much easier to work with as there is no need for the steam fixation and extensive washing processes associated with acid and reactive dye inks. There's also a good environmental argument to be made for this type of ink as it uses less water and less heat energy.

Inevitably, there is a compromise to be made between the amount of pre and post-processing required and the overall quality of the print and its longevity. Any additional processing steps will inevitably add to costs but this may be justifiable for higher value products, such as silk scarves and other fashion items. In any case, many printer vendors offer a choice of inks so that customers can diversify their business by running multiple printers of a similar type, each configured with different ink sets for particular fabrics and applications.
Interested in joining our community?
Enquire today about joining your local FESPA Association or FESPA Direct