Features
Inkjet displaces screen for ceramic tiles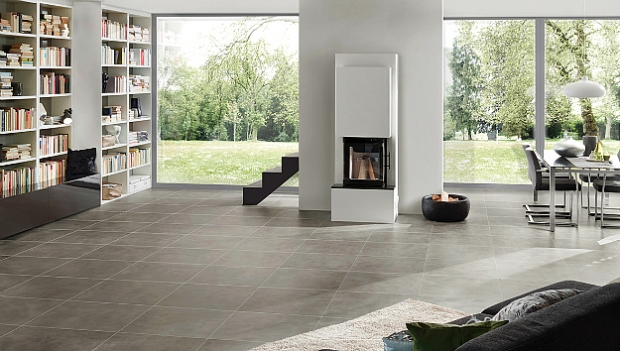 Simon Eccles explores the opportunities created by the movement of ceramic tile printing from screen to digital.
The past five years have seen a remarkable takeup of inkjet printers by the global tile printing industry, to the point that sales of new screen presses have all but disappeared. "It is no longer a case of offering digital tiles as an optional extra: digital capability is expected and digital inkjet is the only viable option," says Gillian Ewers, ceramics specialist at UK printhead manufacturer Xaar.
Printing tiles takes advantage of many of the strengths of digital printing, after some technical challenges have been overcome. The first dedicated tile inkjet was introduced by KERAjet in 1999, but it was only in the mid 2000s that developments in inkjet heads allowed the higher viscosities needed for ceramics to be handled successfully.
The global economic downturn hit the building industry particularly hard, resulting in smaller orders for "architectural" tiles, so the short runs with instant changeover that digital offers became a positive advantage to tile printers.
According to Spain based inkjet maker EFI Cretaprint there are about 10,000 tile producers worldwide, though they tend to be unevenly distributed, typically in countries that have natural resources of suitable clays. Italy and Spain are the main areas of production in Europe, but the past 15 years have seen growth elsewhere, including Turkey, Egypt, China, Vietnam, Brazil and Mexico. China has been a huge market. The total worldwide production of tiles was reckoned to be 11 billion m2 in 2012, of which China produced a little under half.
According to Ewers, adopting inkjet has meant "these manufacturers have all cut production costs, reduced waste, work-in-progress and stocks of finished products, and improved responsiveness to design changes and customer demand.
"They are also producing higher-quality tiles that offer more realistic reproduction of marble and other natural materials. And they are doing it in the short runs that buyers demand. Instead of competing on price, these manufacturers can compete on creativity and innovation, and do so in new materials."
Advantages over screen
Screen printing was originally the main process used for ceramic tile printing. The process is notable for its ability to print high viscosity, large pigment particle inks, but it's a long-run process where every image has to be the same and changeovers take time.
Inkjets originally struggled with the high viscosities and large particle sizes of ceramic inks, but by the mid-2000s those problems were overcome thanks to new print head types.
Now, even more than in sign and display or textile work, inkjet has particular benefits relevant to tile production. Roller screen printers run in contact with the unfired "biscuit" tiles, which are fragile and easily broken. Inkjets are non-contact, so thinner tiles can be made because they do not need to be strong at the point of printing (the strength comes from the later firing at about 1,200 deg C). However, the special inks also have to withstand these temperatures in order to combine into a durable glaze with a permanent image.
Inkjets can vary their image continually as they run, so unlike conventional rotary or flat screen methods, there's no need to repeat the image. Something like a marble-effect floor can run across multiple tiles with veins linking across tiles and without ever repeating the image or two tiles being alike. Conversely a complex decorative pattern or mural can be printed up to any size without the requirement for complex pre-press and multiple screens.
Less obvious is that inkjets, unlike rotary screen, can print onto tiles with a textured surface, which can be made by the pressing process but increasingly can also be printed. Durst offers an FX module on some of its Gamma 75 and 120 ceramic inkjets that can build up textures such as wood grain. Last year Xaar introduced its 001 printhead for very large drops up to 200 nanolitres (1 nl = 1,000 picolitres), for coverage up to 700 gsm. This has already been used for texture printing by Colorobbia on a Sacmi HW printer.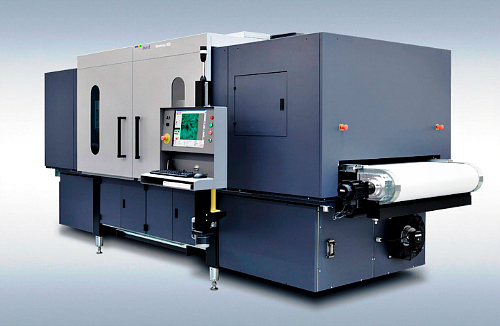 Durst introduced its first dedicated tile printer in 2005. This is a Gamma XD model
Kilns are the most expensive part of the production process and normally they will be run 24/7, with several continuous feed lines of unfired tiles leading into them. Single-pass inkjets are needed to handle the continuous stream of newly press biscuit tiles, with a fast belt feed linked to a conveyor line running continually from the pressing area and then from the printer to a kiln. The environment is challenging for the printers and feeds: the biscuit tiles are hot and steaming and there is a lot of abrasive dust.
Inkjet makers
There are approximately 20 manufacturers of inkjet tile printers, the majority in China but with two in Spain and five in Italy. Xennia also builds inkjet tile printers for export, as there is no local tile making industry. It also makes its own Zircon range of wide gamut ceramic inks. However it no longer sells the tile printers under its own name, but via OEM agreements. Hope Ceramics in China is one of these, selling them as the Digital hope jet series, in widths from 350 to 1,050 mm.
Cretaprint, which was acquired by EFI in 2012, originally made rotary screen presses, but has now dropped these to become an almost completely digital manufacturer. "I think nobody nowadays is buying screen printers," says business development manager Guillermo Garcia-Arregui Ferrando. "We can produce them, but all the ceramic companies prefer digital inkjet. We still sell some spare parts."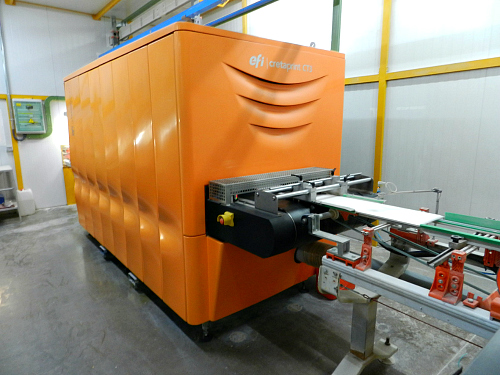 An EFI Cretaprint C3 inkjet printer, shown as part of a continuous tile production line
The EFI Cretaprint C3 can print with resolutions of 360 x 575 dpi at 15 metres per minute, or 360 x 260 dpi at 35 m/min, on widths up to 700 mm. The C4 model, announced at the Tecnargilla ceramics and brick industry show last September, is more compact and 30% lighter, with an improved vacuum belt, able to handle widths up to 745 mm with up to eight colour print bars.
The company has also developed Cretavision software, which uses camera vision to detect relief patterns on a tile's surface (pressed into it by the forming plate), and to call up the appropriate patterns from artwork to print on top of these.
Durst has been building ceramic tile printers in Italy since 2005 and today has a large range of single-pass Gamma series machines in a choice of widths and speeds, including models that print two tiles side-by-side. Its fastest models print at up to 90 m/minute, with greyscale heads generating from 28-90 picolitre drops.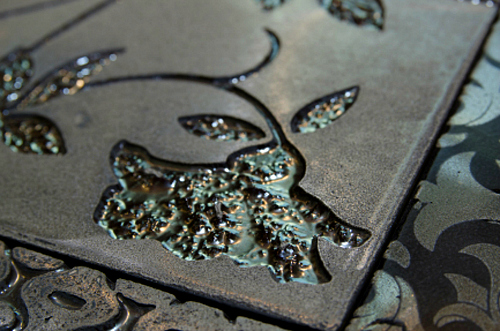 This tile design produced by Colorobbia won at the 2014 Tecnargilla Design Awards. The textured tiles were produced using a combination of black glaze and silver detail printed on a Sacmi HW printer using Xaar 001 large drop size print heads with Colorobbia's digital fluids.
Most of inkjet tile printers are single-pass types, which is needed to keep up with full-scale production lines where the printers are located on belt lines between the forming presses and the kiln.
Multi-pass ceramic flatbed printers exist too. They have some elements in common with flatbed UV printers used for signage,
but they are purpose-built to handle the ceramic inks and heavy tiles. They are mainly used for test prints and very short runs of specialist or art tiles.
Heads and inks
Xaar in particular has developed heads for OEM printer makers that are very well suited to the characteristics of ceramic inks. In 2012 and 2013 its sales benefited so much from the ballooning Chinese market for tile printing that its share price quadrupled within a year, though 2014 saw a collapse back to the previous pre-2012 levels as the Chinese economy faltered.
Xaar's 1001 print head, introduced in 2007, was the first to successfully allow jetting of high viscosity large pigment inks for ceramics. Its TF (Through Flow) technology is inherently resistant to blockages by particles or bubbles and it also allows continual recirculation of the ink past the back of the head, which prevents particles settling.
The original 1001 GS6 model offered 6-42 picolitre drops for smooth tones, but was joined in 2012 by the GS12 version with 12-48 picolitres for deeper colours. In 2014 the 1002 head was introduced, with improvements to drop placement accuracy. Again there were GS6 and GS12 versions, but also a GS40 for 40-160 picolitres.
At Tecnargilla 2014, GS40 based printers were launched by EFI Cretaprint, Intesa-Sacmi, KERAJet, SiTi B&T and TecnoFerrari. Several Chinese OEMs said they are working on GS40 models. These include Hope Ceramics Machinery, Keda Clean Energy Co, Meijia Ceramics Equipment Co, and New King Time.
Other manufacturers have subsequently developed inkjets with recirculation that's suited to ceramics inks. These include Toshiba TEC and Seiko.
"The ability to recirculate in and around the head was crucial to making digital ceramic printers work and turning this into production reality four of five years ago," says Philips at Xennia. However, he says that now that there are alternatives, Xennia is using a range of heads from different manufacturers.
Ceramic inks are very different to conventional graphics inks. For one thing their pigments change colour, sometimes radically, during firing, which makes colour management a challenge. They use more viscous fluid than are used in signage inkjets, while the pigment particles are larger and more abrasive. Soluble salts and glues might also be printed for some effects.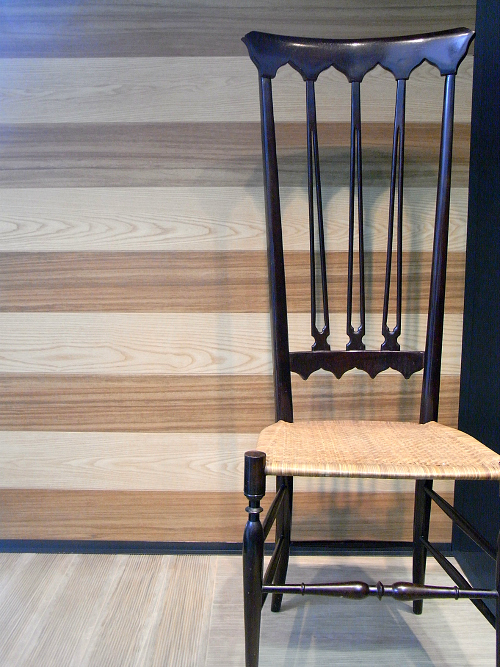 An interesting development early on was the emergence of an open market for inks, so users aren't locked into the printer's own brand. Ewers at Xaar says: "The open ink market has provided sufficient competitive pressure to reduce the price of digital inks in the ceramic market, and has been a significant contributor to the adoption of digital printing in ceramic tile production."
(Right) Wood effect floor and wall tiles printed on a KERAjet printer, using Xaar 1001 heads

Transfer opportunities
Apart from direct digital printing of tiles, it's also possible to use special ceramic toners with modified digital laser printers to produce full-colour waterslide decals.
These are mainly intended for commemorative plates, plaques and the like. The printers can be low cost modified desktop models, so are suitable for hobbyists or small producers, yet the toners are true ceramic pigments and so can be fired to fuse permanently into a glaze. This gives high durability that, unlike UV inkjet overprinting, is dishwasher safe.
Conclusion
For 20 or more years the printing industry has watched the relatively slow progress of digital print into sign & display, graphics and documentation, books and garments. Yet the almost complete acceptance and adoption of digital for tile decoration in less than ten years has gone largely unremarked outside the industry itself.
Making structures out of fired clay and decorating them is one of the most ancient of human manufacturing activities, yet now this industry is proving one of the most flexible in adopting new print technologies.
Interested in joining our community?
Enquire today about joining your local FESPA Association or FESPA Direct