Features
How to score a winner with sportswear print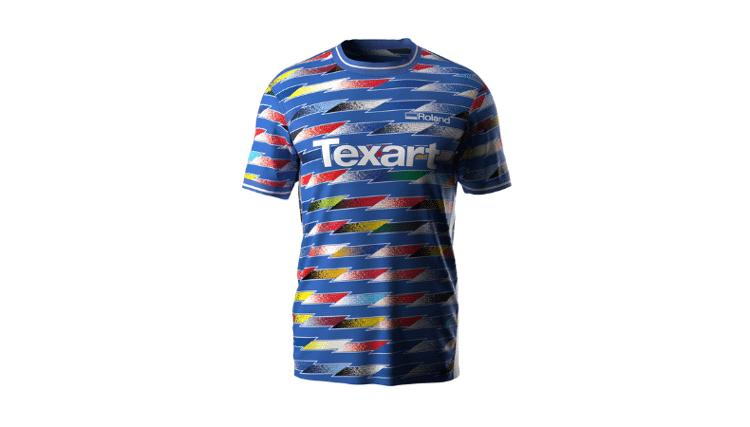 A market that has experienced growth in recent years and continues to go from strength to strength, Rob Fletcher takes a closer look at sportswear print to find out how print service providers can capitalise on growing demand.
The garment print sector as a whole is currently enjoying a period of significant expansion and has been for a number of years now. While the fashionwear market has been a large part of this growth, plenty can also be said of sportswear and the print opportunities that are available here.

While minds may immediately be drawn to football shirts and American football jerseys, the reality is that this market stretches far beyond these applications. Team logos, kit sponsors, and branded garments are already in high demand in the world of sports, and with the rise of hobbyists, amateurs and professionals in the sports scene, the need for printed and personalised active wear has grown.
Here, FESPA.com speaks with two manufacturers in this market to learn more about how print service providers (PSPs) can go about accessing new opportunities, as well the type of technology they need to succeed.
Functional and fashionable
One manufacturer with its finger firmly on the pulse of sportswear print is Mimaki. Product management supervisor Marc Verbeem said the market for printed sportswear is huge and continues to grow in popularity.

"Aside from the traditional needs for print in sportswear, namely improving the user's performance, nowadays there is also calls for these items to be not only functional but also fashionable," Verbeem said. "So much so, that in recent years we have seen the 'athleisure fashion' trend appear, for those that don't want to leave their sporty looks in the locker room.

"There's a lot of potential for growth in printed sportswear. The technological advancements in printing techniques and materials will also accelerate the popularity of this market."

Homing in on certain areas where more opportunities may lie for PSPs, Verbeem explained that sublimation printing is at the forefront of technology for sportswear, and one that appears to have promising growth.

"The reason for this is that sublimation printing can be carried out on some of the most technical fabrics often used for sportswear," Verbeem said. "These include Lycra for cyclists, which requires high stretchability to fit the body snugly. Importantly, sublimation printing offers an extraordinary range of colours without any compromise in quality or consistency.

"At Mimaki, we have identified several trends in this space, namely customisation, sustainability and digitalisation. For sports team kits, with logos and kit sponsors, the ability to personalise and accurately replicate the design and colours is paramount. Likewise, as sustainability is a universal key concern, the ability to print on demand allows for less waste, and less space required for unneeded inventory."
Driving forwards with digitalisation
Verbeem also spoke about then digitalisation of production lines, explain that this can help to automate production processes, give real-time data on production performance, and supply valuable insights to where efficiencies can be increased.

"It also means users can monitor production lines remotely, and for example be instantly notified if there are any faults with the printer, which is important with the rise of flexible and hybrid working," Verbeem said.

"There are also many software options that come built into these digital printers, which allow for far greater consistency and the reduction of these faults. Separately to this, digitalisation can also allow for much easier customisation using differing designs and the software used to create them."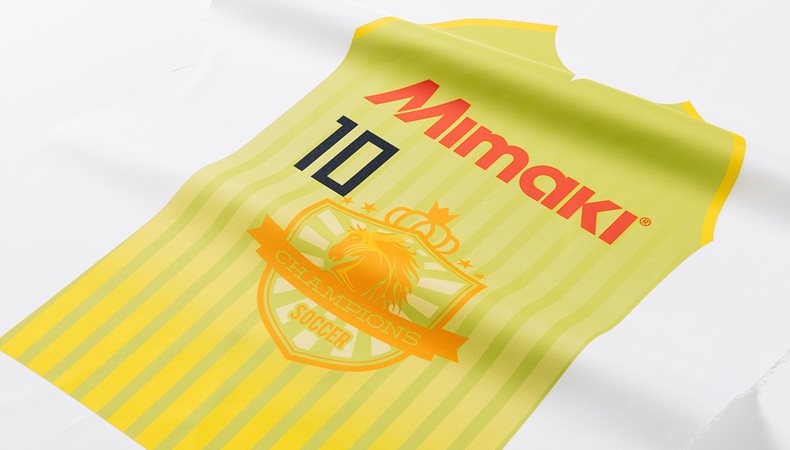 Caption: Mimaki said the market for printed sportswear continues to grow in popularity

So, how can Mimaki help? Verbeem says the manufacturer has a wide portfolio of printers available for this market, including the Mimaki TS330-1600, which he describes as its latest and highest-quality dye sublimation printer to date. The machine features ink dot placement and a maximum printing speed of 135sq m/hr, while it also uses OEKO-TEX ECO PASSPORT certified sublimation inks, capable of printing vivid colours, including fluorescent colours that are a stable in vibrant sportswear.

Also from Mimaki is the new Mimaki Tiger600-1800TS, which was recently launched in the market. This new dye sublimation printer operates at speeds of up to 550sq m/hr, 43% faster than its predecessor, thanks to its renovated high-speed inkjet printheads.

"While being more compact than the previous model, it can achieve superior image quality and consistency, and has been designed to accelerate the analogue to digital transformation within the textile printing industry," Verbeem said.
Modern twist
For an example of sportswear print in action, look no further than Roland DG, which recently revealed details of a special project that took place last year in the UK. To celebrate the start of the footballing, Roland DG created the first football shirt to feature the colours of all 92 teams playing across England's top four divisions: Premier League, Championship, League One and League Two.

Created by concept kit designer Andy Slater, AKA Xztals, the first '92 Club' shirt included a combination of over 100 unique colours from each team, with the piece being printed on a Roland DG Texart XT-640 printer.

"I was incredibly excited to be asked to work on such a creative project with Roland DG to showcase the company's vast printing colour capabilities," artist Slater said. "The design is inspired by a style I've adapted over time, taking iconic vintage shirts, and putting a modern twist on them".

Developed for dye-sublimation transfer printing, the Texart XT-640 features seven-droplet technology, in addition to four-colour high-speed printing or eight-colour printing for a wider colour gamut and smooth colour gradients. The machine is available across all regions in the EMEA market, opening up its use to companies in a wide range of markets.

Roland DG said the Texart XT-640 is aimed at sportswear apparel and accessories print houses and soft signage manufacturers looking to create high-volume sportswear, fashion, soft signage, interior decoration, promotional merchandise and much more.

Stephen Davis, EMEA marketing director at Roland DG, said: "The XT-640's advanced print control technology produces stunning sharp image quality and brilliant vivid colour. For maximum production, it delivers fine detail and superb contrast at impressive print speeds."

A spin on the more run-of-the-mill garment print work, the sportswear market offers all sorts of opportunities for PSPs looking to add another branch to their garment offering. Be it standard sporting apparel for local sports teams, or even ambitious projects such as the on highlighted here by Roland DG, there is plenty to cheer about in this sector.
Interested in joining our community?
Enquire today about joining your local FESPA Association or FESPA Direct