Features
How to print directly on to 3D objects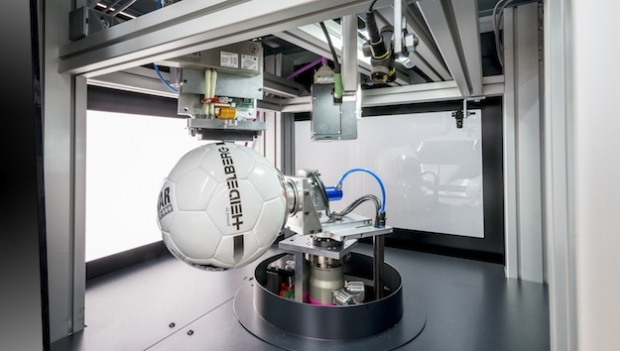 We've heard a lot about 3D in the past three or four years. But, clever though it is, it's hard to see it playing a big part in the established 2D printing sector.
Instead we're starting to see a much quieter but more significant mix of 2D printing straight onto three-dimensional objects. It's called "direct-to-shape," (DTS) and it's happening now.
The headline makers have been big and specialised industrial units, for printing digitally on bottling lines, beverage cans, industrial tubes and tile edges. However Heidelberg, the big German offset press maker, has plans to take a direct-to-shape product family into retail/consumer markets as well as commercial and industrial print.
At the entry level, direct-to-shape can increasingly be done on a smaller scale by small A3/A2 deep-bed flatbed printers that are the digital equivalents of small screen and pad printers.
Beer makes a splash
The heavy-industrial end of direct-to-shape saw a publicity splash in August 2015 when KHS, a big German maker of bottle filling lines, announced the first commercial installation of its "Direct Print Powered by KHS" system, first announced at the Dr inktec exhibition in Munich a couple of years ago.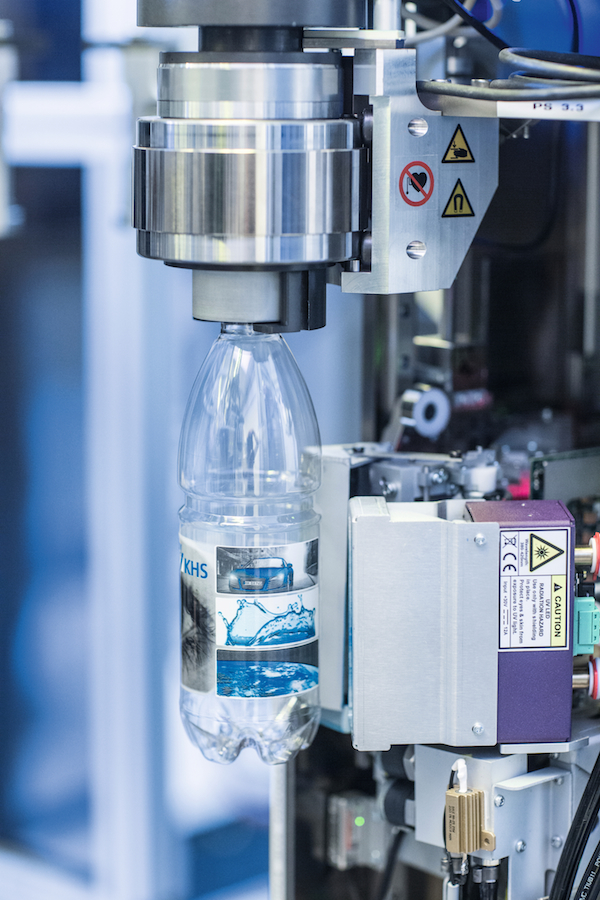 This uses Xaar 1002 printheads arranged in an unusual vertical "skyscraper" arrangement, firing horizontally onto the straight cylindrical sides of the bottles. The bottles are rotated as they pass the print stations, giving wraparound graphics up to 70mm high on to bottles ranging from 40-125mm.
The first installation is at Browerij Martens, Belgium, the second largest beer brewer in Belgium. This is being used for relatively short, versioned print runs on PET beer bottles. PET isn't much used for beer in Western Europe, though it's more common in Eastern European countries.
The first publicly announced job was a promotional launch of a beer that showed a range of actors from the Belgian TV sitcom "FC De Kampioenen" to promote an October 2015 "Jubilee Generale." The Dagschotel PET beer bottles carry images of different actors which come to life using a special smartphone app and interact with one another if two bottles are placed next to each other.
Printed cardboard six-pack sleeves, Martens will be printing in tens of thousands if not more, but that's still small beer in the drinks industry.
Krones, another big German bottle-filling line maker, announced an inkjet DTS project at Interpack in 2014. Its DecoType system has been developed in co-operation with Heidelberg, which has adapted its 4D technology with vertical Xaar 1002 heads, to print UV-cured ink on empty bottles made from PET, PP or PE. The printer is based on a carousel that takes bottles from a standard line and returns them after printing. Print heights up to 200 mm are possible.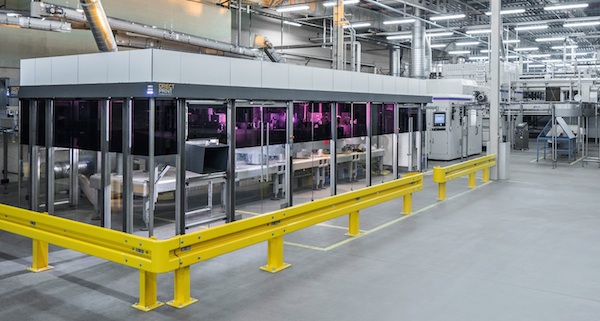 The KHS installation at Browerij Martens.
According to project manager Andreas Kraus: "the advantage is flexibility. Each print can be different, you can integrate variable data to individualise and personalise products. A special advantage is that areas can be printed on in areas that cannot be printed today with conventional labels, like embossings, grooves or structure. This adds value to the container and we think and believe that this is the technology for the future."
A YouTube video shows the system printing on the flatter sides of oval plastic bottles. There is a DecoType at a Beta site already, according to Jason Oliver, Heidelberg.
Tubes in a spin
Tube printing so far has seen more development than bottles. The German company Hinterkopf claims to be the first to have developed a digital tube printer, which it calls the D240. It is intended for printing on plastic and aluminium tubes, aluminium cans, cartridges, bottles, cups and other containers.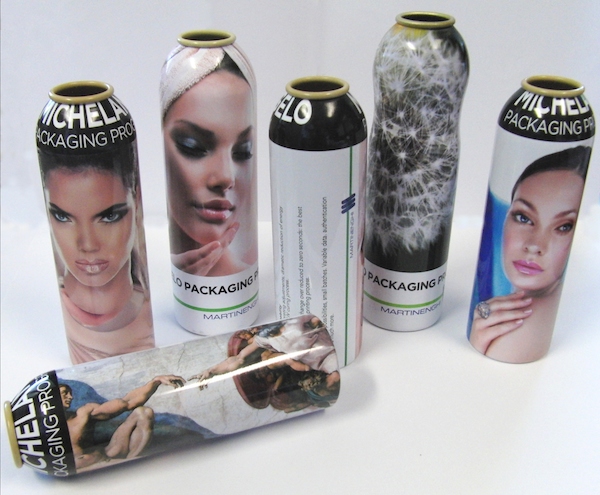 The price is about €2.5 million depending on the configuration and specification. Hinterkopf's first production system was installed in July 2015 at Ritter, an Austrian company to the south of Augsberg. Ritter makes plastic products for sectors such as medical technology, road construction and landscaping. It has used screen printing and thermo transfers, but wanted something that could change between jobs faster.
"Customers buy ever smaller quantities to be delivered in shorter periods, so that we have to offer the service of stock keeping and just-in-time deliveries," says joint managing director Ralf Ritter. "We wish to be trend-setters in the print-on-demand business of plastic cartridges."
Another tube printer has been developed by the Italian company Martinenghi, whose Michelangelo KX48P was announced in 2014. This can print in up to seven colours, including white, on tubes from 13.5 to 66 mm diameter and 50 to 280 mm in length.
In Switzerland, Wifag-Polytype has developed DigiCup, a direct printing system for square-sided plastic tubs, such as margarine containers. It uses Konica Minolta heads and was developed with help from UK integrator Industrial Inkjet Ltd. This treats the tubs as a combination of flat sides and conical side sections. It's seen as an alternative to in-mould labels, where pre-printed plastic labels are placed into the injection moulds for the containers. Several have been installed already, the company says.
Heidelberg targets retailers
All the systems we've mentioned so far have been for "industrial" use and runs on standardised products such as bottles or tubes. Heidelberg in Germany has put a lot of effort into DTS and the first commercial product to carry its own name is for very short runs aimed at consumer good with online personalisation via web ordering. Heidelberg calls its DTS systems "4D" meaning 3D objects with an extra dimension of print applied to them.
In early 2014 it announced a DTS printer called Jetmaster Dimension, which has a robotic holder that rotates objects beneath an inkjet head. The first two commercial installations were made at the end of 2014, to Liechtenstein-based BVD Druck + Verlag and German Druckhaus Mainfranken, a print partner of web-to-print firm Flyeralarm.. Both are used to produce personalised footballs which can be ordered, customised and paid for online.
These two machines only print in black UV cured ink. However at the inPrint show in Munich in November 2015 Heidelberg is due to announce a four-colour model, with plans to introduce further types in 2016 including one with six axes of rotation, allowing a greater range of shapes to be moved under the print heads.
The company sees great potential for direct-to-shape in the longer term, saying "It will make the process of customising mass-produced goods faster, cheaper, and more flexible. End users are increasingly looking for personalized design options when shopping for mass-produced items such as sporting goods, footwear, furniture, and cars. High-quality printing with logos, text, and other graphic elements is usually their first choice.
"Inkjet printing offers the ideal solution, as it can deliver high-quality results in a wide range of colours on a huge variety of surfaces, without having to come into contact with the product."
Oliver says that Heidelberg is already talking to retail organisations about installing in-store printers that will be able to offer customisation onto a range of objects, according to Jason Oliver.
Affordable DTS
In the past seven years a family of small format UV-LED flatbed inkjets have pioneered by Mimaki (and followed by Roland DG, Mutoh and some clever third party Mimaki-hackers). These will not print 100,000 items per hour, but they cost €20,000 to €40,000 and not millions.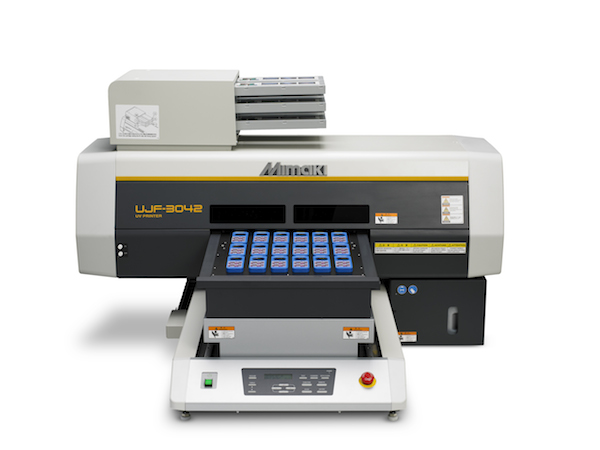 They are typically used for small promotional print work, onto pens, gold balls, key gags, phone covers and similar. They can also be used for more conventional industrial applications such as switch and instrument panels.
Jigs can be used to hold multiple items in position for the printed image to register on top, and in some cases the jogs can rotate under the heads so for instance the edges of phone cases can be printed. Cylinder rotators can be used with single bottles and tubes.
Mimaki originally produced the A3 format UJF-3042 for objects up to 50 mm deep, but later models have increased this to 150mm. It has added the A2+ format UJF-6042 and the new UJF-7151 (710x510 mm bed format).
Roland DG first introduced the 305mm by 280mm format LEF-12 and later added the A3+ VersaUV LEF-20. Most recently Mutoh introduced the A3+ ValueJet 426UV. Several third party suppliers take existing small flatbeds (mostly Mimakis) and re-engineer them with deeper beds.
Mixed blessing?
Direct to shape printing has huge significance for several established sectors of the printing industry that today mostly use pad printing, screen process, self-adhesive labels or a variety of transfer methods such as dye sublimation or water-slide decals. It removes the separate print and application stage.
This may be a mixed blessing for established printers. On the one hand if they can adopt it themselves for items such as giftware, then it brings the usual digital advantages of short run and personalisation in an efficient package.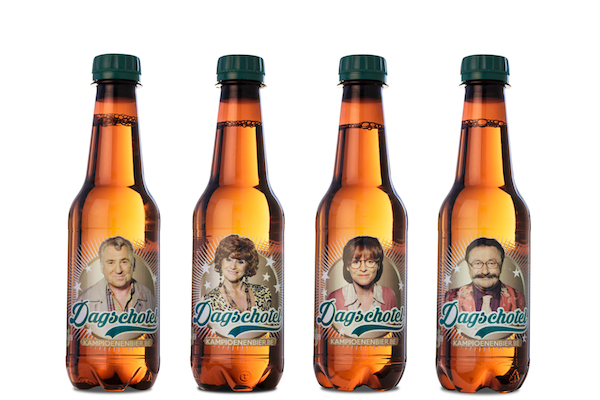 Inkjet printed PET bottles produced by Browerij Martens.
On the other hand, as KHS and Krones demonstrate, these DTS digital printers may end up going onto manufacturing and filling lines and cut out the need for outside print services. Probably what we'll see is a mix of both, with small customers using outside services and the bigger ones being able to make the investment to bring the work inhouse.
Interested in joining our community?
Enquire today about joining your local FESPA Association or FESPA Direct