Features
How to be more productive in LFP and print with confidence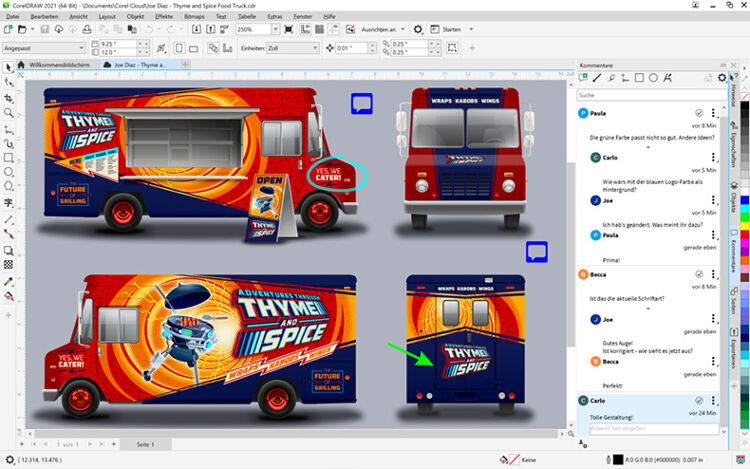 Today´s LFP software and machinery makes it easier than ever to be more productive. However, many digital printers still have an analogue approach to their daily work. So, what does productivity even mean, and what are the correct tools to improve it?
Recently a printer told me "Productivity isn't a problem as we aren't that busy." His attitude seems to be shared by many printers however this attitude seems rather strange. Now is an opportune time to revaluate workflows and best practices.

With the economy starting to recover across many countries, establishing reliable, efficient workflow is crucial in getting ahead of the competition. There are many new products that can help businesses become more productive in LFP across the entire workflow from design to finishing.

So, what is productivity? And no, it´s not "doing more in less time", because this is not how it works. Productivity is defined as efficiency of production. Or, in short, the ratio of production result (output) and use of production factors (input). Therefore, an increase of productivity means either more output with a given amount of production factors such as working hours, substrates, inks, etc. The other way to increase productivity is to decrease the amount of production factors to achieve a given output. If you can print the same number of jobs with one printer instead of two, you are already improving your productivity.
Productivity and Workflow
"Workflow" has been a buzzword in printing for quite some time. Most people think about software tools and automation in that context, however any repeatable and orchestrated activity already defines a workflow. So, if a printer decides to print customer JPGs directly from a flash drive onto a standalone printer, spray the output with a clear varnish from a can, sets it out on a table to dry and then cut contours by hand with a cutting knife, this already is a workflow. Albeit, in most cases, not a very efficient and scalable one.
A modern LFP workflow can be defined by the following steps:
Design of printed applications
Data optimisation
Print
Finishing
There are organisational steps before and behind this workflow that may also be integrated, such as a web shop, CRM or an automated billing system. In this article, I will concentrate on the above-mentioned steps, as they are likely to happen in a (full service) print production.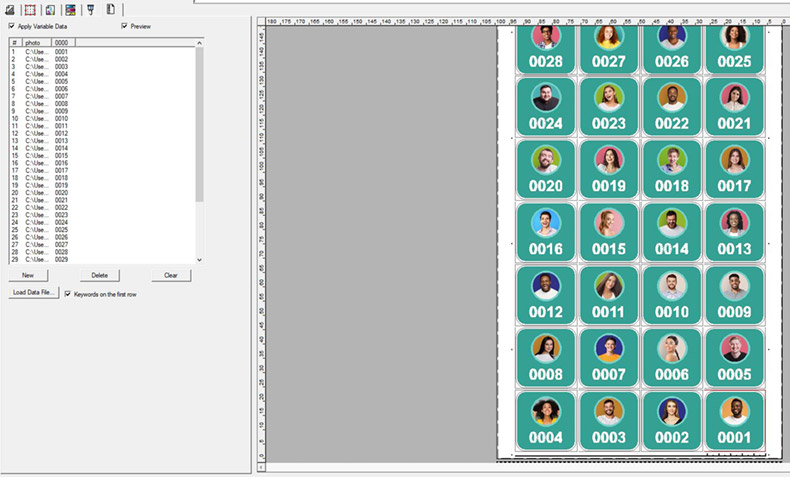 Caption: The SAi Flexi 21 RIP offers integrated variable data printing for more productivity (and potentially better margins). Image credit: SAi
Being Productive when Designing LFP Applications
Most people in the print industry are familiar with using Photoshop or InDesign. Many out-dated versions of Adobe applications are still being used. This often happens amongst smaller printers or with self-employed designers as they claim that a
Creative Cloud
subscription is "just too expensive", or "not worth the hassle".
From a productivity point of view, this seems odd. Modern software versions offer many time-saving features, for example cutting out motifs. They also use the latest Adobe PDF Print Engine, which makes them easier to print in the intended manner.
Adobe´s biggest competitor Corel still offers lifetime licenses for their
CorelDraw Graphics Suite 2021.
With the latest 2021 version, the CorelDraw.app features elaborate co-operation tools and Microsoft Teams integration, however this is only available for subscribers.
With browser-based competitors like graphic suite
Visme
or the
Serif Affinity Bundle
, new competitors have appeared in the design software segment. Sticking to an established software and workflow can be a lower productivity as there's a real danger of incompatibility errors when using older versions. Modern software versions are much more focused on newer design applications like social graphics. Saving time in scaling print designs for new(ish) channels like Instagram, up-to-date design software may not only boost productivity, but also extend the value chain.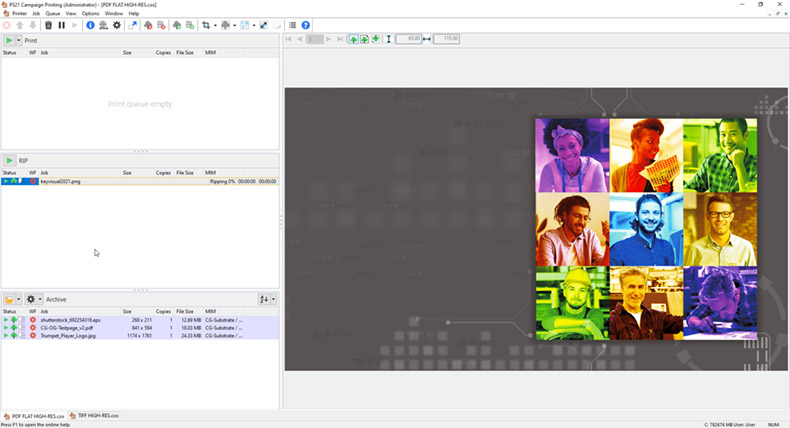 Caption: Colorgate Productionserver 21 with extended Colour Management options
. Image credit: Colorgate
RIPs and Productivity
Raster Image Processors (RIPs) are a key element for LPF productivity. Many market-leading printers feature a basic RIP version,
Mimaki´s Raster Link
and
Roland DG's VersaWorks
are the most prominent examples. For many print shops that only have one or two printers, a bundled RIP may be all that is required with basic colour management, tiling and nesting already included.
A varied software environment does not help with productivity, when continuous updates and security checks for several RIPs are ongoing.
RIPs like modular
Colorgate Productionserver,
Caldera RIP
or
SAi Flexi
power a wide variety of printers, colour management devices and cutting tables with only one installation. They also provide additional time-saving features like variable data printing or simultaneous printing while ripping. Installing a unified RIP solution for a multi-print shop requires expert knowledge, so switching RIPs is a serious investment. When integrated with workflow software like
Caldera Nexio,
it's possible to link a RIP with other applications like web shops, MIS / ERP and CRM software.
EFI´s Fiery Inkjet solutions
are designed to be integrated with many other productivity software. It can be a challenge to fine-tune workflow integration, automation and reporting software into an existing print shop,
Durst Software & Solutions
offers smart and simple software solutions to streamline processes.
HP's PrintOS
also features a wide range of applications that are related to the printing process.
Printing with Confidence
In the past Wide Format Printing operators were often trained for one type of brand´s printers only, sometimes even for one single machine. Obviously, this caused various problems, so today user experience and the reliability of wide and super-wide format machines has greatly improved.

For many wide format standard applications, very little expert knowledge is needed. Even Colour Management was once a pinnacle of printing and now it has become easier since many substrates feature profiles for market-leading RIP / ink / printer combinations. Manufacturers like Canon and HPare even integrating their own or certified substates into their printer drivers and RIPs.

While a very skilled operator may further tweak the output with custom profiles, the quality achieved via a good third-party substrate profile will probably exceed most customer expectations.
Automated Finishing and Workforce
Even the fastest and most productive printer does not increase productivity if the finishing department cannot keep up. In recent years many printers ended up with very large finishing departments to help tackle surge output from industrial strength printers.

It is likely that after COVID, people being furloughed and retail shops closing that many printers may have to reduce their workforce. Collaborative robots working alongside humans in the finishing will become more common within the next few years, boosting productivity in larger print shops.
How to… automate and still be productive
It's a very common misconception that an automated workflow means excellent productivity. While almost any clever workflow helps to maintain the quality, workforce and customer satisfaction, automation always requires a certain number of repetitive steps to really be useful. In LFP, this mainly means a certain daily average run-length.

Here is an example, a printer specialised in one-off personalised consumer goods may find using a robot may decrease productivity, as programming the unit can take much longer than the task itself.

Any workflow designed to boost productivity, automated or not, must have:
fixed settings and parameters
a control routine
It still needs to be versatile enough for problems or emergencies. For example, if an important part of a POS design is damaged in the installation, a short-notice re-print is required without damaging the whole production.

Another important factor is people: any new workflow or automation option not understood by the staff will probably crush morals and decrease productivity.

From a psychological point of view, a fresh start after the pandemic might help to break away from old routines. Or, as I mentioned in the beginning: there has never been a better time for workflow optimization and automatization than now.


Interested in joining our community?
Enquire today about joining your local FESPA Association or FESPA Direct