Features
Going Green with Inkjet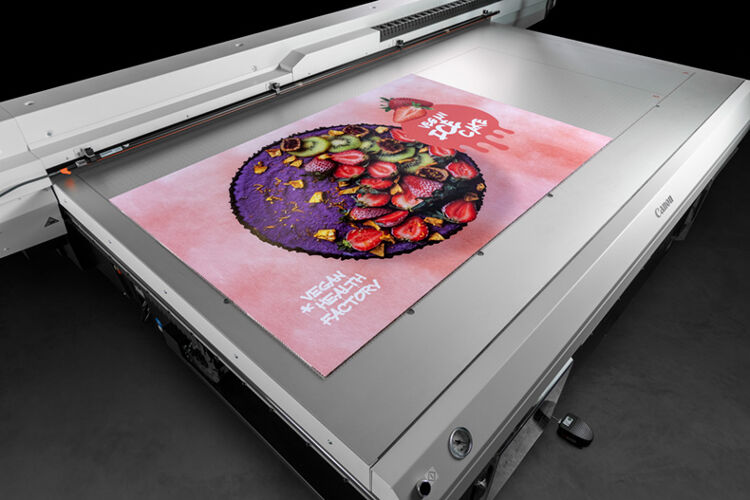 Wide Format Printers are embracing more sustainable business models. The latest innovations introduced into the market help printers to tackle the 3 most significant industry problems: energy, chemicals use and the overall consumption of raw materials.
In many developed countries around the world the economy is recovering after COVID. The ongoing issue with climate change will directly impact many industries, and the printing industry is no exception.

The options available to printers to reduce their carbon footprint is related to the products their suppliers bring to the market. Although more sustainable equipment and substrate options have been introduced, in the last few weeks there has been an impressive increase in sustainable innovations.

The main sustainability issues with digital printing are
Use of chemicals
Use of resources for machinery
Energy Use and Digital Printing Machinery
For a long time, the digital printing industry has been considered quite energy efficient and sustainable. This does continue to be true as for example industrial grade inkjet printers require less electrical power than a large screen printing or offset line. But with printers growing and expanding their equipment, this is becoming less true, especially when you consider the hourly productivity of a machine.

Canon's latest addition to their Arizona UV range focuses on sustainability. The new Arizona 135 GT flatbed printer has a table size of 125 x 250 cm and features a "Instant-On" function with only minimum warm-up time for LED lamps. Due to more energy efficient vacuum pumps and UV curing process, the Arizona 135 GT does not require a high current plug, a simple household plug will suffice.


Caption: The new Epson D3000-A1R PrecisionCore printhead does not require regular ink ejection and head cleaning, which can decrease the amount of chemicals used in printers. Image credit: Epson
Chemical Use in Wide Format Printers
Chemical waste is increasingly becoming a problem. Not only does the manufacturing of chemical products require a lot of resources but recycling also often requires a large amount of energy. Therefore, it is crucial that the least number of chemical products are used in the printing process. Doing so ensures that the impact on the environment is low.
The specifications for chemicals used in a printer are usually defined by the print heads. Therefore, Epson´s announcement of the PrecisionCore printhead D3000-A1R seems to be very interesting from environmentally friendly perspective. It will be launch in the Spring of 2022.

Regarding the D3000-A1R, the ink is circulated at the nozzle level. This prevents potential issues caused by the evaporation of moisture near the nozzles. Epson have stated that the circulation also enables stable printing and increases the degree of freedom in the engineering of devices and ink. The D3000-A1R has been specifically designed for water-based inks, targeting the digital textiles, packages, and decorations markets.

The most interesting feature of this machine is that the new printheads, unlike their predecessor, the PrecisionCore S series, will not require regular ink ejection and head cleaning. This could potentially decrease the amount of chemicals used in the machines quite significantly.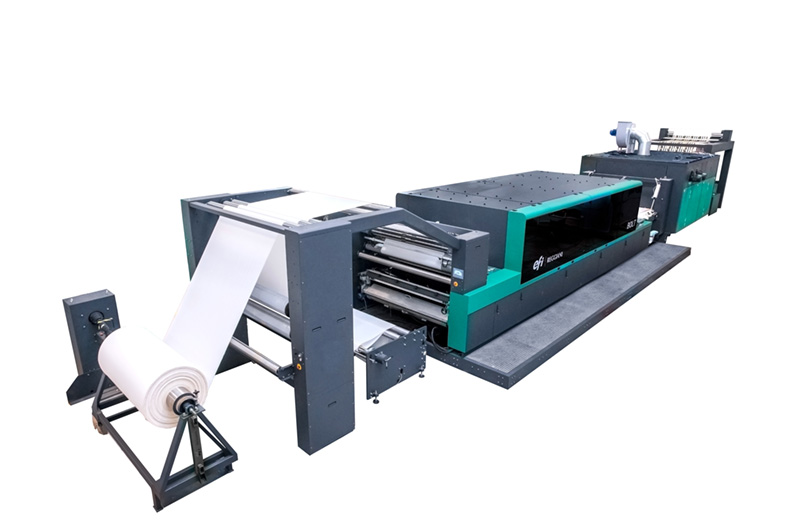 Caption: Upgrade instead of replacement: The Reggiani Bolt textile printer´s latest upgrade will increase file processing speed by up to 200%. Image credit: Efi
Use of Resources for Digital Print Machinery
Many people have the misconception that a digital printer is a small machine in an office, however today´s industrial grade high-productivity machinery often resembles their analogue counterparts in terms of sheer size and weight. Just think about the vast amount of resource needed to build it: Steel, switches, wires, chips... the list goes on.

While a screen-printing line often is passed on from one generation of owners to the next, a digital printer almost never does. Even today, it seems that technological advancement is just too fast for a printer to last much longer than 10 years, before it becomes obsolete.

Thankfully, manufacturers have become more aware of this problem in the last few years. Many offer options for existing customers to upgrade machinery to a new printer generation. One current example is EFI Reggiani. Their upgrade to the single-pass industrial grade textile printer Reggiani Bolt was announced in late June 2021. EFI stated that this machine drastically increases file processing speed by up to 200% for complex files.

The upgrades feature a combination of hardware and software enhancements, and will minimise artefacts, compensating for missing nozzles that may occur over time and enhances uniformity to deliver smoother solid colours. A new inline digital camera will help to provide consistent print results and shortens the time for print head replacement and alignment.
Sustainability Takes Centre Stage
It seems that environmentally friendly equipment has substantial impact on the printing industry, potentially helping to significantly lower the carbon footprints of printers and their products. It is important that new machinery is designed from the ground up with their entire life cycle being considered. With their latest portfolio addition, Canon is currently leading the way: The new Arizona 315 GT will be included into a remanufacturing programme to give the flatbed printers a second life.

Discover the latest innovations in digital printing at the Global Print Expo 2021, Europe's leading exhibition for screen and digital wide format print, textile printing and signage. Discover the latest products, network with like-minded individuals and explore new business opportunites. Register now and use promo code FESH101 ​to receive a discount of 30 euros.
Interested in joining our community?
Enquire today about joining your local FESPA Association or FESPA Direct