Features
Find out more about eco-solvent ink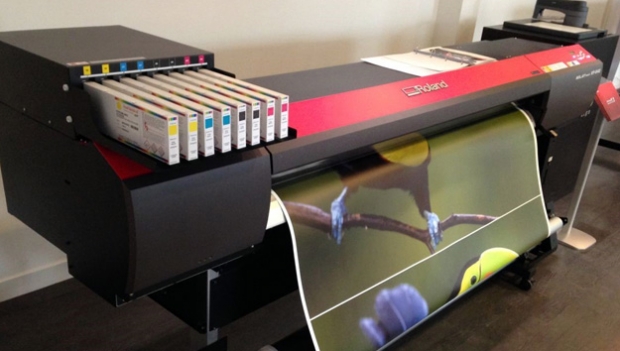 As eco-solvent inks continue their evolution, Simon Eccles examines their qualities and benefits to print service providers and the environment.
Light solvent inks for inkjets, often called eco solvents, emerged in the early 2000s for general purpose signage work. They were developed in response to an industry demand for more operator and customer-friendly inks than the original "strong" or "aggressive" solvent inks.
Strong solvents have a high content of VOCs (volatile organic compounds) which often require forced ventilation and extraction to protect the printer operators, and many of them retain a distinctive lingering smell which makes them unsuited to indoor use where it's noticeable.
On the other hand, strong solvents are relatively low cost and they are very effective, especially for outdoor signage, vehicles graphics and so on, where they have a long lifetime, typically of five years or more. They have the effect of partially dissolving and softening plastic media, which helps the pigment colorants "bite" permanently into the surface.
Eco solvent inks by contrast have a relatively low VOC content and are even usable in studio and office environments as long as there is adequate ventilation. They have little odour so they can be used with indoor graphics and signage. They don't attack the inkjet nozzles and components as aggressively as strong solvents, so they don't need such constant cleaning - one or two times per week is often quoted. They require more heat to dry than strong solvents, which affects some media - generally you have to use a thicker and so more expensive vinyl to withstand the heat than you would with a strong solvent ink.
These inks also soften the plastic media and bind to it, though somewhat less than strong solvents. This means their weather, UV and scratch resistance isn't as good. While eco solvents are widely used for outdoor work, it tends to be for applications that only need to last one or two years.
They are widely used in entry level through to mid-priced wide format inkjets, though the upper, "industrial" end of the market still has a tendency to use strong solvents for the same sort of applications. Eco solvent inks are more expensive than strong solvents, which is especially important for high volume users.
Manufacturers have progressively improved their eco solvents in the past ten years. For instance Sun Chemical introduced a completely new "platform" chemistry for its wide format inks a couple of years ago, says Tony Cox, business manager at Sun Chemical's global inkjet manufacturing facility in Midsomer Norton, UK. "We started from scratch with raw materials and looked at how best to achieve the results we wanted with the knowledge available today," he states. "This is a backbone technology that we can use across various printer technologies and printhead types, for various applications."
Sun's Streamline new ESL 2 ink cartridges are intended for Roland Pro 4 series printers.
All of Sun's wide format solvent inks are sold under its Streamline brand as third party replacements for original manufacturer's inks: for instance the recently introduced Streamline ESL 2 inks are designed for use as replacements for Roland's standard Eco-Sol Max inks in VersaCamm and similar printers. "We introduced the first eco solvent ink with this technology some two years ago," Cox says. "We're on our third generation of the new technology already, and before that we had maybe four generations of the previous eco solvents over about six years. The inks are very robust now, they work well, they're very robust, they allow good head stability, they have good film properties - tough, flexible, durable - eco solvent technology nowadays is really very good."
The end of September 2015 saw the announcement of Roland DG's Eco-Sol Max 3, a new generation of its inks that will be supplied as standard with its new eco solvent printers and also be available as an update to some installed printers, whether current or "legacy" models. According to Roland DG, the new ink "delivers faster drying times, larger capacity cartridges, a lower price per cc of ink and an overall performance upgrade."
What is "eco" anyway?
The "eco" part of the name has been questioned over the years. Originally the implication was that it was short for "ecological," on the grounds that lower VOCs must be a good thing environmentally. When other ink makers started pointing out that eco solvents weren't particularly green, some manufacturers claimed that actually it means "economical." One could argue about that too. It would be simpler to just call them light or mild solvent inks, but the eco term has stuck.
More than ten years ago Tony Martin, president of UK ink maker Lyson at the time, pointed out that strong solvents aren't necessarily hazardous, but mild solvents sometimes are: "For instance, dipropylene glycol monomethyl ether is a commonly used material in many low-odour mild-solvent inks with an exposure limit set by the US Occupational Safety and Health agency at 100 parts per million in the work place," he said. "Compare this to some of the lactates used by aggressive-ink manufacturers that actually are food additives, are easily metabolised and have no set exposure limits."
Early strong solvent inks used cyclohexanone, as Colorific's business development manager Holdon recalls: "This ink would stick to anything and dry very quickly," he says, "but cyclohexanone is now restricted in its use and no longer used in any wide format ink products."
That's not to say that eco solvents are hazardous either. For example Roland DG's Eco-Sol Max 2 and ite new Eco-Sol Max 3 inks both have Greenguard Gold certificates signifying low chemical emissions that are safe for indoor use in places like schools ad hospitals.
According to Holdom: "The evolution of eco solvent now is changing with worldwide legislation. Ink development is helping machines go quicker, faster and give better quality and offer longer durability. However the challenge to all chemists is making the products just as good but using fewer nasty solvents, becoming biodegradable, and removing nickel content - particularly found in yellow pigments - as well as having very low VOCs."
Solvent-UV hybrids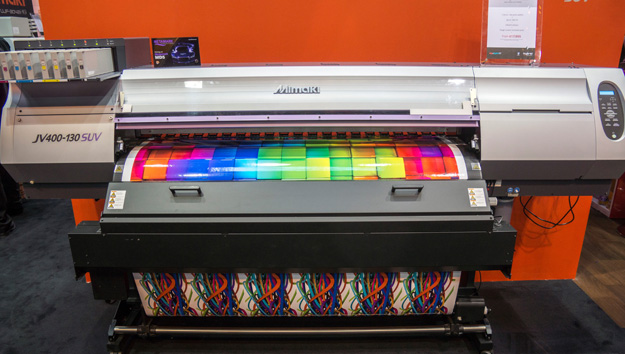 A Mimaki JV400 SUV printer running solvent-UV hybrid inks.
A relatively new variation of eco solvent inks are the hybrid solvent-UV inks, sold by Fujifilm, Mimaki, and Colorific/Lightbar. These use a small amount of solvent added to UV inks, with many of the benefits of both (see our previous story, here: www.fespa.com/news/features/solvent-uv-ink-what-is-it-and-when-should-it-be-used.html).
According to Mimaki's European general manager of marketing Mike Horsten: "This new technology combines the best of both worlds. The solvent ink side gives adhesion on vinyl that is very good and the UV ink part achieves a gloss and colourful finish. This type of UV ink component is also flexible so you can really work with it from a roll. The other advantage is that you don't need to wait before you start working with it. You can laminate it without waiting.
"The advantage with this ink technology is that there is enough time for the pigment particles inside the ink to fall and laydown on the substrate giving it a very flat surface thus giving it a great scratch resistance and also the best reflection of the widest colour gamut you can think of. "
Alternatives
One of the biggest competitors for eco solvent inks is latex ink, which is basically heat-activated polymers dispersed in water. They are promoted as 'greener' than eco solvent inks as they have no organic solvents, though a counter-argument is that they require an awful lot more heat to drive off the water, and that consumes electricity. Unlike solvent and UV there are no VOCs or HAPS so these inks are suitable even in sensitive indoor environments such as wallcoverings in schools and hospitals.
HP was first to market with latex (a name it chose) in 2008 and its inks are now into their third generation, which is much improved. Their outdoor life is reckoned to be equivalent to eco solvent inks which the adoption of a priming fluid helps the inks bod to the media with lower heat and energy demands than before. Mimaki has developed a broadly similar ink that it also calls Latex, which it uses in the JV400 LX models. Ricoh uses the same ink in its closely related Pro L4100 models.
UV inks overlap with both strong and eco solvent inks for some applications on flexible materials - the attraction is the ability to work with practically any media, with instant curing and no outgassing. However, UV printers and inks are always much more expensive than eco solvents of the same size and throughput. The latest generation of LED curing lamps for UV inks run much cooler than conventional UV lamps or the heaters in solvent printers, so there's little problem with heat-sensitive or thin media.
Conclusion
Today, eco solvents are just one of an increasing ink "solutions" (in both senses of the word) available to large format printers. While they have by no means replaced strong solvents, their user friendliness, versatility and low entry cost make them the ideal beginner's choice. Indeed, for many large format printers eco solvent may the only system they'll ever need.
Interested in joining our community?
Enquire today about joining your local FESPA Association or FESPA Direct