Features
FESPA Eurasia preview: Stand by stand guide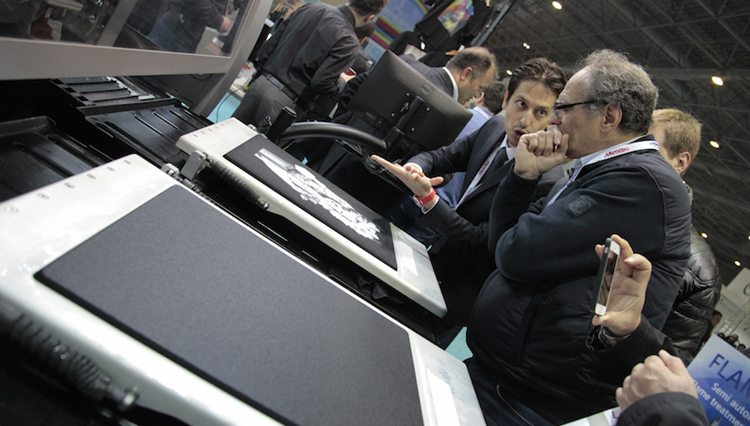 With this year's FESPA Eurasia just around the corner, we pick out some of the key highlights at the event and the new technologies that will be on display.
FESPA's regional and global events serve as a hub of information and excitement for print and sign companies from around the world. Whether you are seeking a new printer to allow your business to expand into new markets, or looking for a material that will help add something extra to your work, FESPA exhibitions are almost certain to hold the answer.
This year's edition of FESPA Eurasia is no different, as industry members from the wider Eurasia region descend on the CNR Expo in Istanbul, Turkey, from December 7-10 to learn more about some of the latest developments in print and sign technologies.
Much like all other FESPA events, FESPA Eurasia will also feature a number of special, in-show areas dedicated to helping visitors gain further insight into key areas of the industry and allow them to grow their business.
With all of this in mind, we look ahead to FESPA Eurasia 2017 and finds out what we can expect from this much-anticipated event.
Educate to accumulate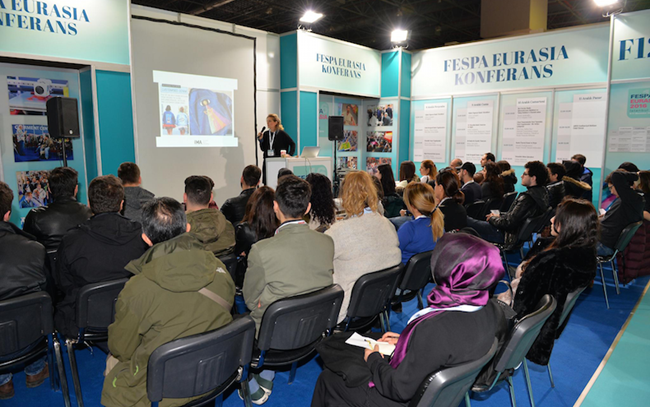 FESPA Eurasia will again feature a number of special areas where visitors can learn more about certain areas of the pint and sign markets
The official FESPA Eurasia website encourages visitors to "explore new print and signage possibilities", as well as "dare to be different and expand your business". Organisers have stayed true to this advice by putting together a series of features for the event, where attendees can pick up guidance on how to expand and grow their businesses.
One of the most popular areas from 2016 will return this year in the form of the ARED Signage Demo. Here, visitors will be able to see sign painting in action, as well as plexiglass box letters being made and take part in a pixel LED workshop.
Hasan Gürşan will deliver a daily session on sign painting, while Edip Şirvan of Şirvan Reklam will lead a chrome letter workshop, offering a valuable insight into this type of work. In addition, Aydın İlkkan from Cevizlibağ Reklam will speak with attendees about the process behind making plexiglass box letters, as well as head up the pixel LED workshop.
"This hands on feature provides all the tips and techniques of the trade, as well as a chance to network with fellow signage professionals," the FESPA Eurasia website states.
Visitors will also be able to see first-hand some of the best wrapping talent in the region as the FESPA Wrap Masters hosts its Eurasia stage at the exhibition. Here, wrappers from across Eurasia will compete for the chance to not only be take the title of regional winner, but also go on to compete in the final at the main FESPA show next year in Berlin, Germany.
"This adrenaline-fuelled feature will showcase the skill and creativity of vehicle wrappers and is designed to recognise and promote the global vehicle wrapping community at their best, while illustrating how vehicle decoration can be an effective tool in the marketing mix," the FESPA Eurasia website says. The FESPA Wrap Masters Eurasia event is still open for entries, click here for more information on how to register.
Leading print names set for major presence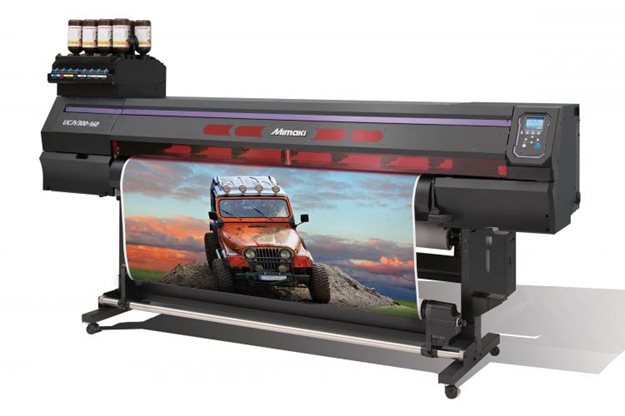 Due to be displayed at FESPA Eurasia, the Mimaki UCJV300 has a top printing speed of 25.8sq m/hr and can achieve resolutions of 1200dpi
Outside of these special areas, new technology will be demonstrated across the show floor, with a host of leading names in the print and sign sectors due to attend. One such company is Mimaki, which recently revealed plans to show off its UCJV Series and 3DUJ-553 3D printer at FESPA Eurasia.
The UCJV Series comprises two print-and-cut machines; the UCJV150-160 and the UCJV300-160. The UCJV150 has a maximum speed of 13.4sq m/hr and the UCJV300 25.8sq m/hr, with both models capable of printing at a top resolution of 1200dpi.
Mimaki says both of these machines are suitable for producing applications such as outdoor signage, posters, banners, flags, labels, Swin P.O.P and wallpaper, with the UCJV300 also able to create illumination signboard. Mimaki will feature on Stands D20 and D30i at FESPA Eurasia.
Elsewhere, HP will have representation at the event through its reseller partner Mat Kağıt on Stands A65 and B65. The company will mainly be focusing on the HP Latex 3200 printer, which can handle materials up to 3.2m wide and print at speeds of up to 77sq m/hr in indoor, high quality mode.
Other features of the HP Latex 3200 include a top print resolution of 1200dpi, with an average monthly print volume of between 30,000sq ft and 60,000sq ft. In addition, the printer can handle a range of materials, including high saturation backlits, textiles and canvases.
Meanwhile, on Stand B30, FESPA event regular Roland DG will be using FESPA Eurasia to show off its VersaUV S-Series. Billed by the manufacturer as the "ultimate versatility in UV printing", VersaUV S-Series machines pledge to go beyond standard printer capabilities to "push the boundaries of direct print possibilities".
VersaUV S-Series belt devices can direct print in CMYK plus white and gloss onto a wide range of flexible or rigid substrate, as well as object up to 200mm in heights and 100kg/sq m in weight. Roland DG offers the printers in three sizes: 760 x 1,470mm, 1,625 x 1,470mm or 1,625 x 2,470mm.
Widespread technical highlights at FESPA Eurasia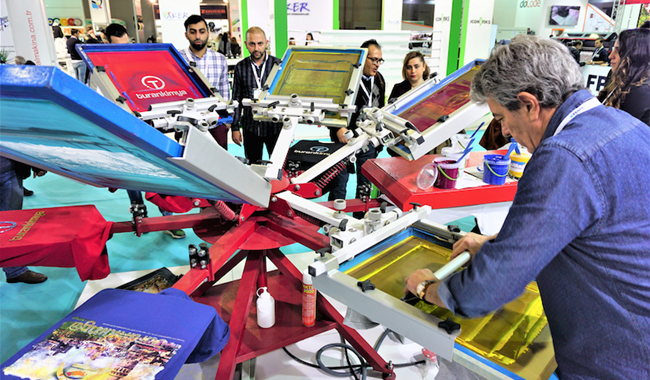 Screen printing inks manufacturer Turan Kimya will be showing its latest eco-friendly products range at FESPA Eurasia 2017.
Visitors may also want to drop in on Brother on Stand B30, with the firm being represented by distributor Uğur Tekstil Makinaları. Set to showcase the GTX direct-to-garment inkjet printer, this machine is able to print in CMYK plus white at a maximum resolution of 1200 x 1200dpi.
Speaking about the printer on its website, Brother said: "The Brother GTX comes with technical sophistication and ease of use that you would expect from the next generation of garment printers plus more. With the GTX, print the most complicated and colour-intense designs - including photographic imagery - faster and with more eye-popping resolution faster than ever before."
Elsewhere, Optimum Digital Planet will highlight the capabilities of its Maximo Inno S on Stand C10. Produced and exported to many countries within Eurasia, this solvent / eco-solvent printer has an impressive top print speed of 300sq m/hr and can print on media up to 3.2m wide.
Users will also benefit from a high, maximum print resolution of 2880dpi and a halogen and fan drying system. Other features on the machine include the use of KM 1024 printing heads, a CMYK colour scale and the option of RIP software.
Meanwhile, on Stand D50, distributor GFK will be showing off various machines, with a focus on the Sunjet 7110 UV. Featuring Toshiba CE4 UV LED printhead technology, the device is capable of printing on a wide range of materials such as paper, canvas, glass, metal, wood and MDF.
Other features on the Sunjet 7110 UV include a new ink mixing system, water cooling UV LED technology and standard vacuum table, as well as support from Powerlotter RIP.
Aside from the mass of hardware print technologies, visitors will have the chance to see the latest in the consumables market. Screen printing inks manufacturer Turan Kimya will also be in attendance on Stand J10, where it will display a host of locally produced and exported inks.
Organic GOTS certified inks produced by Turan Kimya can safely be used for the most sensitive applications such as baby clothes. Almost all products are 100 per cent eco-friendly, formaldehyde and AZO free Organic GOTS certified products. The company also exhibited at the recent FESPA Mexico event as it sought to expand its presence in regions around the world.
This represents just a small selection of the many companies that will feature at FESPA Eurasia, from December 7-10 the CNR Expo in Istanbul, Turkey. Visitors are urged to plan their trip so that they can make the most out of their time at the show and view all key technologies on display at the event.
To find out more about what is in store for visitors at FESPA Eurasia, as well as view more information about the special areas and see the full list of exhibitors confirmed for the event, visit the official website and register today.
Don't forget to use promotional code: EURH717 for free entry.
Interested in joining our community?
Enquire today about joining your local FESPA Association or FESPA Direct