Features
FESPA Award winner uses SERICHROMA halftone Printing to reinvigorate a classic car image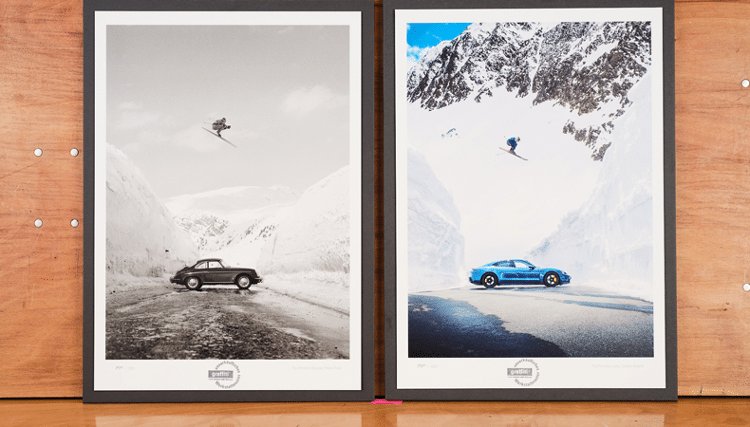 German company Graffiti Siebdruck won a FESPA Gold Award after applying its SERICHROMA technique to screen print both colour and black and white entries.
On reinventing a classic print for the modern era, German company Graffii Siebdruck wrote a love letter to the art of screen printing: "There is no other printing method that can fill an uncoated paper with the brilliance and saturation in the way screen printing does. Being able to reproduce even the finest gradations from light to dark is an extremely satisfying aspect."

This work was created after Porsche commissioned two screen printed editions on Canson BFK Rives 300gsm natural cotton paper celebrating the legendary 1960 picture by Egon Zimmermann, called 'Der Porsche Sprung', and its modern counterpart from 2021. Using colour separations in Photoshop to generate the finest halftones, the reproduction of the original photo screen was printed in seven shades of grey and the recent version in 14 colours on a Thieme 3020 press using 120 mesh.

"Having two pictures, one in black and white and one in colour, required a completely different approach to the separations. The focus had to be on the linearity of the several layers of each colour printed – first in the separation process and later during printing. The stability of each single layer had to be guaranteed in order to get consistent results."

Access FESPA's member only content, Club FESPA Online, that offers practical, engaging and thought leadership advice that will help to drive your business forward. This premium content is available in 36 languages and features a monthly email newsletter. To read the full article and access over 200 articles that features industry experts that offer business advice, how to guides and future trends become a FESPA member here. If there is not a FESPA Association in your country you can become a FESPA Direct member. Once you are a FESPA member you will receive many member benefits including full access to Club FESPA Online as well as special member discounts to FESPA events.
Interested in joining our community?
Enquire today about joining your local FESPA Association or FESPA Direct