Features
Fashion and Sportswear on-demand production trend talk: e-commerce & transparency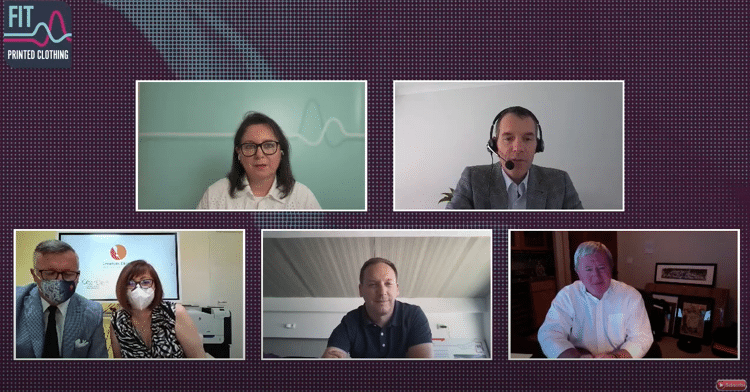 In our recent FESPA Innovations & Trends (FIT) virtual event we brought together four garment experts from across the world to discuss the latest trends, challenges and opportunities in on-demand production and customisation of fashion and sportswear.
The host: Debbie McKeegan, FESPA's Textile Ambassador and CEO of Texintel has spent her entire career in the textile industry working with both analogue and digital production.

The experts: Alex Marsal, Global Sales Director at Liberty Fabrics, part of the Liberty Group. The division has offices around the world, 20 designers based in central London, and a manufacturing facility in Como, Italy.

Kevin Van Lancker, CEO at Sportswear of Tomorrow. As a former inline speed skater who represented Belgium, Kevin saw the difficulty clubs and federations had getting apparel from mainstream suppliers and started a clothing brand to source apparel from factories directly. Sportswear of Tomorrow is based in Romania and supplies over 300 brands worldwide.

J. Kirby Best, Chairman of iCreate.Fashion, a new, comprehensive platform where brands develop, store and deliver their designs to manufacturing and retail. The platform integrates the most advanced design software with on-demand manufacturing right through to online retail.

Roberto Lucini, CEO of Creazioni Digitali, SRL, a digital textile printer located in Como, Italy, that works on commissions. The company specialises in sustainable digital printing with pigment inks, a process that is branded as GreenDrops.
move forward, either for fulfilment or for deeper integration with your supply chain? And we're thinking about transparency here, too.
Kevin: Our company originally started in England, where you have two very big players in print-on-demand — Printful and Printify. In the beginning, we looked to see how they dealt with, for example, a custom-printed cup, a one-off that was being shipped to a customer. That gave us the idea for our platform, which we're now going to launch to customers and then brands, who can design their new collections and push them straight to their Shopify store or whatever they have.

Customers can go straight to ordering on the platform. Whenever they have an order, the order will come to us. We will fulfil it and drop-ship it to the customer. One-off production is really around the corner now in sportswear. I think we are really at the forefront of that, and it's super-exciting.

Debbie: It's very, very exciting. Roberto, is e-commerce online fulfilment a growing sector for your business to get orders processed and delivered as quickly as possible? Do you think that you need deeper integration within the supply chain?

Roberto: As a service company, e-commerce doesn't work for us. We know that the customers we are working with are developing this aspect, but not in our case, it's not important. However, we are thinking of creating a special line for the future.

Alex: From our side, we have an online platform — libertylondon.com — and this is a very good teacher for us, because we can see demand in terms of fabrics, how the fabrics perform online, and this shows us how we have to do things. I think the key is visibility. It means that the more insight the supplier has into the customers' sales, the keener you will be to adapt your supplier sourcing or speed of manufacturing to service them.

In addition, today the fastest-growing area is through customers that are selling on online platforms like Instagram, WeChat, Taobao, and the like. Obviously, this is another way of selling and producing but I think it's a sign of how the world might buy in the future. I don't think that everything will be digital or e-commerce, but I think that it's going to be important to know what is going on in e-commerce for all of us.

Watch the whole conversation here, and for more information on the second day of the FESPA Innovations and Trends Printed Clothing event, visit here.

Discover the latest innovations in garemnt printing at the Global Print Expo 2021, Europe's leading exhibition for screen and digital wide format print, textile printing and signage. Discover the latest products, network with like-minded individuals and explore new business opportunites. Register now and use promo code FESH101 ​to receive a discount of 30 euros.


Interested in joining our community?
Enquire today about joining your local FESPA Association or FESPA Direct