Features
Fashion and Sportswear on-demand production trend talk: customisation and workflow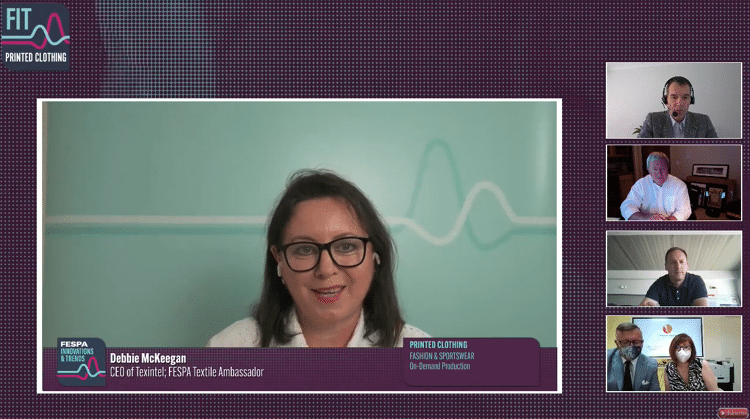 In our FESPA Innovations & Trends (FIT) virtual event we brought together four garment experts from across the world to discuss the latest trends, challenges and opportunities in on-demand production and customisation of fashion and sportswear.
The host:
Debbie McKeegan, FESPA's Textile Ambassador and CEO of Texintel has spent her entire career in the textile industry working with both analogue and digital production.

The experts:
Alex Marsal, Global Sales Director at Liberty Fabrics, part of the Liberty Group. The division has offices around the world, 20 designers based in central London, and a manufacturing facility in Como, Italy.

Kevin Van Lancker, CEO at Sportswear of Tomorrow. As a former inline speed skater who represented Belgium, Kevin saw the difficulty clubs and federations had getting apparel from mainstream suppliers and started a clothing brand to source apparel from factories directly. Sportswear of Tomorrow is based in Romania and supplies over 300 brands worldwide.

J. Kirby Best, Chairman of iCreate.Fashion, a new, comprehensive platform where brands develop, store and deliver their designs to manufacturing and retail. The platform integrates the most advanced design software with on-demand manufacturing right through to online retail.

Roberto Lucini, CEO of Creazioni Digitali, SRL, a digital textile printer located in Como, Italy, that works on commissions. The company specialises in sustainable digital printing with pigment inks, a process that is branded as GreenDrops.
How have you adapted your businesses to meet the growing demand for customisation? And do you already have workflow automation, or plan to invest in it?
Kevin: This is a real subject for us. For 20 years, we've been making customised sportswear. In the beginning, I watched my graphic designers clicking and clicking to make print files before garments could go to be printed. It made every brain cell in my head pop because I thought this must be done automatically. So yes, we worked together with Adobe on automating the production of print files. That's done and it's working.

Now the next step will be to automate the rest of the production for customised sportswear. The idea is to launch the software this year. It will let people design their own individualised design sportswear and then we'll produce one single piece and get it out of the factory in three days.

I think this is going to disrupt the market. We are not going to sell directly. We would give this platform to our customers so that they could integrate it into their website. We are disrupting the sportswear industry in Europe. We're not talking about other countries yet. Let's focus on Europe. We will give this system to all of the customers we have now. Imagine if 300 brands are allowing whatever sportswear they have on their website to be customised with our print, with our colours, with a zip pocket here and there. We've been working on this for six years, so it's taken quite some time to launch it, but we are super-excited about this year.

Debbie: Alex, as a printing manufacturer, how have you invested in workflow automation and process control? Do you see that becoming a bigger investment as time goes on?

Alex: Yes. We've seen that, in recent years, our customisation has increased. This is a good point because we were actually discussing it last month in terms of what we have to do in many areas of the business.

Today, 40% of our business already comes from customised solutions for customers. We see it in two areas in our case. First —and this is the most important — is in design, where people ask for a kind of adaptation of the collections that we create for their markets or their brands. Then, as a result of that, we had to increase our design team because it's one thing to create a collection that you sell, and another to re-adapt that collection for different brands, different seasons. So we have to grow our business team in this case.

And then another one is making our manufacturing more flexible. What we see is that people tend to specialise — they want to be different in the market. For this reason, they move to production runs that are shorter and more frequent. I think that some years ago it was rare to have one collection per month. Today, we hear that many brands around the world aim to launch one collection every month or every quarter — much faster than the seasons — to create more variety in the market. As a result, we have to adapt or show that our manufacturing is more flexible and faster in the market.

Debbie: Very interesting. It's also interesting to hear how the opportunities for creators, right at the very beginning of the supply chain, are changing too because to create design diversity, we have to be generating more and more content, wherever we are in the world. Hopefully, we'll generate less stock and more content as we move along and less waste. Let's see if we can all become much more efficient. Roberto, how are you having to move forward and look at software and workflow automation to cope with customers' manufacturing?

Roberto: This is an interesting question. We are implementing workflow automation because the speed of delivery can make the difference between getting or not getting orders. Therefore, it's 100% important to have a good speed workflow. We are working on it very hard.

Kirby: We'll probably invest about $12 million in automation this year. What I think has really struck me over the last few years — and not in a good way — was the diversity in the content we were receiving from our customers. So creating a linear path of structured data was so important to us, as is what we can do with that data. We're just hitting the tip of the iceberg.

I'm so excited about where this is all going, and we're having some great responses to the designers that are going into iCreate. We've made it as intuitive as possible. We're going to merge with another firm that will bring in 150 different videos that will add instructions to each stage, and so they can see it on video if they don't understand it. But it's pretty simple. I entered a dress tonight, so I know the system works pretty well. So it's exciting what's going on.

You can see the whole conversation here, and for more information on the second day of the FESPA Innovations and Trends Printed Clothing event, visit here.

Interested in joining our community?
Enquire today about joining your local FESPA Association or FESPA Direct