Features
Fashion and Sportswear on-demand production trend talk: Covid challenges and opportunities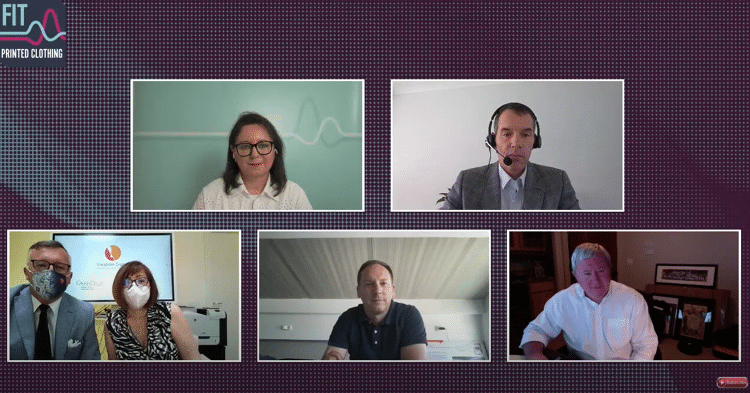 In our FESPA Innovations & Trends (FIT) virtual event we brought together four garment experts from across the world to discuss the latest trends, challenges and opportunities in on-demand production and customisation of fashion and sportswear.
The host: Debbie McKeegan, FESPA's Textile Ambassador and CEO of Texintel has spent her entire career in the textile industry working with both analogue and digital production.

The experts:
Alex Marsal, Global Sales Director at Liberty Fabrics, part of the Liberty Group. The division has offices around the world, 20 designers based in central London, and a manufacturing facility in Como, Italy.

Kevin Van Lancker, CEO at Sportswear of Tomorrow. As a former inline speed skater who represented Belgium, Kevin saw the difficulty clubs and federations had getting apparel from mainstream suppliers and started a clothing brand to source apparel from factories directly. Sportswear of Tomorrow is based in Romania and supplies over 300 brands worldwide.

J. Kirby Best, Chairman of iCreate.Fashion, a new, comprehensive platform where brands develop, store and deliver their designs to manufacturing and retail. The platform integrates the most advanced design software with on-demand manufacturing right through to online retail.

Roberto Lucini, CEO of Creazioni Digitali, SRL, a digital textile printer located in Como, Italy, that works on commissions. The company specialises in sustainable digital printing with pigment inks, a process that is branded as GreenDrops.
What challenges and new opportunities has the COVID-19 pandemic presented to your businesses?
Roberto: The pandemic has helped to raise awareness about the need to be more protective towards the conservation of the planet and therefore many customers have started asking for more sustainable printing.

Alex: Obviously, it was a very tough year in terms of supply chains. The biggest challenge for everyone was being able to confront the demand that we had at that time and also understand what was going to happen in the future. Because in February we were thinking that the world was ending for our business. Then in June, we saw that things were not going to be as bad as we were planning for.

The reality is that in the supply chain, we've suffered from many of our suppliers closing. Even ourselves, with our factory in the Como area. As everyone knows, Italy took a big hit. It was very difficult to run a plant when you didn't know if the day after you were going to be able to open or have to close because the illness was going to hit any of our employees.

This was very challenging, but then it also allowed us to learn how to manage a business using platforms like Teams and Zoom. We have 1,000 brands worldwide, so our sales team of more than 70 people were used to visiting. For example, I was travelling 70% of my time, and now I've been sitting at home for a year and a half.

The first thing that you learn is that the world has not ended and the business keeps going. I think this has been a good lesson for all of us because sometimes we think that if we are not there, then things are not happening.

Kevin: I agree with Alex. In January 2020, we didn't know what was going to happen. When COVID started in Asia, many brands that had factories in Asia were contacting us to quickly move their production to Europe because, here, the factories were still open. We started accepting orders, but in February and March, we went into a complete lockdown, so we had to also cancel those orders.

Then we didn't do anything for three months, and then suddenly everything picked up around June, July and August. Right now, we are fully booked, we cannot meet the demand of brands that are now willing to return to Europe, feeling safer in all their production and supply chains.

Kirby: For us, two things happened. We, at OnPoint Manufacturing, pivoted very quickly. I think on Thursday people asked us if we would move into PPE production and by Saturday morning we were in full production, and we produced about a million masks, and then we moved into level-three gown production.

We produced about 250,000 level-three gowns, and that saved about eight million disposable gowns. It was a really interesting exercise because we learned so much about how fast we could pivot a company. The second thing we saw as we transitioned through the COVID era was the rise of digitally native brands, where so many people were stuck at home, and they were starting to develop their products, and we quickly moved into that.

We learned so much about what could happen with one-off manufacturing and personalised products that we decided to go back into it again. This time we're a lot smarter, a lot faster, and have much more structured data feeding the factories. It was a very painful experience, but we came out of the other side a lot stronger and we're really excited about the future.
Has the supply chain been disrupted by the pandemic? And how have you adapted the business post-pandemic?
Kirby: I think the supply chain has been dramatically affected and will never go back to the way it was. In the United States, all of the major brands are rethinking their supply chain and trying to figure out better, smarter, faster ways to react to consumer demands. I listened in to a Goldman Sachs presentation and one of the things that was the most exciting was that they were talking about the purchase of materialistic goods and that it was not going to grow as fast as people thought, but that people would get into travel, entertainment and outside activities, which would pull the whole fashion industry along with it. We were really pleased. I think that as horrible as it was to go through this, I think we'll all come out a lot stronger and better at the other end.

Kevin: I think we're very lucky to have only European suppliers. Apart from them having importing issues for a little while, right now we can get stock in four to five weeks. Most of the fabrics we use daily are in stock. So we don't see any issues at the moment

Roberto: We were lucky too. Our most important suppliers are Italian and European, and so we didn't have a big problem supplying the materials. Besides this aspect, we also consider our suppliers as partners, and therefore we establish good relationships with them. This helps us to develop projects such as the GreenDrop.

Alex: I agree with my colleagues here. We had to adapt, but we were not dramatically hit. We were wondering if we were going to be able to work or not. However, we are suffering today. India is the one that is having a lot of issues and then we, as producers of cotton and printers on cotton, source cotton from India, and that is where we have disruption now.

However, this is good because it comes after one year and we have been doing our homework. We were well-prepared. And it's good because sometimes this kind of thing needs to happen for you to get better. It's a very hard lesson, I have to say, but it's good because it always reminds you that you can never take anything for granted. You always need to look at all your supply chains, stock levels, sourcing and everything, to be able to confront this kind of challenge. Positive at the end of the day.

You can see the whole conversation here, and for more information on the second day of the FESPA Innovations and Trends Printed Clothing event, visit here.

Interested in joining our community?
Enquire today about joining your local FESPA Association or FESPA Direct