Features
Exploring inks for industrial printing applications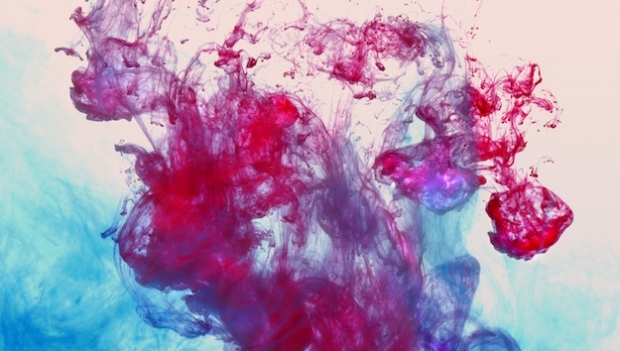 Here's the second part of our beginner's guide to the most common inks that are used for graphical and industrial printing.
See part 1 for Aqueous, Dye Sublimation and the various types of solvent inks. Solvent-UV hybrids are covered here. Updated January 2016.
5. Latex ink (also called resin ink)
A hybrid ink that uses a water-based vehicle with heat-cured resins (polymers) and additives (co-polymers) that bind the pigments to the media. It's intended as an alternative to solvent inks, but with similar benefits of brightness and durability.
It's non-toxic, doesn't use significant VOCs and doesn't smell. It's effectively dry as it comes off the printer and there's no outgassing so you can laminate immediately.
Latex inks are very suitable for custom wallcoverings. This one (above) was printed on an HP Latex Inkjet.
HP coined the Latex name, which was initially confusing to British English speakers, who associate latex with rubber solutions. HP uses it in the sense of an emulsion, and there's no rubber involved.
The ink is printed onto the substrate and a lot of heat is applied from above and below to evaporate the water. The heat also activates the resin components in the ink, that bind the pigments to the media and then dry to a tough waterproof layer. This heat requires a lot of power, and also restricts the media that can be used.
In its third generation of Latex printers, introduced in 2014, HP introduced a pre-coating fluid that primes the media surface and helps the ink to cure with significantly less heat energy. This allowed it to replace some of the radiant heaters with hot air.
Used for: backlit film, coated paper posters, photographs, indoor display, point of sale, banner materials, self-adhesive vinyl and polypropylene, blue back billboard, wallpaper.
Not used for: heat-sensitive materials such as thin vinyl.
Printer types: thermal or piezo heads. Inks and printers specifically called Latex are so far only made by HP and Mimaki/Ricoh. However, Epson has a similar water-resin hybrid ink that is so far only used in its SurePress L-4033A and AW narrow format label presses.
6. UV cured ink
These inks remain liquid until exposed to ultra violet light, after which they cure by polymerisation and dry almost instantly to form a tough and durable coloured layer. UV curing also means there's little chance of inks blocking the printheads.
Outdoor life is generally quoted at about five years, the same as solvent, but the ink cures instantly. UV ink costs more than solvent litre for litre, but you use a lot less of it.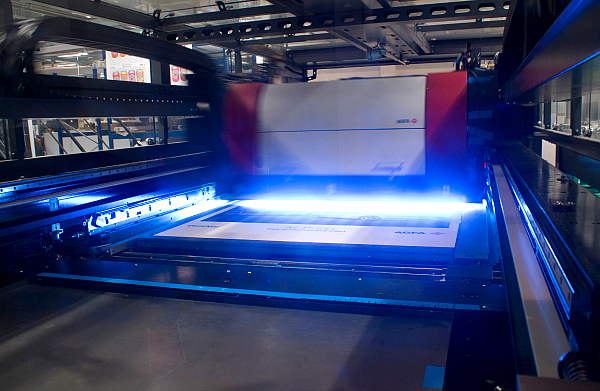 The UV curing lamps are very evident on this Agfa M-Press, a high throughput 1.6x2.2 metre sheetfed inkjet that can run inline with Thieme screen printing units.
Early UV inks tended to give a fairly rough, raised print surface. More recent formulations and curing techniques reduce this effect considerably. Some printers can vary the gloss level between matt and shiny.
UV ink has virtually no VOCs and is non-hazardous when properly cured, but contact with uncured ink can "sensitise" human skin and breathing passages over time, leading to serious allergic reactions. Air extraction and filtration is desirable and some cases legally mandated. UV curing lamps must be carefully shielded to stop stray light contacting human skin or eyes. Some UV curing lamps generate ozone gas, a health hazard, so again air extraction is desirable. Careful wavelength tuning avoids this.
Low energy conventional lamps do not generate significant ozone. Neither do the increasingly popular LED lamps, which also consume less electricity, run a lot cooler and have much longer lives than tubes.
Used for: originally mainly for rigid, non-absorbent media such as metal, glass, window graphics, wood, plastics. More flexible formulations have been developed for vehicle curtain sides, banners, meshes and flags. Even more flexible inks are suited to vehicle wraps and thermoformed plastic containers. UV is often used for industrial printing onto non-adsorbent media and is so far the only ink type being used for the emerging 'direct-to-shape' series of inkjet technologies.
Not used for: primary food packaging or garments, because of the risk of uncured ink migrating though the media and contacting food or contacting skin. UV inks have a distinctive odour too. Conventional metal halide curing lamps are very hot, so preclude thin heat sensitive materials, but LED "cold cure" lamps run much cooler.
There are no UV metallic inks, but a handful of systems apply thin metallic 'cold foils' to the ink layer before curing.
Printer types: piezo printheads only. Almost all flatbed printers use UV curing. Roll fed UV printers are becoming more common.
7. Solvent-UV hybrid
A relatively new class of ink that as the name suggests, mixes a small amount of volatile solvent with UV curable resins that bind the pigment to the media. It's intended as a more economical alternative to Latex, needing a lot less energy to cure, and with greater outdoor durability.
The solvent dilutes the liquid polymer for a thinner, glossier finish and also helps to key it to plastic surfaces. Heaters in the printer bed evaporate the solvent component after printing, pinning the ink in place long enough for it to reach the UV lamps for the final hard cure.
The result, claim the makers, is a high gloss, bright print with very good durability. In addition, they say, there is no solvent outgassing so lamination can be performed immediately.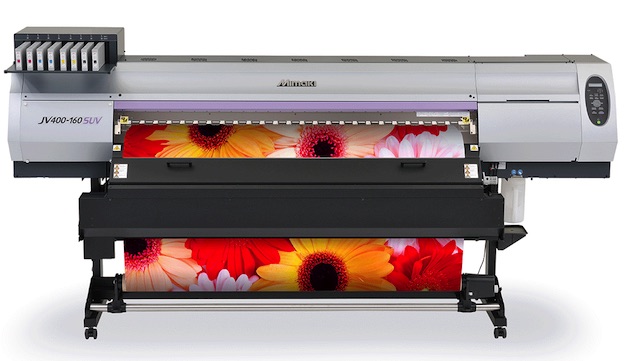 The Mimaki JV400 SUV water-based solvent printer combines the flexibility of solvent with the durability of UV-cured inks, and prints in four colors (CMYK) at speeds of up to 18sqm/hr in draft mode.
Note that the 'downstream' nature of the UV curing means that the lamps have to be configured as a bar that covers the maximum media width. This means that low energy metal halide UV lamps with shutters have to be used. At present it would be too expensive to fit a full-width array of LED curing lamps, even though on principle these would run cooler with longer lives and lower energy consumption.
Used for: roll-fed applications including indoor and outdoor signage, self-adhesive vinyls. Mimaki/Ricoh offer a white ink suited to dark or transparent media.
Not used for: primary food packaging, garments
Printer types: piezo printheads. Mimaki has introduced SUV ink in its roll fed JV400SUV models (in 1.3 and 1.6m widths) and UK based Colorific sells its own-brand UV-Light ink together with a Lightbar UV lamp conversion kit for a growing range of light solvent printers from Mimaki, Mutoh and Roland DG. Fujifilm uses an SUV ink it calls Fuze in its Vybrant F1600 printer.
8. Solid ink
An ink type that is a waxy solid at normal room temperature, and is heated to a gel liquid in the feed to the printhead. This is fired through the head nozzles at the cooler substrate, where the ink solidifies almost instantly.
The process works with cheap uncoated papers or textiles and garments, and many non-absorbent materials such as plastics and wood. Colours are bright and consistent as they do not rely on absorption. On the other hand, rub resistance may be poor, and some inks have a raised appearance and waxy feel.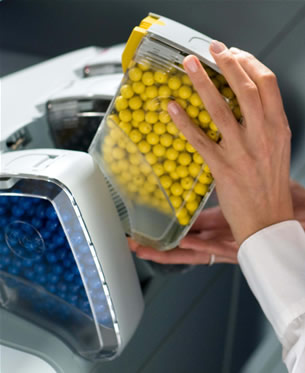 As is shown in the left picture, the Océ TonerPearls are loaded into the Océ ColorWave 600 printer, which can hold four 500-gram cartridges (CMYK) of the toner.
Used for: large format posters, CAD/GIS/plans, point-of-sale, potentially billboards on waterproof media.
Not used for: graphics intended for close-up viewing (such as some fine art and photography), long life outdoor media, banners, textiles.
Printer types: special thermal heads. Tektronix pioneered the process in the 1990s and its solid ink operation was subsequently bought by Xerox, but these models are mainly for small format applications. Océ (now owned by Canon) developed a variation it calls CrystalPoint, using pellets of solid ink called TonerPearls.
The heated gel solidifies on the media by crystallisation. The process is used in Canon's ColorWave 550 and 650 large format plan and poster plotters.
FESPA Digital 2016 to explore the digital ink market
FESPA Digital 2016 will this year play host to a large number of companies, each as keen as the other to show off their latest digital ink products and solutions to the thousands expected to attend this March.
Amongst those companies that will be in attendance at the show is Nazdar, which will be operating from Stand J120 in Hall 1. The company stocks a range of digital inkjet inks that are suitable for use on a variety of machines widely used by printers across the industry. Such products include a number of UV curable inks such as the Nazdar 720 Series UV Inkjet that is well suited to applications such as point-of-purchase and banners.
Also, in attendance in Hall 1 of the show will be Fujifilm, which will be on stands G70 and H70. Fujifilm's third party ink sales are mainly solvent ink under the Color+ brand, as distinct from the UV-curable Uvijet inks that Fujifilm sells for its own range of wide format printers.
Solutions available from
INX Digital International
, Hall 5 Stand M85, will include products developed for use on wide-format print devices manufactured by the likes of
Mimaki
,
Roland DG
,
Epson
and
HP
. INX also has options on offer for various superwide-format machines, as well as a range of UV curable products suitable for use on a number of models from a range of manufacturers.
Aside from a hefty list of digital ink exhibitors, visitors will have the opportunity to find out more about this sector through various seminars that will take place at the show.
To register for FREE to visit the show please use the promo code ADOZ0101. Your ticket will include access to FESPA Digital, European Sign Expo, FESPA Textile and Printeriors 2016. Online registration will close on the 7th of March and tickets on the door will be charged at €40.
See part 1 for Aqueous, Dye Sublimation and the various types of solvent inks. Updated January 2016.
Interested in joining our community?
Enquire today about joining your local FESPA Association or FESPA Direct