Features
Dye-Sublimation for Décor Textile Printing: Five Key Drivers for Growth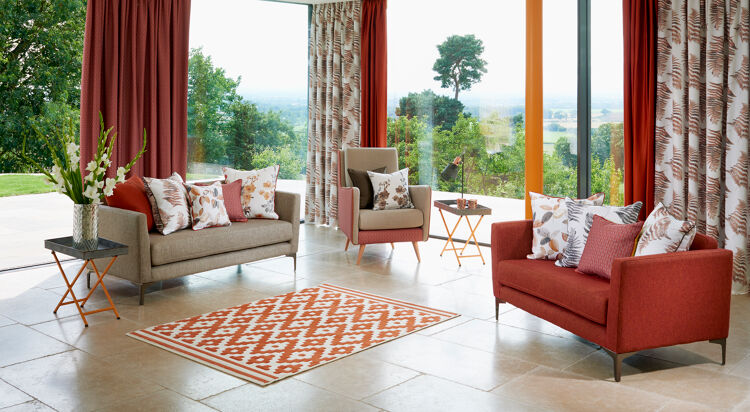 Debbie McKeegan discusses how dye-sublimation has dominated the digital textile printing industry and share 5 key drivers for growth.
Dye-sublimation printing dominates the digital textile printing landscape - accounting for almost 50% of all digital textile prints across the wide format and apparel sectors.

The dye-sublimation textile printing market, which was valued at a cool USD $8.1 billion in 2019, is registering a CAGR of 10.7% during the forecast period from 2020-2025 and is expected to reach a value of USD $14.2 billion by 2025. (Research & Markets).

As a robust and established sector of the marketplace – Dye Sublimation digital textile printing has five main influences to thank for its continued success:
Ease of Dye-Sublimation Digital Printed Production
For many textile sectors, previously dominated by complex processing routes for acid and reactive inks, the dye sublimation process offers a simple, environmentally secure and reliable way forward. With just two simple steps, print and heat fix. When using dye-sub, and the transfer printing method, there is no need to pre-treat the fabric, or to ensure that the fabric is crease and wrinkle free in a printing machine.

Dye sub prints onto paper which is a stable and flat platform to receive the print. Post print, dye-sub just only requires heat fixation in a rotary heat press, as opposed to the acid and reactive systems which both require finishing: steaming, then followed by open-width washing and drying.


Image credit: PANAZ.

The appeal of dye-sub is not just confined to entry level printers, who are thriving on the uncomplicated process, but it also scores with the volume digital printers and mills, who enjoy harvesting the considerable energy and water saving properties of the dye-sub process.
Speed of Production
The dye-sub digital print process delivers product quickly and fulfils the speed to market algorithm that is essential in creating a relevant winning décor market proposition. The simplicity of the dye-sub process route when compared to other digital print technologies gives it a substantial advantage, no delays for coating, steaming or post-print washing, ensuring that the product is ready for dispatch very soon after print.

Innovation is also playing its part in increasing speed to market, with the launch of the Durst P5 ISUB, one step dye sub print process, where the fixation step is absorbed into a continuous process, further simplifying and speeding the dye-sub print process.
The Décor Market Take-Up of Dye-Sublimation Technology
This has included curtains, carpets, cushions & upholstery, and customised accessories across residential, commercial, and contract markets has been behind this growth.

This is because dye-sub is particularly suited to the contract furnishing and upholstery market, where it provides a simple method of printing flame resistant fabrics, without the need for post treatment.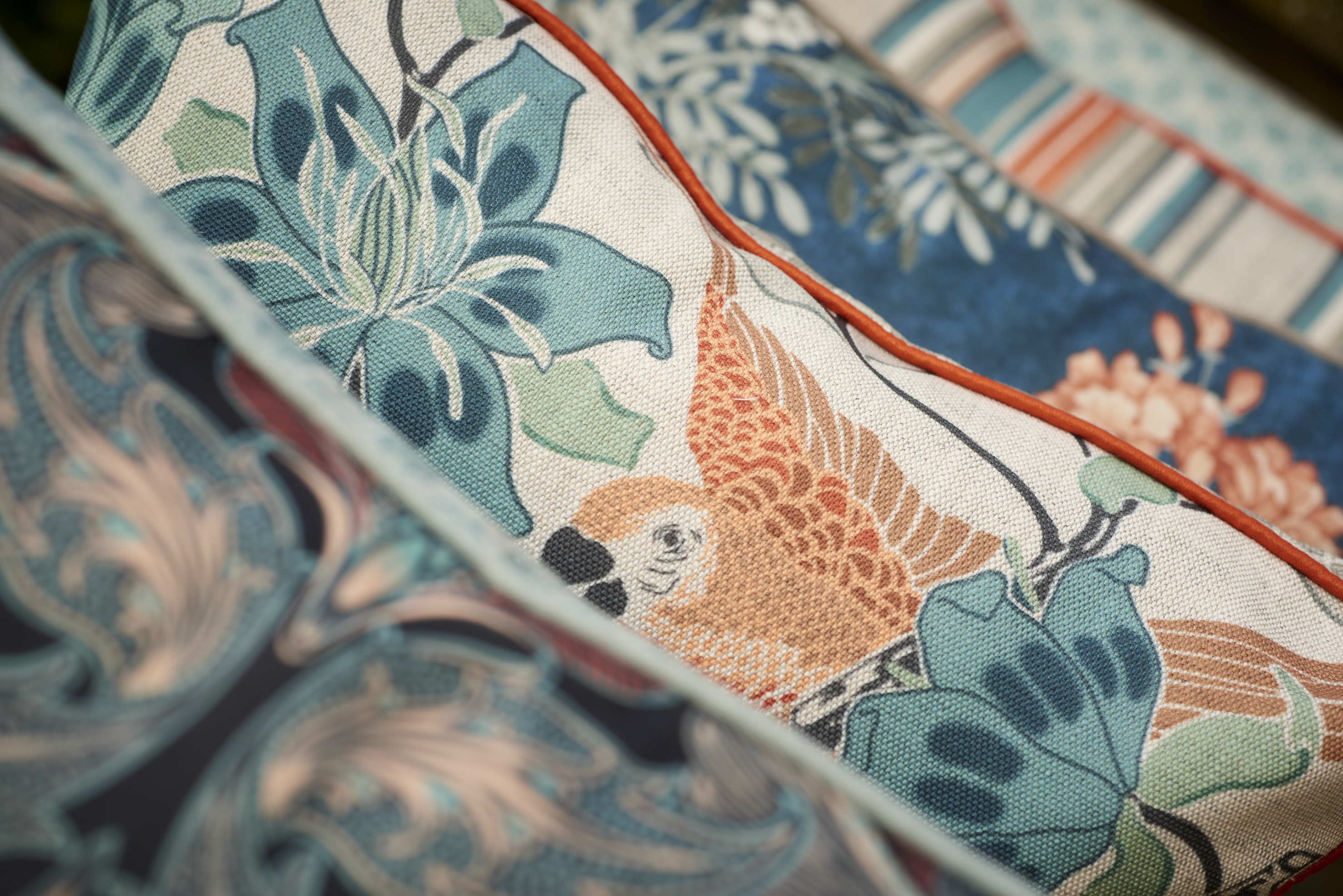 Image Credit: PANAZ.

In the UK, contract furnishing companies such as Edmund Bell and Panaz use dye-sub digital printing technology to drive their contract décor offers forward. Printers such as Meshtex offer a wide range of dye sub printed products which include outdoor furniture and covers, barbeque and firepit covers (being FR makes this fabric suitable), umbrellas and parasols, tents, gazebos and canopies. All of these applications move the market further to accelerating the growth of promotional printed products including - outdoor shelters and events spaces and outdoor contract furniture - all are growing sectors of the marketplace.

Also stimulating growth - the developments within the textile fabric sector - here innovations continue to increase the availability of faux natural weaves and drapes, fire retardant, durable fabrics and of course recycled fibres – strengthening the argument for polyester as a sustainable alternative to fibres of cellulose origin.
The Diversity and Ingenuity of the Digital Textile Machinery Available
Machine suppliers can truly be said to be covering all the bases, from entry level to serious volume industrial production. And because there is a wide spread of price, the machinery offer is widely seen to be democratising the dye-sublimation print space.

From Epson's SC-F100 A4 dye-sub desktop printer priced in the hundreds of pounds, all the way through the medium priced Mutoh RJ-900X, Epson F10000, HP Stitch S1000, Mimaki TS-100 series and the Roland RT 640, to the top of the range Mimaki Tiger 1800B, the Colorjet SubliXpress and the Durst P5 - the choice for the printer is extensive, and whatever the budget, there is, it seems, a machine for everyone.
The Sustainability and Eco-Friendly Nature of the Dye Sublimation Process.
Independent estimates claim a 95% saving in water usage and a 75% saving in energy usage against other digital print technologies.

Different from traditional printing solutions - Dye sublimation printing is an extremely "green and friendly" printing technology. In the dye-sub printing process, no toxins exist, thus protecting workers and the environment. The dye sublimation ink turns into gas via the heat transfer process, and the printed fabrics are completely safe to touch and handle.

Additionally, because the dye-sub print process, although still evolving, has been with us for over thirty years, ink technology has also matured with the process, creating more eco-friendly inks, free of heavy metals, no formaldehyde or alkylphenol ethoxylates, and without VOC's or toxins. As a result, today, most dye sub inks are OEKO-TEX or Greenguard certified and are safe for inkjet printing on polyester fabric to create a wide variety of sublimated items, including products for babies and toddlers.

So, as the Dye Sublimation agenda moves forward, the pillars of its growth, whether it's ease of use, speed of production, contract fabric printing, the wide spread of available machinery or the sustainability of the process, as the statistics show - it is setting the pace for all other technologies in its field.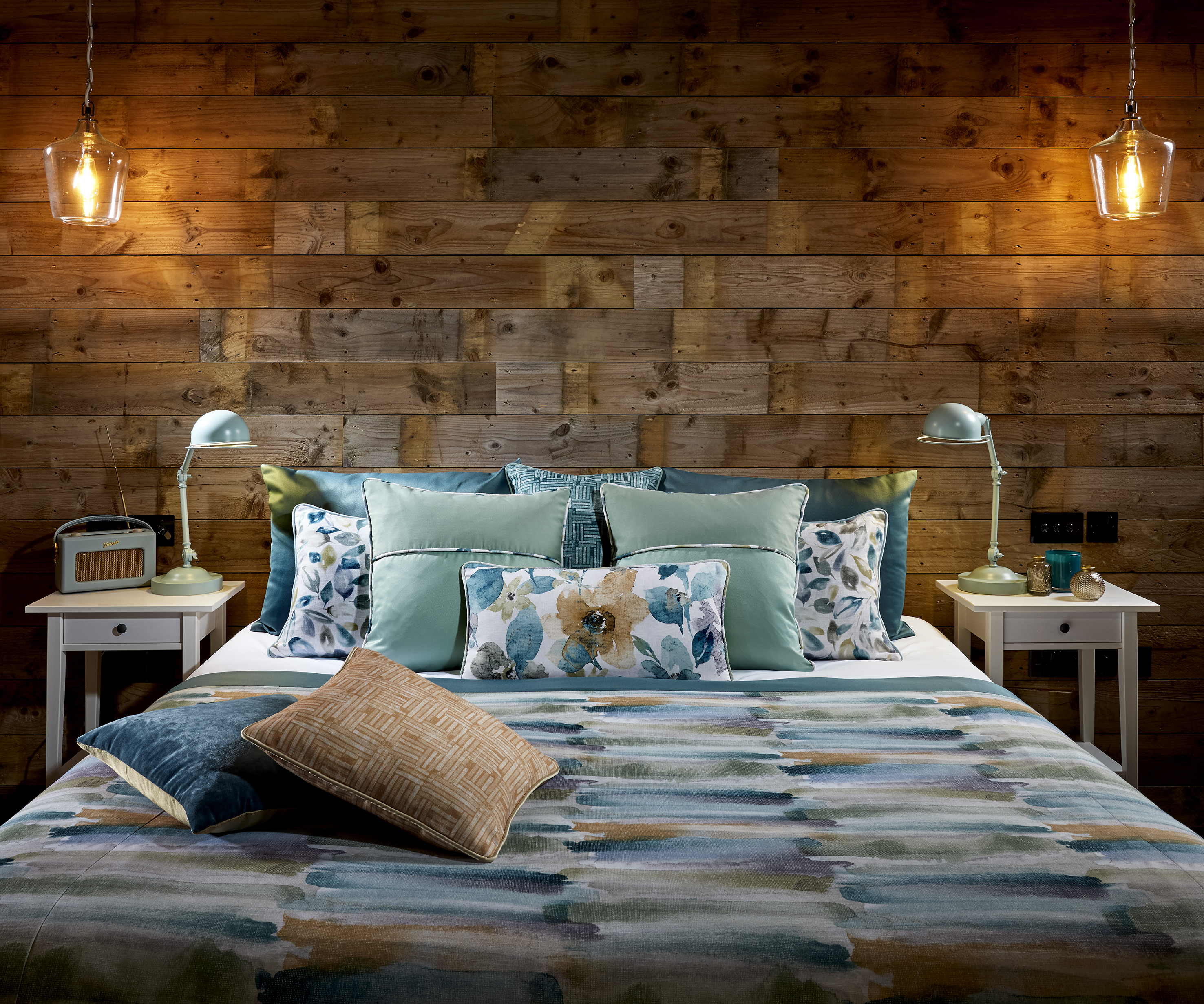 Image credit: PANAZ.

For Interior decoration in contract furnishings and upholstery sectors, dye sublimation is seen as the most viable commercial option in a highly regulated field, and we can expect accelerated growth in this sector as it too shifts over to customisation – on-demand. But it also leads in many other sectors, notably, banner production, apparel, flag making and exhibition graphics, where the high quality of its print and its ease and speed of production make it a huge prospect for growth in the years to come.

Discover the latest innovations in digital textle printing at the Global Print Expo 2021, Europe's leading exhibition for screen and digital wide format print, textile printing and signage. Discover the latest products, network with like-minded individuals and explore new business opportunites. Register now and use promo code FESH101 ​to receive a discount of 30 euros.
Interested in joining our community?
Enquire today about joining your local FESPA Association or FESPA Direct