Features
DTF (Direct To Film): A new way to personalisation textile printing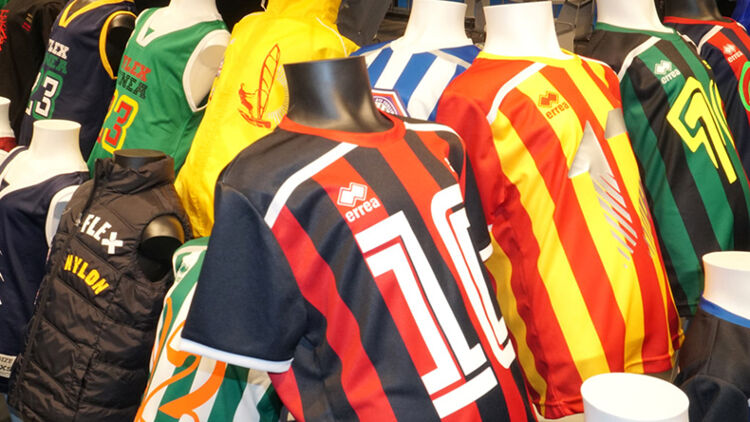 Textile printing remains one of the most popular sectors in the digital printing industry. Direct-To-Film (DTF) is a new technique of decorating fabric that has been introduced into the market. What DTF and how can printers' profit from it?
Looking at any fashion store it is evident that printed shirts and apparel are popular for all customers of any age group. Personalized sportswear and office attire are also in high demand. Due to this demand, many printers have invested in buying some sort of apparel printer. With Direct-To-Film (DTF for short) another option for apparel (and roll textile) has recently been introduced. For printers with a pre-existing apparel printing business, this technology is even more applicable as the cost of investing in DTF is rather modest. Some Direct Textile or Digital Sublimation printers may be able to change their printer to a DTF simply by changing the inks.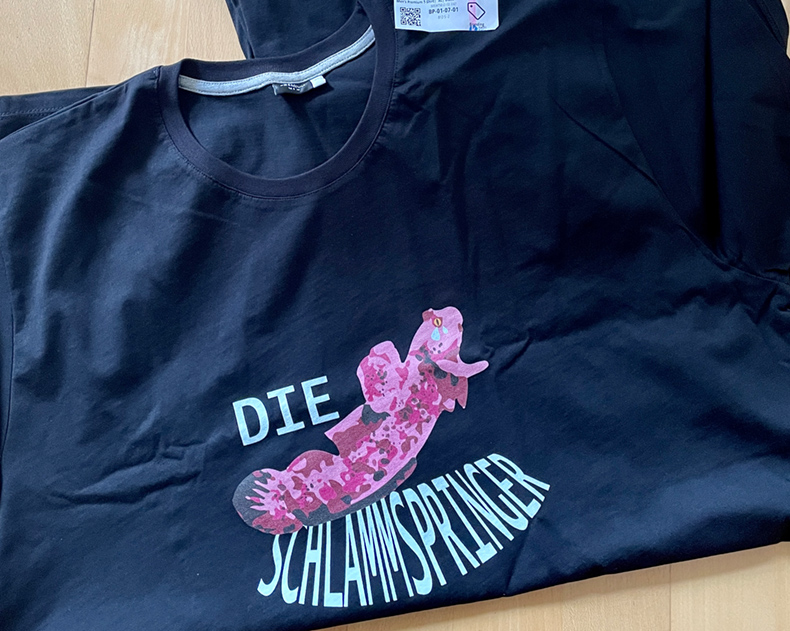 Caption: T-shirt printing is booming, but with the new DTF technology, this could change once again. Image credit: S. Angerer
What is DTF?
Direct-to-film or DTF in a textile context means printing with dedicated DTF CMYK inks onto a hot or cold peel PET film with app 0.75 mm thickness. White ink is required as a foundation to ensure the colours also stand out on dark fabrics.

The printed film gets covered in a hot-met adhesive powder while the ink is still wet. In smaller operations, this is usually done manually. For industrial scale productions, automated shaker solutions are available. The powder needs to be applied as evenly as possible, with any excess being removed. Then the film is processed in a curing oven or heat press at about 160 degrees Celsius. In a heat press, the top plate may not touch the glue in the process, a 4 to 7 mm gap is recommended.

The film with the full-coloured, pre-glued motive is then transferred to the pre-pressed fabric. This process is also referred to as "curing", and it takes about 20 seconds on a 160 to 170 degrees heat press. Most vendors recommend a silicon sheet on top to protect the print.

When the fabric has reached room temperature again, a cool peel film can be removed, leaving only the printed motive behind. Hot peel film for DTF is less common, but this is more efficient, as it may be peeled off immediately after opening the heat press. With either film, weeding is not required, as only printed parts have been glued and therefore adheres to the fabric.

As a last step most experts recommend spending a few seconds post-processing in the heat press to enhance washability and rub-fastness. The DTF process works with natural fibres like cotton or silk just as well as artificial materials like polyester or rayon. With its white ink layer, DTF prints look just as good on dark and strong coloured fabrics just as on white and pastel textiles. The print itself is stretchable and does not crack easily.

The whole workflow is similar to T-shirt printing with an OKI white toner printer, but with inks instead of toner. Also, it is not yet possible to add metallic or neon colours with DTF as it is with the OKI process.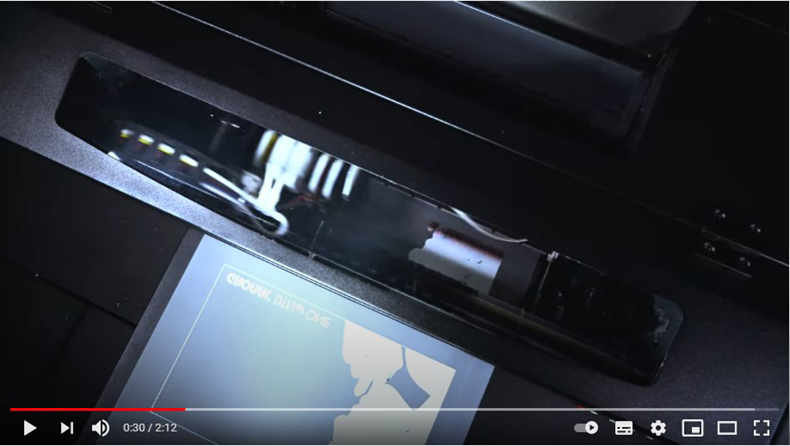 Caption: Gröner offers the Gronal DTFJet One especially for DTF transfer printing (screenshot from the YouTube video).
How Do I Get Started with DTG?
There are quite a few vendors that offer starter DTF packages, including initial training and dedicated DTF printers like the Gronal DTFJet ONE A3+ and DTFPro Inspire 1800 desktop solutions. There are also some printers for film rolls like the Busy Bill.

Many six colour printers like the popular Epson L800 series can be transformed into a DTF printer by simply changing the inks. Dedicated DTF inks function with many market-leading Epson print heads, so only DTF consumables like ink, film and adhesive powder are required to begin.

Printers with a pre-existing business in apparel printing will most likely already own a heat press and/or curing oven. They may already run a dedicated textile RIP. However, it is not easy to transform files for DTF printing with every RIP, as usually, the white ink must be printed first of the mirror-image required for DTF.

There are dedicated RIPs available like the Gröner Digital Factory V.10 DTF Edition or the ColorMatch DTF Wasatch Softrip DTF edition. Ergosoft 16 is sometimes recommended for DTF printing. As compared to sublimation inks, the DTF colour gamut generally is a bit smaller and less vibrant, so a bit of colour tweaking may be required for optimal results.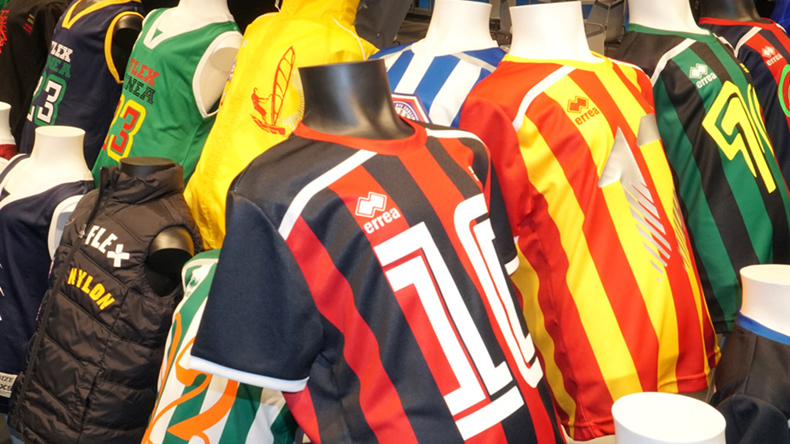 Caption: Unlike sublimation printing, the DTF transfer process can be used with just about any fabric for apparel. Image credit: S. Angerer
Which printers should get into DTF?
Printers with a pre-existing customer base in apparel, sportswear or workwear printing should be able to set up a DTF workflow in addition to or even to replace their current technology with minimal time, cost and effort. As neither pre-treatment nor weeding is required, the DTF process is faster and less tedious than Direct-to-garment (DTG) and more versatile than textile decoration with standard hot-press film or flockfoil.

The print quality of DTF is generally good, with a textile grip even better than some DTG processes, though some consider it slightly worse than with a standard sublimation print. However sublimation print requires a polyester pre-treatment or polyester / polyester blend surface which is not desirable for fashion or workwear-items.

DTF is a fairly new digital printing technology. Printers that invest now may have to replace equipment sooner than expected to ensure top quality and reliability, which may be a detriment for those waiting before any serious investment is considered.

On the other hand, printers who incorporate DTF now will be ahead of their competition in a highly interesting market, so testing the waters ASAP may still seem advisable.

Discover the latest innovations in garment printing at the Global Print Expo 2021, Europe's leading exhibition for screen and digital wide format print, textile printing and signage. Discover the latest products, network with like-minded individuals and explore new business opportunities. Register now and use promo code FESH101 ​to receive a discount of 30 euros.
Interested in joining our community?
Enquire today about joining your local FESPA Association or FESPA Direct