Features
Dreaming in Neon: Expanded Gamut and Spot Colours in Digital Printing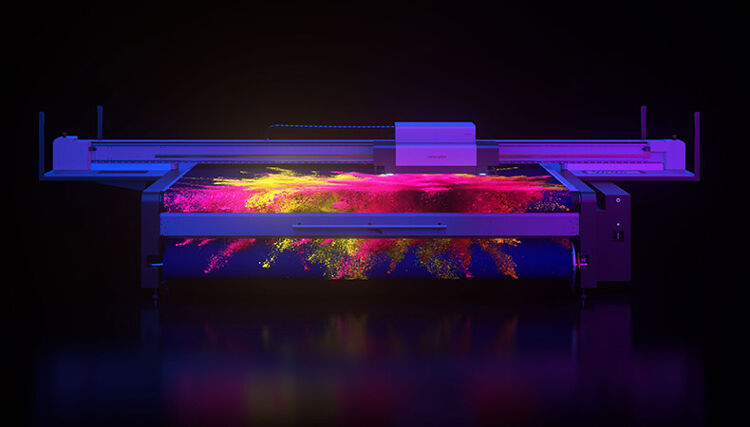 When it comes to added value prints, bright colours are a top priority for buyers. Therefore, digital prints with neon or expanded colour gamut are attractive to customers. Sonja Angerer discusses what you need to know before purchasing one of these new printers.
Digital printers continue to add more ink colours every year however, many printers still feature the traditional CMYK, LC, LM set-up. In this article, we explore expanded colour gamut, multi-primary printing, prepress and proofing requirements as well as the latest machinery currently available.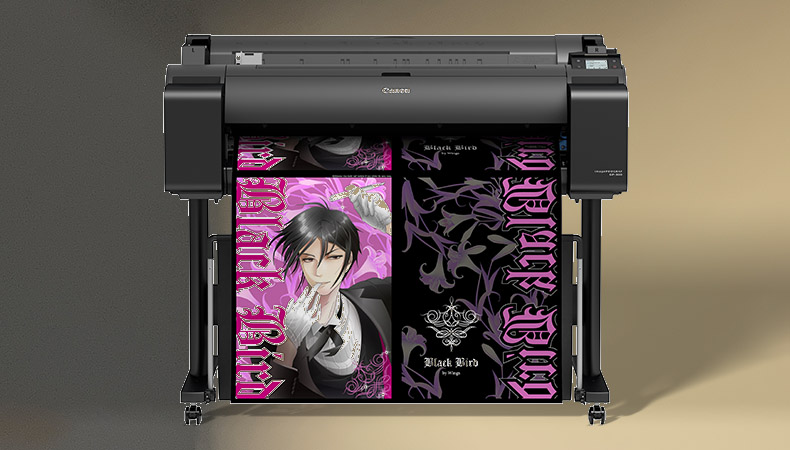 CAPTION: The new Canon imagePROGRAF GP-200 / 300 features a pink, fluorescent ink that also enhances orange hues. Photo: Canon
What is expanded colour gamut?
In analogue printing, things were far more simple. There are only 4 process colours: Cyan, Magenta, Yellow and black. Their exact specifications have been clearly detailed in ISO 2846. With these 4 process colours rasterised, it is possible to print any picture. However, the range of colours is very limited, particularly when it comes to bright hues.

From the beginning, digital printing has changed process colours, this has caused a Cyan inkjet ink or toner to typically look quite different from a standard Cyan offset process colour. Adding light colour gradients of 50% or even 25% for Magenta and Cyan and sometimes yellow and black can help to smooth gradients. A CMYK, LC, LM (LY, LK) set reproduces very light areas in pictures and some skin tones considerably better than a standard CMYK process colour set.

An ink set with light inks does not expand the range of hues that can be reproduced on a certain substrate however, this can be done using a white ink. Particularly when used as an underprint on non-white substrates.

Pantone solids and other spot colours were once introduced mainly to make brand colours really pop out and maintain colour consistency. A spot colour requires an additional printing unit on an offset or toner-based press along with a free colour channel in inkjet printers.

Instead of using spot colours, which are often expensive and may not be available for inkjet presses, a common technique is to emulate spot colours in analogue and digital printing using additional process colours like Red (R), Blue (B), Orange (O), Violet (V) and Green (G). Fluorescent Neon colours are usually spot colours as they can't truly be emulated without a neon colour channel available in the printer.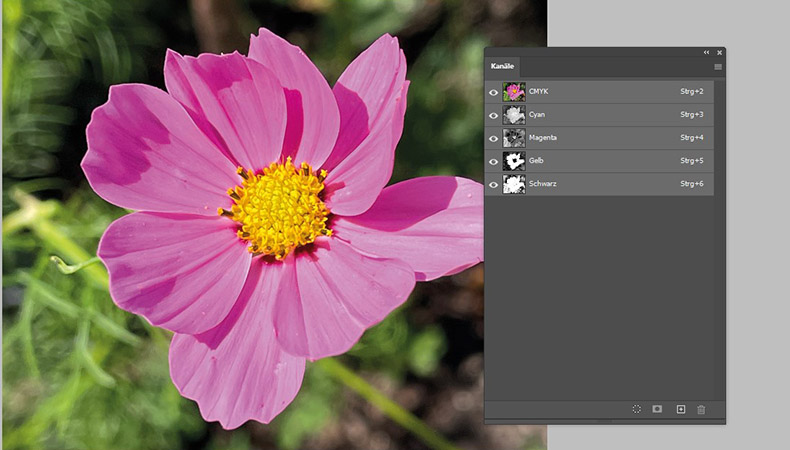 CAPTION: Adobe Photoshop only offers 4 process colours and an unlimited number of spot colour channels. Image credit: S. Angerer
Neon and expanded colour printer options
Printers that target the higher-end and fine art markets often offer a very wide colour gamut. An example of this is the Canon imagePROGRAF PRO-4100. It features 12 inks including Red and Blue. The new Mimaki CJV300-160plus uses an additional orange ink to emulate 95% of the Pantone range.

Ricoh´s latest ProTM L5130e and ProTM L5160e Latex printer models have received EDP-Awards for their CMYK, O, G plus White ink set. The latest addition to the inkjet ink colour includes a hot fluorescent pink with the new Canon imagePROGRAF GP-200 / 300. Not only does it expand the range of pink hues, but it can also be used to create Neon oranges. The ink acts as a hybrid between a spot and a process colour. At SwissQprint´s Neon Yellow and Neon Pink spot colour inks may be retrofitted with existing installations when free colour channels are available.

In the world of e-ink HP Indigo and toner-based printing systems, along with Neon, expanded colour ink sets are also common. HP offers a wide range of ink sets for current models including Orange, Violet and Green process colours, custom spot colours as well as set of fluorescent inks in Yellow, Orange, Pink and Green. The Ricoh ProTM C7200sx Series Graphic Arts Edition offers optional colour channels to be filled with Neon Yellow and Neon Pink, amongst others.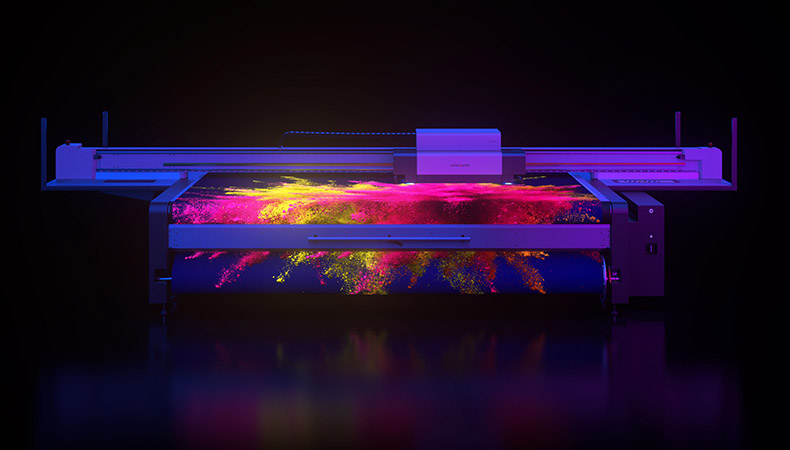 CAPTION: SwissQprint's Neon Yellow and Neon Pink spot colour inks may be retrofitted with existing installations when free colour channels are available. Image credit: SwissQprint
Prepress requirements for multi-primary printing
Major creative software like Adobe CC currently only offers 4 colour and additional spot colour separation. FOGRA recently researched an exchange colour space for retouching and separation of multicolour print objects. They aim to include it as FOGRA55 into an ISO standard. Proof GmbH from Tübingen was FOGRA-certified for the news 7 colour standard as the first company worldwide in April 2022.

In digital printing, RIPs make sure each ink droplet or toner dot gets positioned where it needs to. For multi-colour, spot colour, metal hues or Neon printing, manufacturers offer plug-ins or other software. This enables users to make optimal use of the printer's options. However, output may differ depending on the driver or RIP used, even with the same printer on identical substrates.
Markets outlook for Neon and expanded gamut prints
Expanded gamut inkjet printing has been available for years in the high-end photo markets. With consumer photography being mainly on Smartphone cameras now, brilliant colour print output has a higher demand than ever. This is because buyers expect their hardcopy to look exactly as it does on an OLED screen.

Professional fine art artwork reproduction has long been used to multi-primary output for reproduction. With the rise of colour photography in museums, the demand has increased. Spot colour printing or emulated spot colours are very common in the brand marketing and packaging communities. The demand for digital packing print is expected to grow CAGR of 9.1% from 2022 to 2031 (Allied Market Research, Digital Printing Packaging Market Research 2031). This demand offers the opportunity for the market to offer some rewarding niches for speciality printers.

Digital Neon colours are very interesting for lifestyle, events, and brand communication applications. Right now, 1980s style Neon accents are very popular and in high demand. However, their popularity could decline soon. For emergency signage and other access management applications, small to medium run-length Neon digital print output offers a fresh look and safety and security benefits as Neon colour are hard to reproduce for counterfeit.

Printers are already targeting or planning to cater to such niches. Therefore, Neon and expanded colour digital printing capabilities should be explored when thinking about upgrading or investing into new machinery.
Interested in joining our community?
Enquire today about joining your local FESPA Association or FESPA Direct