Features
Colour management: How to choose a spectrophotometer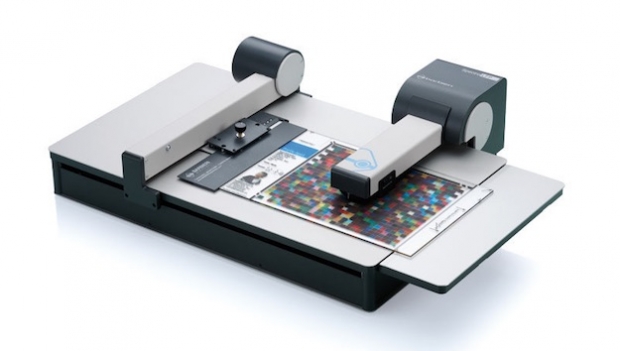 The key to good colour management in wide format print lies in the quality of the profiles. But to make your own profiles you'll need to invest in a spectrophotometer.
In the first part of this story we looked at some of the basic elements of colour management. We noted that the key to the system is the colour profiles for each combination of printer, print mode, ink and substrate.
Wide format is a particularly challenging area because of the sheer range of substrates that are used. Different media will absorb ink at different rates and will have different whitepoints. Also, inevitably many users will seek out the cheapest materials, where there can be some variations between batches.
Many vendors supply generic profiles and these are a good starting point but they won't take into account the environmental conditions around the printer, such as temperature and humidity.
In some cases, your RIP may give you enough leeway to tweak settings to take account of small changes in the environment, variations between substrate or ink batches, or changes to the printer such as a new printhead. But you may find that you get better results through making your own profiles, and that this can result in lower ink consumption.
Spectrophotometers
You'll need to invest in a spectrophotometer to read the colour output of your device. Essentially, a spectrophotometer works by shining a light onto the substrate and then measures the lightwaves reflected back.
The size of the opening or aperture used to measure the light is important. Most spectrophotometer manufacturers use a 3-4mm aperture but some offer a choice of aperture sizes. Bigger apertures are better for textiles and also for low resolution prints such as banners.
All of the current spectrophotometers should be up to date with the latest standards, specifically ISO 13655-2009, which governs measurement conditions. If you've got an older spectrophotometer then you may need to replace it with one that complies with this standard.
The standard itself defines particular measuring conditions: M0 is for unfiltered tungsten light; M1 covers D50 or daylight and UV light; M2 describes non-polarised light without UV; and M3 is for light that is polarized with the UV filtered out. Of these, the main issue is M1, which can counter the effects of optical brightening agents in the media.
Most standard spectrophotometers are designed to work with reflective materials such as papers or boards. But you may need to consider a model that can also handle transmissive material such as backlits or glass if you do this sort of work.
There's a choice between handheld and automated readers. The handheld ones tend to be cheaper and can be used for multiple purposes such as making monitor profiles. But if you have to make a large number of profiles then an automated reader is a good bet.
You'll have to print out a test chart with a thousand or more small colour patches, each of which will have to be measured with the spectrophotometer. The more patches, the more colour combinations the spectrophotometer will be able to read and the better the overall result. It's a time consuming process, though not as frustrating as having to print out the same job several times to get the colours right.
What's available?
The market leader is undoubtedly X-Rite, having acquired most of its serious competitors some years ago. Its main offering is the i1 Pro2, a handheld device that connects via USB to a computer. It's sold in various bundles that determine what features are available, but you can unlock all the features if you have the right license.
Thus it can be used with any device from monitors to scanners and printers but wide format users will need the i1 Publish kit that works with CMYK printers and will allow the creation of device link profiles.
X-Rite also sells a table, the i1iO, which can convert the i1 into an automated reader, thus giving you the best of both approaches. It's suitable for reflective media up to 10mm thick and can read around 500 patches per minute.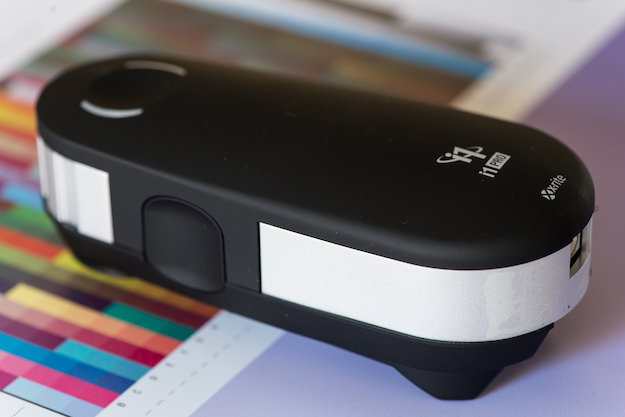 The X-Rite i1 Pro2 is one of the most common hand-held spectrophotometers. It can be added to the i1iO table to create an automated solution.
However, X-Rite also makes an automated chart reader, the i1 Isis 2, which looks a little like a desktop printer. But rather than printing out a test chart, it reads the chart in. The standard version takes an A4 sheet and can read up to 1500 patches in around eight minutes. There's a bigger XL version that takes sheets up to A3+ and which can read up to 2500 patches in around ten minutes.
Just about every RIP and associated software will work with the i1 devices. X-Rite sells i1Publish, a good all-round colour management program that can create and edit profiles.
The Italian firm Barbieri has developed the Spectro LFP, designed specifically for the wide format sector. It can handle both transparent and reflective substrates as well as those up to 20mm thick. It works with various materials including textiles, glass, vinyl, canvas and wood.
Barbieri also makes the Spectro Swing, which works with aqueous, solvent and UV prints. It's available in three versions: for transparent media; reflective media; and for both media types. It has a 2mm measuring aperture and can measure up to 3000 patches. It takes flexible media up to 1mm thick, including paper, banner and canvas truck covers.
In addition, Barbieri sells the SpectroPad 2, a portable device that can be used independently of a computer. It's designed to measure individual spot colours.
All of these devices come with Barbieri's own Gateway software and will work with most wide format RIPs and colour management software.
Konica Minolta's Sensing Units division has developed a number of interesting models, most aimed at industrial applications. Amongst these is the FD7, a spectrophotometer that also includes densitometric measuring.
It supports the M1 measuring mode and includes scan mode for fast measurement of test strips and profiling charts. It's a handheld device but comes with a ruler to guide it along a row of colour patches. There's also an FD5, with similar capabilities but only reports colorimetric data and lacks the scanning capability.
Profiling
The profiling itself is in two stages. The first is to linearise the printer to ensure that it lays down the correct amount of ink with no clipping. The second is to make the actual profile, which will involve printing out a test chart and measuring the patches.
As we noted in the first part of this story, many RIPs include the ability to create profiles, with most using wizards to step you through the process by asking a series of simple questions. The exact process will depend on the software in use and you may need a certain amount of trial and error though the wizard should take out most of the guesswork.
Finally, it's a good idea to have the spectrophotometer routinely serviced as you don't want to be calibrating your colours with a device that is itself out of calibration.
See part 1 for Understanding colour management.
Educational programme for FESPA Digital 2016
FESPA Digital 2016 will offer an educational programme designed to encourage printers to look at the wider opportunities for their business.
Marco Olivotto, Owner of Marco Olivotto & C.snc will discuss the importance of understanding colour management to be successful in a challenging world in the seminar titled 'Colour management in the cross media printing world'.
Marco will also present a session on 'The colour that refused to print', where he will refer to user case studies to help printers understand how to deal with unprintable colours, as well as 'Process standard digital – the path to standardisation'.
Interested in joining our community?
Enquire today about joining your local FESPA Association or FESPA Direct