Features
Colour management and process control for digitally printed textiles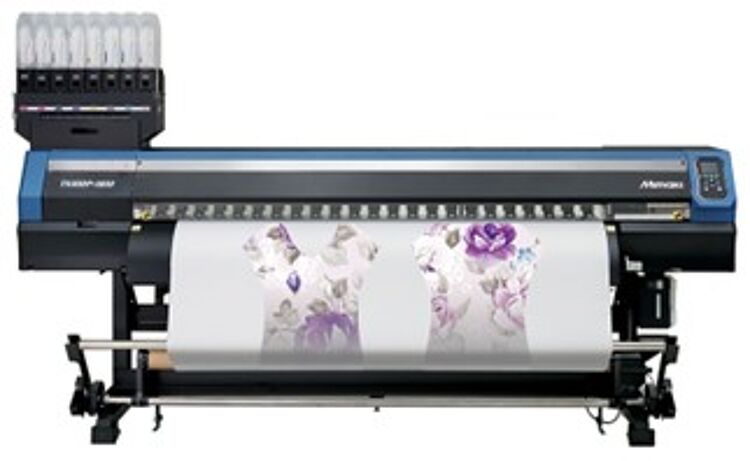 Paul Sherfield shares the various challenges and issues surrounding colour management and process control regarding digitally printed textiles. Paul explains that using a RGB workflow to the press is dependent on a company's current and future systems and presses.
Colour management and process control pose a number of 'interesting' issues and challenges for wide format printers involved in this market area. This market uses differing metrics to the graphic arts area and products. It covers areas such as clothing and homeware where wide format inkjet presses are producing a wide range of textile-based products.

Looking even wider than textiles, other market areas that use wide format inkjet and have similar issues include wallpaper, tiles and hard floor coverings.

It should be noted that what is often called 'soft signage', banners and the like, printed on a textile will normally use the graphic arts metrics.

The specific issues and variables that need to be addressed when working with the many textiles used and their markets include:
Measurement instruments such as spectrophotometers
RGB or CMYK workflow issues and the Digital Front End (DFE)
Lighting conditions for measurement, viewing and judging the product
The colour gamut of the specialised CMYK+ inks and systems used for textile digital printing
The large number of differing textiles used; their varying whiteness and optical brightening content agent (OBA) content
Measurement instruments such as spectrophotometers
Discover the latest colour measuring devices
here
.
Areas to be considered include:
Measurement conditions, D65 illumination is often required for measurement in the textile sector rather than the D50 graphics arts luminate.
It is commonly said that instruments with larger measuring apertures measuring larger colour patches is needed for colour profiling and process control. While this seems true, and very good devices with apertures larger than 6mm are available from Barbieri, X Rite and Techkon; Konica Minolta's Myiro 1 has challenged this view claiming good results when measuring textiles using smaller measuring apertures.
The softwears used should be able to produce RGB device profiles and use the D65 luminate, (in addition to CMYK), as these are often used in the textile print drivers and digital front end.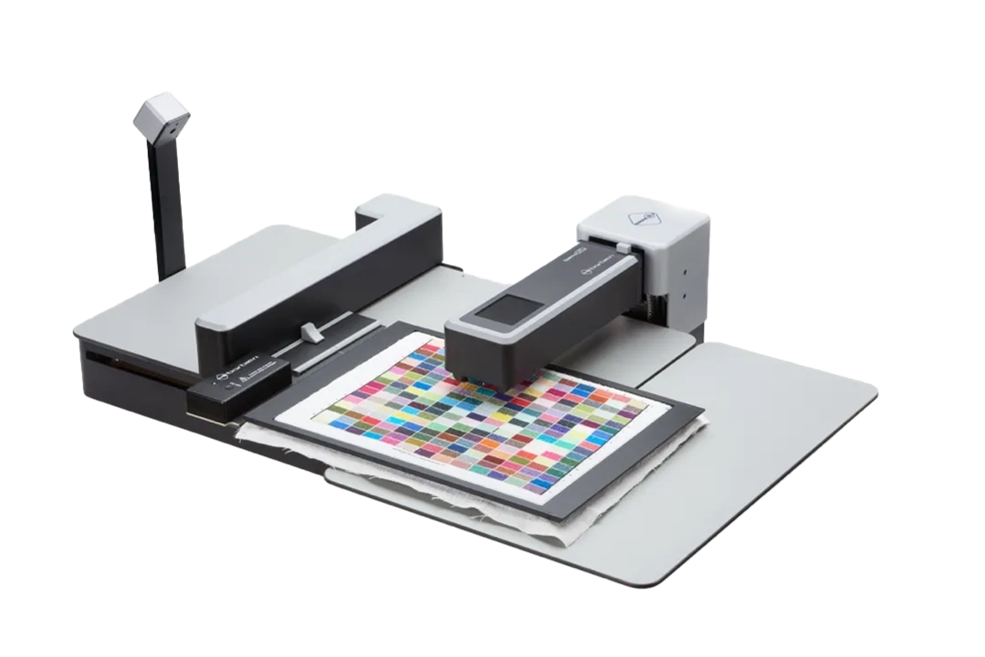 RGB or CMYK workflow issues and the Digital Front End (DFE)
It seems most of the creative softwears apps used within the textile area will work in the RGB (Red, Blue, Green) colour space. Usually using an ICC such as sRGB or Adobe RGB.

These have large colour gamut's when compared to the colour gamut's of wide format digital presses used for textile production.

Fogra have recognised this and developed a RGB ICC profile that is a better match to an average colour gamut of digital presses and a good RGB working space for designers to use in apps such as Adobe Illustrator, CorelDraw, Affinity Designer etc.

It is called TextileRGB (Fogra 58), and more information can be found on the Fogra web site. This profile is based on textile D65/10º measurement and viewing conditions. It also covers all the Pantone TCX pallet.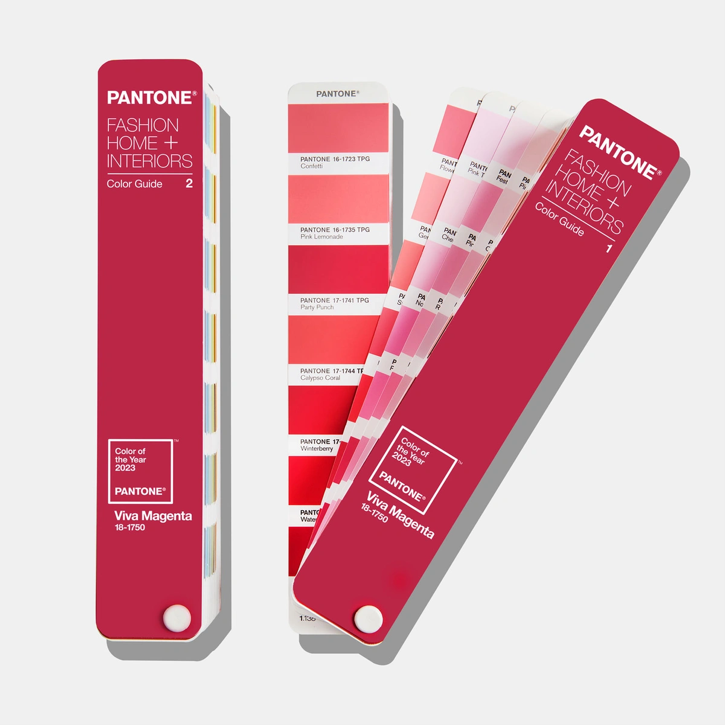 As textile printing may not have to match any standard printing condition or CMYK ICC profile, as often required in the commercial printing areas, an RGB workflow within the print driver or DFE using the device profile of the digital printer, i.e., using the maximum colour gamut of that printer, may be the preferred workflow.

If many differing digital printer printers are used and a common colour result is needed, then a simulation profile based on the printer with the smallest colour gamut can be used within the colour management controls of the DFE for all a simulation for all presses. It is possible that the simpler print drivers may not offer this level of functionality.
Lighting conditions for measurement, viewing and judging the product
As touched upon in this article, the textile sector does not use the graphic arts standard viewing conditions which are based on a D50 light source.

The 'standard' in this area seems to be based on the D65 light source specification. This lighting area is made more complicated by the types of lighting used by the retail area and the mandated replacement of fluorescent tubes by LED.

It may be necessary to have viewing booths that are switchable between D50, D65 and possibly 'in-store' lighting if a print service provider works across all markets in the wide format sector.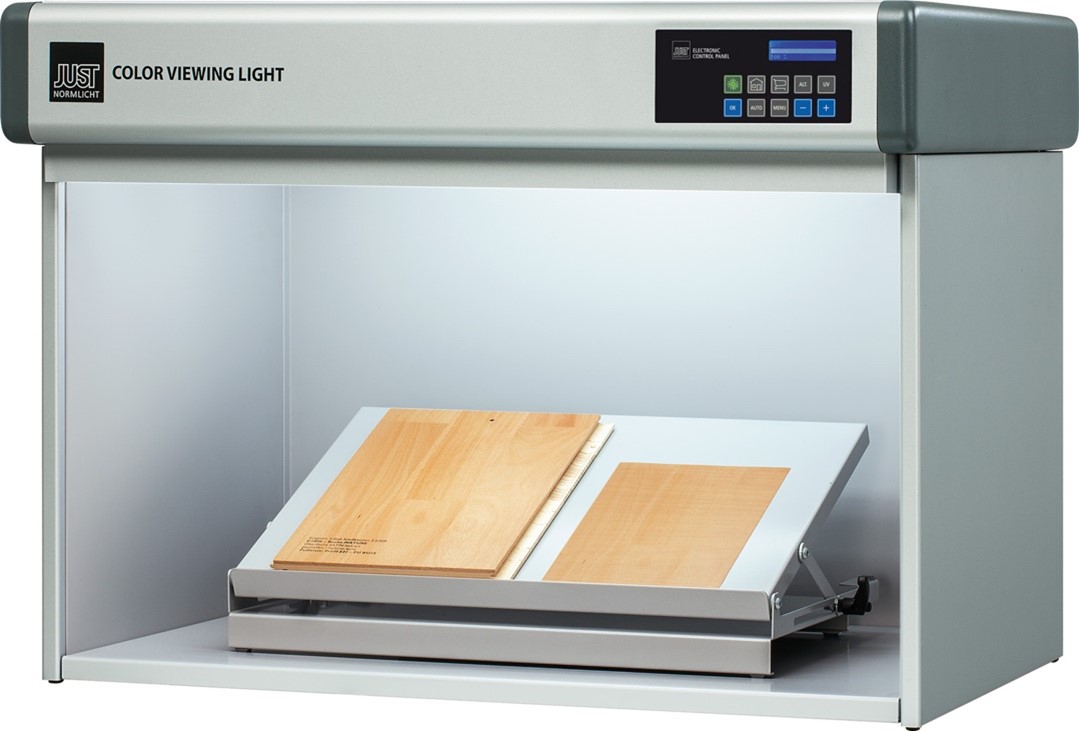 Colour gamut's, workflows and materials
With the huge range of digital presses, ink technologies and materials of many kinds and colours, the need for colour managed workflows in the area becomes very important.

It emphasises the need for custom device profiles for the many differing materials and printing technologies. The differing colour gamut sizes from the Direct-to-Film, Direct-to-Garment, Direct-to Fabric digital printers. Add latex inks and dye-sublimation; all add up to a myriad of complexity.

Then add the huge range of textiles, natural and manmade, with and without OBAs can only add to this. There is also the issue of batch-to-batch consistency and how to management this and achieve colour consistency. If the change is small the existing device profile may work, however if the white of the material has changed or the surface has changed then a new device profile will be necessary. Recalibrated the printer is unlikely to solve this issue.

Many of the digital fronts ends (DFE) and colour management softwears used in commercial graphic arts area have evolved to incorporate the requirements of the textile area.

These include offerings from EFI, ColorGate, and the colour management instrument suppliers covered above.
Conclusions
Colour management can be seen as in a state of flue and devolvement for the wide format digital printing textile sector. There are still more questions than answers in many areas, especially the mixed use of D65 and D50 based ICC profiles.

Many of the tools and softwears are still based on the graphic arts metrics and tolerances. Whether to use a RGB workflow to the press will depend on your current and future systems and presses. Fogra, as part of its textile project have a white paper on the issues and problems that can occur in a RGB workflow that may use D50 and D65 based profiles that can be found using the Fogra link above in this article or clink on the image below.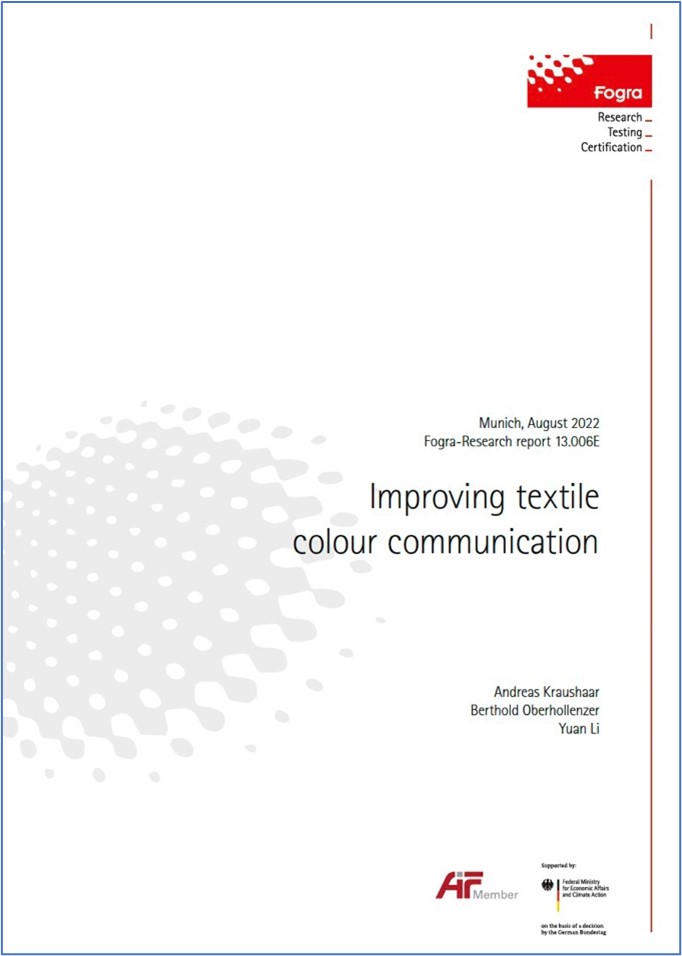 It seems clear that using a D50 viewing booth is not optimal for the textile sectors. Indeed, D65 may can always be best if clients which to view their textiles under domestic and in-store lighting conditions.

There is lots to consider in this developing area as clients will increasingly demand greater colour accuracy and better batch-to-batch colour constancy.

As the colour management technology in this are develops, FESPA will endeavour to publish updates.


Interested in joining our community?
Enquire today about joining your local FESPA Association or FESPA Direct