Features
Choosing the right small flatbed printer for your business - part 2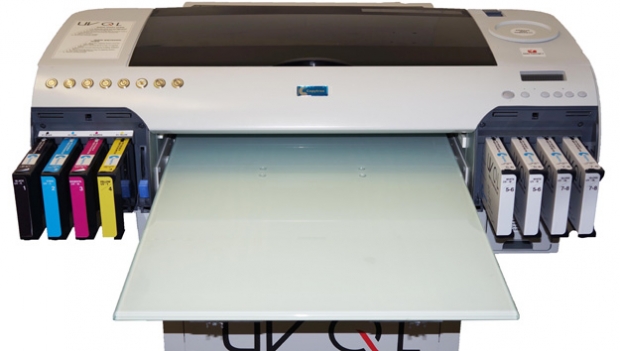 Concluding our round-up of flatbed printers, Simon Eccles looks at the smaller manufacturers of compact flatbed digital printers.
We previously examined the potential market for small flatbed printers and the way they are used for applications that are very different from their larger format relatives. We also looked at the offerings from the first two major suppliers in this sector, Mimaki and Roland DG.
Here we look at the offerings from a couple of smaller companies, Copytrax and Bergstein, as well as the new entry from Mutoh, another of the Japanese "big three" in solvent and UV inkjets.
UK based Copytrax may be a less familiar name than the Japanese makers in the general wide format market, but it's lately been busy carving out a niche in small flatbeds.
A few years ago it was best known for a range of solvent ink CD/DVD industrial printers, based on modified Epson print engines with new inks and custom-built feeders. However the use of CDs and DVDs is declining as other digital media take over, so it has been extending its expertise into more general purpose industrial printers, that it calls PrintMaster.
Their ability to print on 3D items with curved surfaces makes them in some ways replacements for the CD/DVD printers, as USB sticks are taking over in this sector and these can be given labels and promotional graphics. However, these small flatbeds can print on a whole lot more as well.
Copytrax now has three families of PrintMaster flatbeds: Rubens, available in A3 and A2 formats with solvent inks; Cezanne, ranging from A3 to B0 with UV-cured inks; and the new Renoir, in A3 and A2 formats with a water-based gel ink.
Cezanne was first announced last year as an A2 model, with a price that undercut the Mimaki and Roland A2 models by a significant margin. It has a printable area of 400 x 600mm and takes items up to 150 mm thick. An alternative freestanding model with its own stand has an even deeper bed system for objects up to 300 mm.
Eight ink channels can be configured as CMYK plus 4x white, or CMYK plus 2x white and 2x clear. White and clear can be printed in separate passes as under or overcoats, acting as a primer on porous surfaces if needed. It can print an area of 600x420mm with a 'photographic' resolution of 720x1440dpi in 12 minutes. Lower resolutions and higher speeds are possible. A rotator for cylindrical items is optional.
The UK price is the equivalent of €23,600 for the 150mm depth model and €27,700 for 300mm. The UVA3 model costs €18,900 and the UVA1 (600 x 800mm) is €49,000.
The Cezanne UVA3 printer is interesting for its configuration as well as its price. It's not really A3, rather it has a fixed bed measuring 300 x 800mm. The print engine (Epson based like the others) travels along the length of the bed while the head carriage moves from side to side.
As with the CD printers, all of the flatbeds are based on Epson's Stylus Pro print engines, but heavily modified with entirely new flatbed feed systems, different inks and in the case of Cezanne, LED curing lamps mounted on the print head carriages.
The Cezanne printers (and Renoir, which use much the same hardware) are actually made by Azon in Croatia, which sells the same basic models under its own name and UV Q brand in some territories.
The Printmaster Rubens is an A3+ flatbed with solvent inks. According Copytrax, solvent gives a smoother, glossier finish than UV and is better for photographic images, but it has to be left to harden for a few hours. It's suited to printing on plastic, wood, glass, metal, ceramic, slate and leather. The bed size is 330 x 530mm and items up to 140mm deep can be accommodated (a rotary jig to print cylindrical items is optional). There are eight ink channels for either CMYK x 2 or CMYK + 4x white. The resolution is up to 5,760 x 1,440dpi. There's an IR lamp for heating and the option of a heated vacuum bed.
The latest Renoir models (currently in A3 and A2 formats) use much the same hardware base as Cezanne, with a new water-based gel ink instead of UV curing and LED lamps. The ink is said to give similar printed results to solvent, but without the VOCs. Renoir printers also cost less than the UV Cezannes. An A3 model costs about €12,600 and an A2 model is about €16,000.
Mutoh attacks on price
So Mutoh is joining a market that's already populated with some strong products. Sensibly, one of its main tactics is to offer a keen price. UK distributor Colourgen said that it expects the ValueJet 426UF to start shipping in September and that the advisory price is currently €16,905, though it may turn out to be lower. This puts the A3 Mutoh at about the same price as the A4 Roland.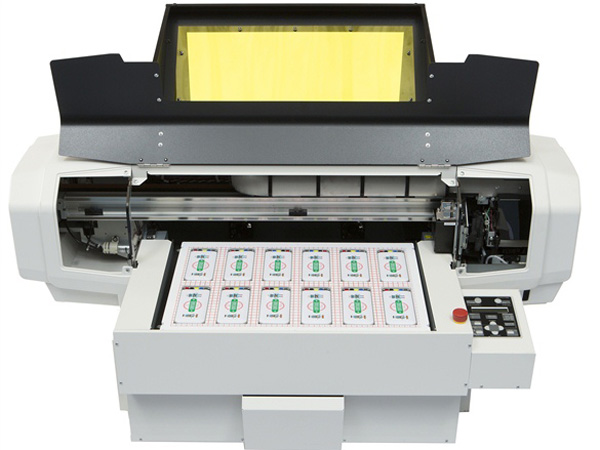 Mutoh's ValueJet 426UF, showing the UV and dust protection cover open
The bed size is 483 x 329mm and it can take objects up to 70mm thick. There are six ink channels that can be configured as CCMMYK or as CMYK + white + clear. Layer printing (with white in the centre of colours) is possible for clear backlit media that has to be viewed from both sides.
The throughput seems to be roughly comparable to the rival printers and depends on the resolution, with a choice of 1,440 x 1,440dpi unidirectional, 720 x 1,440dpi bidirectional or 720 x 1,080dpi bidirectional. For a CCMMYK configuration you can print between six and 28 beds per hour. For CMYK only (ie on a machine loaded with white and clear too) it falls to between two and 14 beds per hour. With white only it is from six to 28 beds, and with layer printing it is between one and seven beds.
Beefed-up Bergsteins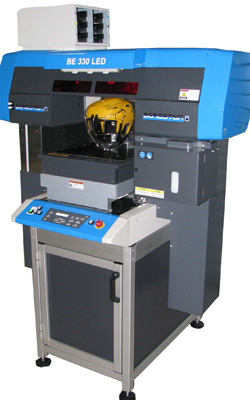 Bergstein Digital, based in the Netherlands, has grown out of a parent company that makes screen process and pad printers. It offers a range of small flatbeds two of which are based on considerably modified Mimaki UJF flatbed UV printers. These are painted blue and offer new bed mechanisms that accept thicker items than the original printers.
The BE 300 model family is based on the A3 UJF-3042, with added 'industrial' features such as anti-static ionised air circulation and extra microswitches on the guards. It's available in three models with 50, 150 or 300mm item heights. The ionisation helps ink adhere to uneven surfaces. Prices range from about €31,500 to €41,500. Bergstein's BE 330 LED (pictured right) is an "industrialised" flatbed with a 30cm adjustable bed height.
The BE 600 is based on the A2 format UJF-6042, with the same extra features as the BE 300, with a choice of 150, 300 and 500mm depth vacuum beds. There's also provision for a robotic arm loading/unloading system. Prices range from €56,600 to €75,000.
Bergstein also offers a very fast UV flatbed, the Viper LED, which can print a 600 x 600mm bed in 80 seconds. It accepts items up to 300mm high and has a maximum resolution of 700 x 920dpi (though the bed speed then falls to 150 seconds), printing CMYK plus white, with options for clear and primer. It costs considerably more than the other small flatbeds we're considering, at about €150,000. It also has a much larger footprint.
Small format, big potential
These switch panels were printed on a Copytrax Cezanne.
All these small flatbed printers are bringing digital technology and its potential for short runs and one-offs or personalisation to the giftware and 'gadgetware' sectors. They're also useful for short runs of small metal, wood, plastic or glass signage, ceramic decoration and the like, or "industrial" applications such as instrument panels.
Previously these applications have mainly relied on relatively specialised analogue printing such as screen process, offset or flexo decals, or pad printing. Direct printing also works better in some circumstances than other digital processes, such as shrink films and wraps.
On the other hand none of these small flatbeds are very fast. While this is balanced somewhat by not needing to wait for plates or screens, they will still often need positioning jigs, which have to be made in advance (though they can be re-used indefinitely).
These small flatbeds have obvious appeal to companies that are already operating in these sectors and can now add easy customisation and short-run fast turnround services. However their relatively low price, compact sizes and ease of operation will mean that 'outsiders' may now feel it's worth getting into these markets too.
Interested in joining our community?
Enquire today about joining your local FESPA Association or FESPA Direct