Features
Choosing the right RIP
Choosing the right RIP can be a difficult yet an important decision for any printer. Sonja Angerer discusses how to find the right product for your print shop.
A space, a printer, and fast internet uplink: Setting up a basic print shop seems easy enough. But as operations grow, so does the need to expand product lines and get more organised or even automatised. While it is the printing machines that usually receive most of the attention, today, the RIP software is as important for printers. Let's review the most important factors in choosing the right RIP for your company:
What do RIPS do?
What are the costs for a RIP?
Do I need help setting up a RIP?
What are the specialty RIPs available and why would I need one?
Can a RIP help with automation, and how?
RIPs in the print shop
RIP is an abbreviation for Raster Image Processor, as the software rasterises data for printing machine output. It communicates with the printer where to place the colour droplets to create the picture on paper, board, or vinyl. This works for vector graphics, e.g., from Adobe Illustrator or Corel Draw, but also already rasterised image data from Photoshop and other picture editing software.
But RIPs also scale, mirror, rotate, and nest layouts. Being able to nest data to use the substrate efficiently to avoid waste has become a vital part of ripping, with elaborate algorithms available for high-end, high-speed production RIPs.
Many entry-level wide format printers come bundled with a basic RIP, e.g.
Roland DG VersaWorks
,
Mimaki RasterLink
or
SAi FlexiPRINT HP Edition
. The bundles will only work with the printer they come with but offer advanced control with proprietary features like multi-pass varnish, white, neon, or metallic inks.
"Bundled RIPs are often an easy way to print an image and allows for cost-effective printing equipment. The software can only take a snapshot approach to the printer, unfortunately it is not designed to provide a workflow. A workflow can be set-up and can offer lots of potential for the production optimisation. (…) Also, a dedicated RIP can mean more features and support", says Joachim Rees from
Multi-Plot Europe GmbH
.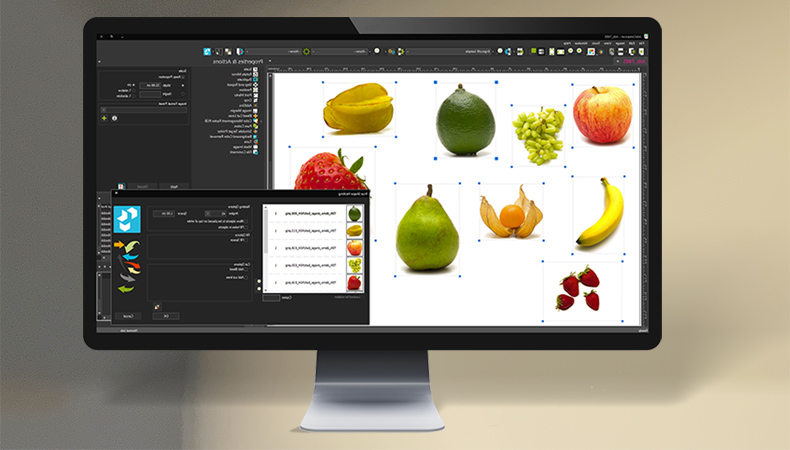 CAPTION: Modern RIPs like Ergosoft 16 offer sophisticated nesting options. This allows you to save material and avoid waste. Photo: Ergosoft.
What does a RIP Cost?
For many print shops, a bundled RIP may be all the customer will ever need, especially when it is designed for use with multiple printers of the same brand.
General purpose RIPs from
Caldera
,
Colorgate
,
Ergosoft
,
Onyx
,
PrintFactory
,
SAi
or
Shiraz
, are names of the companies for some of the market-leading brands, where prices can start from 1000 Euros or more for a lifetime license, if available.
Many manufacturers of RIP software may have borrowed a page from Adobe and Microsoft, offering subscriptions for cloud-enhanced RIP services, prices can start at around 100 Euros per month for a subscription for a small number of printers.
For large-scale RIPs these are required to control production lines with dozens of machines, the annual cost for subscriptions and service fees can be quite substantial. It is important that the right RIP is chosen for your shop as this could directly affect your profit line if incorrectly ordered.
Do I need help setting up my RIP?
If you are new to RIPs, the short answer to this is probably yes. This will be significantly helpful when considering RIPs with production line features like JDF job ticketing and queue management, colour management workflows with ICC profiles, or G7 calibration. Any printer where employees are not familiar with these concepts will highly benefit from RIP setup and configuration services from the RIP supplier.
Setting up a RIP very often also means establishing a de-facto-workflow in the print shop. Putting up a concept or getting some workflow counselling therefore not only helps the RIP to run more smoothly but also may greatly increase production efficiency.
RIPs that are combined with a printer usually get their initial set-up from the server technical that also installs the printer.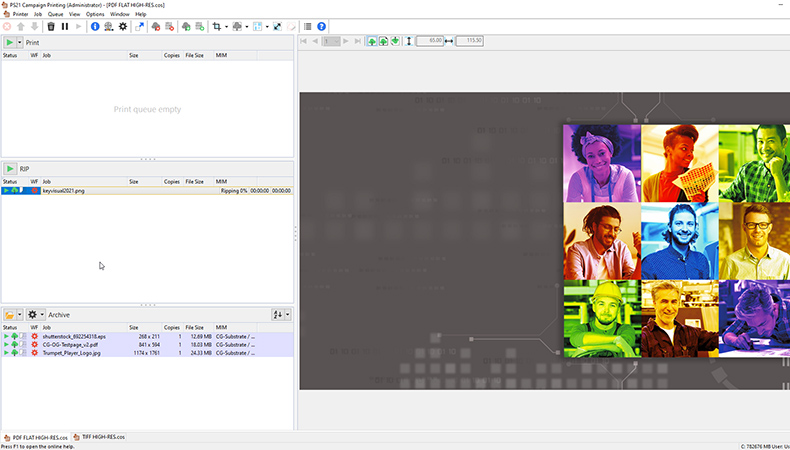 CAPTION: Colorgate Productionserver is also available as specialist RIP for a number of industry applications, including textile and décor printing. Screenshot: Colorgate.
What are specialty RIPs and why would a printer need one?
There are specialty RIPs available to almost any industry in need of digital printing services:
textile (direct /sublimation prints, DTG)
ceramic
decor
photo
raster films
proofs
These RIPs often offer more powerful tools for editing and tweaking images, layouts, and color gamuts than a general RIP. For most printers, a specialty RIP is only required if the application is a substantial part of their daily business. To make the most out of speciality RIPs, it is important to have a good knowledge in printing as well as industry knowledge.
"Additional factors need to be required regarding decorative printing of designs on textiles e.g. step & repeat, multicolour printing and evaluations, which are important pillars in a modern micro factory", explains Rees.
Can a RIP help with automation, and how?
The use of RIPs can help to automate the printing process. General purpose RIPs can be connected to a variety of other applications, such as accounting software or MIS and ERP packages. This can help to improve the overall workflow for a printing shop.
"Process automation has become an indispensable part of the everyday life of print service providers. Ergosoft offers the entire range of possibilities from job automation with job and image agreed monitoring of the entire production with ErgoLytics, automatic job processing with Delta Automation to the connection of an external ordering process via Ergosoft Stream", says Anna Tobler, Ergosoft CEO.
"PrintFactory software has built-in automation via XML or JDF support and end users can integrate this software to front end Web to Print, Automation Workflows and MIS systems, making the software solution even more attractive. Powerful automation tools and templates are also include, which removes the need for repetitive tasks saving lots of pre-print time", stresses Debra Roussouw, Marketing Manager at PrintFactory.
High-end colour quality often demands individual printer profiles. Many RIPs offer colour management modules or extensions. They are also compatible with market-leading measurement devices, e.g. from
Xrite
or
Barbieri
. Choosing a RIP with a colour management module can help improve overall print quality while reducing costs for external colour management services.
"PrintFactory's industry proven colour engine included is unparalleled in its accuracy and provides the highest-level proofing grade colour management for all driven devices. Greys and neutrals are the widest and cleanest spot colour rendition with the most complete spot tables available anywhere. Customers can easily re-calibrate printers to such tight tolerances as to be able to load balance jobs across printers of the same model, also re-print 'identically' files printed days, weeks or even months prior…… unlike any other LFP RIP", says Roussouw.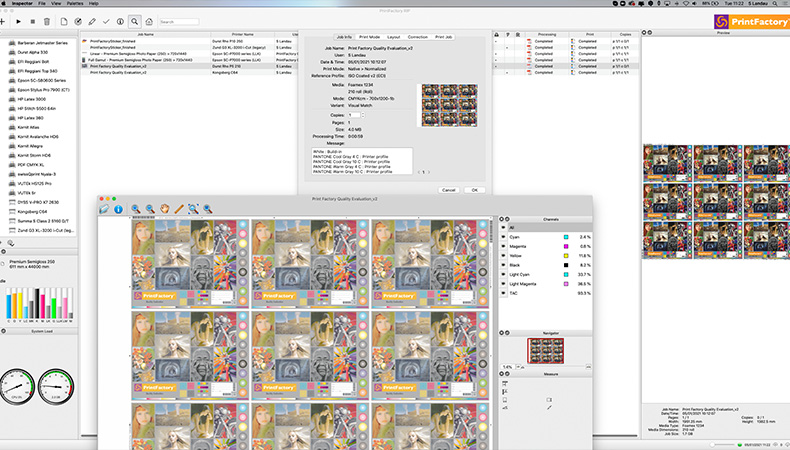 CAPTION: PrintFactory's color engine offers highest-level proofing grade colour management. Screenshot: PrintFactory
How to find the perfect RIP?
If you are considering a RIP for your print shop, it is important to choose the right one. Not all RIPs are the same and choosing one unsuitable for your print shop can be costly and highly inefficient. Here are some factors to consider when making your decision:

RIP Features: Make sure to consider the features of a RIP before making your purchase. A RIP with more features may be more expensive, but it may also be more beneficial for your shop.
RIP Setup and Configuration: If you are unfamiliar with RIPs, you will likely need assistance in setting the software up.
RIP´s total costs: A powerful, highly automated RIP will likely require (additional) cloud service subscriptions, a service contract as well as intensive and recurring staff training. As this adds cost to every single square metre printed, a high turnover is usually required.
Interested in joining our community?
Enquire today about joining your local FESPA Association or FESPA Direct