Features
Choosing the right ink for wide format printing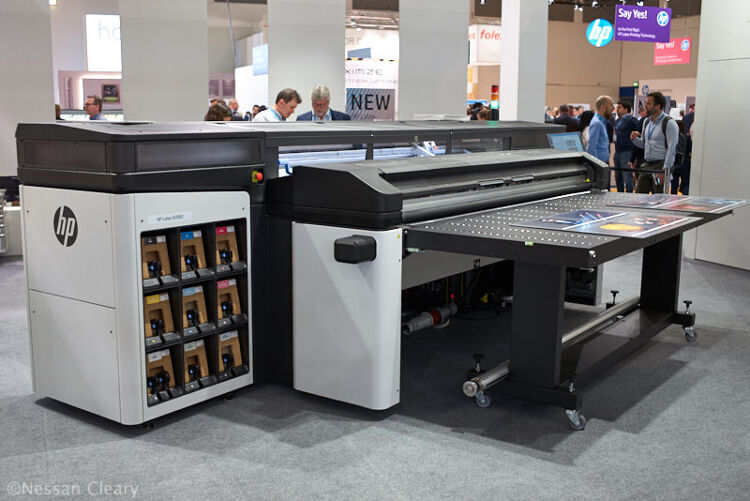 When it comes to choosing a wide format printer, the first step is to decide what type of ink you want to work with. Nessan Cleary describes the different types of inks available and the choosing the right ink is dependent on the applications and materials that you want to print.
Most types of printing devices are designed to print to a particular type of material, such as paper or flexible film, and to work with the class of inks best suited to that material. The display graphics sector, on the other hand, has always done things a little differently and consequently most people in wide format are used to working with a huge variety of different materials. There are currently five distinct classes of inks used in wide format printing, each with very different characteristics that determine the design and therefore cost of the printer, as well as the range of materials and applications any given printer can handle. So choosing which type of ink to work with is one of the most fundamental decisions that any wide format business owner can make.
Most inkjet inks consist of the coloured pigments that will ultimately form the image, suspended in a carrier liquid that allows the ink to be jetted, plus various additives to aid the runability of the ink and to stop it from drying out in the printheads. Every aspect of the printers are designed for a given type of ink, starting with the tubing to deliver the ink from the tanks to the heads, right through to the drying system, as well as the maintenance regime so that its almost impossible to repurpose a printer from one type of ink to another.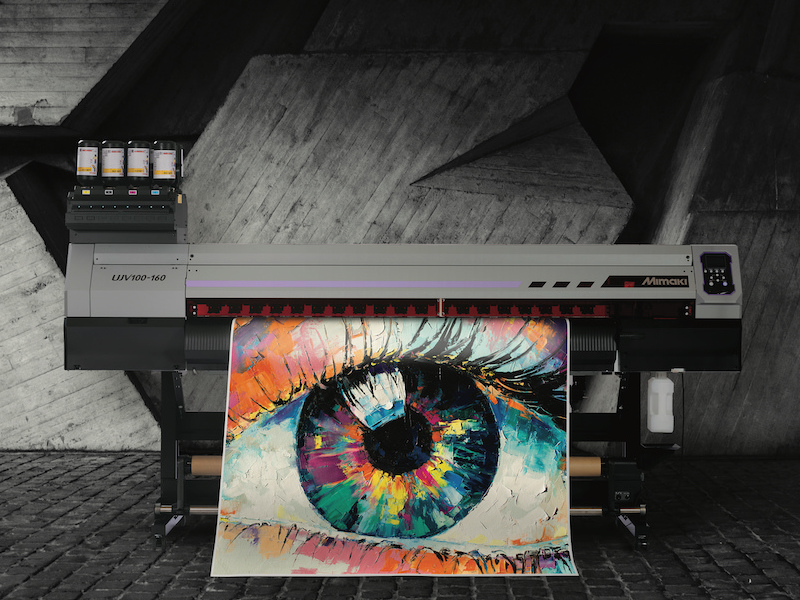 Caption: Mimaki introduced this 1.6m wide JV100-160 solvent printer at the end of last year. Image Credit: Mimaki.
Many wide format users will have started their careers with solvent printers and for many years solvent-based ink dominated wide format printing because it was relatively cheap, the ink would adhere to almost any kind of substrate. Solvent ink could survive outdoor weather conditions, albeit that you might need to laminate the prints for further protection. However this has declined over the last ten years or so, mainly due to health and safety concerns. There are two advantages to using solvent as a carrier liquid. Firstly, it can partly melt the surface of the substrate, which helps the ink pigments bind to that substrate. In addition, the solvent content evaporates on contact with air leaving behind the pigments so that the ink dries quickly without requiring too much additional heating.
However, this is also the problem with solvents - that as the solvent content evaporates it creates volatile organic compounds in the air and long term exposure to these VOC can lead to serious health problems. For this reason, many types of solvents are being banned from a range of products including paints, varnishes and inks.
To counter this, ink vendors have turned to less harmful solvents, though these are less effective. These inks are cheaper and for this reason have been called eco-solvents. But they lack the bite of the old - and highly dangerous - full solvent inks, so that they should be used with coated materials for best results, and of course, that adds to the cost of the materials.
Nonetheless, solvent ink printers are relatively cheap to buy and a good starting point for printing to rollfed materials such as self-adhesive PVC, which is still the most commonly used wide format material. Solvent ink is particularly suited to vehicle graphics as it can be re-heated and stretched.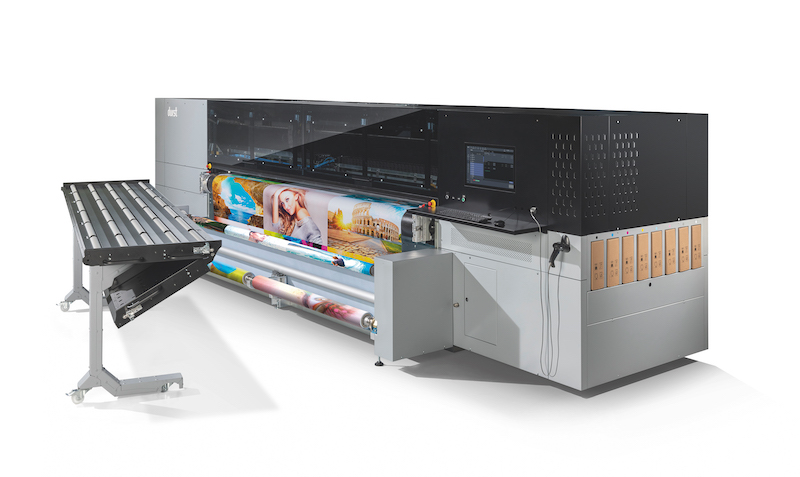 Caption: Durst has a number of UV-curable hybrid printers including this 3.5m wide P5-350, which uses LED curing. Image credit: Durst.
When it comes to rigid materials, the most common option for most people is going to be a flatbed or hybrid printer running UV-curable inks. This ink is quite complex, which means that both the ink and the printers tend to be expensive. UV inks consist of oligomers, monomers and photo-initiators, with the inks curing through a chemical reaction called polymerization. The process is kick started by the photo initiators, which produce free radicals when exposed to UV light. These free radicals then force the major components of the inks - monomers and oligomers - to cross-link together, forming a solid film and simultaneously bonding it to the substrate surface. Some printers also give the ability to tweak the curing to achieve a matte or glossy finish.
The main advantage of UV is that the ink cures to a tough finish that can withstand most outdoor conditions without any further laminating. The inks work well with a wide range of substrates, including foamcore, plastics, aluminium composite and wood. Better still the ink cures immediately so the prints can be sold straight after printing with no further work needed.
In the early days the UV inks did not flex very much, which initially limited this ink to rigid applications. Modern formulations allow the inks to cure to a more flexible finish and there are now plenty of rollfed and hybrid UV printers. However this flexibility comes at the cost of giving up some weather and scratch resistance. For this reason some vendors offer a choice of ink to suit different applications.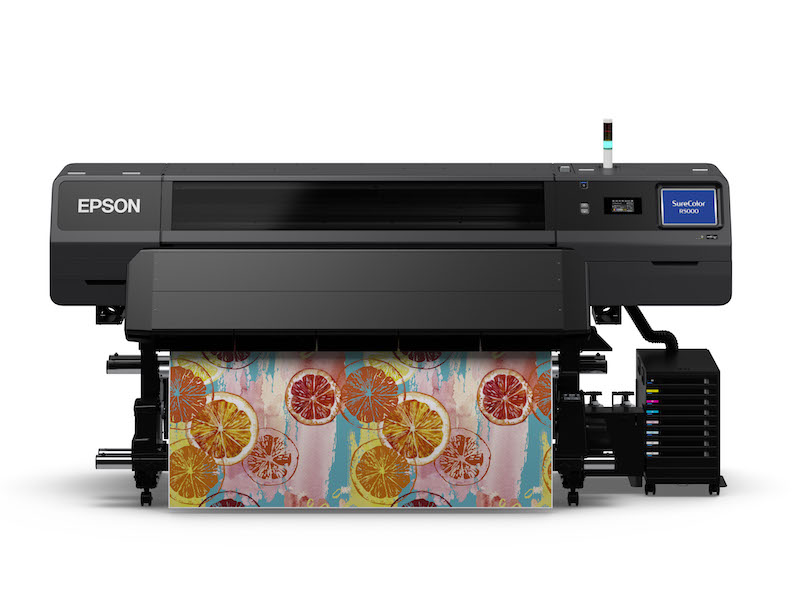 Caption: Epson has recently introduced its own resin ink printer in the form of this SureColor SC-R5000. Image Credit: Epson.
Resin inks offer an alternative and are likely to become more widespread as more vendors develop these inks and the associated printers. This is the basis behind HP's latex ink, but Ricoh has also been dabbling in its own latex ink for a couple of years now and Epson and Mutoh have also recently introduced resin ink printers.
Resin ink works by encapsulating the pigment in some form of plastic or resin, such as latex. The ink is cured by applying heat, which melts the plastic, bonding the pigment to the substrate and offering a layer of protection to the pigment. Depending on how the ink is formulated, this protection can be good enough for outdoor display graphics.
The most commonly used carrier liquid is water, which helps to keep the cost down and is more environmentally friendly than the alternatives. There's an added advantage for HP, as the company opted to use its own thermal printheads, which work best with water-based inks.
However, the use of water can also cause some issues as there is a considerable challenge in getting rid of the water and drying the ink quickly enough to allow the print to be wound on the take-up roll but without damaging the substrate. Consequently most resin ink printers heat the area between the print platen and the take-up roll. This heat can damage some materials, such as thin window cling. The heating also consumes a certain amount of electricity, which is neither economical nor good for the environment. Users should pay particular attention to the media profiles to ensure that just enough ink is laid down to achieve the desired colour gamut for that media, but too much as to cause problems with the drying.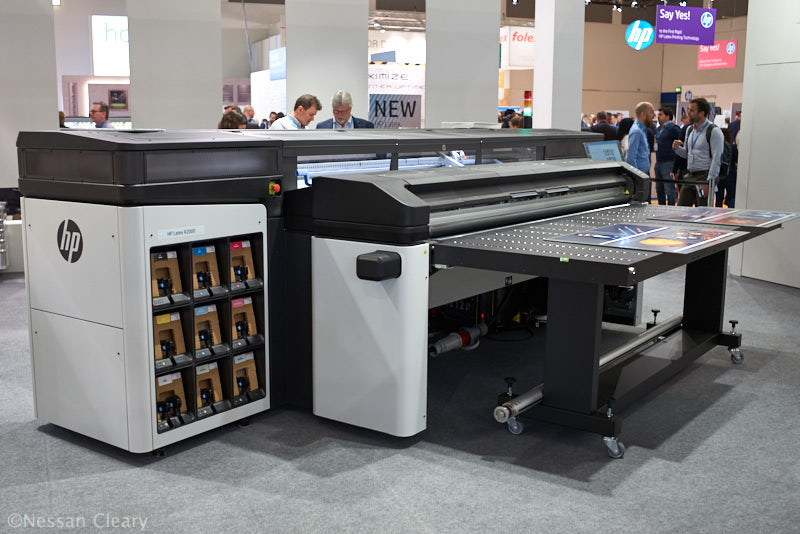 Caption: HP has pioneered the used of resin ink through its latex printers including this R2000 hybrid which can print to rigid materials. Image credit: HP.
That said, these inks are incredibly versatile, as HP has demonstrated over the course of many years. They are mostly used for flexible materials though HP has developed a flatbed with its latex ink. This ink can be printed to many different substrates including self adhesive vinyl and textiles and is suitable for some outdoor conditions. At the same time, they are odourless, unlike most UV inks, making them a good solution for interior work.
There is also a class of aqueous inks, which use dye or pigment as the colourant. These printers are cheaper than those we've already covered and can feature eight or twelve colours. They do offer a very wide colour gamut, and for this reason they are widely used as proofing devices for offset and flexo presses. These printers are also capable of very high quality results and are the best choice for reproducing photographs or any kind of fine art applications. However, this ink does not have good weather or UV resistance and is best laminated for long term indoor use and should be avoided for outdoor applications.
Finally, dye sublimation inks have become more commonplace in wide format printing over the last ten years or so. These are water-based inks designed for printing either to polyester-textiles or blended fabrics with at least 70 percent polyester. Such textiles are a sustainable alternative to PVC for indoor graphics and have become the standard for most exhibition and retail work.
These inks can be printed direct to the fabric but for best results, especially for garments, they are usually printed to transfer paper. The paper is then place in a heat press with the fabric and heat and pressure is used to sublimate the inks - essentially heating the ink to a gaseous state and then driving it through pressure into the fibres of the fabric. As the ink cools, it bonds permanently within the fabric.
There's a wide choice of third party inks available, mainly because in the past users adapted a rollfed printer that might have started off with solvent or aqueous ink. But all the printer vendors have seen the potential of this market and now offer dedicated dye sublimation printers complete with their own inks and warranty.
These inks do require some degree of experience as they tend to be quite dull when printed, only reaching their full colour after sublimation. In addition, you will also need to invest in a calendar or oven for the sublimation. However, this set-up can be used to produce garments and giftware as well as display graphics.
In conclusion, the choice of ink depends on the applications and materials that you want to print. But it's also sensible to consider the environmental implications, both of the ink and the recyclability of the materials, since many potential customers will expect you to help them tick their own sustainability box.
Interested in joining our community?
Enquire today about joining your local FESPA Association or FESPA Direct