Features
Automation and Customisation ─The Positive Impact of The Digital Workflow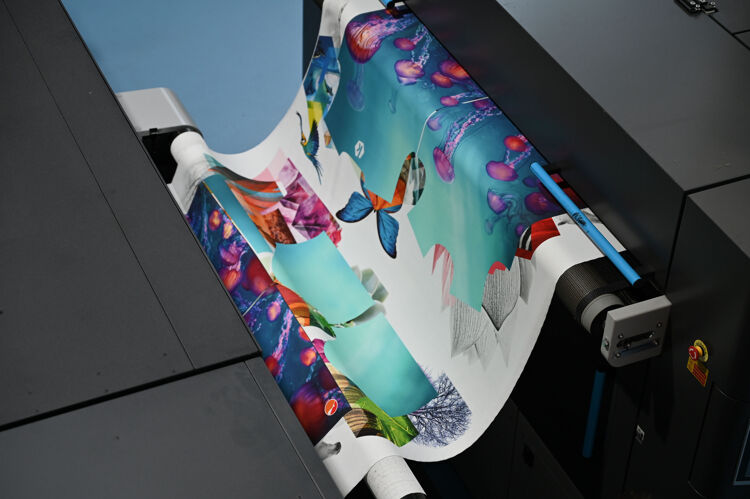 Debbie McKeegan discusses how digital workflow will continue to grow and evolve to deliver seamless manufacturing in the textile industry.
Market trends are driving change across the manufacturing landscape. Supply chains are threatened, and nearshoring is now a reality. Regardless of where you sit in the circle of manufacturing - speed, accuracy and transparency are now paramount.

As we move forward into what is predicted to be a transformative decade for the textile industry - the digital workflow must continue to evolve and adapt to deliver seamless manufacturing.

Digital printing technologies have created a catalyst for change. The market has shifted towards customisation, and with this - the flow of information for print service providers has now transitioned from paper to digital data.


Image credit: Kornit Digital

Within the global textile market expected by Research and Markets to top $1.3 trillion by 2028, all forms of textile automation whether physical or digital are expected to register stunning growth by 2030.

Digital design and workflow software sales are predicted by Market Research Intellect to reach $14 billion by 2026. While the global market for textile automation is expected to exceed $5.3 bn by 2026.
These spectacular changes have created a dynamic all of their own
Digital manufacturing technologies continue to disrupt the traditional workflow of the textile industry. Market shifts have created new channels and opportunities where workflow software solutions (which were initially created and deployed to bridge analogue and digital technologies) now enable parallel or independent production across continents – and facilitate close proximity production.
In market trends - the speed and accuracy of the digital workflow has created a 'no minimum' sales pitch. When combined with the diversity of digital printing these key shifts have driven an ecommerce boom which in turn has generated an accelerated demand for personalised, customised products.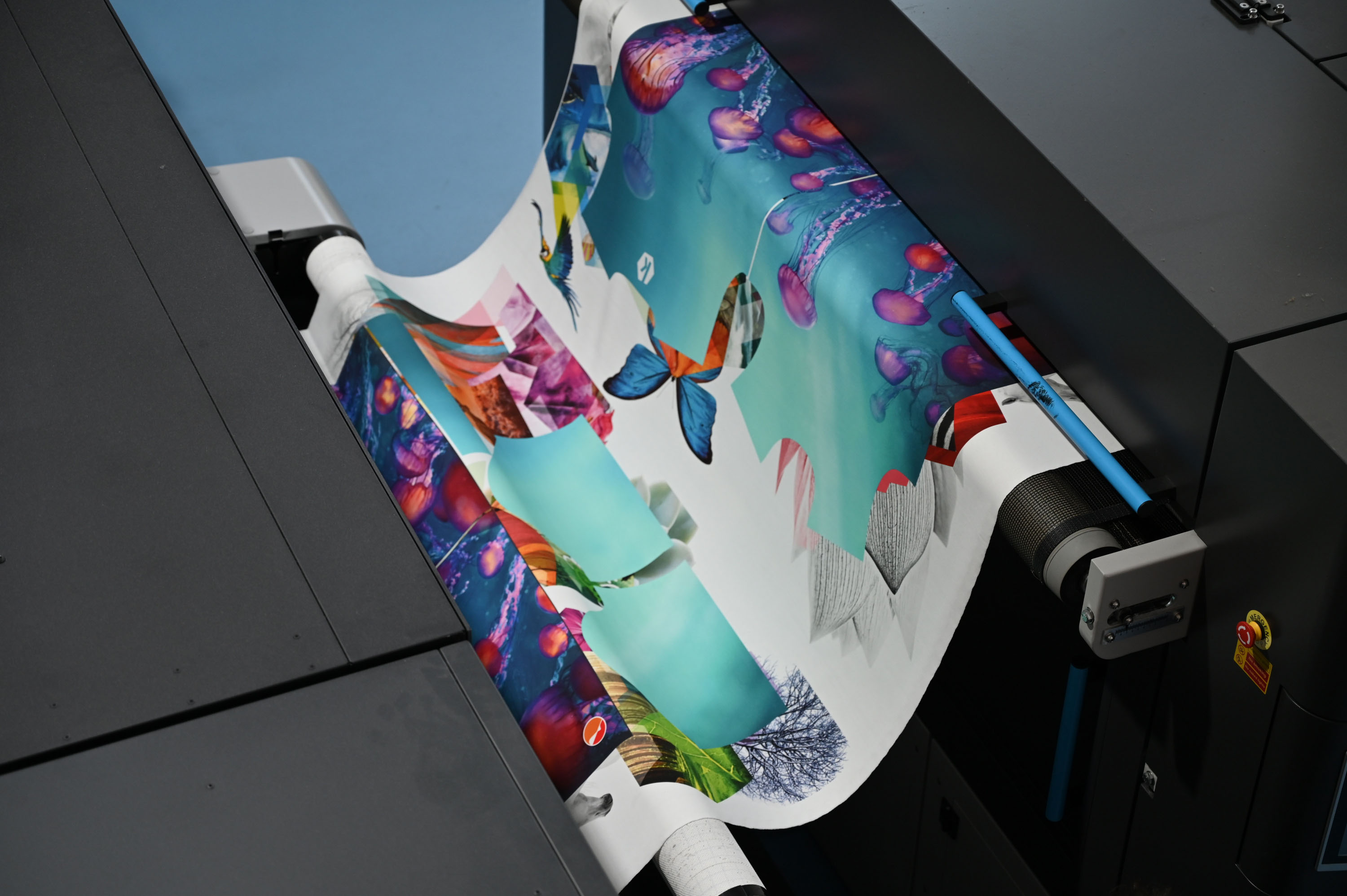 Image credit: Kornit Digital

As digital sales - data transmission needs absolute authority to drive production, and as such – the data needs to be accurate across multiple applications.

Product is now specified and ordered online and channelled automatically across all production departments by ever more sophisticated digital workflow tools.
The Digital Micro Factory is no longer a dream
Multiple technologies and their supporting software suites must all communicate and collaborate with uninterrupted efficiency. Using one language. As Omer Kulka, CMO of Kornit Digital commented in our recent podcast "This is no longer a singles game!" Listen here:
Web-to-print offerings, such as those from EFI Market Direct StoreFront, OnPrintShop and Kornit "X" are driving direct-to-garment and digital textile production. They are at their most effective when they capture all aspects of the sale from the shopping cart through manufacturing and on to shipping and customer service.
Software from companies such as AVA CAD/CAM, Lectra and Print factory drive the digital design workflow and colour management. Product then seamlessly flows to printing departments where digital print machines from, among others, Epson, Durst, Kornit Digital, Mimaki and HP, efficiently execute their digital instructions before passing the product on to be digitally cut on, for example, Kongsberg, Zund or Summa cutters.
The speed of the process is self-evident, but the overall efficiency of the workflow is underwritten by accurate colour management and machine profiling, by image nesting (which provides cost-saving nested layouts) and by the millimetric accuracy of camera driven laser cutting.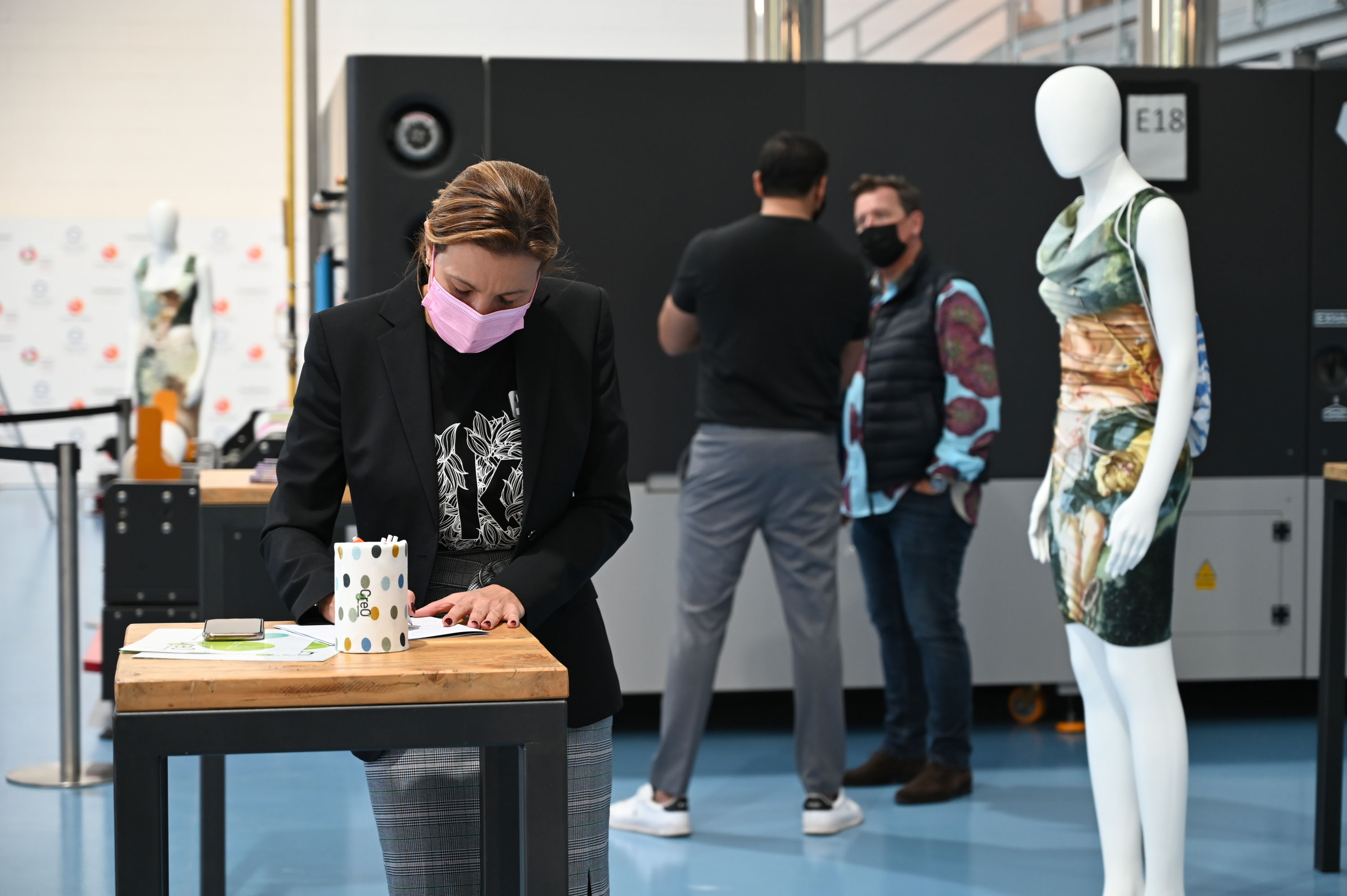 Image credit: Kornit Digital

Direct to Garment printers are also an integral part of smart manufacturing. Digital production delivers sustainable, on-demand production to pre-sewn items and as such – offering the fastest method for making a customised garment. DTG machinery from companies such as Epson, Brother, Ricoh and Kornit Digital are leaders in this field, providing an economic means to produce individual designs on pre-sewn blank garments, at speeds that ensure that any ecommerce offer is successfully supported using responsible production methods in line with the Un's SDG's.

But beyond the markets shift to customisation - lies a greater gain. International supply chains have become unpredictable and their costs unstable.
The goal of nearshoring textiles production has become a reality
More and more textile firms now realise that the digital workflow not only eliminates time consuming work practices but also offers the potential to eliminate costly supply chains and eradicate stock mountains.

Europe abounds with digital enterprises that have integrated and perfected the digital workflow. These facilities provide customised product and offer high quality printed and sewn goods, with super-fast delivery and competitive pricing. Speed doesn't deliver a price premium – it's now a given - but speed of delivery does increases sales.

Top of this tree must be Printful who have grown at an incredibly fast pace since they were founded in 2013. Today as the first Lithuanian unicorn, the business is estimated to be worth over $1billion. They provide a spectacular benchmark for other textile companies to follow.

From London, where Fashion Enter and Kornit Digital have entered into partnership with ASOS to produce short runs of economic garments manufactured locally in the UK - to Poland - where Print Logistic have become a market pioneer of on-demand custom designed décor and apparel.

The acceleration and growth opportunities are self-evident. In this fast-paced "Smart Manufacturing" scenario, the velocity of innovation has not dimmed. Circular manufacturing workflow solutions that include hardware, software and consumables fused together - increase production capacity, reliability and reduce risks. New products of note continue to be developed with products from Kornit"X", EpsonEdge and Durst Connect as products to watch.

All of which heralds an exciting future for the textile industry which is enjoying a new digital independence and an ever-expanding list of applications and vibrant commercial opportunities.
Interested in joining our community?
Enquire today about joining your local FESPA Association or FESPA Direct