Features
Analysing the latest developments in inkjet print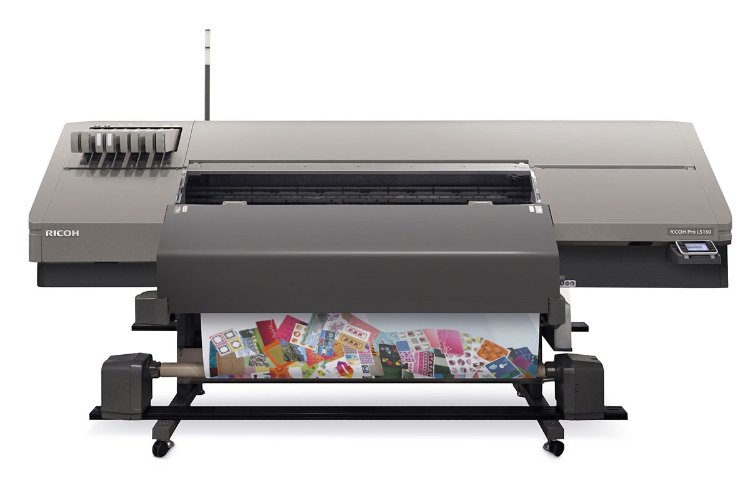 While some businesses may have been forced to stand still in 2020, work in the inkjet print sector continued on exciting new developments. Rob Fletcher takes a look at what is new in this sector.
While the technology has been around for a number of years, development in the inkjet market continues, with new solutions being launched on a regular basis. Even in 2020, when many businesses either slowed down or halted production altogether, work to improve inkjet technologies continued.

During recent months, we have seen a number of new machines realised to the market, and with manufacturers pledging to continue building on this, we can expect to see more solutions made available throughout 2021 and beyond.

With this in mind, FESPA.com picks out some of the latest technologies in the inkjet market, and analyses how these can help print businesses looking for a boost following the Covid-19 shutdown.
New additions
HP has just announced the launch of its latest inkjet innovation in the form of the new HP Latex 700/800 Series of large-format printers. The range consists of four devices: the HP Latex 700 and 800, and the HP Latex 700W and 800W, the latter of which offer white ink capability for the first time in this category.



Caption: HP has launched its brand new HP Latex 700/800 series of large-format printers

Guayente Sanmartin, general manager for large-format business at HP, said such is the flexibility of the new technology that it will help users win new work in a number of market sectors.

"When you think about HP Latex, imagine the unique ability to say yes to every customer request, regardless of fast-changing schedule or application demands," Sanmartin explained. "Help meet deadlines with undisputable operator and environmental safety, as, with HP Latex, every signage and decor decision becomes a sustainable one.

"The new Latex 700 and 800 portfolio will allow print service providers (PSPs) to win big by navigating customer challenges in the next normal and embracing more ambitious projects - safe in the knowledge their work will deliver."

Key features on the new machines include updated printheads, which have more nozzles and offers speeds of up to 36sq m/hr, which HP said in turn means that the Latex 800 and 800W offer 50% higher productivity levels compared to previous HP models.

HP also said that print jobs on the 700/800 Series deliver vivid colours and finer image and text details, even at faster print speeds. Operationally, HP PrintOS also enables PSPs to monitor and control their print fleet using a cloud-based interface they can use virtually anywhere, anytime.

Members of the printing community can learn more about the new HP Latex 700 and 800 Printer series through an interactive experience on HP's Virtual Booth. Click here to find out more.
Accelerating trends
Another leading name in inkjet print is Epson, and Phil McMullin, sales manager for ProGraphics at Epson UK, said the pandemic has led to a greater acceleration of certain trends, which those with inkjet kit in place can capitalise on.

McMullin said: "The most obvious core benefits highlighted by the events of 2020 are high quality production and application adaptability. The initial increase in personalisation and web ordering looks likely to continue to develop further.

"The myriad of businesses now offering personalised T-shirts, mugs, photos, keyrings and so on has reinforced the importance of reliable, on-demand digital printing and the benefits this has when companies aren't having to outsource materials from different corners of the globe."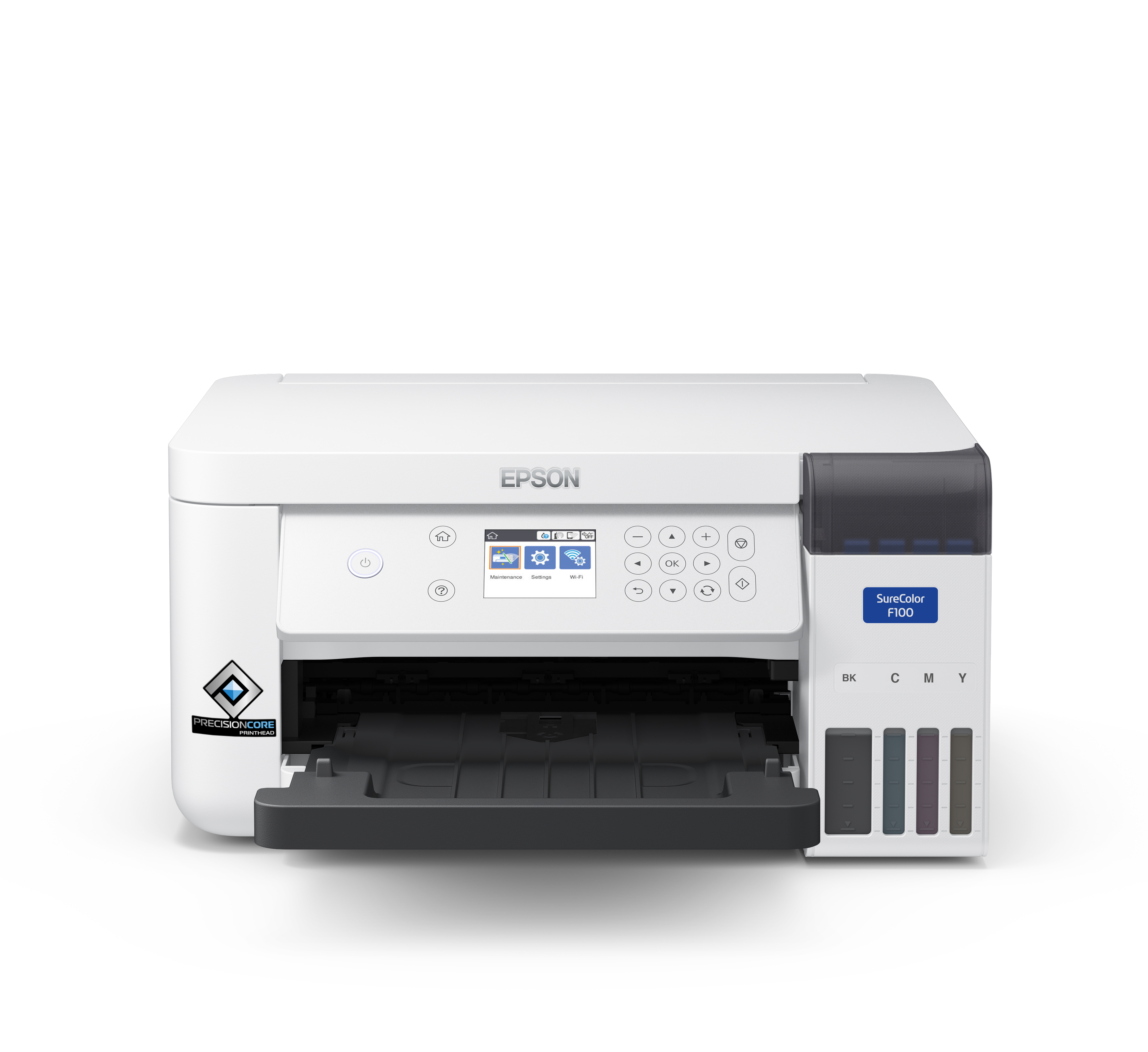 Caption: Epson said its SureColor SC-F100 dye sub unit offers an entry-level solution for A4 size print work.

Beyond the usual requirement of consistently high image quality and reliability, McMullin said Epson is now seeing affordability becoming a key driver when it comes to maximising profitability.

To address this, Epson has launched the new SureColor SC-F100 dye sub unit at less than £400, which he said enables first entry into the market with A4 size prints.

In terms of the wider market, McMullin said the adoption of inkjet kit will offer a major benefit to those operating in the digital textile print sector, saying not only will it save resources, but offers a more sustainable option to users.

McMullin said: "Employing and demonstrating a more robust approach to sustainability is becoming increasingly important to us and our clients. Using inkjet technology in textile printing saves resources and is more environmentally conscious than analogue processes because there are no films, screens, or plates to produce, wash, or store.

"Since the digital textile printing process is also shorter, it uses less energy and water than a traditional analogue process and wastes far less ink."
Increased reliability
Elsewhere and Ricoh has also announced a number of new inkjet developments, most notably its third generation of latex formulation (AR3). Yucel Salih, UK wide-format sales specialist at Ricoh said this will offer significant benefits to users of the Ricoh Pro L5160 latex printer.

Salih said: "This latest development, along with Ricoh print heads, means that the Ricoh Pro L5160 latex printer can easily achieve sellable 46sq m/hr prints.
This is only achievable by having the right ink formulation being jetted by reliable grayscale printheads.

"The same could be said of the UV ink currently used on Ricoh UV flatbed printers where they achieve consistent sellable 50sq m/hr prints."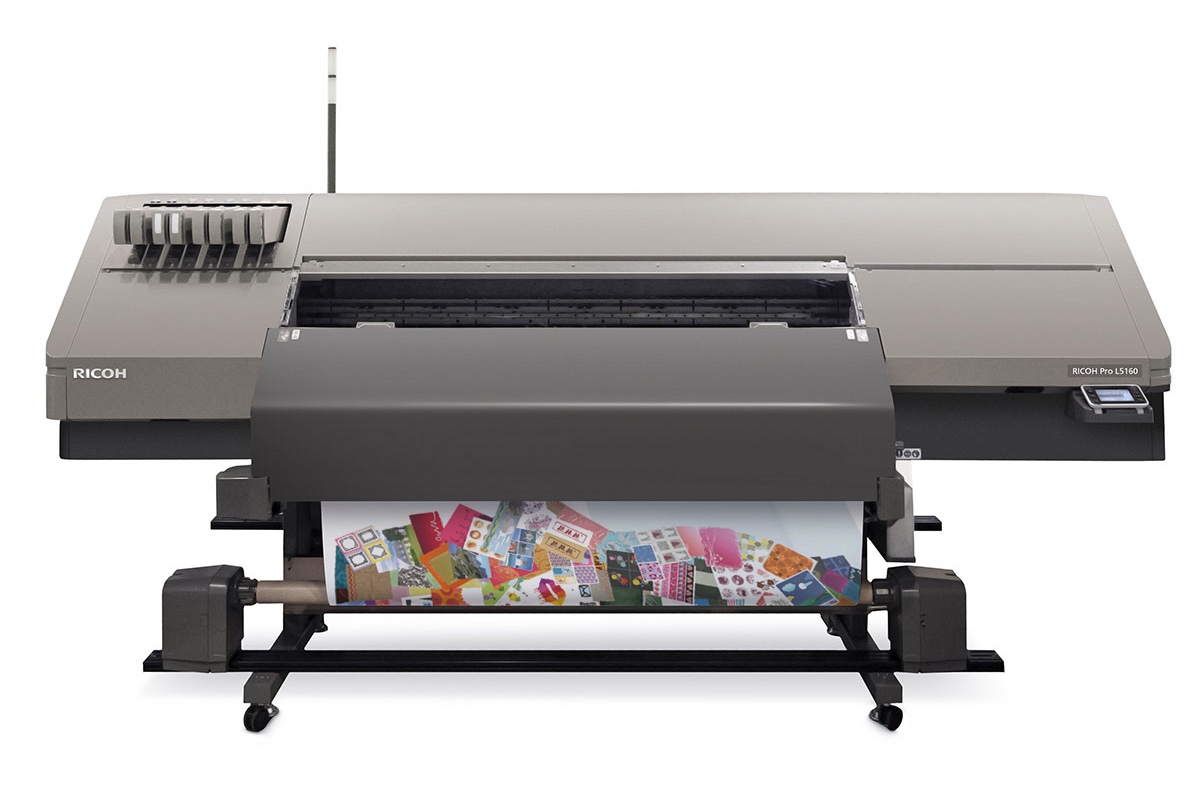 Caption: The Ricoh Pro L5160 latex printer can run at speeds of 46sq m/hr

Expanding on this, Salih set out some of the core benefits of using inkjet kit over other technology, focusing in particular on that there are fewer moving parts in inkjet, which Salih said increases reliability.

Salih explained: "It's a single process to lay down the image on the substrate, which leads to faster production because the ink is laid down quicker. Inkjet technology is also compatible with the widest range of substrates – both rigid and flexible – including glass, wood, concrete and more.

"You could use screen technology on these special substrates, but it would be a lengthy process and you would not be able to achieve intricate colourful results. Inkjet printing is perfect for low batch printing including personalised objects and one-offs, a market, which is seeing massive growth at present.

"Inkjet technology is renowned for both its relatively low-cost investment and running costs. Ricoh are always working on next innovations to enable our customers to print more applications on a single device."
Versatile, green and ROI
Also focusing on new inkjet development is swissQprint, whose chief sales and marketing officer Carmen Eicher said that its latest advancements will benefit companies in the large-format sector.

Eicher said: "The core benefits of using inkjet technology in large-format print is that it offers significant versatility, is environmentally friendly and offers high return on investment."

Focusing in on the technology and its benefits, Eicher said inkjet is versatile, with the ability to print on rigid and flexible materials of all kinds, without the need to laminate.

In terms of sustainability, inkjet printing offers low energy consumption when compared to other methods, while it does not require dryers and ventilation, uses solvent- and VOC-free inks and features energy-saving LED UV lamps

Finally, Eicher said that with inkjet, one device may cover the portfolio other print shops require a range of different systems for, such as flatbed and roll-to-roll printers. As such, the investment is relatively low in comparison with other technologies.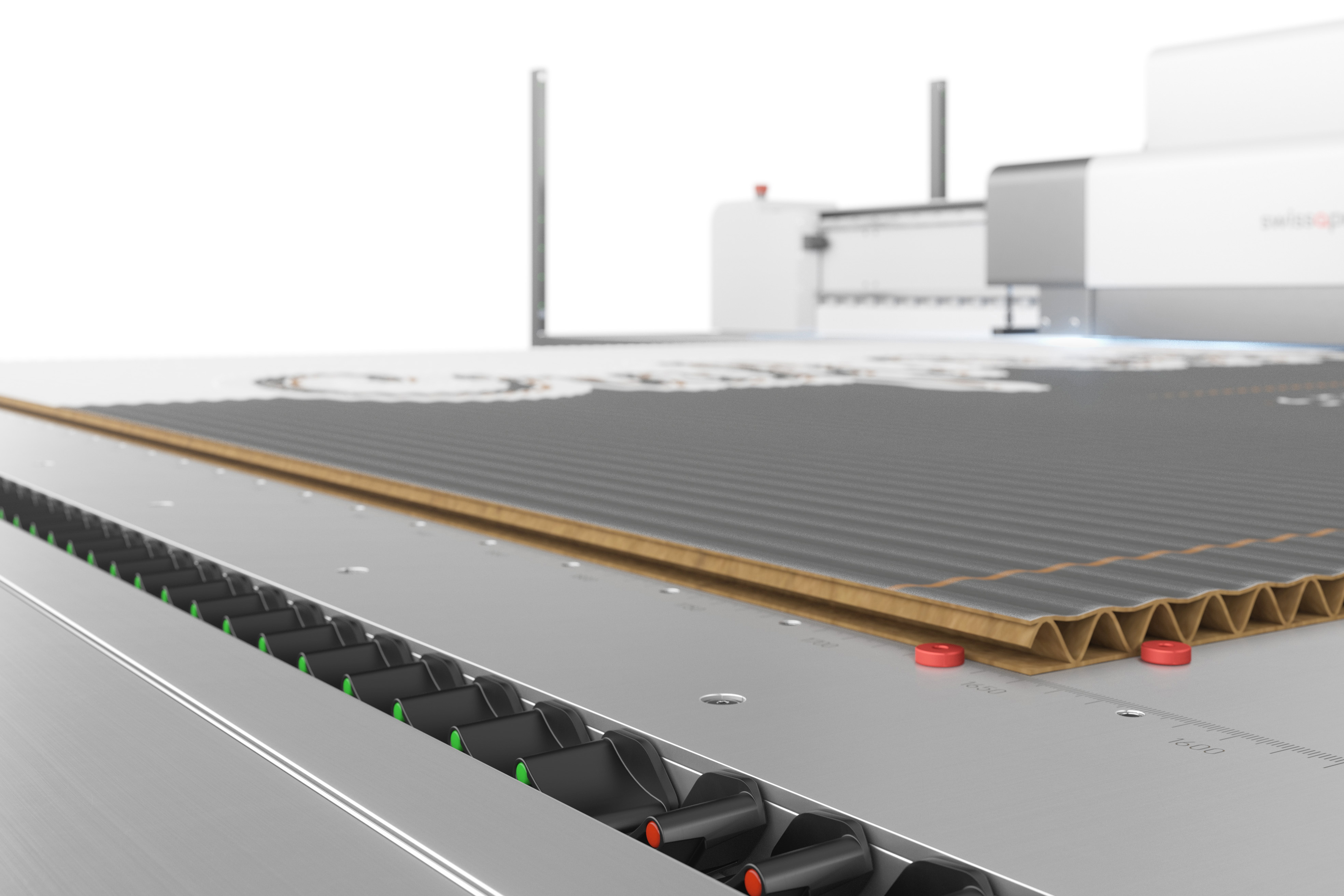 Caption: swissQprint said its Tip Switch Vacuum enables easy and efficient control of the strong vacuum on its large-format inkjet printers

Eicher said: "swissQprint large-format printers have a modular design, which means that an existing printer may be upgraded with additional options in the field. So, the equipment will grow with business, and the owners can stage their investment.

"What is more, all of swissQprint's large-format printers have nine, freely configurable colour channels. The print service provider may start with a basic configuration and add further channels or a second row of print heads later on."

Eicher also picked out the latest development in inkjet at swissQprint in the form of the unique Tip Switch Vacuum for its entire flatbed range. Standard with the swissQprint Karibu roll-to roll-printer since its launch in 2019, Eicher said that the Tip Switch Vacuum enables easy and efficient control of the strong vacuum.

Despite the disruption caused by Covid-19 in the past 12 months, development in the inkjet remains strong, with a number of new solutions coming to market in recent months. With no signs of this innovation slowing down, keep an eye out for more launches as we progress through 2021.

Discover the latest in digital printing at the Global Print Expo 2021, Europe's leading exhibition for screen and digital wide format print, textile printing and signage. See demonstrations of state-of-the art equipmnet and new product launches and network with like-minded individuals. Register your interest now.


Interested in joining our community?
Enquire today about joining your local FESPA Association or FESPA Direct