Features
Analysing the core advantages of sublimation print in textile work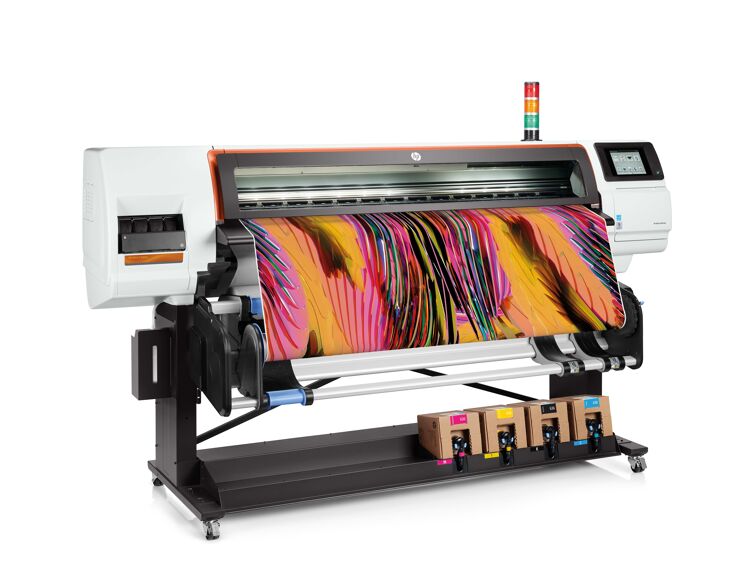 Textile print has proved to be an incredibly popular and prosperous market for print service providers (PSPs) for a number of years, with many opting for sublimation printers to produce work. Rob Fletcher looks into the main reasons why this technology has proved so popular in this sector.
When we talk about growth markets, one area mentioned time and time again is textile print. Whether you are producing fashionable clothing for high street shops, or eye-catching pieces for interior décor, there are plenty of options.

Understandably, the influx of companies into this area, and the desire of those established in the market to enhance their offering, has led to a rise in demand for certain types of kit. One of the most popular forms of machinery to use for textile work is sublimation printers, with many PSPs swearing by this kit.

But why is sublimation print such a reliable way to produce textile print? What are the main advantages it offers to PSPs and what sort of kit is available to those companies looking to gain an advantage in this busy market? FESPA.com investigates…
Set yourself apart from competitors
First up, Epson has a number of sublimation printers available, with many PSPs running technology. Phil McMullin, head of sales for Pro Graphics at Epson UK, said the addition of dye-sublimation gives PSPs the ability to look beyond their core offering, and provide existing and new customers with more options.

"With relatively little training, a digital dye-sublimation printer, paired with an appropriate heat-press device can quite easily add a solution to their operation and very quickly start offering short run, on-demand printing," McMullin said.

"With so much today being outsourced, in bulk, this will help set them apart from their competition and position themselves more as a 'one stop shop'. Thanks to the relatively low-cost of the systems, return on investment can be achieved in a short period, and if successful, the business can easily expand to meet demand."

McMullin went on to point out that during the pandemic, digitally printed textiles performed better than the overall textile market. Home furnishings grew as consumers spent time redecorating their homes, while sales also increased thanks to greater interest in outdoor water sports.

Citing research from Smithers, McMullin said the industry is predicted to experience rapid growth from 2021 to 2026 as the overall printed textile industry recovers from the global pandemic. He added that as well as responding to demands for increased short run or customised orders, sublimation printing also addresses other industry-shaping drivers.

These, he said, include sustainability, with on-demand printing producing a lower carbon footprint in comparison to traditional production. For textiles, it can reduce water and electricity consumption and offer creatives the flexibility to customise designs and produce exact quantities on demand, with very little waste.

McMullin also picked up on the issue of reshoring, explaining that many companies are now considering how reshoring can change their practices for the better. They are considering how local production can reduce transportation as part of an increased focus on sustainable practices, as well as reviewing supply chains to deliver the right quantities at the right time.

In addition, he pointed to how an on-demand business model can deliver greater control of production in terms of quality, turnaround times, cost, and profitability.

"The simplicity of the direct-to-garment print process makes it ideal to integrate into web-to-print platforms, essentially allowing anyone to start an online T-shirt business while printing what has already been sold to eliminate the reliance on mass production, shipping, and storage," he said. "It also results in very little waste going to landfill or being sent abroad for disposal."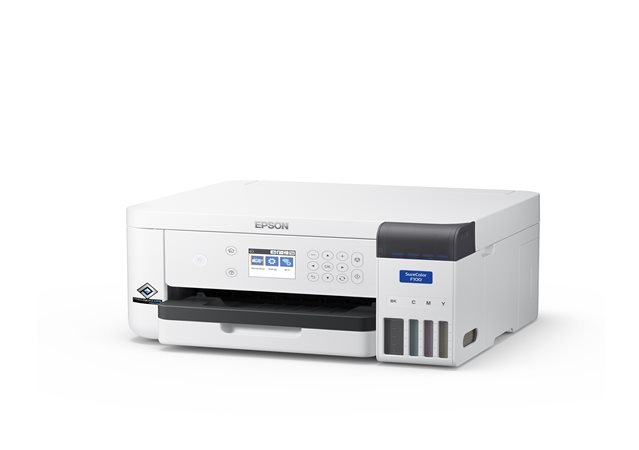 The SureColor SC-F100 is Epson's first A4 dye sublimation printer

Looking at what Epson can offer, McMullin said an easy-to-use digital dye-sublimation printer, paired with an appropriate heat-press device, can integrate into a print production environment to quickly start offering high quality short run, on-demand printing. This could include machines such as Epson's first A4 dye sublimation printer in the form of the SureColor SC-F100, with McMullin saying operations can add a host of new applications with a relatively low capital expenditure and achieve a quick return on investment.

"With the footprint of an A4 desktop printer, the plug-in-and-play system is perfect for producing promotional goods and personalised gifts such as mugs, key fobs, phone covers and other small merchandise items," he said. "It also meets the needs of textile producers who want to create bespoke products such as small bags, aprons, lanyards and cushions."

Key features of the printer include high quality output with Epson's PrecisionCore MicroTFP printhead, 600 x 1200 dpi image quality, a tilting 2.4-inch screen, front-feeding and easy-to-change paper functionality, and connection to the Epson Cloud Solution PORT platform to monitor print job costs and track usage over time.
Diverse technology
Another major manufacturer of dye-sublimation kit is HP. Alex Mighall, operations manager for RA Smart, a HP reseller in the UK, said dye-sublimation is a relatively easy textile printing process when compared with alternatives, meaning it can appeal to newcomers looking to dip their toe in the textile market.

"It is also quite unique in the textile printing sector because it spans over so many different industries," Mighall said. "The method can be used successfully for a variety of applications including fashion, home furnishings, sportswear, and soft signage.

"One of the reasons that it can be used so diversely is the fact that you are dying the textile when you print it. For example, if you're looking to print for sportswear, you need something that is going to be extremely robust and not crack under pressure.

"If you were to use DTG for this process, a print method that lays ink on the surface of the textile, then there's a good chance that print will become damaged over time – especially in contact sports. Whereas with dye sub, there no chance of rubbing the print away and the garment will potentially have a much longer lifespan.

"Likewise, dye-sub is also favoured in the soft signage sector because you can achieve high ink penetration – something especially valued when printing flags, where you would like to see the print on both sides of the textile."

Mighall went on to say the digital trend itself has been encouraged by the growing demand for personalised and customised products, a desire, he said, has been increasingly satisfied by web-based retailers, offering fabric and garments that are printed to order. And by extension, PSPs should not overlook the influence of mass-market, fast-fashion brands that demand short lead times, a quick turnaround, and frequent style changes.

"To put it simply, dye-sublimation is the favourite method to print on textiles for its simple process, in which the image is printed onto a paper roll and then transferred to the textile by means of a heat calendar. No need for any pre- or post-treatment," he said. "Once printed, the fabric is ready to be shipped, making the whole process easier and more efficient for everyone."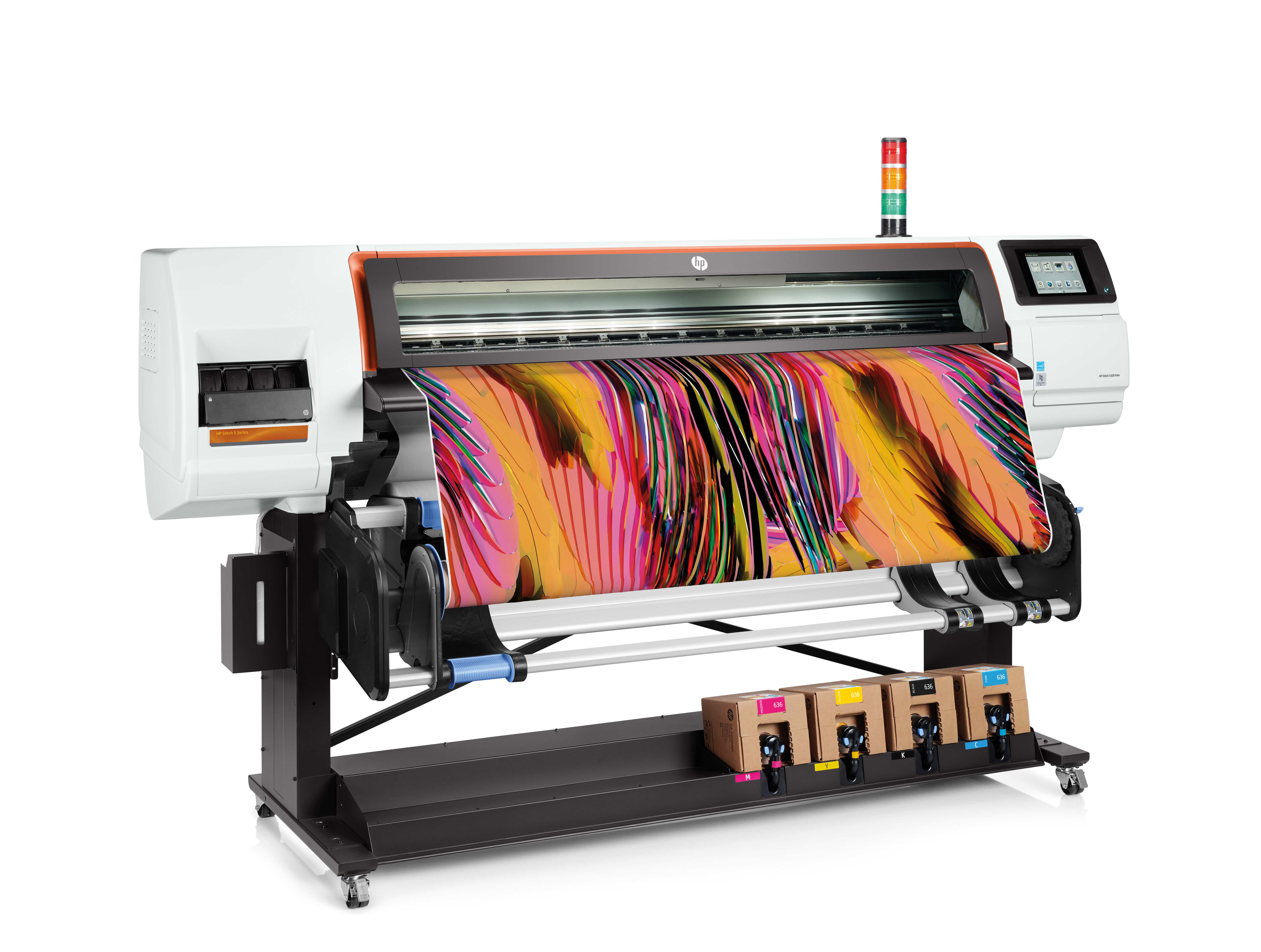 The HP Stitch S500 can run at speeds of up to 110sq m/hr in one-pass mode

Looking at the technology available from HP, Mighall pointed to two of the HP Stitch models in particular. The HP Stitch S500 can run at speeds of up to 110sq m/hr in one-pass mode, with the ability to handle material as wide as 1.62m and rolls as heavy as 55kg. The printer operates with 775ml cartridges and offers an all-in-one solution, with the capability to print on transfer paper and direct-to-fabric with excellent results.

Meanwhile, the bigger brother of the HP Stitch S500 is the HP Stitch S1000, designed to help the user to expand and unleash their dye-sublimation print potential. The larger machine is faster at 220sq m/hr in two-pass, while it also has larger capacity with the ability to run 3.2m-wide roles weighing up to 300kg, all while running with 10L cartridges.

"Digital printing of polyester sportswear, home furnishings, apparel and signage is providing excellent business for on-demand printers all around the world," Mighall said. "The advantages of dye-sublimation over other methods of printing polyester are its process simplicity and the brilliance of the colours it produces. It opens the door for printers in the general graphics arena to enter the rapidly expanding textile market."

Mighall's closing comments offer an apt conclusion to this article. Such is the flexibility and power of dye-sublimation that this technology, when used to its full ability, offers the user all sorts of opportunities in the busy textiles market.
Interested in joining our community?
Enquire today about joining your local FESPA Association or FESPA Direct