Features
An overview of Textile Printing technologies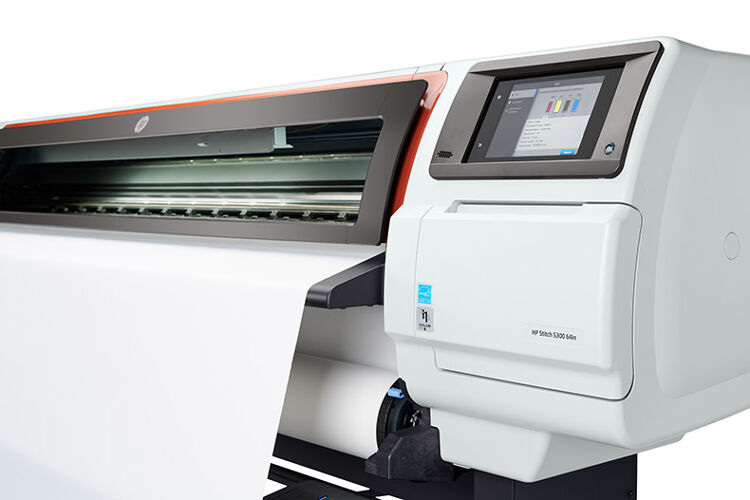 Digital textile printing has been changing the interior décor industry and will likely because even more prevalent in the next few years. Sonja Angerer shares a brief overview on the current textile printing technologies and their respective use cases.
In the interior décor and furnishing industry, digital printing has already changed a century old workflow. Until a few years ago, designs were printed on fabrics, showcased at exhibitions, and show rooms with vendors waiting to receive orders. Unsurprisingly, some decors were very popular and sold very quickly.

Whereas other décor were not as well-liked and had to be sold at largely reduced prices or even recycled. Given the carbon footprint of the textile industry which requires high levels of production this is unacceptable for manufacturers and their customers alike. The use of digital printing has helped with the carbon footprint of the textile industry as increasingly, textile goods produces are made-to-order, especially when it comes to home décor and furniture.

However, textile printing means much more than this.
Direct Printing for Soft Signage
There are two big textile printing markets that have different requirements and rules:
Soft Signage
Textile Printing for Fashion and Home Décor.
Although the lines between the two markets are blurred and most printers can serve both markets, there are distinct differences between the two:

Soft Signage is essentially signage printed on textile. As these fabric applications are not intended to be worn or washed, they are mainly printed on synthetic fibre, Polyester or blends. Textiles are light-weight, PVC-free and add a luxurious touch required for many indoor or POS applications. Compared to prints on tarpaulin and mesh, textile prints are lighter which makes logistics easier and cheaper. As some soft signage substrates tend to lose creases when unfolded, many applications can be shipped in an easy-to-handle parcel for standard shipping instead of large rolls that require special delivery.

There are 3 main technologies for soft signage printing available today:

UV-curing inks
Latex inks
Direct Disperse Dye
During the 2000s, UV-curing inks were introduced into the digital printing market, replacing solvent and water-based inks for many standard applications. Since the ink drops cure in a fraction of a second under the strong UV LEDs, UV-curing inks are also suitable for soft signage printing, although it was originally introduced for rigid substrates. As most of the dye remains on the substrate's surface, UV-curing inks create vibrant colours.

Latex inks, as used in printers by Ricoh, Mimaki, and, most prominently, HP, have been taken over most of the soft signage volume from older inks technologies like eco/light/mild solvent or water-based inks.

Direct Disperse Dye is widely used for flags and other double-sided soft signage applications. The ink sinks deeply into the fabric, providing a decent print-through with moderate outdoor light fastness on Polyester if pushed through a heated calender for fixation.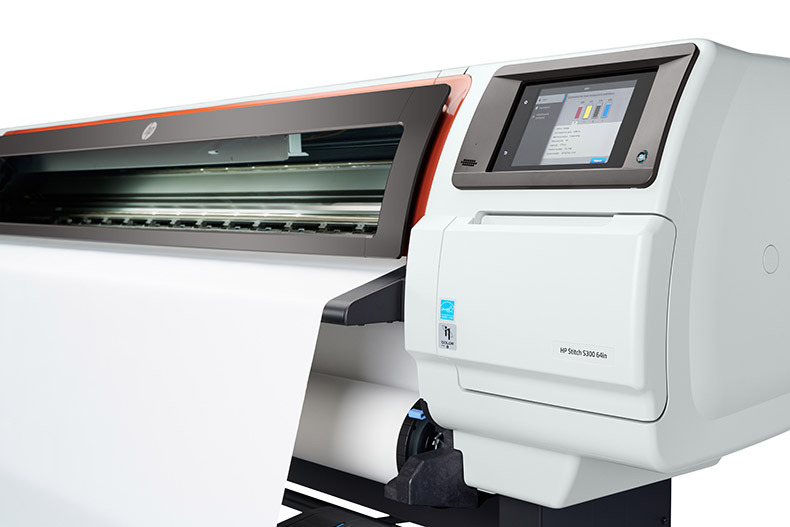 CAPTION: HP offers the Stitch series of transfer sublimation printers. Image credit: HP
Transfer Printing in Textile
The Dye Sublimation Transfer process has become more popular, as typically no washing is required. Companies like Mimaki, Mutoh, Roland DG have been offering dye sublimation printers for years, with HP launching its Stitch series in 2019. HP recommends Stitch printers for soft signage as well as fashion and home décor applications.

The Dye sublimation process is different from any direct print process, as the motive is printed back-to-front on a special transfer paper typically between 50 and 140 g/sqm. Compared to Direct Disperse Dye and other direct print technologies, a very small amount of ink is used.

In the sublimation process, the gaseous ink moves from the paper onto the fabric. As the ink never reaches a liquid state, it remains closely to the textile surface, thus resulting in vibrant colours and sharp lines. Sublimation prints offer a decent indoor light and rub fastness while preserving a textile effect.

Most of the sublimation ink´s components steam off in the calender leaving on the pigments. This makes the prints suitable for soft signage and for certain home décor and sports fashion purposes.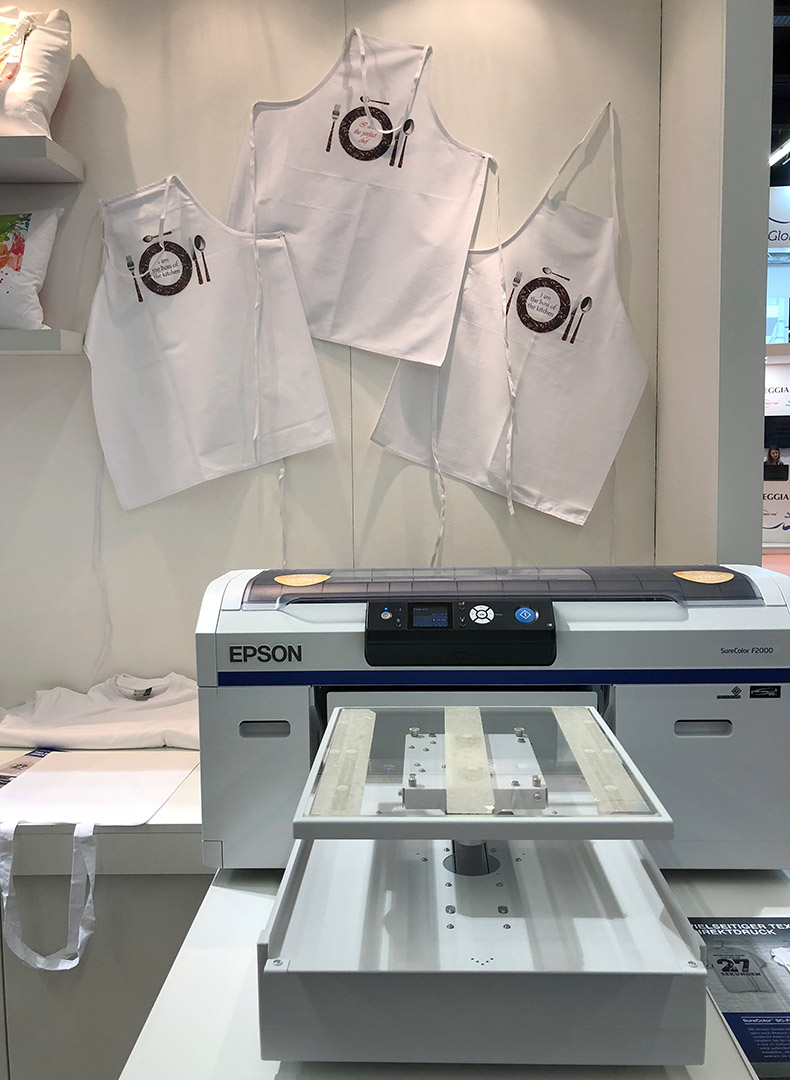 CAPTION: Epson DTG Printer at a trade show. Image credit: S. Angerer
Direct Garment Printing (DTG) and Textile Roll-To-Roll
Direct garment printing (DTG) is another digital textile print option. The printers are jetting pigment inks directly onto apparel, most commonly T-Shirts, caps, cushions and other fashion and home decor items. Inks are also available in white, doubling as base layer on dark textiles. Pigment inks may require pre-treatment and fixation with a heat press or tunnel dryer.

Printers such as Brother and Epson are offering DTG printers for sample and smaller run-length production. Kornit Digital´s portfolio of NeoPigment ink printers includes industrial strength solutions for DTG apparel and textile printing, with the roll-to-roll Kornit Presto Max their latest addition to the range.

However, industrial strength roll-to-roll direct textile printers are most typically used by specialised printers, often with decades long experience in the fashion or home décor industry, who use digital textile printing with water-based acid or reactive inks with screen printing on textiles.

These companies typically have extensive knowledge about pre-treatments and textile finishing, colour-management on textiles, as well as the machinery to steam, wash and dry cloth, as most water-based textile inks require distinct post-processing. Companies like Konica Minolta, EFI-Reggiani and Zimmer Austria are offering digital printers for direct textile roll-to-roll printing.
Which printer is best?
Like with printers for standard applications, vast knowledge about technologies and products is a must when investing. Depending on the print technology, some inks will command intensive pre- and post-treatment, which adds cost and complexity. Specialized distributers like Multi-Plot can help newcomers to find the technologies available to them, as well as helping manufacturers of consumers goods to develop digital solutions for their textile printing needs.

Interested in joining our community?
Enquire today about joining your local FESPA Association or FESPA Direct