Features
Adding value to digital prints using varnish and metal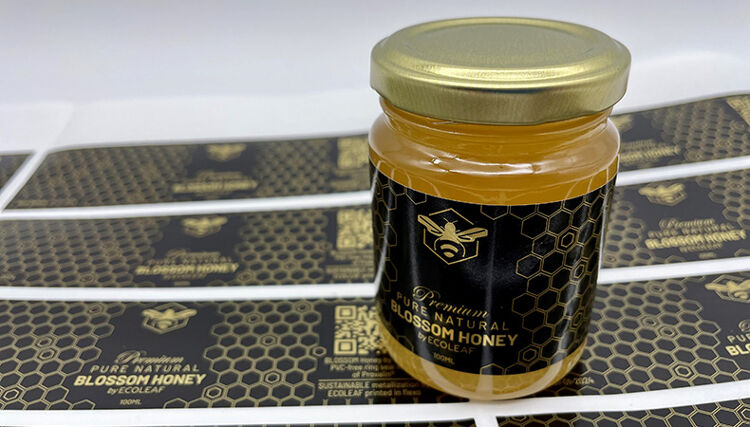 Printing has become more creative. Now it is possible to enhance prints using varnish, metal and hot foil stamping, the opportunities are endless. Sonja Angerer shares an overview of markets and machinery.
"Nearly 15 years have passed since the market launch of digital finishing. Since then, the market share has been growing steadily. This is because of its great potential as an extended form of communication with tactile spot varnishing and partial metallisation across a wide range of colours. The customer demand continues to increase from industry and trade," says Mirko Pelzer, Offering Manager Professional Printing Germany & Austria at Konica Minolta.

Mirko continues: "digital print finishing caters to markets that want to significantly increase response rates from their consumers. High-quality printed products for the jewellery, automotive or even event industry are the main users of this new technology." The Accurio Shine 3600 model features an optional iFoil metallisation module, the JetVarnish and the MGI Meteor Unlimited series, and Konica Minolta offers several solutions for fully digital finishing.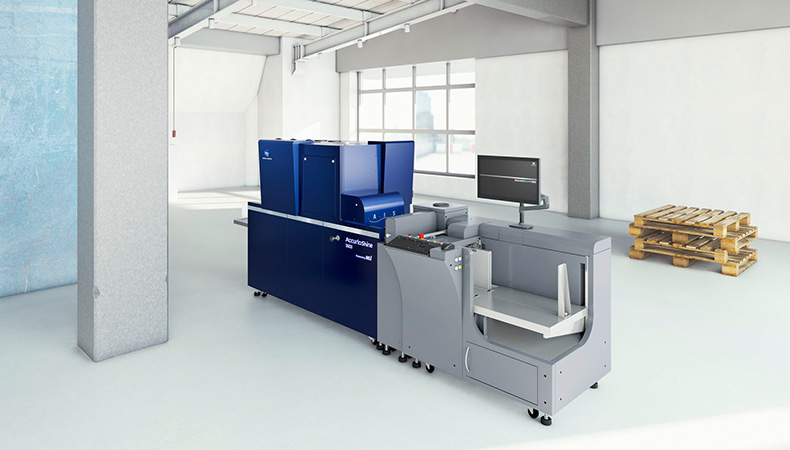 CAPTION: The Konica Minolta Accurio Shine 3600 is available with an iFoil hot foil module. Image credit: Konica-Minolta
An overview of digital print finishing
Digital print finishing can be defined as all finishing options that make digital or analogue prints particularly eye-catching. These include:
Metal effects
Partial or complete print varnishing
3D effects (Braille, texture).
Additional colour channels in digital printing have led to enormous progress in recent years. For example, Roland DG, offers various printer models with Eco-Sol-Max2 inks and
metallic silver ink
.
In combination with process colours, a wide range of metallic and pearl effects can also be printed digitally.
UV-curable inks are now standard in high-volume large-format printing. Current presses such as the
Durst P5 500
presented at the FESPA Global Print Expo 2022 or the
SwissQprint Kudu
also offer the option of a UV coating channel. The clear UV varnish can be applied in different gloss levels or even multiple layers, resulting in some beautiful 3D and textured effects.
The advantages are endless. Compared to analogue print finishing with hot foil stamping or screen printing, there is no need to create stencils, screens, or stamps. This saves on time and effort while enabling added value effects possible from print run 1.
If metal effects or varnish are applied in inkjet printers, production speeds significantly decrease. Also, inkjet-compatible metallic and clear varnish liquids can be expensive due to the complex production process. For technical reasons, metallic inks often do not achieve the same gloss level that customers in the packaging industry are used to with hot foil stamping.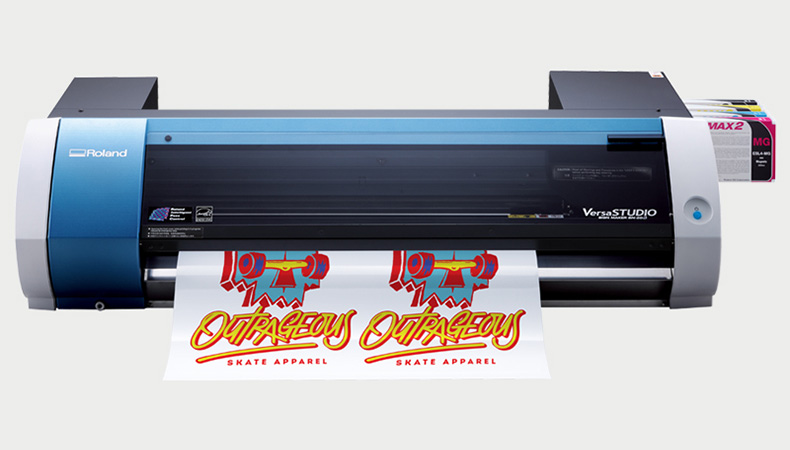 CAPTION: The Roland DG VersaSTUDIO BN-20 series can be loaded with metallic inks, allowing prints with metallic finishes to be created inline. Image credit: Roland DG
The evolution of digital hot foil
There are special hot foils for metallic and other added value effects on the market. These are usually applied during a second step after printing. The process is also known as "DIMA digital hot foil" or "digital sleeking". There are also inline stations available for digital edition printers e.g.
MGI Meteor
Unlimited Colours
.
However, conventional digital hot foil stamping tends to be quite a wasteful technique. This can depend on the motif and nesting options which is why the Landa Group introduced the Nano Metallography technology in 2016. Today
Actega Metal Print
, a division of Atlanta, holds the intellectual property related and has started to put it to marked branded "Ecoleaf".
"Our long-term goal is for Ecoleaf to become the new standard for metallisation in printing. Ecoleaf represents a huge advancement from the current industry standard, offering a sustainable, breakthrough technology that achieves market-leading quality while significantly reducing the amount of material, waste, cost and production time. It is therefore not overambitious to believe that this technology will revolutionise the way we approach finishing in the future," says Paolo Grasso, Sales Director for Ecoleaf at Actega Metal Print GmbH.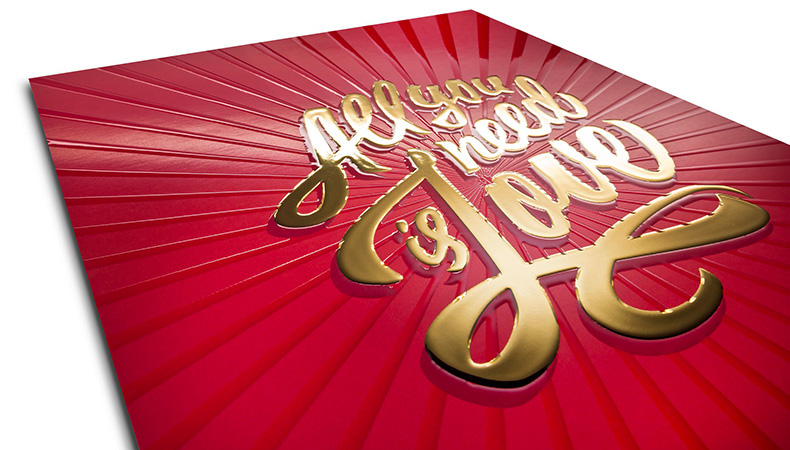 CAPTION: Exclusive added-value print products can be achieved using a combination of varnish and hot foil. Image credit: Konica Minolta
Markets for digital print finishing
In today's market, print volumes are significantly decreasing. This is because communication has turned digital. However, in time this has caused the remaining print products to once again be considered a valuable gift. Mirko Pelzer points to the importance of agencies and publishers as contractors. He emphasises: "Targeting recipients with individually digitally enhanced elements is not only new and extremely responsive, but it is considered the pinnacle of communication."

Grasso says: "Ecoleaf metallisation units will be available for all printing segments, including labels, folding cartons, flexible packaging, commercial printing and publishing. The first module to be launched is designed to be used in narrow web presses and label production. It is a unique metallisation system for a wide range of markets, designed for inline or nearline operation with narrow web label presses that previously used either UV flexo or UV screen inks or digital UV inkjet inks. It enables profitable metallisation embellishments on self-adhesive labels."
Digital print finishing: Helping to save the environment
The printing industry is called upon to lower its ecological footprint. Digital finishing can help to tackle this, Pelzer emphasises: "It is resource-saving in terms of energy consumption, emissions, heat generation and material consumption, because it does not require screens or printing plates. Konica Minolta is entirely aware of the topic of sustainability, and we focus our R&D efforts on this."

Grasso has a similar point of view: "Today, reducing CO2 emissions is an absolute must for every company and an essential contribution to improving environmental protection. Ecoleaf is entering the market at exactly the right time. It enables brand owners and printers to avoid immense amounts of plastic with just a few kilos of pigment paste. At the same time, the product remains high quality at the point of sale. "
The Future of print finishing is digital or hybrid
In the growing market of digital packaging printing, direct mailings, and other printed products, we will see a significant increase in the demand for high quality digital print and finishing options for several years. This is due to buyers always looking for added value products.

A fully digital print production that includes finishing, enables a personalised approach with spectacular metallic and lacquer finishes. The technology that is readily available today, is likely to overtake hybrid production. This is in why digital prints are finished with analogue processes such as screen printing. Printers with a focus on packaging or direct mailing should consider digital finishing technologies available even today.
Interested in joining our community?
Enquire today about joining your local FESPA Association or FESPA Direct