Features
A printers guide to car wrapping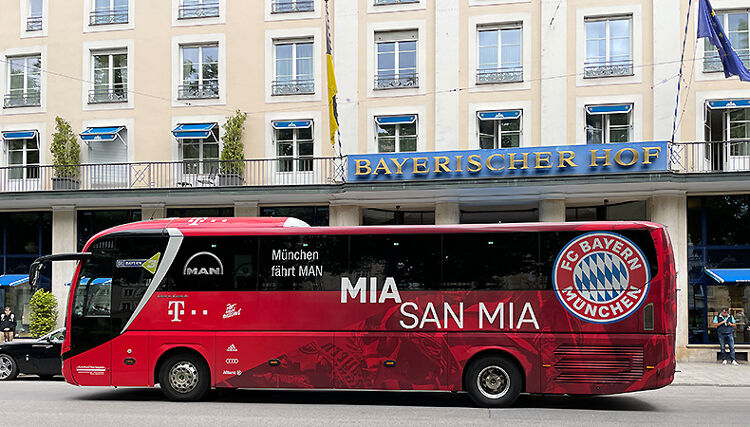 Vehicle Wrapping is a growing segment within the digital printing industry. However, this sector tends to be ignored by some printers since significant specialist knowledge is required. Sonja Angerer provides a car wrapping guide and shares the top 10 key questions.
For several years, there has been an ongoing argument about whether car wrapping is a part of modern-day advertising or just a decorative process with the target audience being car lovers. According to a Grand View Research report, in 2021 car wrapping films generated 4.76 billion US-$. It is expected to continue to grow at a compound annual growth rate of 22.2% from 2022 to 2030. In this article, we will answer some of the most common questions about car wrapping.
#1 What are the different options for car wrapping?
Vehicle wrapping is a generic term for a variety of techniques:
stickers
one-way vision window foil (printed or solid colour)
cutting plotter type
solid colour wraps
reflective wraps
printed foil
#2 What vehicles can be wrapped?
If it moves, it can be wrapped:
cars
vans
lorries
bikes and motorbikes
scooters
buses
trams and metro trains
long-distance trains
boats and ships
airplanes and helicopters
However, vehicle wraps do need to comply with certain sets of rules and regulations. Failing to do so may cause the wrapped vehicle to be unfit for the road. Wrapping options for racer cars and motorbikes are usually dependent on the competition that the vehicle is participating in.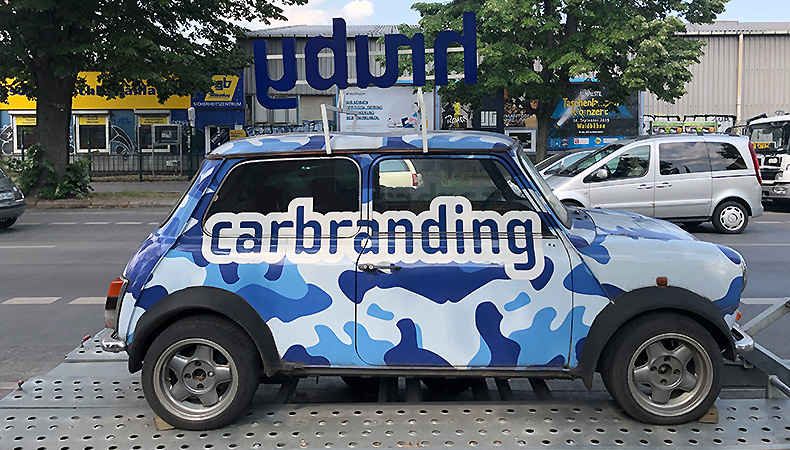 CAPTION: Wrapped Mini Cooper at a Berlin Backstreet. Image credit: S. Angerer
#3 Which machinery is needed to print foils for car wrapping?
Most car wraps are printed digitally with (eco) solvent or Latex inks. Some UV-curing inks can be used on curved surfaces, however they are mainly used for flat surfaces such as truck trailers.

Ideally film for car-wrapping needs to be laminated unless it is for very short-term applications. This is to prevent any scratching and fading. That is why a laminator, roller table or painting system is highly recommended for car wrappers. Then a digital cutting table or plotter is used to cut the film to size.
#4 Which substrates are required?
The desired application determines which substrates can be used for vehicle wrapping. This is because a film that may look identical may vary in its quality, durability, and price.
The most recommended substrate for high quality wraps on 3D surfaces is cast film. However, it is more expensive. Calendared film is often cheaper and will typically work best on flat surfaces. To prevent the layers from separating when laminating, it is important to combine cast film with a cast and calendared film with a calendared laminate.
#5 Can I print onto coloured film?
While it is possible to print onto some coloured films using UV-curing inks, it is highly recommended to use a film specified for the ink, this ensures the best quality. Substrates specified for digital printing have a very smooth surface and are usually coated with a special ink receiving layer.

When large solid colour segments are required for the design, coloured films and plotted types are often used as an alternative to printing digitally onto film. When wrapping multiple identical cars, screen printed film can be a viable solution.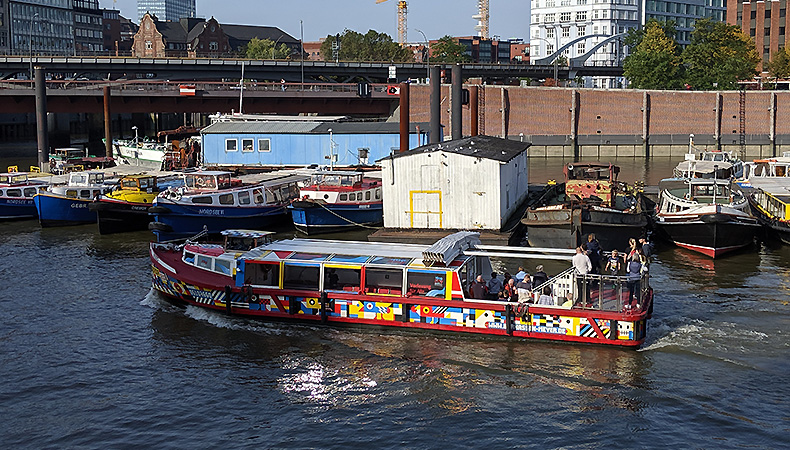 CAPTION: Ships can be wrapped, too. Usually, special sea-water resistant foils are required. Image credit: S. Angerer
#6 How long does it take to wrap a vehicle?
Vehicle wrapping films that are printed with eco-solvent inks, need to rest for approximately a day before being laminated. This is to ensure that the solvents have evaporated.

It is important to ensure any vehicle has been thoroughly cleaned to make sure the film does not peel of quickly. Quite often the vehicle will need to be disassembled before wrapping, this means removing mirrors and things. A full-body car wrap should take at least a day to do.
#7 Where can I learn to wrap a vehicle?
While printing and finishing vehicle wraps is not that difficult, car wrapping is typically a job for qualified wrapping teams. However, most companies with a focus on vehicle wrapping film will also hold qualifications. You can choose between 3M Academy Endorsed Trainings, the Avery Dennison Graphics Academy, Mactac Car Wrap Training, and many more. Many local distributers often offer wrapping seminars to their customers.

Car wrapping seminars held by manufacturers or dealers tend to be considerably cheaper than a course with commercial wrapping schools and networks. Other ways you can learn to wrap is by taking an Udemy online course, watch YouTube videos or become an apprentice to a vehicle wrapping pro or crew. You do need to be prepared to spend a lot of time as becoming a skilled vehicle wrapper can easily take a few years.
#8 What are the advantages of car wrapping?
Car wrapping is often seen as decorative feature only. In fact, vehicle wrapping is one of the most efficient segments of modern advertising. Wrapped vehicles offer promotional opportunities into places where other advertising channels cannot, a prime example being the Autobahn or historic sites.

While a car is usually only painted on a car once in its lifetime, wrapped ads can be changed in short intervals according to the fleet owner´s communication needs. Wraps also protect the vehicle's original colours for re-sale or may cover up a faded exterior with older cars.
#9 What are the disadvantages of vehicle wrapping?
Wrapping on vehicle need to be done professionally to make sure the wrap fits its purpose and adheres to local laws. Designing car wraps needs some experience, too, though most modern car outlines are readily commercially available with CC Vision.

Most Vehicle wraps are printed onto PVC film, therefore collecting and recycling is strongly recommended to limit their negative impact onto the environment. However, there are a few non PVC alternatives, some from Grafityp.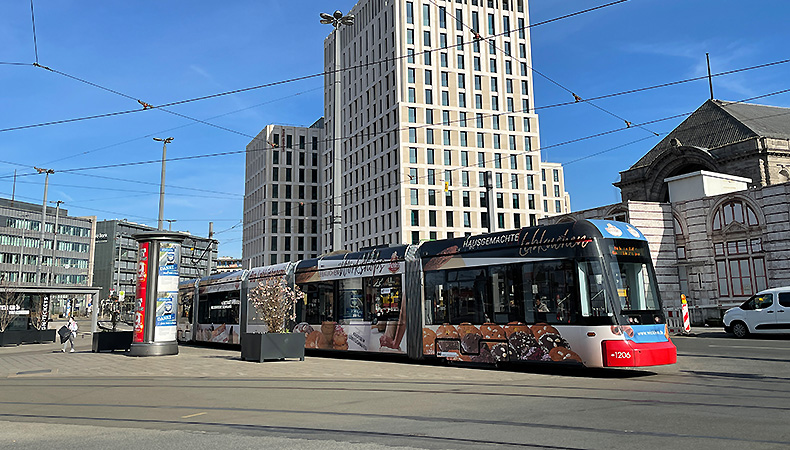 CAPTION: Today, Trams are often wrapped but the advertising sizes are subject to the local transport authority. Full-vehicle wraps are common in some cities like Nuremberg, but are very rare e.g. in Munich, just some 200 Kilometres away. Image credit: S. Angerer
#10 Is there a Vehicle Wrapping show I could visit to learn more?
In 2023 FESPA launches the new Wrap Fest on April 26th to 27th at the iconic home of the British Grand Prix, Silverstone. Many global brands are expected to exhibit and showcase the latest innovations and trends in custom vehicle wrapping. Also, the World Wrap Masters UK & Ireland qualifications will be held there with 36 teams competing for a slot at World Wrap Masters Final 2023 in Munich at FESPA Global Print Expo 2023.
Interested in joining our community?
Enquire today about joining your local FESPA Association or FESPA Direct