Features
A New Lease on Graphic Design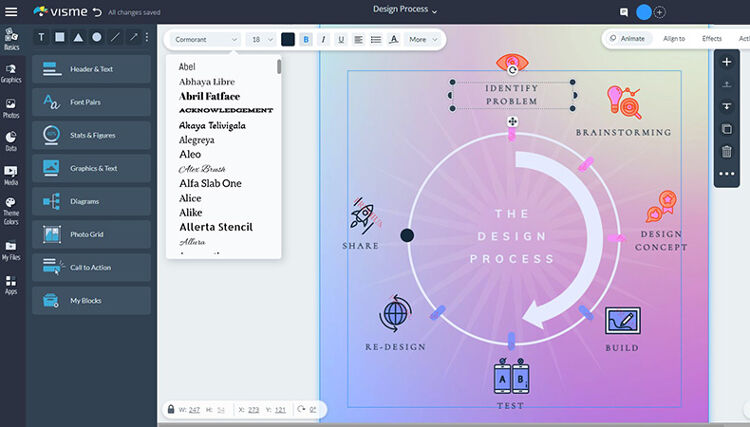 Sonja Angerer discusses alternative design tools in graphic design to help printers explore new lines of business and discover new business opportunities.
For SMB businesses, printing a company logo onto a rigid board has never been easier for printers. Usually, this would first require the in-house art department to create the logo. The different software that is usually used include Adobe Creative Cloud or Corel Draw. However, another competitor has entered the market.

Today's new design tools are web-based but offer a wide range of options for beautiful print and online designs. The main focus being on content creation and is used amongst small to medium businesses. The 3 mains ones include:
Visme
Canva
Adobe Express.
We will look at how these software may provide new business opportunities for printers using an existing pre-pass or art department.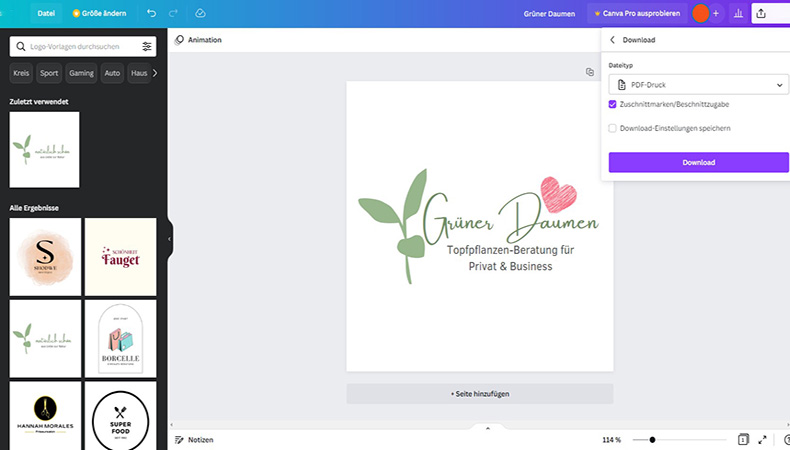 CAPTION: Canva showing what type of logo you can create in a few minutes.
Visme - much more than just infographics
Visme is a graphic software that allows you to create professional designs without requiring the knowledge for more complex tools such as Adobe Photoshop or Illustrator. With Visme, you can easily create infographics, presentations, posters and more. The platform is free software but there is also an option for various paid plans for more advanced users who want access to more features.

With the "Business" option at 26 US-$ per month, users are also able to create branding tools and invite other users to collaborate on online projects. Currently, Visme is available on PCs, Mac, iPads, and Android tablets.

While Visme has been a well-known trusted tool for creating infographics and presentations, today the platform offers a broad range of templates for social media graphics, animated and 3D clips. In the "Printables" section there is also a wide range of templates for brochures, flyers, magazine covers and other print products that may be useful for clients. They can also easily be adapted to customers' needs as the website offers a broad range of free photos, fonts and symbols to choose from. However, there are some limitations with the free version such as a download of a printable PDF with crop marks, this requires the paid plan.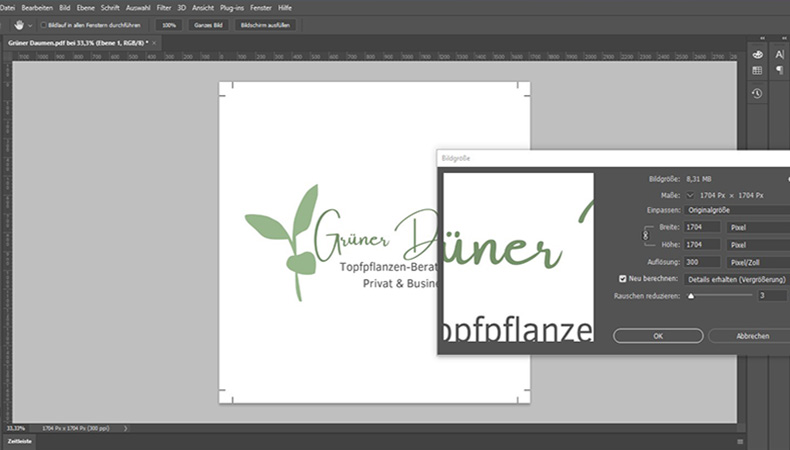 CAPTION: Canva-built logo with crop marks in Adobe Photoshop Desktop application.
Canva - not just for social media
Canva is a graphic design software that many people use to create social media posts, however it offers fa more than just social media. With its easy interface and a wide variety of templates and tools, Canva is perfect for creating professional designs. You can create anything from printed flyers and posters to invitations and menus.

Canva is available to download onto PC and Mac and has the option for online use and can be used in any browser. It offers a free version with some limitations as well as a "Pro" option. It can be used for up to 5 team members and costs €110 per year.

While Canva holds the widest variety of templates, some (including notebooks and shirts) are designed to be printed by a dedicated Canva partner. However, it is possible to download each free design as a PDF with crop marks in 300 ppi size. Like Visme, Canva also includes a range of Video and Audio clips, symbols, fonts, and graphic elements to use in the designs.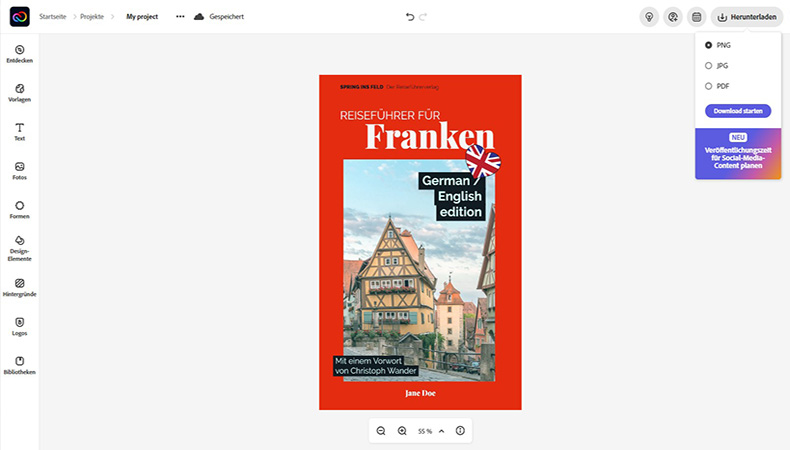 CAPTION: Adobe Express has templates for book covers along with many other standard print applications however, to download a PDF download it will be without crop marks.
Adobe-Express: Adobe Power without a huge bill
At nearly €75 per month per user, Adobe Creative Clouds is a professional teams' edition. The cost covers a very broad range of professional software and mobile apps, despite this, it is still quite costly especially for smaller printers. As an alternative, targeting SMB and personal use, the company introduced Adobe Express. Rebranded from their Adobe Spark application and features additional functionality, Adobe Express is available online for free with some limitations as well as a paid option at €12 per user per month.

Included in a subscription of Adobe Express Premium are also premium Adobe App versions for iOS and Android. As well as a wide variety of fonts, photos, audio, and video assets from Adobe Stock.

Templates include posters, menus and other items for print including customised PDFs available to download. However, cropmarks are not available yet. The online version offers a basic PDF edition functionality, including converting, merging and page rearrangement which can replace Adobe Acrobat for light touch-up work.


CAPTION: Not just a design alternative: Adobe Express also offers light PDF edition options.
What do the new design alternatives mean for printers?
For some time, online design tools have been dismissed as consumer-only options. Their unique advance over professional desktop software is very easy accessible offers numerous beautiful, contemporary design assets.

Not only do they have a range of options of royalty-free fonts and photos, they also don't require expensive high-end hardware to work. Visme, Canva or Adobe Express may not be first choice for huge design projects or an agency sized creation business but each of the graphic design alternative are more than capable for the occasional logo or poster design.

Visme´s biggest advantage is its beautiful infographics section, while Canva offers a wide variety of templates even without premium. Adobe Express has the unique option to connect the desktop pro software libraries via Adobe Cloud (though functionality is still limited at this point).

The unique charm of all 3 graphic design software alternatives is their focus on social graphics and infographics. Making it easy to create beautiful, animated content for business accounts on all relevant social networks. Adobe Express even offers a free scheduling service for assets designed with the app similar to the Meta Business Suite.
Printers will find that by using these graphic design software alternatives, they will quickly and easily be able to move into new design niches in web and social graphics and be able to extend their value chain, especially with SMB customers.

Printers will find that these graphic design software alternatives will quickly be able to move into new design niches in web and social graphics in which can enable them to extend their value chain, especially with SMB customers.
Interested in joining our community?
Enquire today about joining your local FESPA Association or FESPA Direct