Features
6 simple steps to effectively prepare vehicles to be wrapped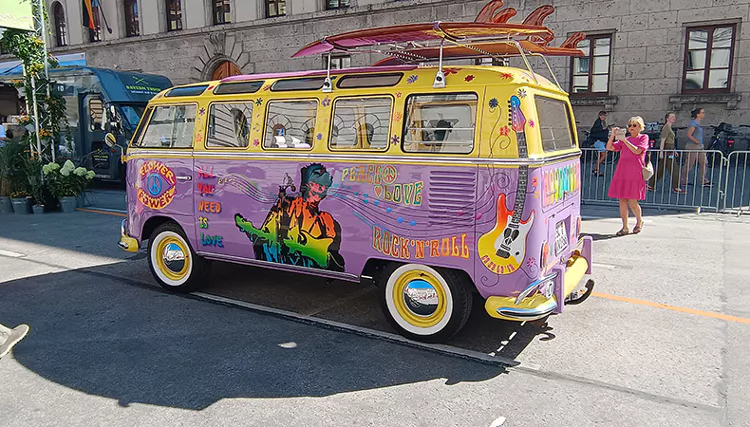 Wrapping is a popular way to customize vehicles. As a result, demand has grown enormously in recent years, and many sign makers and printers are trying to get into this sector. Sonja Angerer offers advice on how to prepare vehicles to be wrapped in 6 easy steps.
Whether its private cars with racing stripes or trams featuring advertisements, vehicle wrapping is ever-present in the streets today and has become a sought-after sector. It requires a high level of expertise to achieve great quality results, this article offers a guide on how to prepare a vehicle for wrapping in 6 simple steps, with a particular focus on cars and vans.

For subways, trams, airplanes or ships, basics such as cleaning procedures or the tools required are quite similar. However, the size of the vehicles alone, as well as local safety regulations can also result in considerable differences in the workflow.
1. Accepting the Vehicle
Many professional car wrappers require customers to provide the vehicle freshly cleaned from a car wash. However, it is sometimes necessary to thoroughly clean the vehicle a second time to ensure any dirt residue has been removed from all the crevices.

When the car is due to be fully wrapped, it is also important to identify each and every surface that the film is to be placed on, e.g. inside wheel arches or on the underside of front spoilers. If these spots are missed during the basic cleaning, this can significantly delay the wrapping workflow. For basic cleaning, you can use commercially available car shampoos. These should contain low amounts of gloss agents or wax and use a soft sponge or brush to avoid scratches. The vehicle must then be dried with a clean microfibre cloth.

A car or van should be delivered at least 24 hours before he actual wrapping process begins. This provides enough time for preparation and for the car to adapt to the local temperature. Most manufacturers do not recommend wrapping below a room temperature of 10 degrees Celsius. Temperatures between 18 and 22 degrees without wind or draughts are considered ideal. Any surface should not be more than 38 degrees, so the vehicle cannot be exposed to the sun while wrapping takes place.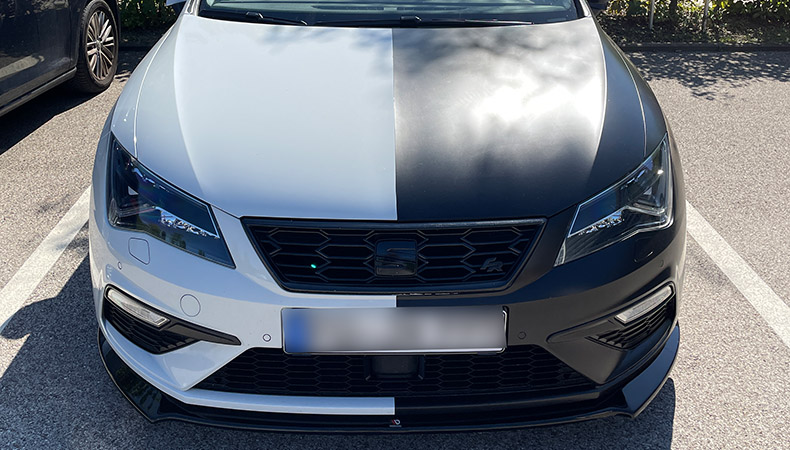 CAPTION: The demand for wrapping consumer vehicles has increased in the last few years. Photo: S. Angerer
2. Document the Current State
On repainted, scratched, or repaired areas, the wrapping film often does not cling as well as it would on original paint. Damage can occur over time, for example if metal continues to rust. Problems are also possible when removing the wraps. For this reason, it is good practice to comprehensively document incoming vehicles. Any problem areas found should be clarified with the client to be able to prove any previous damage.
3. Detail cleaning
The next step is to remove any wax, oil, tar, or other residue that could affect the adhesion of the film. Special cleaning agents such as silicone remover or isopropanol can be used for this purpose. There are also various special products for fine cleaning such as 3M, Avery Dennison, Tools U Need or Yellotools. All areas must be treated thoroughly, especially the edges, corners, and crevices.

To ensure that the surface is completely clean and degreased, it is advisable to conduct an adhesive test. To do this, apply some adhesive tape or film to the surface and peel it off. If the adhesive remains clean, the surface is ready for wrapping. If any dirt or fibres are still visible, then the surface needs further cleaning.

There should be as little time as possible between fine cleaning and the start of the wrapping process, to prevent dust accumulating again. That's why it is important to have all the necessary tools ready in advance.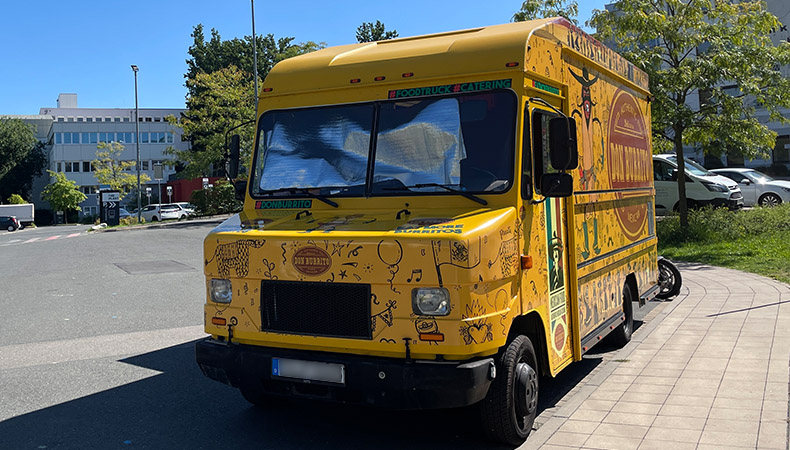 CAPTION: This historic food truck has a lot of difficult details, wrapping it expertly would have required a lot of preparation. Photo: S. Angerer
4. Prepare tools for wrapping
Specialist dealers such as Gröner, Igepa or Spandex offer a variety of tools for vehicle wrapping. Many of them are particularly suitable for companies with an established vehicle wrapping business. However, the preparation for vehicle wrapping includes having at least the basic equipment ready at hand:
Squeegee

Cutter with replacement blades

Tool for piercing blisters

Adhesive tape

Gloves

Heat gun
Furthermore, thermometers, magnets for holding the film and special cleaning agents for removing adhesive residues are often recommended. During preparations, any jewellery or loose clothing should be removed. Short nails are preferred, to avoid the risk of damaging the foil or painfully tearing off a nail while wrapping.
5. Optimizing Films for Wrapping
Coloured or protective films can be immediately applied to cleaned and dry vehicles according to the manufacturer's specifications. However, it is recommended that the film should also be made dust-free again. This is especially true if it has been stored for a longer time unprotected. Experts recommend buying any coloured film from one batch to minimize any colour difference.

Printed films should rest for at least a few hours before vehicle wrapping, sometimes up to 3 days are recommended. This is to ensure that solvent-based inks have lost any VOCs. Skipping this stage, will frequently lead to annoying bubbles or even to the film peeling off again.
6. Dismantling small parts
For high-quality car wraps, small parts such as rear-view mirrors, door handles or headlight lenses must be dismantled. Information on this process can be obtained from the manufacturer or car dealer. Books with repair instructions, YouTube tutorials and brand fan forums may also provide valuable tips.
When preparing a vehicle for wrapping, it is important to allow sufficient time for dismantling and re-assembly. For calculations, research in advance on the exact car type, as the time required for this step can differ greatly between series and even production years.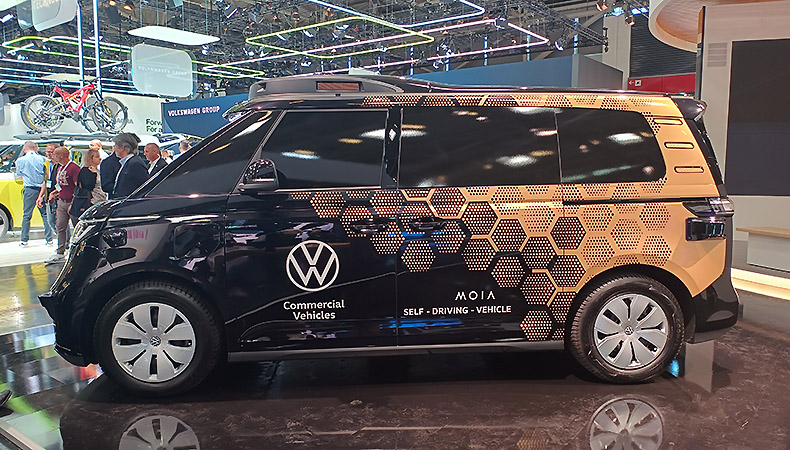 CAPTION: With modern, round shapes, car wrapping is often easier than with older, rectangular vehicles with lots of tiny details. Photo: S. Angerer
Preparing Vehicles for Bonding: Plan Ahead
Vehicle wrapping requires skill and expertise. The process needs to be done locally, so it is not usually possible to outsource the activity to countries with lower labour costs. Car wrapping services are not only sought after by companies, but increasingly also by car enthusiasts.

This makes it attractive for printers and sign-makers to offer the service. However, the complexity should not be underestimated, especially when wrapping a car completely. Anyone who prepares vehicles for wrapping should set up a preparation routine as a first step a smooth workflow.
Interested in joining our community?
Enquire today about joining your local FESPA Association or FESPA Direct