Features
3D Printing - Opportunities for Large Format Printers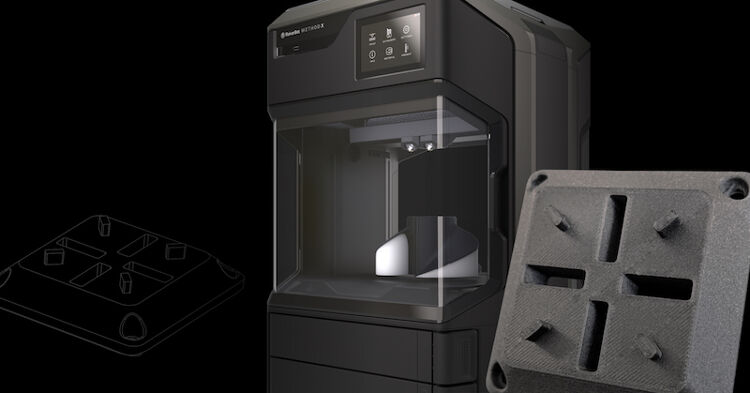 As 3D printing becomes more widespread, how can large format printers take advantage of this technology?
Print service providers have traditionally been defined by the printing equipment they have at their disposal, which determines the applications they can offer. Yet, in these challenging times, it makes sense to invest in other equipment and to diversify into other applications. At first glance, 3D printing might seem like quite a stretch for print shops that are more used to running large format printers but it's worth remembering that many vendors that make those large format printers have themselves also diversified into 3D printing.

This includes companies as diverse as Mimaki and HP and there are plenty of 3D printer vendors, such as Massivit, whose R&D teams have come from the wide format sector. The basic concept is fairly similar - dropping a build material precisely where you want it, much as inkjet is about placing the ink drops in the right spot. The prepress process is no harder to master than a modern printer RIP, pushing jobs through a print queue is the same regardless of the print process and most wide format printers understand the importance of following the routine maintenance procedures for their printer hardware.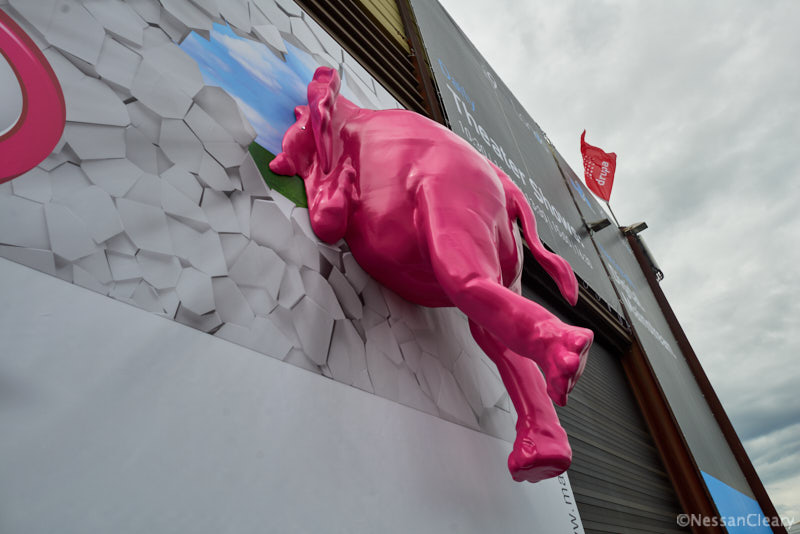 Caption:This display, the back half of an elephant crashing through a wall at the last Drupa show in 2016, was printed on a Massivit 3D printer. ©Nessan Cleary

There are fundamentally two ways in which a wide format service provider can take advantage of 3D printing. The first involves enhancing the existing offering, and the second is using it to develop a new business.

So, how can we use 3D printing in large format graphics? One obvious starting point might be to add a 3D element to an otherwise flat graphic displays, creating eye-catching displays that really stand out from a wall or a billboard. A variation on this might be adding a textured element to interactive displays or braille lettering to navigation signs. Another option could include creating bespoke lettering or a logo for a retail shop front. It could mean

If you've ever tried decorating objects that aren't flat, such as printing graphics to phone cases, then you will know that it often helps to create a jig to hold those objects in place for printing. Usually you will need a bespoke jig for each type of object. Such jigs can easily be printed on a 3D printer. Indeed, Mimaki has sold one of its 3D printers, the 3DFF-222, alongside its small format flatbeds specifically for this purpose.

Equally, anyone that's already involved in printing textiles should also be aware that there's a growing interest in 3D printing in the garment market. This could include printing accessories such as buttons as well as decoration for garments. Or it could involve functional components such as the sole of a running shoe.
New business
The second option is to diversify your print shop by developing new additive manufacturing applications. A good starting point is to talk with your existing customers and ask if they might also have other needs that 3D printing could satisfy.

This might include, for example, creating realistic or even functional prototypes. Most 3D printers can only print one material at a time, which usually means that most objects have a dull grey or black finish. But there are full colour printers, such as the Mimaki 3DUJ-2207 or Stratasys J55 that are routinely used to mimic the look and feel of finished products before committing to a manufacturing run.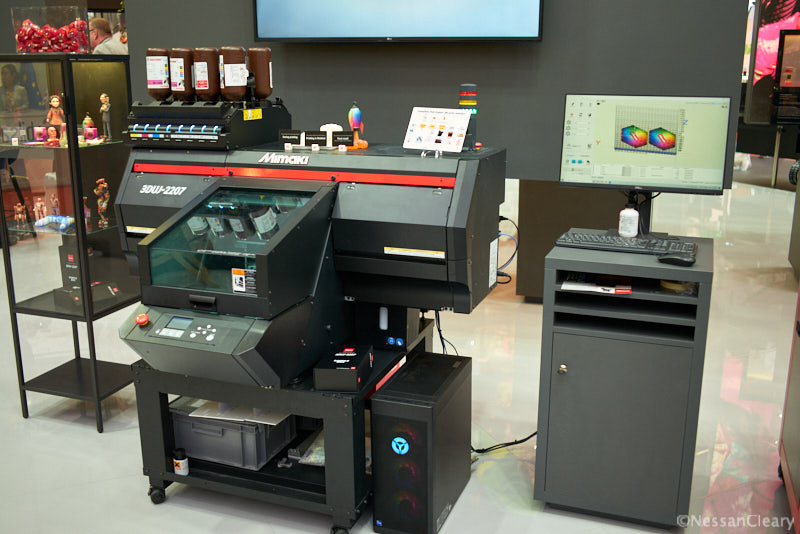 Caption: Mimaki has developed this full colour 3D printer, the 3DUJ-2207, which can print realistic models and prototypes and largely uses a UV LED curing approach. ©Nessan Cleary

Another common use of 3D printing is to produce tooling. This could be to test the viability of a product before investing in a complete new manufacturing line. But there are also examples where manufacturers have used bespoke tools to solve particular problems such as applying dealer badges to new cars. The American space agency, NASA, printed out a wrench on the International Space Station to demonstrate that it could produce tools to cope with emergency situations.

A variation on this is injection moulding, where the moulds are 3D printed. This can save both time and cost in producing bespoke moulds and means that the parts retain all the strength and other properties inherent in a conventional moulding process.
Technical considerations
There are a lot of different types of 3D printers. Fortunately, there are plenty of specialist dealers that can offer advice and technical support. As a rough guide, a good starting point would be Fused Filament Fabrication, or FFF, also known as Fused Deposition Modelling, or FDM. These printers use a plastic filament and range from cheap desktop models to highly capable bench top machines. The next step up is a photopolymer VAT or Stereolithograpy printer, which generally cost more but use more specialised materials and can produce quite high definition parts.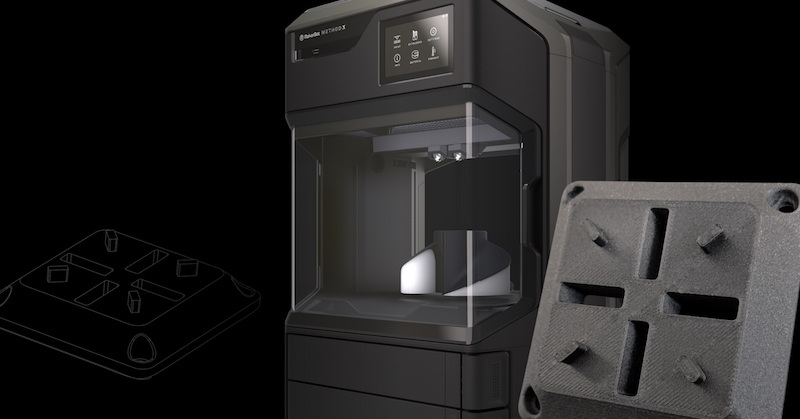 Caption: Makerbot sells the Method range of desktop printers, including a version that can print a nylon carbon fibre material.

Regardless of which printer technology you opt for, the main consideration is the materials that it will print, which will determine the range of applications you can offer. Machines that can handle the more exotic materials - particularly metals and ceramics - will cost more. But there's a wide choice of different plastics, some of which are reinforced with nylon or carbon fibre, that are strong enough to be a viable alternative to working in metal and can handle a great range of applications. As well as rigid plastic like ABS, there are also rubber-like thermo plastic materials. Some manufacturers limit their machines to the materials that they supply but there's a growing awareness that the market demands a more open approach. However, you will find that some applications will require specific properties, such as tensile strength or heat resistance that determine the materials to be used.

Another issue is the build size - the area available for creating objects. Depending on the type of 3D process you choose, there may also be some finishing steps involved. This typically means cleaning off support ligatures used in the build, or it could mean cleaning off excess material or polishing the surface to improve the appearance of the object. In some cases, such as with binder jetting, there's a secondary firing process to melt the binder and solidify the object further.

In conclusion, you can dip your toes into 3D printing for a relatively modest outlay, providing you research carefully which applications and materials you want to offer. In addition, there are several stories covering 3D printing on FESPA so that's a good place to start. If nothing else, simply thinking about how you might expand your business is always a worthwhile exercise.
Interested in joining our community?
Enquire today about joining your local FESPA Association or FESPA Direct