Features
20 Beautiful Doors and Entrances created with Wide Format Printing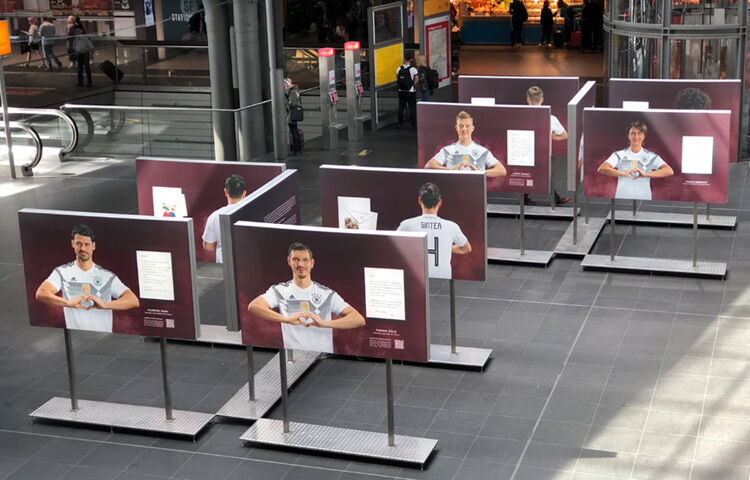 Entrances can either positively or negatively impact a building. Today, with the help of wide format printing, there are many ways to successfully print creative and attractive doors and entry zones. Sonja Angerer shares a few examples of how designers and sign makers have partnered to create beautiful doors and entrances in the recent years.
Munich Away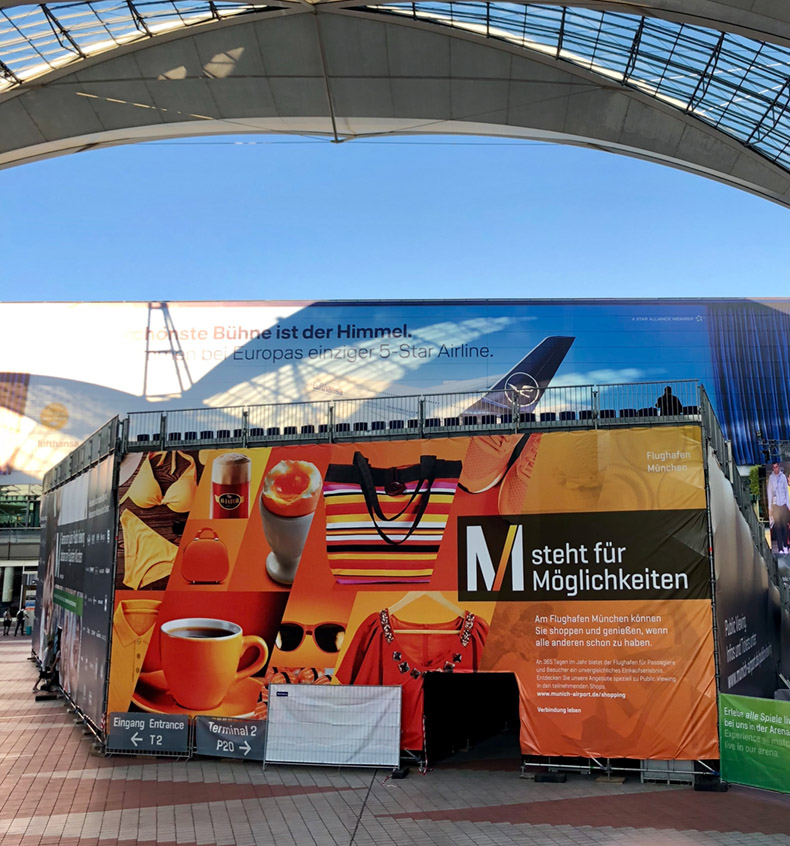 Client:
Munich Airport
Purpose:
This beautiful entrance zone was designed for the outdoor space between Munich airport terminals T1 and T2. The small middle door opens to a temporary stadium where travellers were able to watch the Football World Championship in 2018.
Info:
www.munich-airport.de
Breakfast at Chanel´s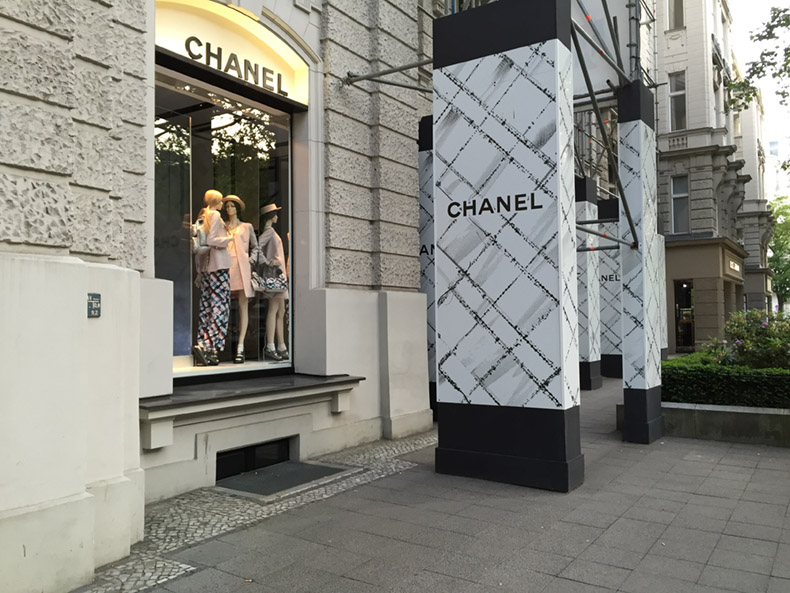 Client:
Chanel
Purpose:
When the famous Kurfürstendamm Berlin Chanel shop was redecorated in 2016, a pair of digitally printed columns were built in front of the shop to compensate for the ongoing construction.
Info:
www.chanel.com
Welcome to Berlin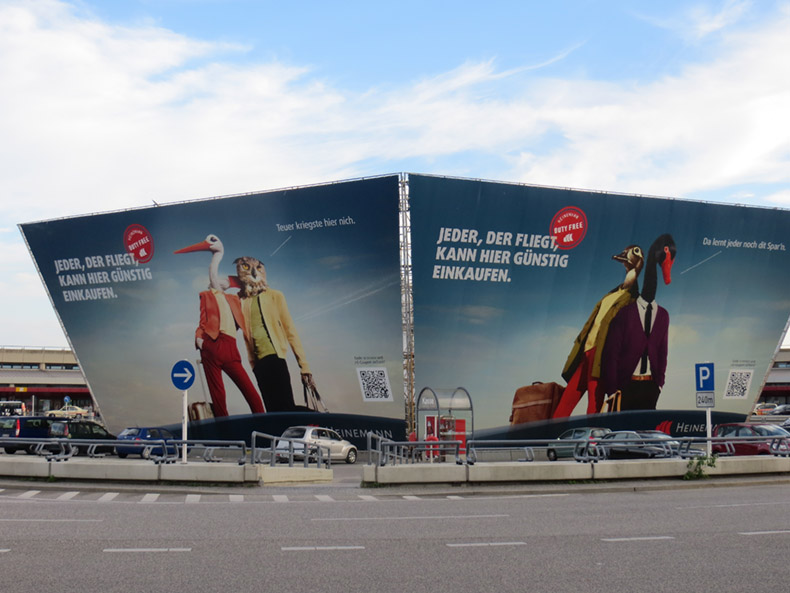 Client:
Tegel Airport
Purpose
: Tegel Airport Berlin closed at the end of 2020, but for years the structure remained at the entry level drop-off zone. Over the years, numerous famous brands use it for advertising purposes.
Info
:
www.berlin-airport.de
Watch Closely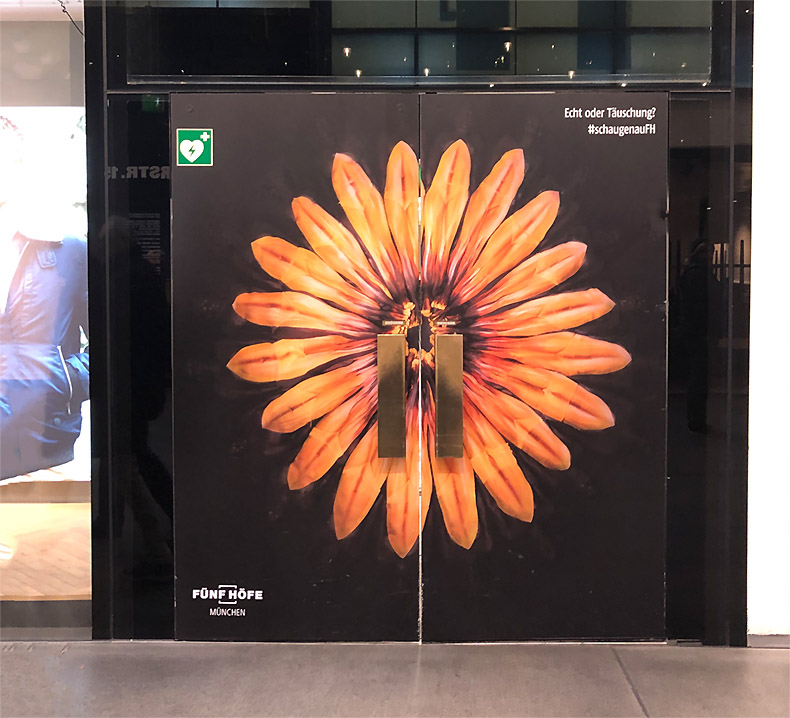 Client:
Fünf Höfe Mall
Purpose:
This wrapped glass door was used to advertise the Exhibition "Die Lust der Täuschung" at Kunsthalle München from November 2018 to January 2019 at the Fünf Höfe Premium Mall where the museum is located.
Info:
https://fuenfhoefe.de/lust-der-taeuschung/
Cavemen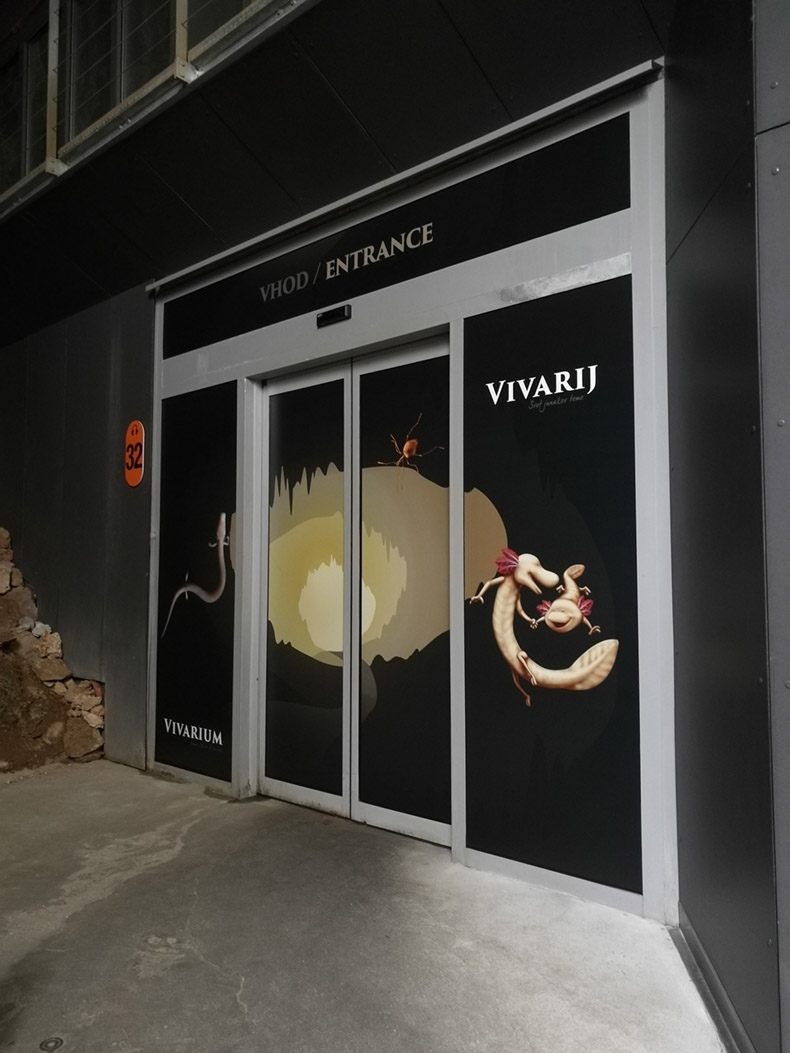 Client:
Postojna Cave
Purpose:
This door opens and leads to the Postojna Cave Vivarium at Posojna / Slowenia where visitors can catch see the famous Olm (Proteus Anguinus). This little underground creature lives up to 100 years and can survive for several years without food.
Info:
www.postojnska-jama.eu/en/attractions-in-the-park/vivarium/
The Enchanted Book Store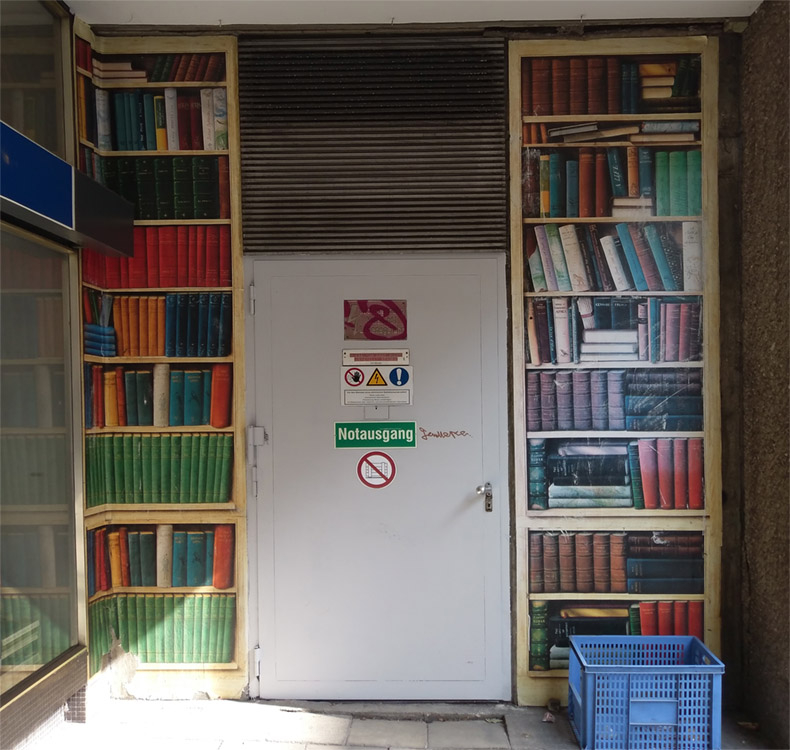 Client:
Unknown
Purpose:
This wrapped back door belonged to a books store at Munich Maxvorstadt University quarters. The shop has been closed down for several years now, yet the installation still remains.
Grand Entrée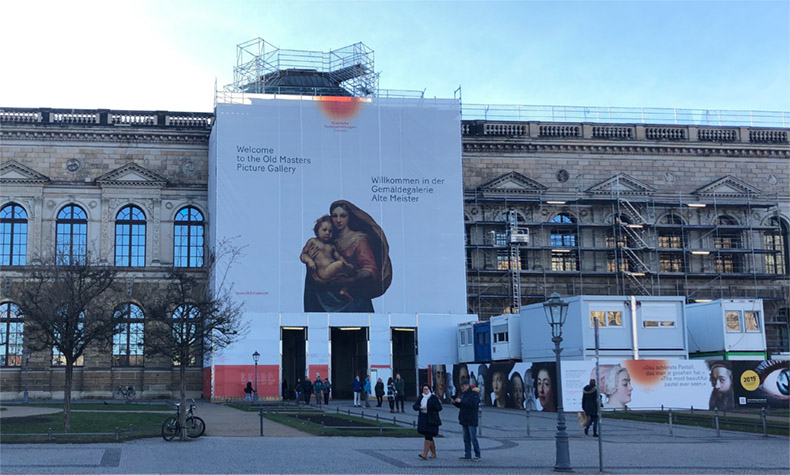 Client
: Staatsbetrieb Staatliche Kunstsammlungen Dresden
Purpose:
When the Gemäldegalerie Alte Meister at Dresden (Saxony) underwent some renovations in 2018, this digitally printed entrance was created to ensure visitors knew that it was still open.
Info:
www.skd.museum
Always On Time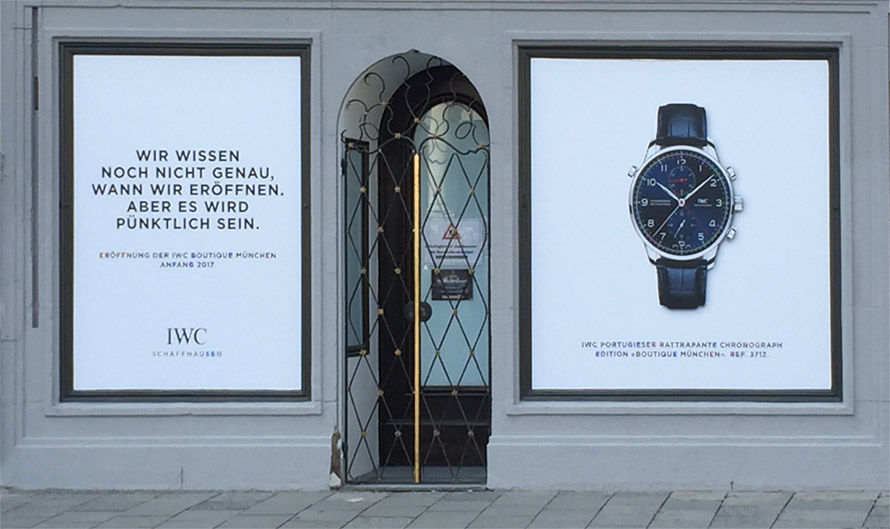 Client:
IWC Schaffhausen
Purpose: The IWC Schaffhausen Fine Watches brand shop at Munich is undergoing redecorations. The sign reads: "We don´t know when we will be able to open this shop. But be sure it will be right on time."
Info:
https://www.iwc.com
Knocking on Heaven´s Door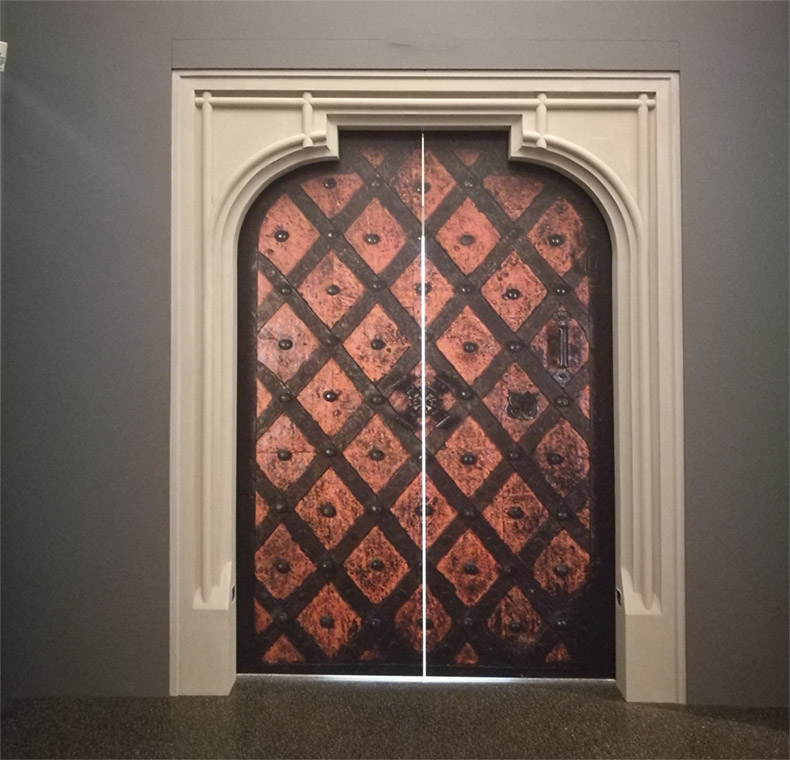 Client:
Benediktinerstift Admont
Purpose:
This may look like a beautiful historic piece of art, but it's actually a wrapped fire-retardant automatic door guarding the many treasures of the Benediktinerstift monastery in Admont (Austria).
Info:
www.stiftadmont.at
Let´s Play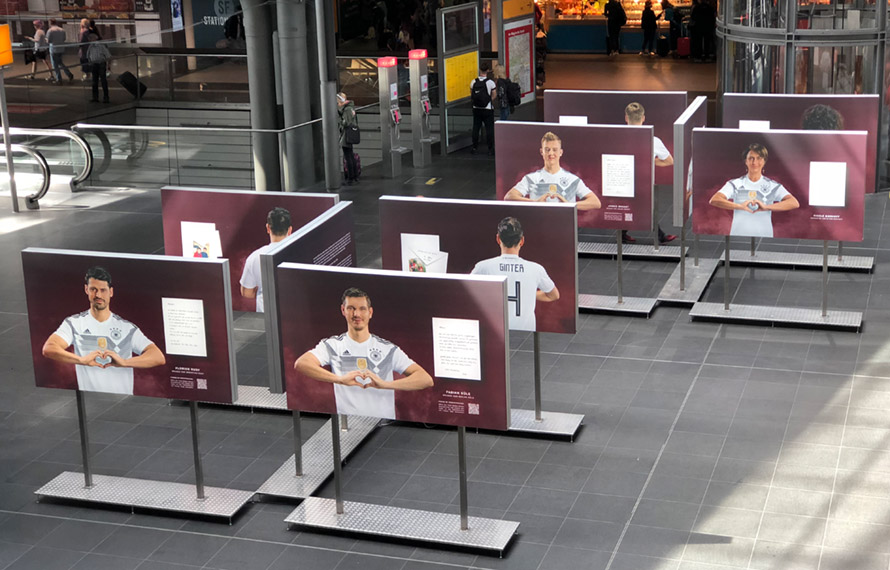 Client
: Unknown
Purpose
: These billboards were part of an exhibition at the entrance of Berlin's main train station in 2018. It showcases friends and relatives of the German football national team who express their solidarity with the players and wish them good luck.
Salt of the Earth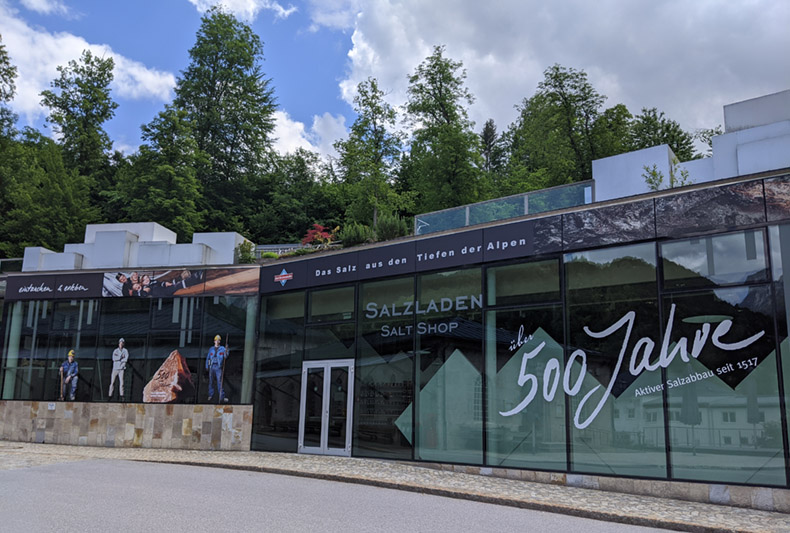 Client
: Salzbergwerk Berchtesgaden
Purpose
: The Berchtesgaden Saltmines have been operating since 1517. Today, visitors can experience certain parts of the mine with the help of a small underground railway system. This is the main waiting area and gift shop.
Info
:
www.salzbergwerk.de
Hallstadt Hideaway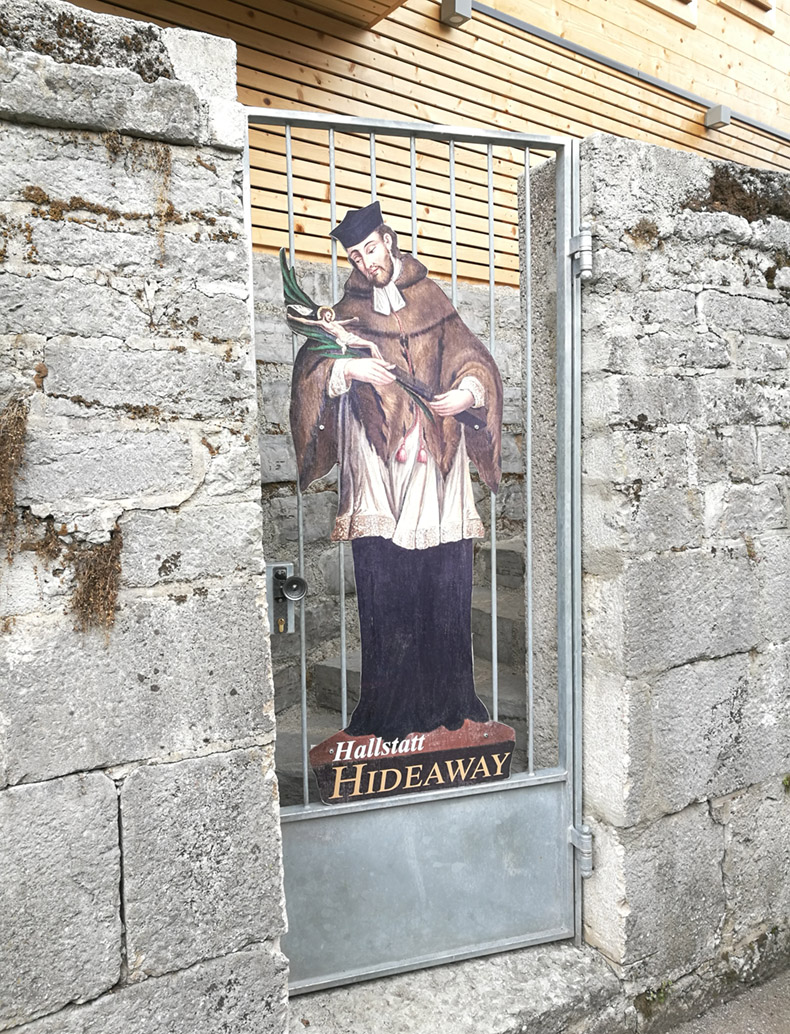 Client:
Unkown
Purpose:
This contour-cut ancient priest figure guards the street entry to a Hallstadt (Austria) guest house. The small town near Hallstadt lake welcomes hundreds of thousands of visitors each year in its narrow streets and alleys, so most of the private property is barred with walls for some privacy.
Info:
www.hallstadt.de/tourismus
Who's that Guy?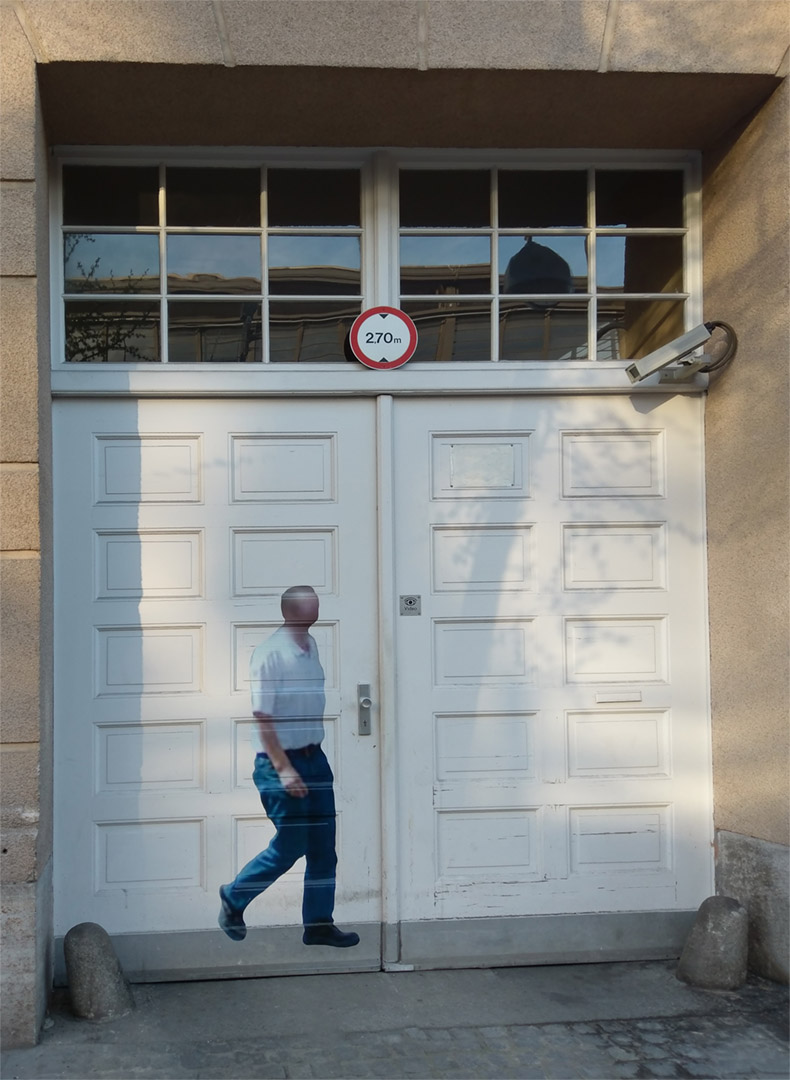 Client: Unkown
Purpose:
This decor is most likely street art, as it appeared one day at a Berlin residential building door. But then, who knows? This is Berlin, right?
Info:
www.visitberlin.de
Vorsprung durch Technik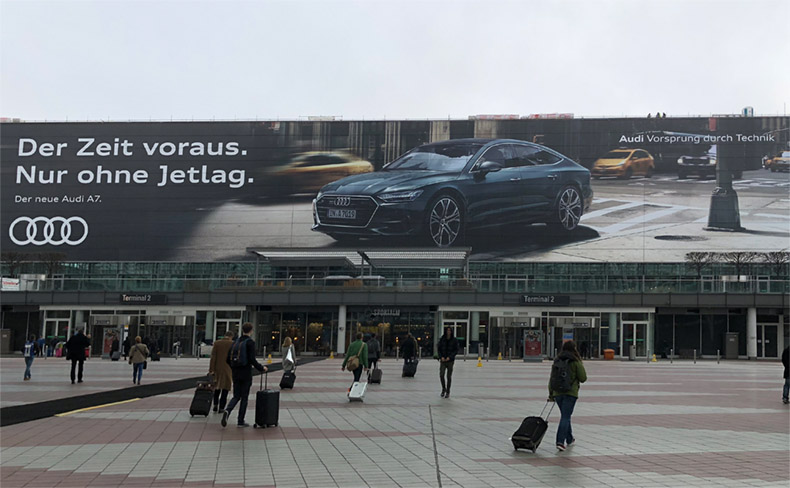 Client:
Audi
Purpose:
The wide format Audi billboard advertises their latest sports car at the main entrance of Munich airport Terminal 2.
Info:
www.munich-airport.de
Diamonds Are A Girl´s Best Friend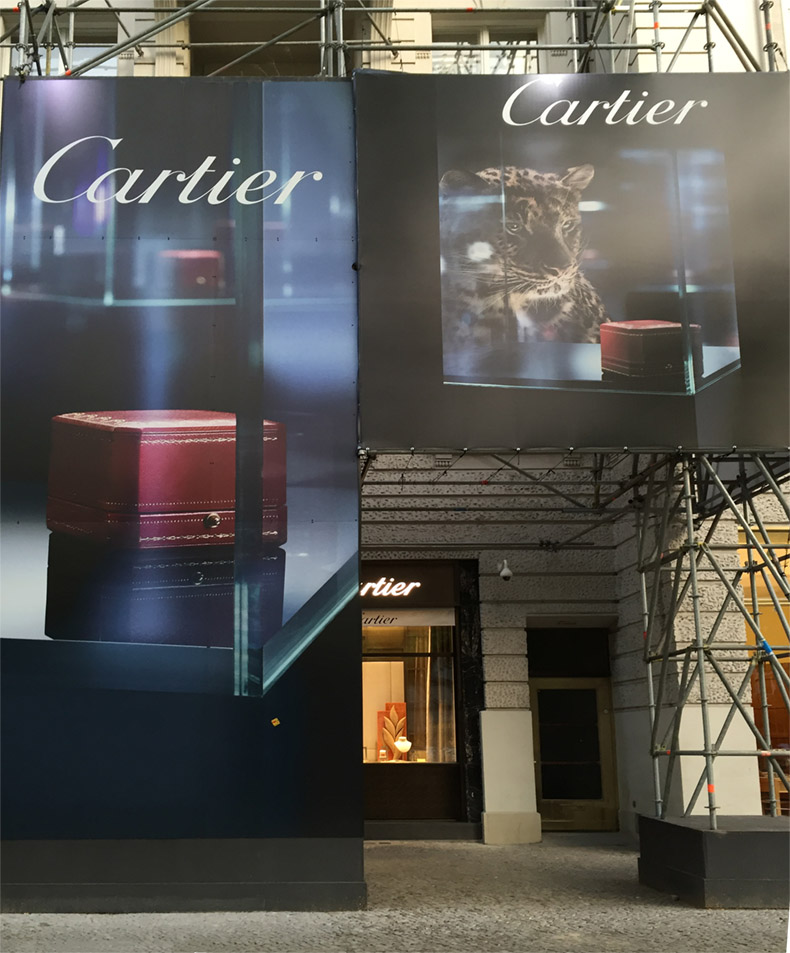 Client:
Cartier
Purpose:
Digital print is always useful when building require redecorating, as wide format banners help to make the construction site appear more attractive for customers. This is even more important and applicable for luxury brands.
Info:
www.cartier.com
Doors To the City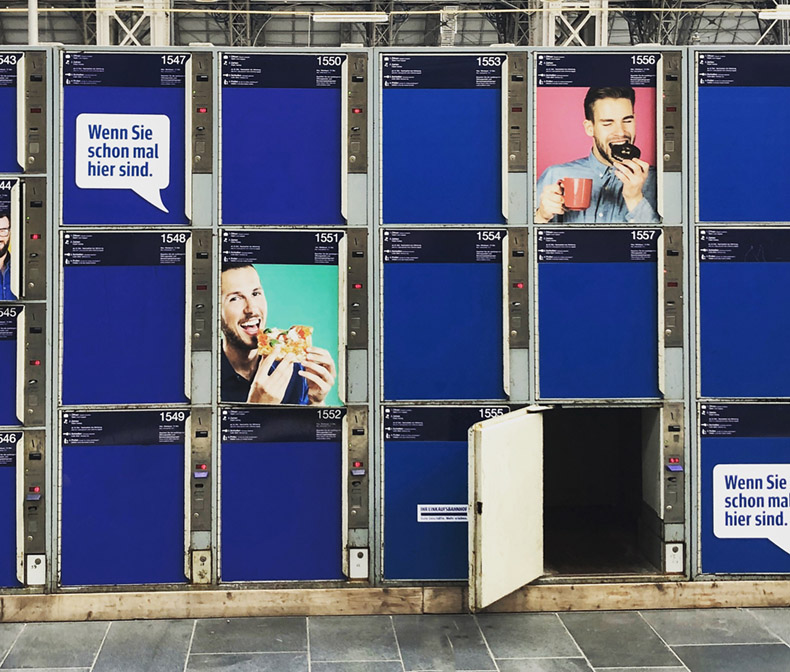 Client:
Deutsche Bahn AG
Purpose:
A locker for your luggage is usually a door to the city, because no-one likes go sightseeing carrying heavy luggage. Here is an example of on at Berlin Main Station.
Info:
www.bahn.de
Here be Bikes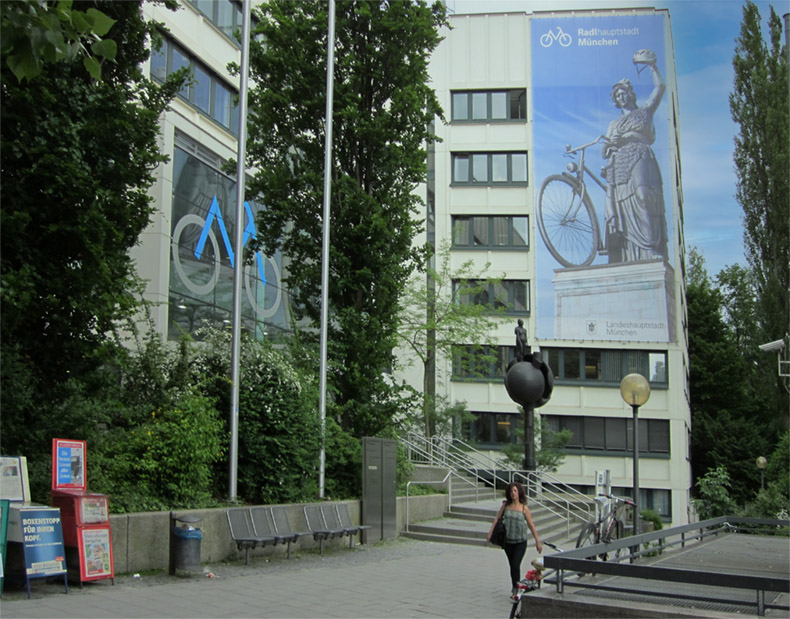 Client:
Landeshauptstadt München
Purpose:
The wide format printed poster was displayed at the entrance of the Munich KVR, the central municipal office for passports, legal marriage and other essential citizen services. It was designed to help the city's campaign to become more bike friendly.
Info:
www.greencity.de/projekt/radlhauptstadt-muenchen/
Mountain Home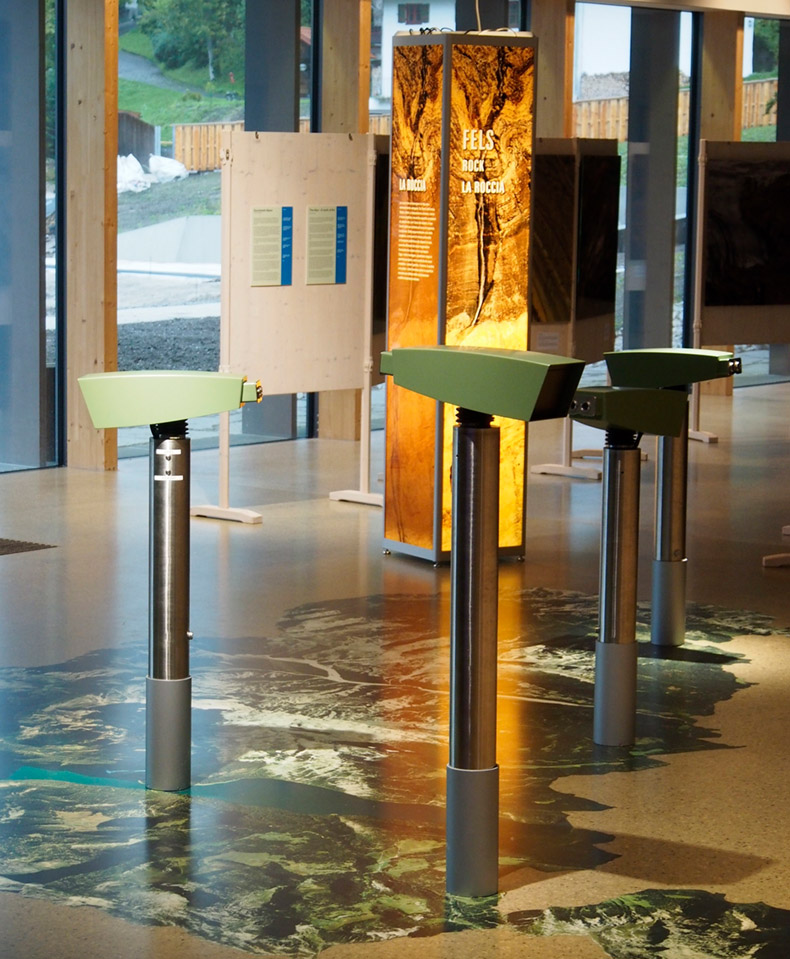 Client:
Nationalparkzentrum Haus der Berge Berchtesgaden
Purpose:
Established in 2013, Haus der Berge offers unique insights into the Berchtesgaden Alpes, people and wildlife of the area. It's the main information centre of the National Park. The columns and digitally printed floor graphics feature on the ground floor entrance inviting visitors in.
Info:
www.haus-der-berge.bayern.de
The Show Must Go on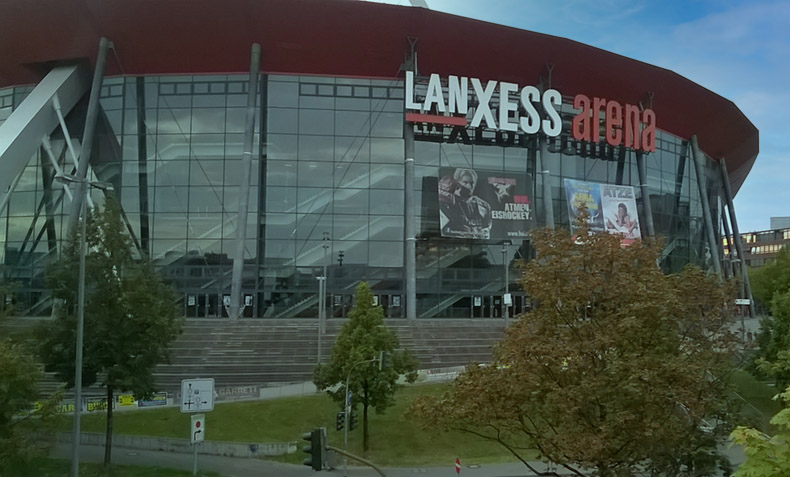 Client: Lanxess Arena
Purpose:
Lanxess Arena is one of the biggest multifunctional arenas worldwide, with seating for 20,000 people. The main entrance area advertises upcoming events.
Info
:
www.lanxess-arena.de
My Body is a Temple
Client: The Nivea Haus Hamburg
Purpose: provides unique wellness experiences, using only products from well-loved German household brand Nivea. It was redecorated recently and will open again in early September 2021. The entrance features translucent glass decoration foil prints.
Info: https://www.nivea.de/nivea-haus/nivea-haus

Discover the latest innovations in UV printing at the Global Print Expo 2021, Europe's leading exhibition for screen and digital wide format print, textile printing and signage. Discover the latest products, network with like-minded individuals and explore new business opportunites. Register now and use promo code FESH101 ​to receive a discount of 30 euros.


Interested in joining our community?
Enquire today about joining your local FESPA Association or FESPA Direct