Coffee Breaks
FESPA Coffee Break: Circular thinking, how to prepare for a REDUCE, REUSE, RECYCLE business model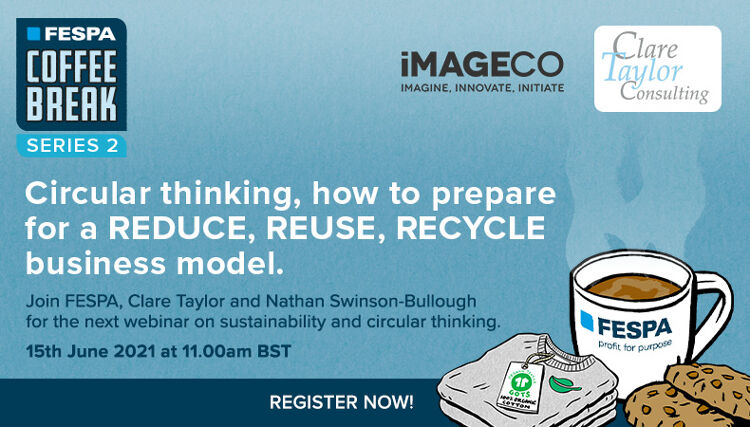 In this FESPA Coffee Break, we'll focus our discussion on how to get started with circular thinking to preserve resources and extend the useful life of our materials.
Climate Change brings a need to address our working practices and business goals, we know that all of our production materials have an impact on the environment. By considering the life cycle of our printed products we can find ways to increase their lifespan or reuse potential.
This process answers the needs of changing consumer expectations and when taken seriously will establish leadership and prevent the pain when new legislative penalties where 'the polluter pays' principle is invoked.

We have the benefit of two printing industry experts, Clare Taylor, Chartered Environmentalist and founder of Clare Taylor Consulting, offering practical and cost-effective help to improve environmental performance and reduce costs. They mainly work with small businesses, where a proven track record helps reduce costs and gain customers.

We'll also be joined by Nathan Swinson-Bullough, Managing Director of ImageCo in Leeds since 2015 but his workplace from 2003. This creative graphics printer has demonstrated a full commitment to sustainability and addressing its energy efficiency, material selection and print technology to drive down its Carbon footprint. Circular thinking is the latest step towards creative an optimal model for the future.

REGISTER NOW
Interested in joining our community?
Enquire today about joining your local FESPA Association or FESPA Direct