Blog
Think you know about innovation in printing inks?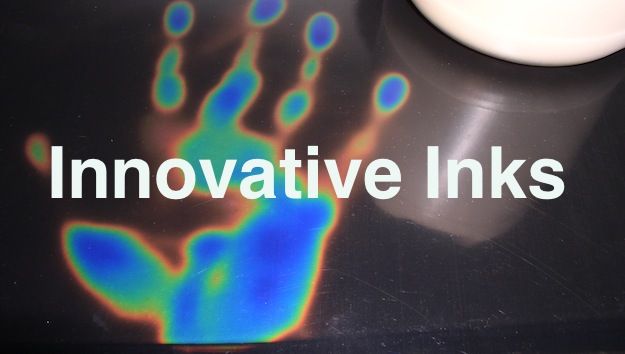 Developments in the print market mean that product innovation can be critical to business success. Upcoming trends in solvent inks, Phosphorescent inks, Fluorescent inks, and Thermochromic effects can help your products glow.
If you are in the wide-format business, ink can be a crucial part of your production economics equation. The quality, cost and performance of the ink determines how you charge your customer. Getting this equation right is the reason they keep coming back for more.
The point about wide-format digital inks is that, unlike in litho, the technology for getting them to substrate is fast moving. Just consider the changes in the last few years - today the options are as varied as the imaging technologies.
Upcoming trends
Solvent inks
Solvent inks are tough, long lasting with bright, fully saturated colours. Solvent printers continue to dominate the installed base; however, there is also a move towards water based and UV printers in the wide format sector. A trend predicted to continue to increase this year.
The general print market is also moving to new types of media which are seen as better for the environment. Up until now we've been printing onto a variety of PVC based media, but there is a move towards substrates such as polyester-based textile materials which are used for products such as flags, banners and flexible signs.
Soft signage has also enjoyed a surge in popularity, with brands choosing to replace traditional PVC graphics with more tactile textile materials which stand out from the crowd. We believe that this trend for exhibitions and other promotional displays will carry on well into 2013. The printer requiring direct-to-fabric inks and dispersed dye technology will be prevalent for this application as a result.
An alternative to solvent inks are the UV options that work on flexible and rigid substrates. They can be used for all sorts of applications, from car wraps to printing on glass and have excellent colour gamuts.
Screen
The graphic display market is rapidly evolving. As well as high performance industrial applications such as hi-tech automotive, plastic card and glass decoration, there is a comprehensive range of inks and consumables designed to meet these developing needs.
High quality sheet-fed, energy-cured and digital ink jet products deliver vibrant colours for display graphics and screen printing needs. There has been a revolution in cutting-edge screen inks, screen printing supplies and services within the commercial screen printing industry.
Digital technology
Inkjet printing is growing in all markets and some of the main opportunities experiencing an increase in inkjet printing include packaging applications, commercial print markets and hardware development.
Our business has undergone extensive research with print head manufacturers and OEM system integrators to optimise performance on porous and coated paper stocks to develop the speed of print and output quality in markets dominated by offset printing.
It is vital that the development of low migration inks and systems continue in order to maximise the opportunity for inkjet printing in the label and packaging markets.
New enhancements include a wide range of conventional UV and UV LED curing ink platforms tailored to OEM needs in terms or print speed and press architecture.
Ink to make packaging PoP!
Packaging on-shelf is under increasing competition to stand out and attract attention from consumers. It is now widely known that seven seconds is all it takes for most of us to make a decision on which branded product to buy in store. The main basis of the choice consumer make is at the point of display, despite our exposure to all the advertising media before even entering the store. Shelf standout and product differentiation will continue to grow in importance despite the high level of colour noise already created in our supermarket aisles, as packaging products compete for the attention of consumers.
There is a wonderful world of colour, touch, aroma and interactive ink effects to lift any packaging design from the ordinary to the extraordinary.
Phosphorescent (Glow in the dark) inks which absorb UV light under daylight or artificial lighting conditions and emit a subsequent long afterglow in darkened conditions. This afterglow can last up to approximately 8 hours, dependant on the degree of charging and the amount of ink weight printed. A perfect effect to complement promotional activity - especially in the autumn.
Daylight Fluorescent – which are strong, very bright and clean colours produced from a limited range of pigments, which fluoresce under daylight conditions. Colours can be mixed to give required shade. Also, Invisible Fluorescent – Colours that become visible under UV light, which are colourless under daylight or normal artificial light, ideal for interest in night club promotions.
Thermochromic effects - by no means new to the world of printing and glass decoration. With the increase of printing with organic UV inks, the thermochronic effect is set to become even more popular due to its shelf standout and novelty capabilities.
It is clear that special effects inks including thermochromic effects' potential for growth is positive within the market, as the ink innovation is highly valued by brands due to the extensive scope of creative possibilities. The effects include incorporating improved colour strengths, more reactive changes, expanded colour ranges and more definitive colour changes at set temperatures. For designers, imagination is the only real limitation!
With the continued rise in interest, it is becoming more important for printers and brands to understand the technology and inks behind the effect, and gain further insight into the developments - as they are now stronger and more effective than ever.
About Sun Chemical
With an impressive portfolio, visitors to FESPA 2013 (stand B2ON) will be able to see impressive examples of the quality solution that Sun Chemical offers across many sectors.
We look forward to seeing you at FESPA 2013 on the Sun Chemical stand B20N
Interested in joining our community?
Enquire today about joining your local FESPA Association or FESPA Direct