Blog
The circular economy could be the next greenwash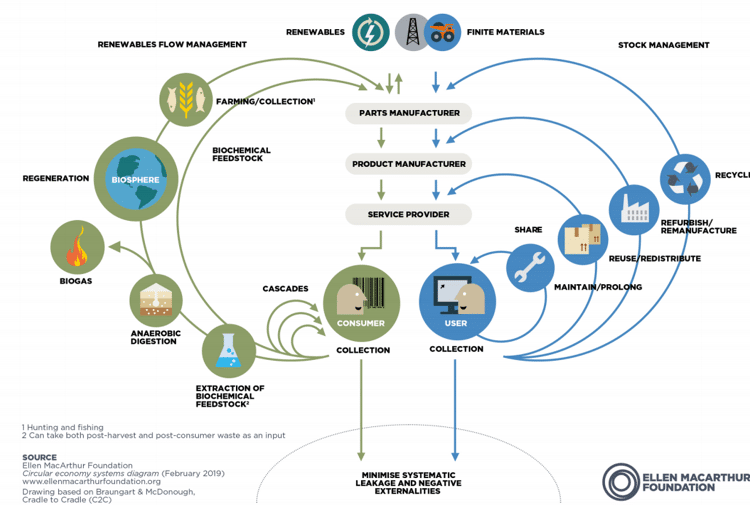 Laurel Brunner discusses the risk of the concept of circular economy being used for greenwashing.
Or may be not. The circular economy is a huge concept so it is understandably attractive to marketers who don't really expect target audiences to do more than be impressed by the phrase. But if companies are at least aware of circular economies that has to be a good thing. Just to remind you, a circular economy is one where the waste from a process becomes the raw material for another related process. That is an admittedly simplistic definition, but hopefully it is enough for you to get the idea. If you want a more grown-up definition, The Ellen MacArthure Foundation calls a circular economy a "systems solution framework that tackles global challenges like climate change, biodiversity loss, waste and pollution".

Much as we despise greenwash, it could be argued that its every droplet can make a difference and eventually aid wider environmental awareness. So for this reason, we try not to sigh when we read yet another press release touting ideas for supporting a circular economy. Repeating a message will eventually make a difference, even if the message sounds like greenwash.

Actega, a maker of specialty coatings, inks, glues and sealants recently declared its plan for becoming more sustainable. The company, like most responsible businesses, is investing in facilities and research and development. But Actega is also working towards achieving unspecified "new environmental certifications" which should include ISO 14001 for environmental management systems.

The company is putting sustainability at the heart of its business, particularly in the development of new technologies and products. The good news is that Actega recognises that we must all "move towards more sustainable raw materials … to combat climate change," as Benjamin Lux, Actega's chief technology officer, summarises.

Mr Lux recognises that "We need to … ask ourselves how we want to manage resources, make and use products, and what we intend to do with the materials afterwards." In response Actega has committed to five tactics to move the business closer to a circular economy. They are: to ensure that Actega's products can be recycled; to cut material waste and energy consumption; to strive to remove materials that cannot be readily recycled from products; to use alternatives to hazardous materials in products; and to look at partnerships to ensure complete degradability of packaging components that cannot be recycled.

This is an approach that more and more companies are pursuing. They start with a more complete understanding of the raw materials in their products to see what can and cannot be replaced with something less environmentally hostile. They then consider potential reformulations. Companies are working with customers, suppliers and regulators in order to ensure safe and environmentally sustainable product development. This is what should be at the heart of how our industry moves forward towards circularity, and hopefully more companies will take Actega's path.

Source Information: This article was produced by the Verdigris Project, an industry initiative intended to raise awareness of print's positive environmental impact. This weekly commentary helps printing companies keep up to date with environmental standards, and how environmentally friendly business management can help improve their bottom lines. Verdigris is supported by the following companies: Agfa Graphics, EFI, Fespa, Fujifilm, HP, Kodak, Miraclon, RicohSplash PR, Unity Publishing and Xeikon.
Interested in joining our community?
Enquire today about joining your local FESPA Association or FESPA Direct