Blog
Sustainable Transfer Printing at NS System in Denmark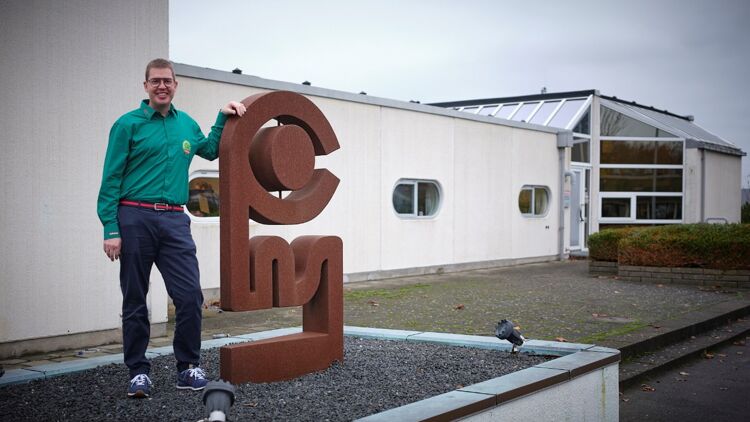 FESPA's Head of Associations and Technical Lead, Graeme Richardson-Locke visited Niels Rask, the owner of NS Solutions in Denmark. Niels is also the President of FESPA Denmark. Graeme describes how NS Solutions are focused on sustainable transfer printing.
As a printer, I'm always interested in visiting production sites. All offer valuable insight in how market challenges are met and the commitment of the management team to achieve progress. Currently that means dealing with significant energy cost increases, supply chain disruption and high labour rates.

I have a keen interest in looking at how organisations address the wide range of tasks to create a sustainable business. Resilience doesn't come easily, we all know that to build value takes time and a lot of planning. The loyalty of customers cannot be guaranteed especially given the pressures on buyers to make savings. The 'price first' approach for printed products has prevailed as long as it is accompanied by high quality and fast delivery.

Increasingly, consumers are asking questions about how products are created and whether they have intended or unintended negative impacts. We're also beginning to see that social inclusion, diversity and fair-trade matter to a more conscious cohort of customers. As buyers from a new generation become the buyers in business these trends will significantly increase as will the importance of responding effectively.

From FESPA's experience seen through our international network of member Associations it is clear that sustainability is not just, as previously, seen concerned with environmental impact but wider considerations for social value and economic wealth creation.

Until we can clearly present information that quantifies these values and benefits our customers will lack an understanding of the cost/value attached to products that have been carefully engineered to embody less carbon and offer a perfect match of durability and ease of reprocessing at end of life.

Having met Niels Rask, owner of NS System at previous FESPA events I knew of his enthusiasm and trusted that my visit to Frederikshavn would be inspiring. As a Danish business owner with 25 years experience in printing, the President of FESPA Denmark has a strong command of textile transfer production and an sharp focus on the details.

I was joined on the tour by FESPA's contact in Denmark, Grakom's Market Manager Michael Brochmann Nielsen and Grakom's Director of ESG & sustainable development Carsten Boeg.

Rask worked within the business founded by his father in the 1960's and gained his extensive knowledge over many years. As he rose through the business, Rask needed to have the agency to implement his ideas and bought the company from his father on his retirement. This clean break presented all Rask needed to focus on accelerating growth whilst taking on responsibility for the associated risks. The business grew and continues to excel in its mission to lead in transfer production in Demark and the Scandinavian region.

The factory occupies 10,000 mtrs2 and has 10 automatic screen printing lines with varying levels of sophistication. The plant list extends into HP Indigo, numerous latex inkjet and DTF production lines.

The most advanced printing machines have camera registration, and receive data from the workflow that can be stored for repeat orders to reduce down time. Every step of the process from order input, through design and pre-press on to the shop floor has been refined to reduce repetitive tasks and increase efficiency. This is the solution when facing international competition along with the high standard of living the employees receive.

Customer orders are processed paperless, through the sales and repro departments ensuring that they a kitted to include all data with print files optimised and imposed automatically to maximise yield on the sheets and press efficiency along with cutting files and colour mixing requirements. The nesting workflow will re-plan every time a new order comes through until the press sheets have a minimum of 80% coverage.

In the screen processing plant, the 250 screens per day are loaded into cassettes that can be selected depending on frame size and mesh count to facilitate fully automatic cleaning, preparation, coating, drying LED UV exposure with the right job in the appropriate sequence by one operator. Something that is particularly impressive in the flow line is that it is continuous with an ingenious drying cassette on rails for screens to dry following emulsion coating before being loaded to UV LED screen exposure without any manual handling. Once the screens are ready they are sent out to presses for make ready. A future hope is use collaborative robots to delivery screens just in time for make ready. At the same time one of two ink kitchens are matching colours and the ink volume required. The recipes are called up in the workflow and colour formulations blended with precision to 0.1g. They are stored and recalled as required and verified by skilled operators.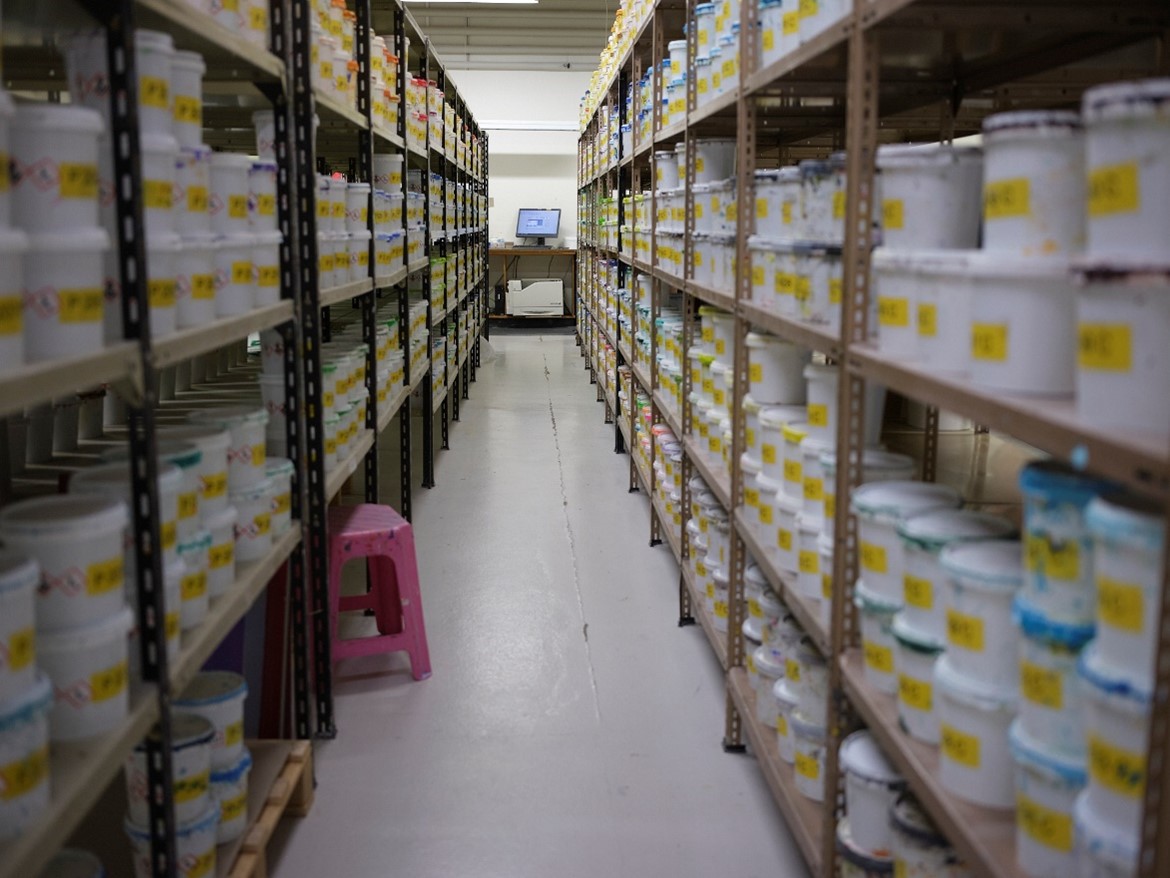 Caption: A very well organised ink kitchen

As the electronic orders reach the display screen located at each press the screen sequence is advised, a soft proof of the order presented, and screen loaded and charged with ink and squeegee ready to go in a matter of minutes. You can see that this process being replicated across ten presses 250 times a day across double shifts requires elegant choreography.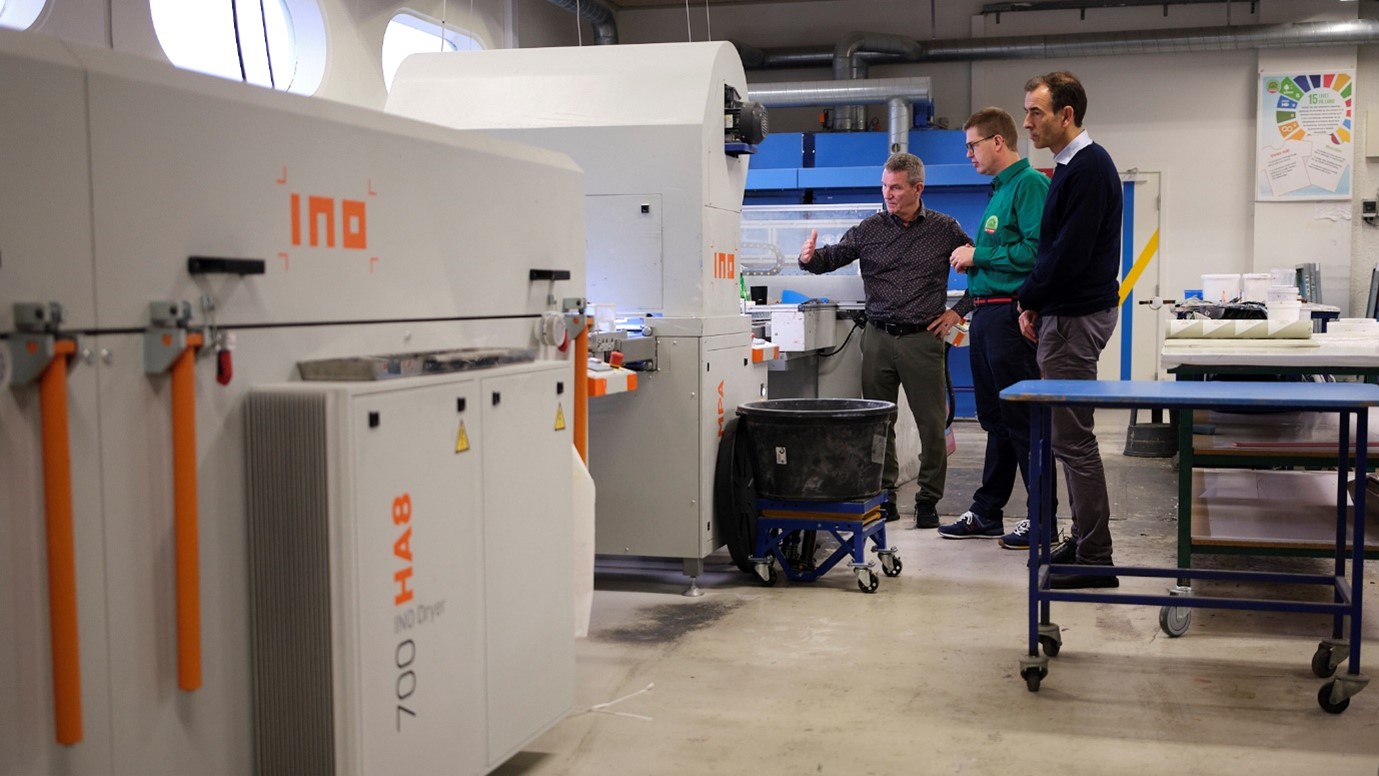 Caption: INO programmable Screen Printing line with powder applicator.

NS Solutions produce mainly hot split transfers using water-based PU inks, this creates the customer benefit of very durable prints on garments that a guaranteed to last for the full life of the clothing. They heat transfer process, being hot split means no time is wasted waiting as in the case of cold split application.

The progression from the air-conditioned press rooms to finishing failed to reveal any less detailed planning in the cutting, collation and packaging processes. The orders arrived from press to finishing where conventional programmable guillotines we used for runs where the imposition required straight cuts. Rask has also invested in fully automated CAD knife cutting that facilitates more intricate nesting and further material savings. In fact the nesting can increase the material yield by as much as 40% over traditional guillotining. The systems have collaborative robotics included so that continuous production is straightforward and 'lights out' operation is becoming the reality. Sheets are scanned overheat to ensure the correct sheet is in place before processing eliminating the chance or cutting errors.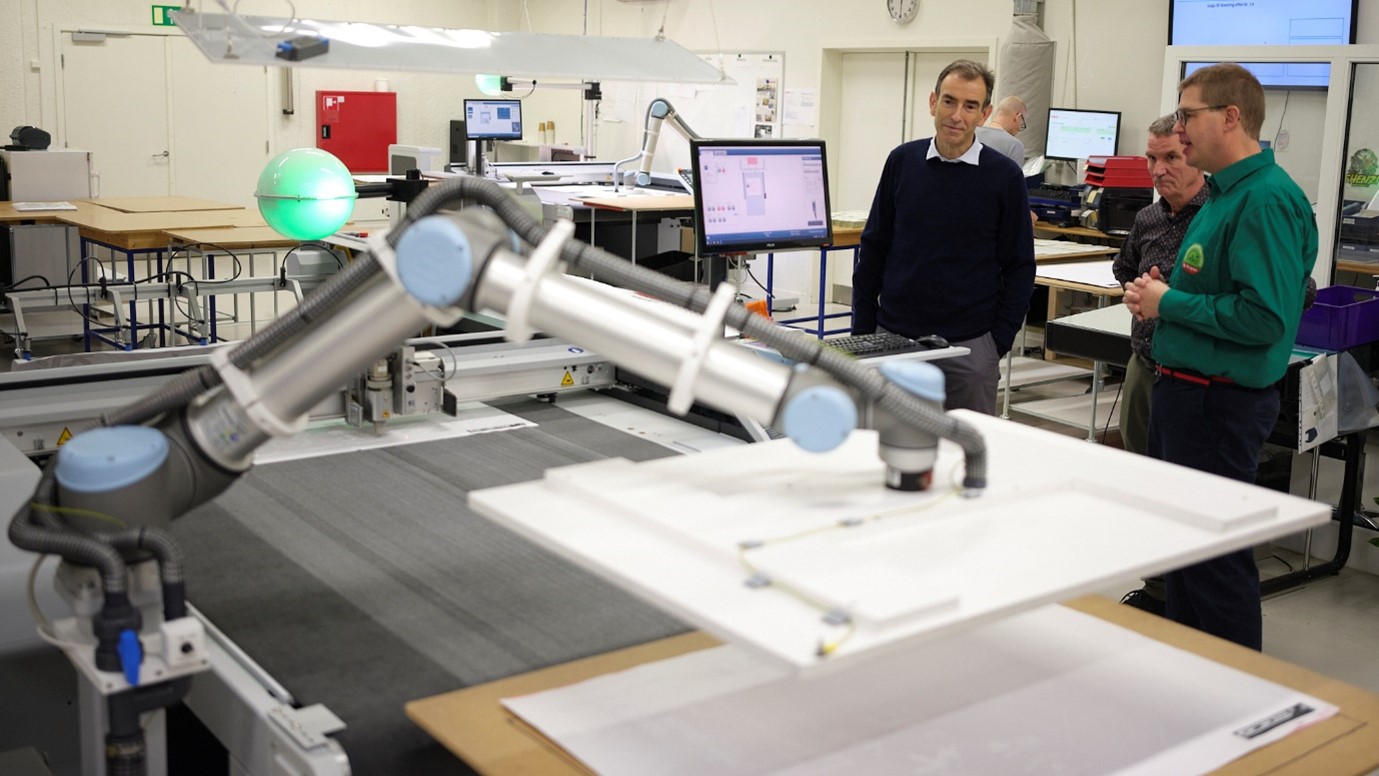 Caption: Automatic loading and unloading with each cut item being keep in place by vacuum whilst transported to the finished stack.

At this point each order is collated, counted, labelled with barcodes and order details for distribution. The production site also has a wide range of embroidery plant and heat presses for in-house application onto customer supplied apparel. The Danish brand 'Neutral Clothing' who are widely known for their organic cotton garment range are partnering with NS Solutions presenting customers with products that meet the highest standards for Sustainability with a broad range of certified accreditations including, EU Ecolabel, Fair Trade Cotton, SA 8000 Social responsibility, Oeko-Tex Standard 100 and made with 100% renewable energy.

Rask reports that countless small energy saving and efficiency strategies that have been continuously implemented since they first transitioned to LED in 2012. Everyone in the business is involved in the process improvement process which now extends to 100% renewable energy and the most recent addition of a heat pump to replace the gas energy previously used will ensure that NS Solutions minimises their carbon emissions and saves significant costs.

The trip to Denmark was completed by spending time with Michael Brochmann and Carsten Bøg from FESPA Denmark and Grakom to review the ClimateCalc carbon footprint calculator that has become well established in many printing operations across Europe. One key fact that makes their method so useful is that it is built on a common standard that can be used internationally and produce comparative C02E emission reports to assist customers in understanding the best choice when ordering.

Finally, it is so inspiring to see sustainable development in full force and reinforces my belief that we can all contribute to the decarbonising goals we so desperately need to engage with now rather than later.
Interested in joining our community?
Enquire today about joining your local FESPA Association or FESPA Direct