Blog
Southern European Print Congress - Athens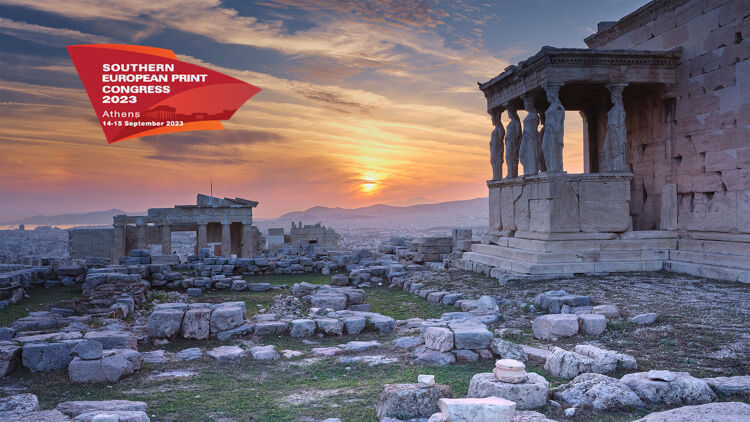 Graeme Richardson-Locke, Head of Associations & Technical Lead shares his experience of the South European Print Congress that took place from 14th - 15th September 2023 in Athens. The congress was organised by FESPA Hellas who invited print business owners to network and discuss crucial issues facing the industry.
The Southern European Congress has been an annual gathering of print business owners organised by FESPA's member associations from Italy, France, Spain, and Portugal in key European cities since 2015. This year saw its seventh edition organised by FESPA Hellas who joined the group in hosting the congress in Athens. The organising team from our Association members encourage printers to get together for a couple of days to reflect, network and consider the key issues these businesses face no matter where in the region they come from.

The atmosphere is collaborative and the programme stimulating. This year was no exception, starting with an opening address by Christophe Aussenac, FESPA's President, who co-owns ATC Groupe in Lyon, France. This specialist and highly creative visual communications producer always shows a strong commitment to sustainable print. Aussenac expressed his delight in seeing many existing colleagues and new faces who shared a common motivation, to address the key challenges SME business face as they progress their rejuvenation following a period of considerable upheaval and disruption.

Kimon Papathanasopoulos, the President of FESPA Hellas welcomed everyone and thanked all the visitors and speakers for travelling and investing their time. The speaker line up was rich and the content covered a broad range of topics, the first of which was led by Popi Skagia, CEO at SKAG the successful stationary and creative products manufacturer based in Athens. She presented the results of their project "Building a strong Team in Customers Service". The notable value came from her project planning approach that was collaborative and very thoroughly rolled out through managers to customer service representatives with plenty of testing to ensure customer satisfaction was assured and any challenging situations could be handled appropriately by well trained staff. The combination of strong product knowledge, coupled with discovering the customers viewpoint lead to the most empathic and professional care – something we all value.

Another topic that feels very relevant to printers was offered by Xenia Kourtoglou, MSc.
Founder of Focus Bari, IforU, and MEX. She is a Person-Centred Psychotherapist, Coach & Mentor, and author of "Women in management". Her insight into the unconscious or for that matter conscious bias that women have collectively experienced to the detriment of the organisations they work in. Her acknowledgment of the combined value of men and women's complimentary characteristics provided a beneficial launch point for a range of approaches that build constructive change. Maybe the men in the room could all to a less or greater extent benefit from appreciating that their right to confidence and self-belief has come from a millennia of patriarchy. It is time for a fully inclusive future in business where it isn't just the loudest people in the room who get noticed but consulting with the more reserved will engender a perfectly balanced blend of contributors.

Next on the agenda was a presentation by Dr Christos Georgiou, General Director of "INSBE" -and author of "Preparing the succession in family businesses". This process can present many difficult issues between families, extended families, and long invested employees when the time comes for handing over the business to the next generation. He highlighted the value of a mediated process within which all stakeholders find the opportunity to express their thoughts before conducting a structed process to evaluate the merits or otherwise that can lead to positive outcomes. This can support the successor of the business in developing without being hindered by predecessors or veered off course by disgruntled long standing employees who feel undervalued. The fact is each generation has to relinquish its power to allow new talent to flourish. It remains a delicate business that if handled sensitively establishes new boundaries and provide a well-earned rest to those who contribute for so long before.

Unfortunately, it isn't possible to provide a summary of all the speakers useful insight, so my apologies to them if I don't manage to pay due respect.

I was of course, grateful to be invited to join the speaker list and on day one I offered a summary of the key trends arising from the latest FESPA Print Census that has just been released. There's a limit to how much can be covered in a speaker's slot, so my advice would be that our members make time to review the full report delivered with the partner expertise of Key Point Intelligence. The encouraging news was that revenues across most business sizes have increased by an average of 6% since that last census in 2018. This reflects a great deal of determination given that challenges we've all been through and that we continue to meet. There has been a modest drop in average number of employees, but this is not surprising given the inevitable restructuring coupled with advances in equipment and process automation. In fact, it's just a tough reality that to succeed many printers must reduce bottlenecks in production which can be achieved very quickly through automating repetitive tasks.

Printers are still investing in new equipment, with the greatest interest in UV hybrid and flatbed printers as they reduce process steps and can be finished without delay. The second most popular response is to invest in Eco-Solvent print technology which retains its usefulness as the costs have been reduced over the last years by vendors to address the investment capability of emerging markets around the world. Finally, in this short snapshot the Sustainability agenda has risen, 75% of respondents reported that customers want either sustainable products, more sustainable production methods or both. When you consider these results are the collective voice of nearly 1,800 businesses surveyed, you'll appreciate the paradigm shift. Confidence in the respondents is stronger in printers' ability to adapt and respond to customer demands than in their clients' businesses. No doubt continuing creative response and determination will keep speciality print progressing in the years to come.

By the end of day one we'd all been left with a great deal to think about. FESPA Hellas didn't expect us to have a quiet evening, they took the delegates in to visit the Acropolis and walk around in the area, to continue conversations in more informal surroundings. Fortunately, we were blessed with warm weather and a beautiful sunset before sitting down together for local food among friends.

Day two began with a presentation from Thomias Salogianni and Fabio Centimerio, Head of technical Department at Marabu Italy to reveal their commitment to meeting sustainability challenges. The business has achieved significant improvement in their manufacturing plants and uses the UN SDG's as a framework for reporting sustainability progress. They demonstrated their progress in ink chemistry both in reducing the harmfulness of constituent ingredients and offering alternative water-based formulations that further benefit the user. However, with a change to aqueous systems comes the need to review the wider production set up, units produced per hour may be reduced which lacks appeal but can offer significant reductions in hazards. It was a reminder that full system thinking is required to ensure the best balance between the toxicology of inks and their performance. Customers may value the reduced environmental impact enough to support an adjustment in pricing, it is worth entering into a conversation to decide.

The next speaker, Angelos Balamatsias presented on the issue of backing papers and labelling life cycle analysis. He explained the considerations when deciding to use shrink film or applied labelling and the progress on both fronts. His key message was that solutions are constantly progressing in the material supply chain making it easier for printers to offer innovative solutions to their customer base. Serafeim Ziomas, a highly experienced chemical engineer gave insight into the efforts being made by the PVC manufacturers in Europe through the VinylPlus initiative which is moving into its third decade in increases recycling systems. With a progression from 7.3 million tonnes of recycling since 2000 to a new target of over 800,000 tonnes per annum there is evidence of sincere effort to reduce the impact of this, the world's third most used plastic. However, the topic of PVC will remain contentious as claims are strongly challenged by Greenpeace. I work on the basis that debate is valuable and a degree of scepticism is no doubt useful as vested interest can be a powerful force. In the end, more responsible use of materials with better end of life capture is still progress. The wider argument is one for another day.

With just three more speakers to present, the next was Ourania Athanasoulia, Managing Director of ALTAVIA Hellas who are part of a global creative services group that have locations in 72 countries. She discussed the subject of Sustainability progress in the printing industry, there was no doubt that a disconnect exists between the needs of brands and their creative agency's ability to provide transparent reporting from the print supply chain. Through a very detailed presentation covering people, planet, and profit management principles she strongly emphasised a clear call to action that Sustainable business is an imperative not an optional extra.

This was fortunate as I was the next speaker, my second topic of the event was 'Creating a lasting Impact' in which I introduced the basis of science-based targets and triple bottom line accounting. I illustrated the journey of two printing businesses over a four-year cycle, a Planner and a Survivor to demonstrate the fallacy of too little too late investing compared to establishing a strategic plan to significantly reduce risk and improve transparent sustainable performance over time. The path of progress is never easy but with business wide commitment and time, the opportunity to outperform competitors still offers a goal worth reaching. Print is certainly not in decline for those who are addressing the needs of our time.

Finally, Jesus Durá the President of FESPA España expressed the power of collaboration between Southern European Printers in meeting the challenges ahead. He thanked all who had taken the time to join the congress and closed the proceedings with the promise of another Southern European Print Congress next year.

For me, this was my fourth SEPC and a valuable experience to learn, network and appreciate the talent and ideas that help build business and shape successful strategy. I look forward to seeing where the next one will be held.
Interested in joining our community?
Enquire today about joining your local FESPA Association or FESPA Direct