Blog
Opportunities for printers with EFI's Jeff Jacobson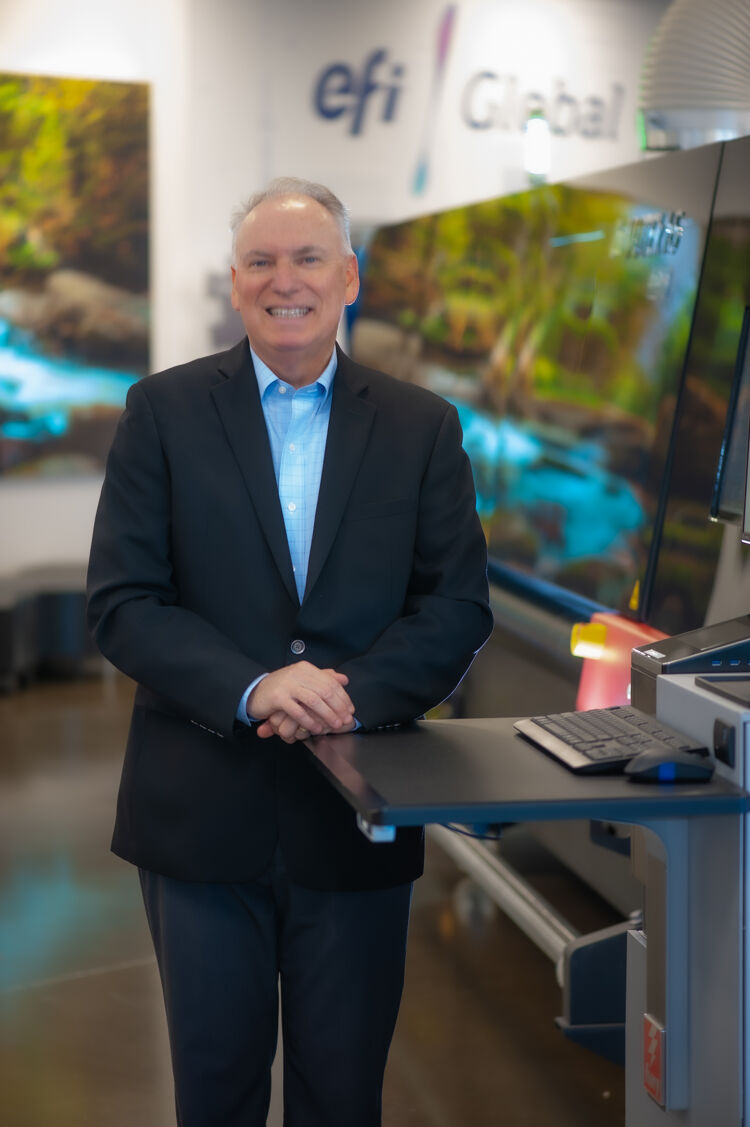 FESPA's CEO, Neil Felton speaks to Jeff Jacobson, Executive Charman and CEO at EFI at Printing United 2022. Jeff discusses the existing opportunities that are available to printers as well as new trends across personalisation and textile printing. Jeff also shares his thoughts on the role of FESPA in the community.
There has been a resurgence, particularly in wide format, much of it related to events. People are very eager to go out and attend events after the restrictions of the pandemic. We are seeing this uptake in every part of our business. For example, our Reggiani group is experiencing an increase in overall textile needs as people emerge from being relatively isolated for the past few years.

Moving forwards, there are still challenges. Right now, it can be harder for display graphics producers to get all the media they need. Therefore, even if print businesses gain more work due to the increasing demand and less competition, they have to be as efficient as possible because of sourcing difficulties.
Your recent sale of e-productivity has enabled you to "
accelerate investment into its Inkjet and Fiery business units", What does that mean for the FESPA community, and what can we expect in the next few years from EFI and fiery?
Well Neil, we are here at Printing United and our presence here at the show is the best proof of EFI doing what we said we would do in terms of accelerating investments. We have one of the most-complete portfolios of digital display graphics equipment at the show, and our Fiery business is literally everywhere. There are at least a dozen partners – resellers and OEM partners – showing and selling Fiery solutions here at the show. The capabilities Fiery has brought to market through our investments are stronger than ever before, across wide-format, commercial and industrial print.

The most obvious proof of our commitment to investment is the fact that we have 3 booths here Printing United! Both our Fiery business and our Reggiani business have recently made important acquisitions and when you buy a company, usually that company will already have its own contracted space at a show. Along with our EFI booth here at Printing United, there is also an exhibit from CADlink, the Canadian company that our Fiery business acquired in July. And in June, we made another important investment when our Reggiani textile business acquired the leading RIP provider in the textile space, Inèdit. They are also here with their own stand.

I love that we have a strong presence at Printing United with many of our technologies being showcased.

In addition, we have a great, ongoing relationship with eProductivity Software. We continue to work together on behalf of the many joint customers we share. eProductivity Software is also here with us at Printing United, sharing space in our main booth.
What markets should our community of printers around the world be focussed on? Where can EFI help us on that journey?
Packaging is definitely an area of growth. Digital print in corrugated is another area particularly the single-pass capabilities where we've become the leader with our Nozomi products. This is a sector where market penetration is small, but the benefits of moving towards digital can be huge. That imbalance means there is a significant market for digital in corrugated. We have seen businesses that fit the traditional FESPA profile as display graphics producers adopt our Nozomi product to print corrugated displays. Then, once they have it, they find there are packaging opportunities producing boxes as well.

Environmental graphics and décor, particularly wallcoverings, is another large opportunity. It is a market where our roll-to-roll printers have performed exceptionally well. Our UV-LED technology meets important standards for the wallcoverings market, including GreenGuard Gold, and solutions like our new UltraClear Coat increase the value and quality businesses can offer in that space.
FESPA will be launching new events in personalisation and textile, what trends do expect to see in these sectors?
Fortunately, EFI has vast expertise in personalisation with our Fiery business. Over the past few years, our Fiery FreeForm Create product has earned more industry awards than any other VDP product in the industry. However, today's personalisation trend for the FESPA audience, differs from what you see in direct mail.

The trends that I would suggest FESPA focuses on at your events would be on workflows for planning and versioning. For example, we have a Fiery Sign Flow product that can manage the sign layout dimensions for a retail store chain so a graphics provider can print all the graphics for a chain store's locations in the order they are going to be installed. That is very important for the high-volume work that our customers are going to produce on our new VUTEk XT printer.

There are also the types of versioning and multi-SKU applications for display and packaging work that ensures that businesses serving the retail space can give their clients the right campaigns, at the right time, to the right geographic locations. Automating that process as much as possible is important for our customers.

For textile, sustainability is one of the most important topics. Regarding digital textile printing involves discussions about technology integration and the financial advantages of moving toward a purchase versus a manufacture model. Sustainability continues to be a significant issue, textile dyeing is still a major source of water pollution. Some of the world's major textile manufacturing centres are becoming more vulnerable to extreme weather events.
We are a community led federation of 37 national associations, 14,000 printer members with over 500,000 visitors, delegates and readers, what role do you see is vital for FESPA?
More than any other business, FESPA most closely represents the global, core community of businesses in display graphics and specialty printing. We appreciate how FESPA has been able to continue that focus, because it is central to members' continued success and growth.

FESPA's programs and offerings around textile have been good at connecting members to growth opportunities with features like Printeriors and your podcasts with Debbie McKeegan.

The textile community relies on exhibiting at a large show. But, when you are talking about convergence, and you look at the example of a graphics provider that knows wide-format inkjet, colour, and digital, FESPA has become a key resource to help that type of business expand and grow into textile as an adjacent opportunity.

Every community needs to nurture and attract the right audience. We launched the Reggiani TERRA Silver, our entry-level pigment solution, at FESPA Global Print Expo.
How important are face to face activities for your business? What role do shows such as FESPA play in your marketing mix?
There is a good mix of face-to-face meetings and virtual meetings regarding our interaction with customers and prospects in our demonstrations with print businesses. We have had success with EFI Ignite, which is a series of in-person open house events EFI has held in our customer demo centres. We have found in-person tradeshows that are executed efficiently have value, particularly in meeting people who we were not necessarily aware of to sell our products to.

Tradeshows have evolved, with the introduction of hybrid events, but what's really been effective from our end are the virtual demos we organise by appointment in our booth. We organise these to give prospects an in-depth look at newer technologies coming to market. EFI outfitted one of the conference rooms in our FESPA Global Print Expo booth to give those demos, and we are doing the same here now at Printing United. I have to say, our virtual demos are always busy throughout the show.
As the CEO of a leading company in our industry with representation like us around the world, which geographies do you see as being particularly interesting for EFI?
The Asia Pacific region is very interesting. There are print businesses in the region, for instance, that maybe have only used equipment from smaller Chinese manufacturers. But their business is growing and they want to have a conversation with EFI because of some of the specific features and capabilities they need now. There are places where labour costs are increasing, and now some of the automation we've developed is becoming more important. There are also tighter environmental regulations and our solutions can help those companies stay in compliance.

APAC is a hugely important region in our industrial textile and building materials segments. The region has a mature market for digital in ceramics, but now those customers need an on-ramp to adopt water-based inks. We pioneered a technology – our Cretaprint Hybrid printer – that can run solvent inks, that can switch to aqueous.

With our Fiery business, we have an exciting new partnership with Fujifilm Business Innovation. They have a big presence across APAC, and that presents a great opportunity for us share the value proposition of Fiery with many potential new customers.

EMEA has traditionally been a good source of growth at EFI. We want that to continue, although we recognise that the war in Ukraine creates a challenge for every industry in Europe, not just print. The Americas and EMEA, have both been strong growth areas in our corrugated business.

Discover FESPA's new event, The Personalisation Experience, exploring and showcasing the latest innovations in personalisation. The Personalisation Experience will bring together 3,500 stakeholders from retailers, brands, agencies to printers and fulfilment houses, connecting them with software providers and OEMs to explore the potential of personalisation in sportswear, packaging, product, loyalty and custom interiors. Four one-day conferences, plus an application showcase incorporating Printeriors, will bring this core topic to life.
Interested in joining our community?
Enquire today about joining your local FESPA Association or FESPA Direct