Blog
Christian Duyckaerts: Reflections on an eventful FESPA presidency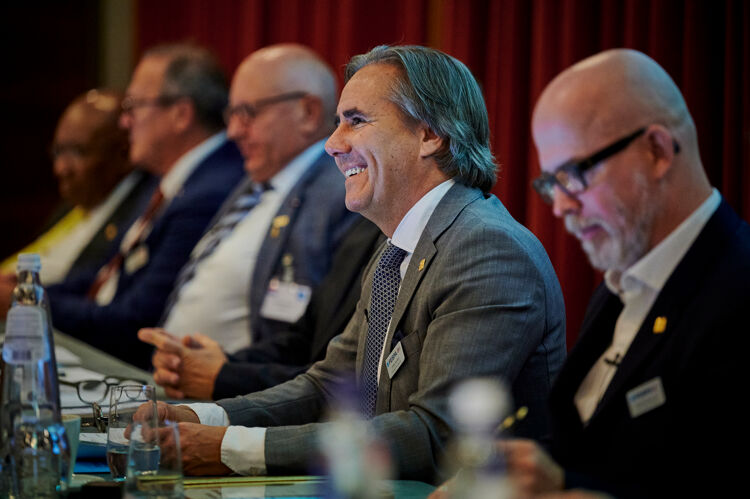 As the saying goes, all good things must come to an end, and so I have come to the end of one of the highlights of my professional life so far – my term as FESPA President.
Since 2017 I've fulfilled this role with immense pride – in FESPA as an organisation, in the global printing and sign-making community we serve, and in the 37 national Associations who are the critical link between the central organisation and our grass roots members.

It's these national Associations who elected me as President, placing their confidence in me to represent them and their members and ensure that FESPA remains focused on its purpose – to help those print and signage businesses continue to become stronger and more sustainable.

Much of FESPA's work is about education, which we see as critical in helping members adapt to changing commercial conditions and future-proof their businesses. Many of the highlights of my Presidency have been seeing this knowledge-sharing philosophy in action; for example with the funding of a printing academy in Sri Lanka, alongside many other initiatives across Europe.

I'm also proud to have built new links with membership bodies outside our core digital wide format and screen print sectors, such as the European Sign Federation, which bolsters our ability to serve the needs of signage professionals. And during this time we've seen many of our member Associations adopt the FESPA name under licence, so that they clearly represent our brand at a national level.

Of course, the last 18 months have been dominated by the impact of the COVID pandemic on our members. It's also stopped us from delivering the live exhibitions, congresses, conferences and summits which are so fundamental to the way we connect, inform and engage, as well as generating the revenue that enables us to invest for the long-term good of our community.

We've had to learn to maintain those connections virtually, and I've been inspired by the way our Associations have risen to these challenges, and how print and signage businesses have adapted to the toughest of landscapes. We're a resilient and innovative tribe, and we've proved ourselves to be sustainable, in the truest sense of the word.

I'll admit it was bitter-sweet to hand over to my successor, Christophe Aussenac, just as our FESPA world came back to life again at our first live event since 2019. But I'm happy that I've handed the reins to someone who is absolutely the right person to lead FESPA from here, supported by two new Board members – Alberto Masserdotti and Wouter van As – who refresh our team with new skills, experiences and perspectives.

The next two years will be significant for our community, as we emerge from the immediate post-COVID recovery period and rebuild, against an evolving backdrop for many of the markets who are our customers. At FESPA Global Print Expo 2021 in Amsterdam, it was invigorating for me to see so much innovation, energy and drive to make us all stronger and to address the urgency of environmental responsibility in all businesses. I can't wait to see this energy ramped up to another level in Berlin in May 2022.

I do see improving environmental practices in print and signage as one of the most significant missions for FESPA in the coming years, and Christophe's long-standing focus on sustainability in his own business make him the ideal person to spearhead this.
For myself, apart from being able to invest more time again in my family and my own business, I'll now channel my energies into my new FESPA role as Asia Ambassador, nurturing our valued Associations across Asia, listening to the needs of their members, and using those insights to shape FESPA's plans in the region.

The key to FESPA's continued success anywhere in the world will always be in connecting our members, the Associations that serve them, our commercial supporters, and our central organisation. I firmly believe that, when we align the needs and objectives of all four and support each other, we can deliver great outcomes for all.

Connect with Christian at:
https://www.linkedin.com/in/christianduyckaerts/
Interested in joining our community?
Enquire today about joining your local FESPA Association or FESPA Direct