Blog
7 Signage Trends and Imperatives in the Post-Pandemic World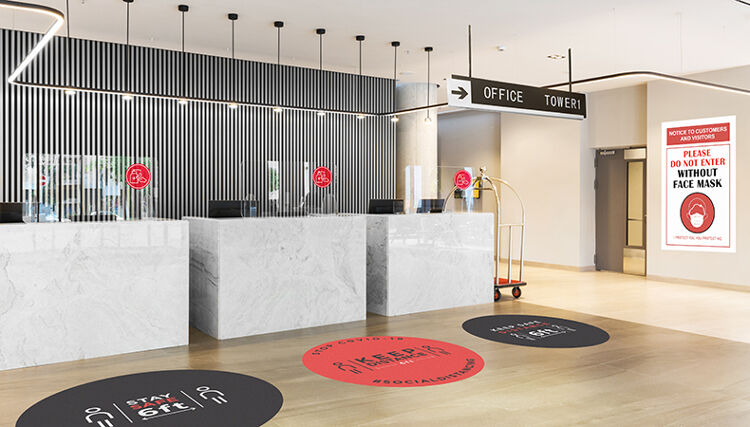 Jessica Goldsworthy from Front Signs shares how COVID-19 has affected the signage trends now that restrictions are lifting. Here are 7 trends that have resulted from COVID-19.
Hands down, COVID-19 has forever changed all aspects of our lives. Simple activities like a visit to a restaurant or regular classes in universities have become much more complicated. The government and business sector had to take action and adapt to a new reality. The signage industry has played a vital role in the whole process. Hospitals, markets and other essential facilities that remained open had to engage new signs. Social distancing floor graphics and face mask requirement notices are obvious examples.

But how does COVID-19 affect signage trends now that most restrictions are lifted and public facilities have reopened? Design solutions for gyms, restaurants, educational centers and other premises now include signage that addresses the new norms and needs of customers.
Here are the trends - or rather imperatives - that have resulted from the pandemic. Some are directly related to safety and others are meant to get customers back after extended closures.
1.Reopening Signs
"Store Closed" signs were a regular sighting during the lockdown. When the restrictions were eased, organizations needed signs to announce they'd finally opened their doors. Reopening brought a lot of excitement which was expressed in signage as well. Many places got simple "We're Open" signs to hang on their doors. Others incorporated more creative and sometimes funny solutions. The main mediums used for reopening signs were graphic window decals, metal or plastic hanging signs, large fabric banners and so on.
Reopening led to a range of signage trends. We'll speak about them in more detail further along in this article.
2.Social Distancing Signs
Social distancing stickers like 6-feet-apart markers can be seen everywhere these days. They're even required by law in some countries. They vary from simple lines that mark how far people should stand from each other to creative solutions with funny wording. They offer a unique way to reflect your brand's character and taste. The main medium used for this purpose is the vinyl floor decal.

While this trend was a mandated one to create a healthy atmosphere, it has led to an added usefulness for floor graphics. People look down at their phones a lot so you might as well leverage the opportunity. Don't miss the chance to display graphics featuring your products or services right under everyone's nose.
3.Safety Notes
In addition to social distancing, there are other Coronavirus-related rules and regulations that people need to follow even after the lockdown. To create a safer experience for everyone, reopened public facilities have incorporated displays with important information.
Large banners, adhesive graphics, aluminum displays and acrylic signs are used for safety notices. The material choice depends on location, taste and message length. These signs had a simpler appearance during the height of the pandemic because of urgency. Companies now come up with more creative solutions. In fact, it's become clear that using a more relaxed tone of voice for safety signs makes businesses look more inviting.
4.Room Dividers
When the pandemic hit, we all thought that staying at home was the best way to stay safe. As the months went on, it became clear that we couldn't stay home forever. Businesses needed to restart their operations and people needed to get involved in social activities again. The world needed to go back to normal - or as normal as possible. This is where room dividers came in.
Otherwise known as sneeze guards, these dividers became a new trend following the lockdown. They were used to set up a safer atmosphere in enclosed environments where close proximity was required to conduct business. Many places also started to use
attractive room dividers
like illuminated boxes or printed boards. Though it may seem that people have started getting lax about safety measures, especially after vaccinations, this trend is here to stay. Businesses cleverly use the extra surface they provide for branding and advertising. Plus, no one's opposed to a little more privacy.
5.Wayfinding Systems
To encourage people to practice social distancing, new wayfinding systems were developed and incorporated in various settings. These thorough navigational schemes quickly started trending by popular demand. Customers got used to quick and easy directional guides that couldn't be taken away from them.
Developing a navigational system and getting new signage may seem like a lot of hassle. However, these tools offer many opportunities if used wisely. Enhanced customer experience is the key to success for public institutions and businesses.
Wayfinding
is all about customer experience. Customer-centric goals will help wayfinding planners create better systems with more creative designs.
6.Bold Advertising Signs
Wise businessmen have used the lockdown to think of new marketing strategies for the post-COVID reality. Once the restrictions eased, it was time to bring these ideas to life. Signage trends became an integral part of the process.
From updated logo signs to new billboards on high-traffic streets, the pandemic resulted in a huge spike for the sign making and printing industry. The demand increased for almost all signage mediums from illuminated letters to pylon signs.
7.Interior Decorations
Aside from new advertising signs, businesses needed interior design makeovers to give people new experiences upon their return. The growing trend for decorative signage indicates that more facilities are beginning to use signage for decorative purposes.
Changing signage is much easier than fully renovating a property. The post-pandemic trend of using decor to regain customer attention is here to stay. We've seen an increase in the demand for wall murals, acrylic art, canvas prints, 3D signs and decorative signage in general.
The Importance of Keeping Up With Signage Trends
General design trends in signage may be a preference but pandemic related ones are an imperative. With that in mind, you may as well make the most of them. There are many ways to stay trendy and satisfy these new requirements regardless of your industry. We recommend putting customer experience at the forefront of your redesign plans to ensure a successful transition.

Aside from the obvious impact on our jobs, social life and health, COVID-19 has increased stress levels in people. Accordingly, facilities need to adapt their signs to champion a more relaxed experience for staff, visitors and clients alike.

Businesses are racing to win back customers. You can't just wait around in the hopes that people will return voluntarily without risking your business. Incentives and safety precautions are a must. Why not make them attractive while you're at it? This is the main benefit of signage trends. Leverage them to get your business back on track in style.

Discover the latest innovations at the European Sign Expo 2021 Europe's leading non-printed signage and visual communications exhibition. Connect with signage solution providers and manufacturers from all over Europe and beyond. Discover the latest products, network with like-minded individuals and explore new business opportunites. Register now and use promo code ESEH101 ​to receive a discount of 30 euros.

Source Information: This article was written by Jessica Goldsworthy, a content creator at Front Signs. Front Signs is a signage company providing services in Los Angeles and across the United States. The custom sign sign company has over 15 years experience in the signage indsutry.
Interested in joining our community?
Enquire today about joining your local FESPA Association or FESPA Direct