Blog
7 lessons Printful learned from opening its first print facility in Europe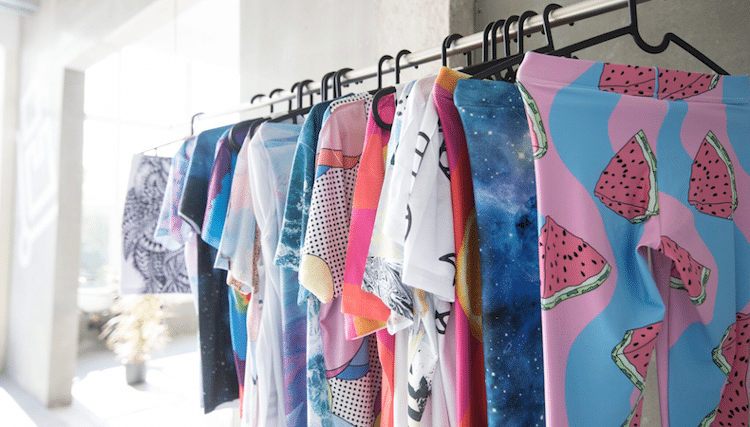 Printing was never the industry that the tech conglomerate, the Draugiem Group, ever worked in.
Yet five years ago, after launching Startup Vitamins, the online store that made money by selling inspirational quote designs on printed products, it became clear that finding a reliable printing partner is difficult - they would have to do it themselves.
And so began the journey of setting up Printful, the service that lets any online store connect with their printing facility and have their products printed out, on demand. They opened their first printing location, a garage, in California, and quickly expanded to increasingly large spaces.
The printing techniques they offer are a mix of Direct to Garment (DTG) and screen printing technologies - first printing posters, then moving on to mugs, apparel, to eventually all-over, sublimation printing and now even embroidery.
Four years down the road, they're ready to expand their printing services to Europe. Though they had been talking about it for three years, the amount it took to actually get the facility up and running, was an astonishingly quick six months.
In a conversation with Printful CEO Davis Siksnans, we'll find out about the challenges, pitfalls and lessons they learned along the way, to help others in their journey of expanding to Europe.
"All in all it took longer than expected. Though we've been talking about expanding to Europe for three years, it wasn't until January 2017 that we started seriously putting plans in place. By January, we had all of the required internal agreements, and by February we were looking at locations.
We wanted to be operational by June. On June 15th we made our first, successful test order, but we weren't open to the public until mid-August, so we were two months late. It took us 6 months to get up and running - it is fast, and we can do that because we're still a startup - we're agile. But you can always want more."
Here are the 7 lessons learned that Printful CEO Davis Siksnans would highlight for any printing company looking to expand to Europe.
Lesson #1: Before relocating to a different continent, first try opening a new facility in the same country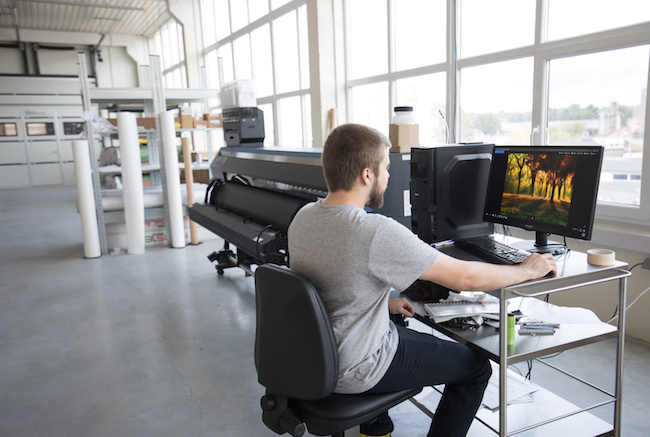 Opening a place in Europe was not Printful's first experience in opening a new facility - they've relocated several times in California to larger premises. They had their first experience in opening an additional facility when they opened a printing location in Charlotte, North Carolina, when they felt the need deliver faster shipping to their East-coast clients.
"Opening a second location within the US made us aware of a lot of things we'd have to deal with:
Technical solutions about how we decide which facility prints which orders
Differences in labor laws and having to adapt to them
how to source equipment from manufacturers in a different state
Figuring out logistics of moving equipment
"Going through this process already meant learning a lot of new things about setting up in a different area, but it was a much easier process than if we were to do it in an entirely different country, let alone continent. We were able to deal with the same national postage system, the same currency, the same units of measurement."
Opening a second facility within the US was like expanding, but with training wheels.
For expanding to another country, those training wheels have to come off.
Lesson #2: Differences in labor laws have a big impact on operations
Labour laws are different among different states within the US, but it turns out there are even bigger differences between the US and Latvia, the country of choice for Printful's European facility.
Why is this important? Davis fills us in:
"Since we're in the business of making one-off digital goods printing, turnaround time is very important in our industry, with deliverers feeling pressure to deliver ASAP (in part thanks to Amazon Prime setting the bar). Additionally, as the equipment we print on can run hundreds of thousands of dollars - to get the most worth out of them, they have to be running continuously."
In California we have 3 shifts and almost 24/7 production.
In Latvia, it's impractical to run night shifts because of the local night shift policies, which require substantial (50%) additional pay by law.
Now we're pressured to work on ways to get more out of the working hours."
When considering expanding to another country, it would be wise to check the local labour laws and overtime policies to understand how they'll impact your day to day operations.
Lesson #3: Before buying warehouse software, check if it supports both US and European metrics
"We've always created proprietary software integrations with almost every piece of equipment, which sets us apart from other printing places, we're a tech company. We have over 20 programmers, who work closely with manufacturing processes.
As a primarily tech company, creating software has been our major advantage, to let us function faster, print more efficiently, and build solutions based on our custom needs. It also lets us be more efficient in labour planning."
Many manufacturers don't have the luxury of creating custom, proprietary software, and the alternative is to buy ready-made, off the shelf software.
Here are some things that you should check if your software supports, before buying it:
Can you change metric units of measure? You'll need to support both US-preferred pounds, inches and fahrenheit, as well as the globally preferred kilograms, centimeters and celsius.
Supports multiple currencies - for example, both US dollars, and European Euro.
Supports different time-zones for delivery times and estimates
When buying software, make sure that it's supported in different locations other than your base-location. Otherwise you'll end up with two separate systems that don't integrate with each other.
Lesson #4: Shipping is very different in Europe - contact your national post early on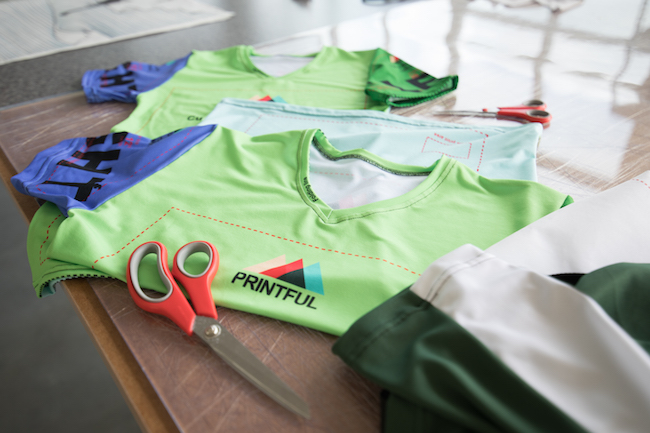 One of the biggest differences between working in the EU is that there isn't one all-encompassing postal service, like USPS (United States Postal Service), which within the US is always the cheapest. Instead, each country has its own national post that is usually state-subsidized.
For example, FedEx has a vastly different functionality in Europe than it does in the US. The technological integration process is entirely different, as is the scope of FedEx's service. "We underestimated the complexity of transferring the process, and the necessity of testing shipments." Davis tells us.
For Printful, shipping was one of the most underestimated puzzle pieces in setting up a European facility:
"Since we'd be sending parcels predominantly through the cheapest, national platform (in this case "Latvia's Post"), the process needed to be both integratable into our systems, as well as friendly to our international customers. When we began discussions with Latvia's Post, their processes were in the very early stages of development. it was neither.
As we assume that many of these small national postal services might not be totally caught up with the demands of ecommmerce, they need to be shown the way. We were fortunate that we started talking to Latvia's Post immediately - it turns out they were right in the middle of modernizing their system. We were able to give a lot of feedback and have them implement features that are required for ecommerce to work.
One big thing that was necessary for us was to have the postal service translate their link-tracking page into English. Otherwise, all of our clients would be trying to track their parcels through a page in Latvian. No good."
Fun fact: Postage systems are starting to realize the majority of the volume that's sent through them isn't letters anymore - it's online purchases. They're starting to work on adapting to this new reality.
If your country's postal service isn't caught up with the complexities of ecommerce, get in touch with them as soon as possible to get them on board.
Lesson #5: Expect delays when it comes to equipment procurement
One of the biggest challenges that Printful came across when opening the European facility was procuring the same equipment that they had already in the USA facilities, which they already integrated to their software.
Here are some of the challenges they encountered:
Double the price for equipment
Davis discovered that Epson distributors in Europe ask for up to double the price for some of the products they sell in the USA. "Since we knew the USA price, and were able to guarantee a certain growing amount of purchases, we were able to negotiate a better deal." says Davis.
Limited stock in Europe
In the USA, much of foreign-produced equipment is already imported into the country, and ready to be shipped. In Europe, that isn't always the case. Many pieces of equipment are not even imported into the continent, let alone the country you're facility is in. Because of that, Printful found that deliveries that would've taken 2 days in the USA, ended up taking up to 2 months in Europe.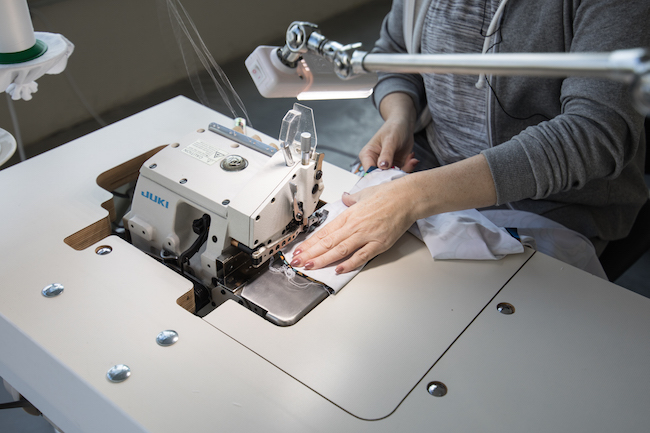 "Our embroidery machines that come from Japan are sufficiently stocked in the USA - Happy embroidery has tens of machines in stock in North Carolina and can deliver within two days. In Europe, there are 0 in stock, and require much more time to be delivered from Japan. Additionally, some of the add-on parts that we need for the embroidery machine aren't offered at all in Europe, so we'll have to think of a creative way to import them."
Lesson learned: go talk to those reps several months in advance. Tell them who you are, your estimated amount of equipment you'll need, and that you'll probably be their biggest client - tell them to prepare for a large order, and use this as leverage to negotiate a better deal.
Lesson #6: Talk to both manufacturers and their wholesalers when sourcing products
One challenges Printful came across was offering the same garment models in the USA and in Europe.
"We've come to realize that's not possible to offer the same garments worldwide. In some cases, we'll have to offer some Europe-exclusive and USA-exclusive products. Gildan, however, is a great example of a brand that's available everywhere. In fact, some products are even cheaper here in Europe (ok, by a few cents, but still!)".
"In the US we work directly with Bella and Canvas, who are LA-based but are manufactured outside of the US. They don't have a European presence, but we were able to get in contact with their European distributor, tell them how much we'll need of each product, and have them import it for us."
Key takeaway: If the manufacturer doesn't have a presence in the location you want to work in, look for a wholesaler of that brand. Talk to them, commit to buying from them, and have them import for your needs.
Note: Make sure to implement test purchases for the wholesalers to test how quickly they're able to procure and ship products, how much it costs, and how reliable they are.
Lesson #7: Don't underestimate the language barrier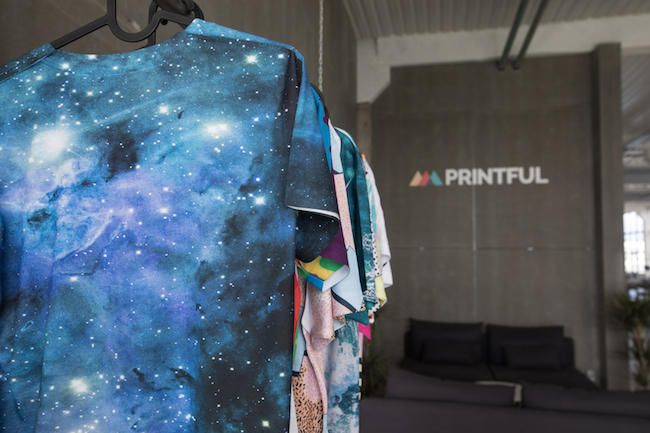 When setting up a business in another country, you will inevitably have to deal with bureaucratic tasks such as registration, tax requirements, contracts for the premises, etc.
"At first we were strongly considering Germany or Poland as a location. Though they do have a lot of information in English, at one point you'll inevitably end up on a German or Polish page with no English translations. You're at a stalemate. That's one of the main reasons we chose Latvia - we know the language already, we can work together with the local State Revenue Service to solve complex tax situations."
Davis also mentions that he experienced that the Baltic region is more open to bringing in business, and that they're much more lenient and ready to make deals with potentially large business. In dealmaking, communication is key.
Conclusion
Opening a new printing facility is no small feat, yet it is doable. With a lot of planning, testing, talking and negotiating, Printful shows us how it's possible to launch within a 6 month timeframe.
By taking into consideration the lessons learned from Printful about factors such as local labour laws, equipment availability, shipping nuances, language and more, you'll be one step ahead on expanding your operations to Europe.
About the author
Julia Gifford is a Canadian-born tech enthusiast and Latvian startup advocate. She dances through her days, mostly writing for Truesix and cooking up tasty things.
Interested in joining our community?
Enquire today about joining your local FESPA Association or FESPA Direct