Tomorrow's World
Unblocking the personalisation pipeline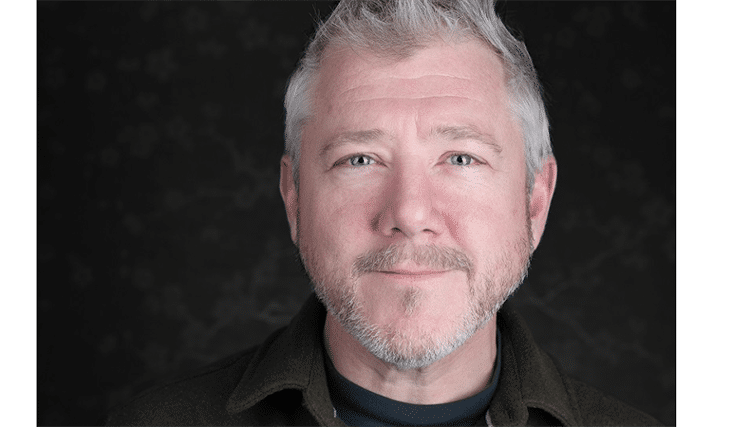 Personalisation expert James Lawrence-Jones shares his thoughts on the future of mass customisation.
James Lawrence-Jones is an independent consultant advising on print, personalisation and photography. He has more than 30 years' experience across these industries – most recently he worked at Albelli-Photobox Group for 15 years in a variety of senior operations roles, most recently as Group Technical Innovation and QHSS Director. As a consultant, he shares the experience he gained and his industry expertise to ensure his clients avoid the pitfalls encountered during the rapid international growth and development of the Photobox Group, which grew from 300 staff to almost 2,000 during his tenure there.

The Personalisation Experience, which took place alongside FESPA Global Print Expo earlier this year, attempted to showcase new directions of travel for the industry beyond gifting – where it all started, and which remains its strongest market. And James says it's true that personalisation is creeping into all aspects of print and manufacturing.

"The days of generic mail shots being printed and sent to people who haven't expressed an interest are dying if not already over," he says. "Personalisation in printed communication is being driven by marketers and consumers alike. Marketers because they end up with better lead generation and higher conversion rates. And consumers don't want to see generic mail shots that they have no interest in, and that are not environmentally or socially responsible either.
As long as we have the technology and the data to identify, target and personalise communication with consumers, then that opportunity to truly connect with customers expands from digital content into physical print and products
"Personalisation is exploding across websites, apps, advertising: whether it's your browsing history on Amazon and Netflix, or the links that you click on in Google or Facebook that are tailoring your experience into something uniquely personalised just for you. When print was all litho, we didn't have that opportunity. But digital print has enabled print on demand, with a minimum order quantity [MOQ] of one. As long as we have the technology and the data to identify, target and personalise communication with consumers, then that opportunity to truly connect with customers expands from digital content into physical print and products."

But gifting remains central to personalisation's appeal. James doesn't believe there is any huge mystery in why it works. "It's both the emotional attachment that you get from a personalised gift as a recipient but also the emotional investment that you put into a gift as the giver and therefore the 'givers' glow': the special kind of the joy that you get back seeing the real emotional engagement and delight on the recipient's face. Multiple businesses have used the tagline 'show them you know them' – now you can make gift choices that truly display that connection."
New tech horizons
Technology is already startring to support customers in their personalisation journeys, Chat GPT is writing 'heart-felt' messages in personalised greetings cards and artificial intelligence (AI) is providing customers with creative design options and support to utilise across a widening range of personalised products. An example of this is the ability to upscale pictures or suggest alternative creative design ideas that may appeal to the customer.

"Tech clearly has a role to play, especially in enhancing the creative customer experience of someone choosing a gift," says James. "This can be as simple as choosing a couple of preferences or character traits for the planned recipient, and then guiding the customer through the creative design experience based on some of those choices. That's where technology and customer data can help develop an understanding of customers' needs and tailor creative design options based on that customer knowledge.

"When working with digital images, usually any picture posted on social media will have been resized and scaled down. But we don't want to limit customers as to the size of the products that they can produce. Ultimately, e-tailers don't want to tell customers they can't have what they want. So upres-ing or upscaling is now widely available, usually as part of AI-driven image correction and enhancement solutions.
Fewer start-ups in the personalised gifting space won't be encouraging bigger industry players to maintain innovation focus
"You can't 100% solve these issues, but you can improve them dramatically. Digitally, you can recover, resize, enhance and print pictures at sizes that on film would have been unprintable without noise and image degradation. The use of technology is focused on removing barriers, creating ease of use for the consumer, and supporting them in making a great product."
Breaking down barriers
At the Personalisation Experience, some speakers had the sense that personalisation hadn't taken off to the grand extent predicted, that there were barriers to adoption – have consumers been educated enough to know how they can leverage personalisation to its greatest extent?

James insists that personalised products are resilient and part of the fabric of the consumer's shopping process. "There will always be a proportion of the population that prefers bricks and mortar stores, walking around and engaging physically with a product," he says.

"But clearly the rise of online shopping is exponential and largely unstoppable. Personalised gifting is part of that. I don't think there are barriers to adoption: everybody in the UK now has probably either personally given or received or knows somebody who has received a personalised gift of some description: a Moonpig card or a photo-personalised gift. They've seen the emotional response and the happiness that consumers are getting. If anything, the sheer amount of choice is slowing people down. I think consumers probably spend as long searching for an offer online as they end up doing making the final product."

But he agrees there is a sense that innovation has slowed down. "That's probably related to the consolidation in the online personalised gifting market over the past five to seven years," he says. "In a cost-of-living crisis, gift giving is perhaps also becoming more 'practical'. So people want to give gifts that people are going to find helpful or are going to reduce their expense or mean they don't have to invest in these things. Therefore, luxury or whimsical personalised items may be less popular, but there are thousands of practical personalised gifts available like blankets, mugs, cushions, chopping boards – whatever you want. It doesn't need to be whimsical.

"This is potentially one reason why we are seeing flattening of growth percentage rates regarding personalised gifting, especially compared with the growth experienced before and during COVID-19. In turn, that is slowing down the innovation pipeline and the investment to deliver on that innovation. In addition, fewer start-ups in the personalised gifting space won't be encouraging bigger industry players to maintain innovation focus."
Into the future
So, what does the future hold for personalisation? James uses his own favourite personalised products as a route into predicting what may come to pass. "I'm a wide format and wall décor guy," he says. "I love seeing large format examples of personalisation, and I love seeing prints framed or mounted beautifully. I believe eco-friendly, socially responsible, non-disposable products will continue to grow. Typically, personalised gifts are not regarded as disposable because you're personally invested in them."
You're not just taking one picture off the wall and putting another one up – you're expanding in an evolving, creative, modular way
"But something that is modular, interchangeable or reversible, in terms of wall decoration or home furnishings – I think that is really interesting. For example, photo tiles allow you to add more as time goes by to build a gallery wall. Adventa's Connex-pix products or the IXXI wall decoration system are great examples, They're modular, you can swap sections out, and the pictures are reversible. You can build a subscription model around adding to it. You're not just taking one picture off the wall and putting another one up – you're expanding in an evolving, creative, modular way."
Is there still technology out there primed to deliver better results for personalisation? "3D sublimation or vacuum formed sublimation still has some space to develop. That's predominantly how things like wrapped image phone cases have been produced historically, but ultimately it can print on any 3D object (with the appropriate coatings applied). Your hair dryer, your computer mouse, your light switch could all be custom-printed very easily. 3D sublimation is already being used to produce everything from personalised shoes and unique car dashboards right through to custom bowling balls! The personalised gifting market and innovation in printing technologies now means you can print on literally anything, so the sky is the limit for innovation!

"I don't think that the colour and photographic quality in 3D printing is as advanced as it needs to be but it's getting there. But clearly, the future of personalisation will ultimately deliver 'everything on demand'. The future is already here in places – it's already happening. If you want a book, it is printed on demand. If you want a your own playlist on a vinyl LP to play, it can be pressed, 3D printed or 'cut' on demand. Personalised print on demand will only increase, expanding into every aspect of consumerism. It can be design-led, using tech to hand-hold the consumer and AI to create artwork and designs, and potentially remain at a low production cost with reduced waste, zero stock holding and so on."
Complete customisation
There will be no reason why your sofa or home furnishing has to be the same as another one anywhere else in the country. Everything will be completely customised. "And that's not just putting a logo or your name on it, but printing the entire custom pattern onto the fabric, manufacturing on demand, and shipping the product you want at the size you want with minimal waste, with a smaller environmental footprint than the thousands of metres of fabric that are typically produced for pre-designed ranges."

The print sectors working on home furnishings and fashion are leading the way, he says. "In less than 10 years, you won't be going into Ikea and saying: 'I'll have that sofa with that off-the-shelf pattern.' You'll be saying: 'I'll have that sofa. Here's my pattern – make that for me' and it will become a standard requirement. The same will be true in fashion; capsule collections printed on demand are already hitting the catwalks using fabrics printed digitally on demand, delivering affordable, more environmentally sustainable fashion choices. Unique, on-demand custom clothing is coming and it's much more than a simple logo on a t shirt.
"In recent years there's been a real surge in the number of companies providing platforms for people to be able to set up their own online print on demand shops (Etsy, Printful, Gelato, Printify, Gooten and so on), More and more commercial printers are recognising that growth opportunity and are moving into that space and becoming fulfilment houses/print businesses for some of those online aggregators or service providers. Supporting print on demand, MOQ of 1 production is clearly a growing commercial opportunity, and the print industry is becoming increasingly aware of and engaged with it.
"The benefits of personalisation in print on demand products are clear: high emotional impact, increased perceived product value, improved customer and brand loyalty and recall, improved product differentiation and potentially lower waste/reduced environmental impact.

"The supporting technology is rapidly evolving to both provide consumers with easy-to-use creative and design tools to 'make everyone a designer' and to provide printers with the tools and data management to serve those unique customer expectations effectively in producing an on-demand personalised product with an MOQ of 1. The production technology is there to enable printing on almost any surface,so the challenge now is prioritising and scaling product innovation."

James is available for personalisation, print and photographic industry consulting, operations expertise, technical advice and project support. You can email James at james@lawrence-jones.com
Become a FESPA member to continue reading
To read more and access exclusive content on the Club FESPA portal, please contact your Local Association. If you are not a current member, please enquire here. If there is no FESPA Association in your country, you can join FESPA Direct. Once you become a FESPA member, you can gain access to the Club FESPA Portal.