Tomorrow's World
The unstoppable rise of wide format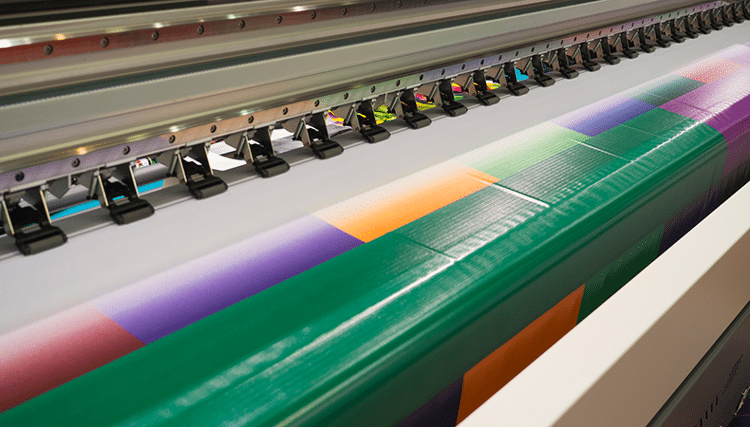 Digital wide format is set to innovate speed and profit throughout the industry, according to the latest FESPA Print Census.
Positivity and optimism are abundant in print service providers' (PSPs') own businesses as well as in the industry at large, according to the 2018 FESPA Print Census. In no small part, this is being driven by the continued expansion of digital wide format, which enables firms to increase capacity, expand their range of offerings and compete more effectively in an increasingly competitive and rapidly evolving industry.

Wide format's popularity was not limited to sign and display or fabric PSPs. It continues to expand across all segments of the industry represented in the survey – indicating general optimism among respondents in their own businesses and in the industry as a whole.

Two-thirds of all respondents (66%) said they already used wide format printers in their business – a 10% increase since the last FESPA census in 2015. And continued growth seems inevitable.

The survey showed that business from digital wide format had grown from around 36% in 2015 to make up 44% of total revenues today and forecast growth to 53% over the next two years.

As might be expected, for example, 56% of fabric printers had invested in wide format printing equipment in their establishment already. but another 19% had plans to invest in wide format devices within the next two years. Even those who saw no use for wide format technology in their own businesses, for almost half (45%) the technology was still employed – and outsourced to a service provider.

Respondents from the sign and display sector expected a 9% growth in their wide format revenues over the next two years, and those who expected wide format to represent 80% to 100% of their businesses in the next two years showed a 12% spike.

Sign and display specialists expected digital wide format to speed up printing processes, allow special functional fluids such as white and UV varnish and print onto textiles. And they are prepared to pay for this improved functionality: sign and display businesses expect to pay almost €150,000 for their next wide format printer (nearly half as much again as the price tag in 2015).

Textile screen printers also had a need for speed from new technology (69%), but for DTG screen printers, the ability to put white ink to work interested direct-to-garment (DTG) printers the most.

Only a minority of graphic art and creative respondents (34%) owned wide format technology, but even in this segment, almost as many again (29%) were planning to invest in the next two years and make wide format owners the majority in this industry sector. Of those who owned wide format printers, the primary use was for dedicated wide format production (45%) on flexible media.
The perfect complement
Even in packaging, which traditionally has used offset and flexo, wide format is still set to grow in terms of revenue contribution to the admittedly small sample of packaging businesses that used digital wide format (mostly UV-curable inkjet for corrugated cardboard). Productivity of digital was considered low and running costs high by many packaging respondents.

However, short runs are increasing for packaging PSPs worldwide, due to the brands' drive towards mass customisation and more frequent new versions and formats, as well as a desire to cut waste. Digital printers are perfectly suited to short runs, particularly when complementing analogue processes.

Sean Holt, FESPA executive director, said: "The picture is a very positive one. We see a diverse community of thriving businesses enjoying sustained growth, responding to evolving customer expectations and taking advantage of technological developments to expand and innovate their product and service offerings."
---
Survey stats
1,405 businesses participated
They hailed from 102 different countries across six continents
More than 60% of respondents were from the UK, Greece, Mexico, South Africa, Germany, Italy, Denmark, Turkey, Brazil or Thailand
24% of respondents were FESPA members
The largest industry segments represented were digital printing specialists (17%), screen printers (15%) and commercial printing and reprographics (13%).
---
Digital wide format stats
54% of technology buyers see increased production capacity as the reason for investment
Expected investment in digital output technology is 43% higher than in 2015
Digital print is expected to contribute 53% of total revenue within two years
---
Become a FESPA member to continue reading
To read more and access exclusive content on the Club FESPA portal, please contact your Local Association. If you are not a current member, please enquire here. If there is no FESPA Association in your country, you can join FESPA Direct. Once you become a FESPA member, you can gain access to the Club FESPA Portal.